Black History Month Bulletin Boards
It is an opportunity for you to shed light on some of the most influential African American voices of the 21st century as well as lesser-known individuals who fought for equality. What better way to present information to students than by decorating classroom or school Black History Month Bulletin Boards theme?
If you need some inspiration, we've compiled some great Black History Month bulletin board ideas for elementary and middle schools.
Black History Month Bulletin Boards Ideas
Ms. Kelly got creative with Black History Month trivia to test her students' knowledge of African American history. Can you answer all of her questions?
—
By adding keywords like this school counselor did, you can draw attention to your Black History Month bulletin board and shed light on the actions of important figures in history.
—
Use a colorful background and involve your students. They can color cut-outs to brighten up your classroom and hallway!
—
This great example sheds light both on the accomplishments of African Americans in history and of students!
—
This school decided to display the achievements of African Americans from different fields—activism, world leadership, religion, philosophy, and more. The list goes on!
—
The theme on this bulletin board is timeless: honor the past, celebrate the present, educate and inspire the future (your students!).
—
Mrs. Bisher got creative and used a flip-up format to quiz her students on different African American figures in history.
—
Find ways to give your bulletin boards some pizzazz—like how these examples use cut-outs and big text to draw attention to important leaders in history.
We hope these ideas are useful for your classroom! As you celebrate Black History Month, it's important to honor the achievements of African Americans and shed light on the triumphs and tragedies that they have faced throughout history.
Important Civil Rights Heroes and their important words
We discuss civil rights heroes and talk about their important words. This year we came up with our own important words we felt could change the world and wrote them down. Then we displayed our inspiring thoughts next to important words and quotes from civil rights heroes on our bulletin board so the rest of the school could see what we were learning.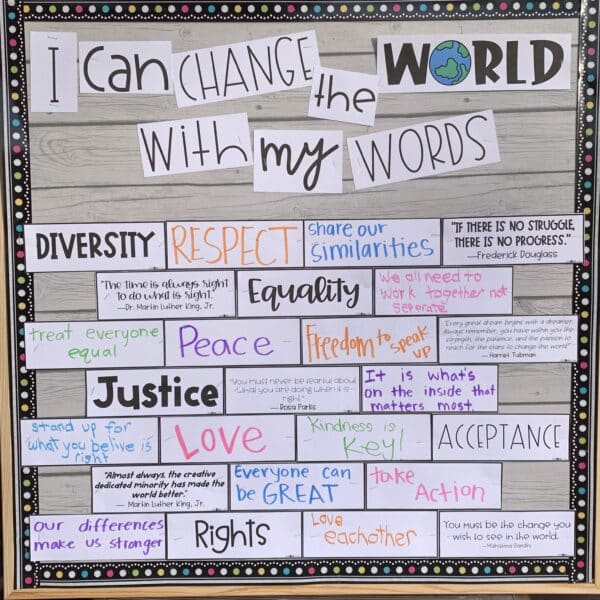 You can grab our bulletin board template for free here.
2. Black History Firsts
During Black History Month, we take time to do some research on famous black people who were the first to accomplish something in their field.  We spend time discussing the goals and dreams, as well as their ambition and determination to succeed. Students then highlight one "famous first" they enjoyed learning about to add to the bulletin board.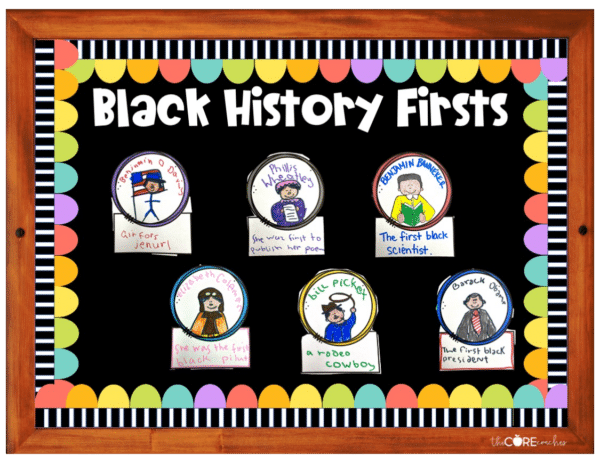 They draw a biographical sketch and include the person's name and a short description of what they are famous for. We display these outside our classroom door for the school to see during the month of February.   Some of the students' favorite and newest "Black History Firsts" include:
Benjamin Banneker who was the first black scientist. He wrote the almanac.
Elizabeth Coleman who was the first black pilot in the world.
Bill Picket who was one of the first black rodeo cowboys.
Phillis Wheatley who was the first black person to publish a poem.
Sammy Davis, Jr. who was the first popular black entertainer in the U.S.
Barack Obama who was the first black president of the United States.
Kamala Harris as the first black female vice president of the United States.
3. Martin's Big Words
Picture books make a great basis for meaningful student work that can be hung on hallway bulletin boards. We love reading the story, Martin's Big Words by Doreen Rappaport. This book is a great biography of Dr. Martin Luther King, Jr. and presents a powerful message in the words of Dr. King that is perfectly geared towards young children.
After reading the book aloud, we study some of Martin's words and meanings using vocabulary from the text. Then we have the students use those words to create colorful word collages for our bulletin board.  We always get many compliments on their work as it hangs in the hall this time of year.  Click here to grab our Martin's Big Words Lesson Plans.
4. I Have A Dream
Martin Luther King, Jr. had big dreams for the future and he worked tirelessly to start creating the world he dreamed of.  Students can study snippets of Dr. King's famous, "I Have a Dream" speech where he lays out his ideas for the world he wished to see.  This always leads to a great discussion about dreams and goals and the work it takes to make dreams become a reality.
The conversation naturally turns to the students' dreams and goals for the future. To capture their thinking, we have the students write their dreams in a printed think bubble.  They can draw a picture of themselves under the bubble, or sometimes we will take photos of each student to print out and glue by their written dreams.  These are always the cutest bulletin boards to have up in January and February.
5. Silhouette Collages
If you have a lot of old magazines lying around your classroom, this silhouette collage bulletin board idea is the perfect way to get rid of the stack. We usually focus on Martin Luther King, but the same idea could be used with any Civil Rights or  Black History figure you are studying. After researching the life of the figure, we provide students with paper, glue, scissors, magazines, and a silhouette. The students synthesize all of the information they learned about the person by creating a collage that represents the life, goals, and achievements of the hero they have studied.
It's also possible to add a 'think bubble' on the collage to capture the students' dreams for the world.
Our students love this hands-on activity and the bulletin board always turns out amazing when we post their work.
Happy Teaching!
-Amy, Emily, and Tatu