Black History Month Activities
Black History Month Activities, also known as African American History Month, is observed every February to honor the achievements of Black Americans and their roles in the past and present.
The Black Lives Matter protests of 2022 and the recent inauguration of Kamala Harris as Vice President of the United States, among many other recent events, make November a great time to dive into history and current events in your classroom, whether you're teaching in person or remotely.
Black History Month Classroom Activity Ideas
Use these elementary and middle school Black History Month activities to teach students about significant figures in Black history, engage them in crafts, and celebrate with your class.
1. Cut-and-Paste Timeline
As the civil rights movement progressed over several decades, many key events helped to shape the outcome. For this activity, you should first hold a discussion with your students about the definitions of civil rights and social movements.
Explain that civil rights are written and unwritten rights provided to anyone who is a U.S. citizen or who belongs to a civil society. A movement includes activities undertaken by a group of people to achieve change. Then, distribute this worksheet and have your students fill in details about nine key events of the civil rights movement based on outside research. Once complete, your students should cut out each event; place them in chronological order; and glue, paste, or tape them to a piece of paper; and then share their findings with the class. Encourage them to add a colorful title to their timeline.
2. Persuasive Essay
Many Black people have made valuable contributions to the world throughout history. Have students write a persuasive essay convincing the U.S. Postal Service to create a new stamp honoring an influential and historical Black person. They should explain their choice and the impact the person has had on the world.
Maybe they want to focus on the historic election of Kamala Harris as U.S. Vice President, Katherine Johnson's contribution to science and space exploration, or Stevie Wonder's legacy in music. Have students read their essays to one another or submit them for extra credit. This could be a good opportunity to teach your students how to properly write in a persuasive tone and voice and explore paragraph and essay structure.
This is also an opportunity to have students participate in their government! The U.S. Postal Service welcomes suggestions for stamp subjects that "celebrate the American experience." The USPS website gives the criteria for selecting a stamp subject and the process for submitting a proposal. Help students follow the proper selection process, and make sure they're aware that USPS no doubt receives many ideas, so the chance of theirs getting selected is small.
3. Writing Prompts
With these Black History Month writing prompts from fourth-grade teacher Perry Hollins, you can introduce your students to Black innovators of the past and present. Your students can then tie these figures' experiences to their own lives. For each prompt, students explore the life of a Black innovator, reflect on a quote from the individual, and then tackle a writing prompt. The prompts each focus on a particular writing style, such as narrative, informative, or persuasive.
4. Crossword Puzzle on Civil Rights
Have your students test their knowledge of Black history with this downloadable crossword puzzle, including an answer key for teachers. Topics covered include slavery in the United States, civil rights protests, key figures, and relevant holidays. This is particularly well suited for students in Grades 4–8.
5. Dictionary of Black Leaders
Students can create a biographical dictionary with one or two paragraphs each (with pictures) about Black leaders who contributed to the civil rights movement—or you can focus on any Black leader in the U.S. throughout history, if you want to take it a step further. They can choose three to five leaders whom they feel had the greatest impact on U.S. history and explain why those individuals' accomplishments deserve to be recognized.
Then, students can dive into the role that each figure played in history, what events they influenced, and their legacy. This is a good chance to teach students about finding credible sources online, creating a bibliography, and improving their writing. Your students can exchange their final projects and provide peer feedback or share them with the larger class.
6. Explore Famous Black Scientists in History
If you're looking to explore famous Black scientists in history, you can download these posters, hang them in your classroom or distribute them to your students. This activity can take a lot of different forms. You may simply have a classroom discussion about the legacies of each of these scientists, or you can encourage your students to dig further and create their own separate list of famous Black scientists—or even narrow it down to influential Black innovators in specific scientific fields, such as chemistry or mathematics. Your students can write about these individuals' lives, accomplishments, and continued legacy today and perhaps create their own posters to hang on a bulletin board.
7. Black History Month Challenge Quiz
Have students explore Black history with this short multiple choice quiz. A teacher answer key is also included. You can have students hand this in for a grade, or have them work in teams and see which group answers the most questions correctly.
8. Word Search and Definitions
Download this word search for students that includes terms related to Black history. Once students find all the words listed, have them define each term. The specifics are up to you as to what they need to include in their definitions—consider a short paragraph about each as a homework assignment or extra credit project in February.
9. Read Books About Black History
There are many books you can read about Black history that highlight both the triumphant and tragic journeys of Black people in the United States. One example is The Undefeated, illustrated by Kadir Nelson. The book won the 2020 Caldecott Medal and the Coretta Scott King Illustrator Award. Author and poet Kwame Alexander won a Newbery Honor for the book as well. The beautifully crafted book of poetry doesn't hold back on illustrating the cruelties Africans faced on their journey to and arrival in the U.S., but it's presented in a way that's easy for kids to digest and understand. The book showcases themes such as determination, self-actualization, and perseverance and covers the horrors of slavery, the triumphs of the civil rights movement, and the actions of influential Black figures.
If you're looking to teach students about the impact of the Chicago Race Riots on history, consider these two literary texts recommended by HMH's archivist, Susan Steinway.
February is Black History Month: the celebration of African American history, contributions, and achievements that's recognized annually across the United States and Canada.
For teachers, it's a great opportunity to teach with intention, honoring the tradition and showing students its importance, along with the importance of Black history and culture.
And this year, it's more important than ever to uphold this tradition and celebrate Black history — no matter where your students are learning.
Use these 10 activity ideas to teach Black history all month and keep your students engaged, whether they're in-class or online!
7 Black History Month topic ideas
Typically, teachers tend to stick with the same few topics during Black History Month: civil rights, historical Black leaders or celebrities, and important milestones.
While these are still great topics to explore, there are also plenty of other important concepts you should consider introducing to your students this year, such as:
Guidelines for teaching during Black History Month
When teaching Black history, remember to:
Follow the do's and dont's
Always promote diversity in your classroom
Remind students that Black history is American history
Leverage Black voices as much as you can (use relevant media, invite guest speakers etc.)
P.S. If you want to help parents talk about Black history and racial issues with their kids at home, use these 8 tips for parents as a helpful resource to start with — including additional resources for anyone who wants to learn more.
10 Black History Month activities for your students
Use these activities throughout the month (and the rest of the year) to keep Black history at the forefront of your lessons and encourage your students to keep learning more.
1. Quote or fact of the day
Do the best you can until you know better. Then when you know better, do better. Maya Angelou
Every morning, greet your students with a new quote or fact that's relevant to Black history.
Say them aloud during your lesson, add them to your bulletin board or send them in an online message (or all of the above, if you're feeling ambitious). After this, you can open a discussion with your class about the relevance of each quote or fact.
Your students will love looking forward to what each day brings!
2. Person of the day or week 
Take time to talk about Black influencers and their accomplishments. Highlight a different person every day or week and center your lessons around them!
Explore categories like:
Actors
Artists
Writers
Athletes
Activists
Musicians
Politicians
Filmmakers
Historical figures
Heroes and iconic leaders
Scientists and mathematicians
Tip: Try to look beyond typical historical figures and popular celebrities. There are plenty of Black contributors students may not have even heard of yet — use this chance to introduce them! 
3. Black history trivia & games
Bring some fun (and maybe a little competition) into your lessons this month! Find trivia and games that focus on Black history, or repurpose other classroom games to incorporate Black History Month questions and answers.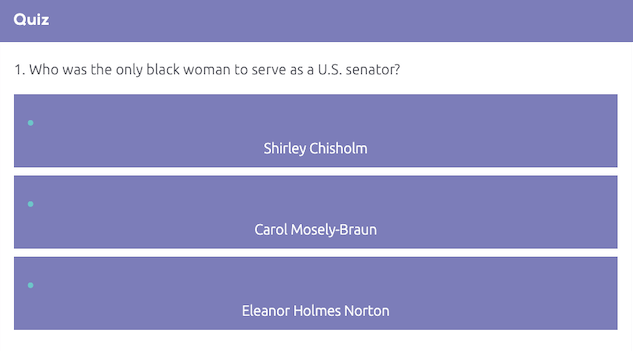 4. Worksheet activities
Teach students about Black history while they work on fun activities at their own pace. Send worksheets to students online or print them out for independent classroom learning.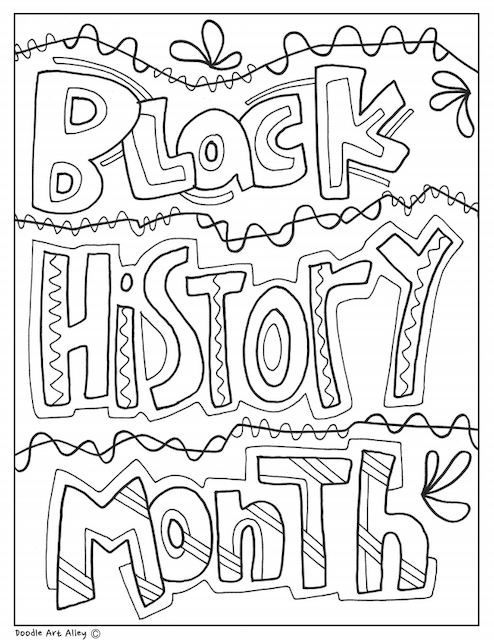 5. Virtual events
Classroom learning is great, but there's so much students can learn from their own experiences!
This year especially, there are plenty of online activities and events celebrating Black History Month. So why not choose a youth-appropriate one your class can participate in?
6. Timeline activity
Provide more context on important events in Black history with a bit of chronology.
Have students put together their own timelines, whether individually or in groups, that focus on specific historical events or people. They'll have fun putting all the events together and learn lots along the way!
7. Study (and create) art
Art in the Black community carries so much historical and cultural significance that can inspire some great, illuminative lessons.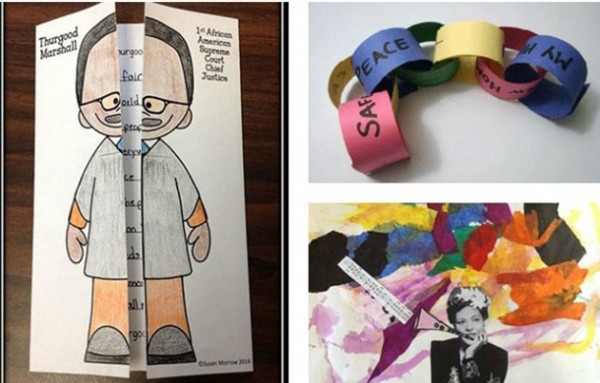 Assign one of these activities from Creative Child, or get students to:
Write a story
Make a video or podcast
Create visual art or crafts
8. Use relevant media
There's so much good media out there to help you teach Black history — use it to your advantage!
Read books or watch videos with your class, then discuss the themes and lessons of each piece of media. After this, you can assign work based on them.
Try these books:
All Are Welcome by Alexandra Penfold
The Day You Begin by Jacqueline Woodson
9. Host thought activities
Strengthen collaboration skills with various thought activities during February. These will get students thinking and help them learn new ideas and perspectives from each other.
Start by posing a relevant question to your class, like:
Why do we celebrate?
What does Black History Month mean to you?
How can we fight intolerance in our everyday lives?
Encourage plenty of participation, then discuss everyone's answers together!
10. Assign a class project
Give your class a larger assignment they can work on for the entire month, like a collaborative media project or group presentation — like this one from The Core Coaches on Teachers Pay Teachers.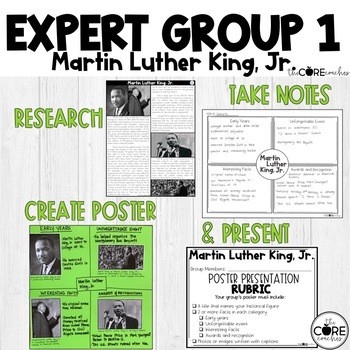 These bigger projects let students build on what they're learning and work together towards something they can be proud of!
The struggles and successes of many African American personalities, from civil rights leaders to children's authors, are rich fodder for classroom discussions and student research. Try these activities to inspire your students in the arts, sports, literacy, and more.
Arts
On the Block
Romare Bearden was a prominent collage artist based in Harlem. Share images of his work with kids by visiting the Romare Bearden Foundation website, then click on Education Resources to explore ways to incorporate Bearden's work in your classroom. Begin by inviting small groups to make a collage of their neighborhood in the style of Bearden's The Block.
Story Quilts
The women of Gee's Bend, Alabama, created quilts that told stories. Read about them in Patricia McKissack's book Stitchin' and Pullin' and view photos from Auburn University. Then have students create quilted squares that, when put together, tell a classroom narrative. Read Meghan Everette's blog post Celebrate Black History With Gee's Bend Quilts for inspiration!
Jazz Clouds
Pay homage to great African American jazz musicians, such as Louis Armstrong, Dizzy Gillespie, and Duke Ellington, by reading This Jazz Man by Karen Ehrhardt. Then listen to their music and have kids free-write phrases to describe how the music makes them feel. Type the words into wordle.net to make a colorful "word cloud" that represents jazz music.
Twelve-Bar Blues
Teach your class about the historical and cultural significance of the blues, which is steeped in slavery and work songs. Help your students brainstorm things that might give them "the blues." Teach your students about the 12-bar structure of the blues with the lesson plan from The Blues Classroom from PBS.
Literacy
Character Interviews
Have students work in pairs to research African American children's book authors, such as Christopher Paul Curtis, Julius Lester, Patricia McKissack, Walter Dean Myers, Faith Ringgold, and Mildred D. Taylor. Then ask each pair to simulate a Q&A between the author and one of his or her characters — with the character asking how and why the book was written.
History
Schools of Many Colors
Learn about school desegregation by reading The School Is Not White! by Doreen Rappaport. Then share President John F. Kennedy's quote, "When Americans are sent to Vietnam or West Berlin, we do not ask for whites only. It ought to be possible, therefore, for American students of any color to attend any public institution…" Discuss how this statement reflects what happened in the book.
Wax Museum
Have students study an African American historical figure, then dress up as their subject, adding an identifying name tag. Invite visitors to your "wax museum" to press imaginary buttons and bring the statues to life!
Trip for Freedom
Take an interactive trip on the Underground Railroad. Read Fannie Moore's personal story and answer the questions about what it might have been like to be in her shoes. Kids can also write letters using the secret code of the escaped slaves.
Stand Up for Rosa
Rosa Parks was tired of injustice the day she refused to give up her seat on the bus. Introduce her to students by reading Rosa by Nikki Giovanni. Have students each write a poem celebrating the bravery in her action.
Slavery in New York
The South was not the only place that had a slave population. Slavery existed in the northern states, too. Visit the New York Historical Society's "Slavery in New York" exhibit online, which explores the vital role the slave trade played in making New York one of the wealthiest cities in the world. Have students discuss what New York might be like today without this history.
Government
Hope Boxes
Nikki Grimes authored Barack Obama: Son of Promise, Child of Hope prior to President Obama's November 2008 election. Discuss the concept of hope, which is a central theme of Grimes's book, with your class. Then have each child create a small hope box out of cardstock. Fill the boxes with hopeful messages and affirmations.
Sports
Gold-Medal Math
Wow your class with stats about Jesse Owens, the first American in Olympic track and field history to win four gold medals in a single Olympics. Have kids use math to determine how many meters per second he ran during his gold-medal races.
A Baseball Great
Myron Uhlberg's book Dad, Jackie, and Me tells the story of a white man and his deaf father who vigorously supported Jackie Robinson when he became the first African American baseball player in the majors in 1947. Discuss how Robinson and Uhlberg's father overcame prejudice by proving their abilities to others after reading the book and the author's note. The end pages of the book, which contain original newspaper clippings about Robinson, might be projected.
Want to make math classes more engaging? According to research, Prodigy makes math more fun and can even lead to better test scores! Learn more about Prodigy's adaptive math platform today!