Best Women's Day Celebration
Women's Day Celebration
Women are strong, powerful and invincible. With thousands of mantras encouraging women's existence every day, a special day is indeed a necessity to celebrate women's achievements in all aspects of life. Whether she's a teacher, homemaker, economist, engineer or pioneer, women have been making the world a better place with their infinite strength, determination and belief. With power enough to shatter the shackles of patriarchy, women are rising above societal hurdles every single day, making them a stronger force to reckon with, in modern times. This International Women's Day, we are celebrating and rejoicing the social, economic, cultural and political achievements of women all over the world. The day also marks a call to action for accelerating gender parity. As all women come together, significant activity is witnessed worldwide to celebrate women's achievements or rally for women's equality.
Theme for 2022

Every year, March 8 is celebrated as International Women's Day. This year, the goal is to create a gender-equal world. It is about celebrating a woman's success and raising awareness against bias. So we all should choose to 'challenge' to bring the change. The hashtags for this year are #ChooseToChallenge and #IWD2021.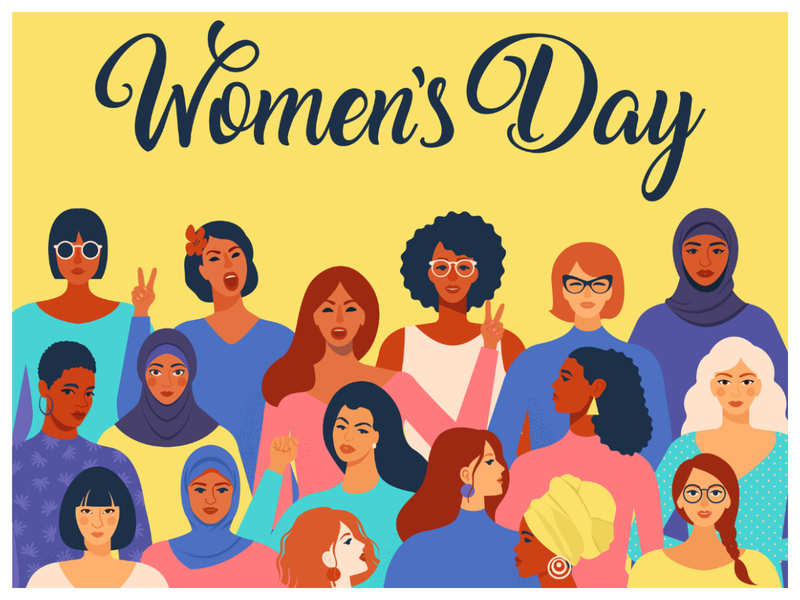 Several missions have been created to do the same. We should celebrate tech women and their innovations, applaud equality for women in sport, educate women on health choice decisions, build inclusive thriving workplaces, increase the visibility of creative women and forge their empowerment worldwide.
International Women's Day has been observed since the early 1900s. That was the time of great expansion and turbulence in the industrialized world that witnessed booming population growth and the rise of radical ideologies.
History

It was during 1908 that there was an ongoing critical debate amongst women regarding their oppression and inequality. The campaign for change started to become more vocal when 15,000 women marched through New York City demanding shorter hours, better pays as well as voting rights. In 1909, the first Women's Day was observed across the United States. In 1910, an International conference of working women was held in Copenhagen. That's where the idea was proposed by Clara Zetkin, a leader of the Women's Office for the Social Democratic Party in Germany. In 1911, International Women's Day was honoured for the first time in Austria, Denmark, Germany and Switzerland on 19 March. Between 1913 and 1914, women in Russia observed their first Women's Day on February 23. Later, it was decided that March 8 can the globally accepted day to celebrate IWD. International Women's Day was celebrated for the first time by the United Nations in 1975.
Colours of International Women's Day

Did you know there are also colours for the day? The three colours are purple, green and white. Purple signifies justice and dignity, green symbolizes hope and white represents purity, which was slightly married by controversy. The colours originated from the Women's Social and Political Union (WSPU) in the UK in the year 1908.
Not many may be aware that International Women's Day is not specific to any country, group or organisation. The day belongs to women everywhere. Let us identify, celebrate and increase the visibility of women's achievements! There is a dire need for increased awareness through meaningful narratives, resources and activities to combat gender bias and discrimination.
We cannot be complacent. We all should play our part in bringing gender parity and we wish a very Happy Women's Day to all the ladies out there!
International Women's Day 2022: "Gender equality today for a sustainable tomorrow"
The theme for International Women's Day, 8 March, 2022 (IWD 2022) is, "Gender equality today for a sustainable tomorrow", recognizing the contribution of women and girls around the world, who are leading the charge on climate change adaptation, mitigation, and response, to build a more sustainable future for all.
Advancing gender equality in the context of the climate crisis and disaster risk reduction is one of the greatest global challenges of the 21st century. The issues of climate change and sustainability have had and will continue to have, severe and lasting impacts on our environment, economic and social development. Those who are amongst the most vulnerable and marginalized experience the deepest impacts. Women are increasingly being recognized as more vulnerable to climate change impacts than men, as they constitute the majority of the world's poor and are more dependent on the natural resources which climate change threatens the most.
At the same time, women and girls are effective and powerful leaders and change-makers for climate adaptation and mitigation. They are involved in sustainability initiatives around the world, and their participation and leadership results in more effective climate action. Continuing to examine the opportunities, as well as the constraints, to empower women and girls to have a voice and be equal players in decision-making related to climate change and sustainability is essential for sustainable development and greater gender equality. Without gender equality today, a sustainable future, and an equal future, remains beyond our reach.
The United Nations Observance of International Women's Day under the theme, "Gender equality today for a sustainable tomorrow", will be marked by a high-level virtual (TBC) event on Tuesday, 8 March 2022, 10–11.30 a.m. EST. The Secretary-General of the United Nations, the President of the General Assembly, the Chair of the Commission on the Status of Women, the Executive Director of UN Women as well as gender equality and climate change activists and celebrities will participate. The event will be followed by a high-level panel discussion and musical performances.
The theme for International Women's Day is aligned with the priority theme for the upcoming 66th Commission on the Status of Women (CSW66): "Achieving gender equality and the empowerment of all women and girls in the context of climate change, environmental and disaster risk reduction policies and programmes".
International Women's Day 2022 Brand Kit
For this year's International Women's Day, UN Women has partnered with the visual artist Burcu Köleli to develop imagery illustrating the 2022 theme "Gender equality today for a sustainable tomorrow".
Non-commercial use of the International Women's Day 2022 banners is permitted on web and social in the context of International Women's Day provided that UN Women and the artist are credited as follows.
International Women's

 

Day
Mother, sisters, wives, girlfriends, and fiancees…what would we ever do without them? Nobody can honestly say we don't owe an enormous amount to the women in our lives, from the mothers who made us chicken soup when we were sick as children, to the sisters who helped us decide what to wear on our first date, to the wives who somehow manage to juggle both a career and a family, never missing a beat. Women's Day is all about celebrating these incredible people and showing them how much we love, respect and value them.
This holiday is perhaps especially important in parts of the world where women are still forced to deal with shocking inequality on a daily basis and is meant to raise awareness of the challenges and struggles faced by these women. Women's Day celebrates women's history, highlighting key events, milestones, and achievements, and aims to further promote and raise awareness of women's rights and to achieve equal opportunity status in all walks of life.
History of International Women's Day
It may come as a rather sad surprise that International Women's Day was first celebrated on February 28th, 1909 in New York. Two years later, German socialist Luise Zietz proposed that the holiday become an annually observed one that would celebrate various women's issues, such as suffrage, so as to promote equal rights for women. The first few International Women's Days were celebrated in a quite different fashion than they are nowadays, with hundreds of demonstrations taking place in Europe. During these demonstrations, women demanded they finally be given both the right to vote and to hold public office.
Employment sex discrimination was also an important issue. In 1917, the International Women's Day demonstrations in Saint Petersburg, Russia, helped initiate the February Revolution, when women marched through the city demanding an end to World War I. This shocked even Leon Trotsky, who, much like other Russian leaders of the day, did not expect the Women's Day protests to cause that much of a stir. Until 1977, Women's Day was celebrated mainly in socialist countries. It was only after the United Nations General Assembly's decision to proclaim March 8th International Women's Day that the holiday gained worldwide popularity.
International Women's Day Timeline
 1848
Seneca Falls Convention
The first convention held in the United States in support of Women's Rights, this New York meeting, held in July, signaled the beginning of the Women's Suffrage Movement.[1]
 February 28, 1909
First Women's Day in the United States
National Women's Day begins in the United States, prompted by a growing movement toward women's rights. It's organized by the Socialist Party of America and celebrated on a Sunday so working women can participate.[2]
 1910
International Conference of Working Women in Copenhagen
The idea for an international day acknowledging women is brought forth by Clara Zetkin, a German political leader. This suggestion is approved by more than 100 women from 17 different countries.[3]
 1911
First International Women's Day Observed
More than 1 million women and men throughout Austria, Switzerland, Germany and Denmark, attend various rallies.[4]
 1913
Russian Women Celebrate
Just prior to the outbreak of World War I, Russians celebrate International Women's Day. It is agreed to celebrate annually on March 8 (by the Gregorian Calendar).[5]
 1917
Russian Women's Day Leads to Women's Right to Vote
Feminist demonstrations in Russia are part of a chain of events that lead to the abdication of the Czar and the Russian Revolution, ultimately resulting in the right to vote for women.[6]
 1918
Some Women in England Gain Right to Vote
Women in England over the age of 30 with property qualifications receive the right to vote (men qualify beginning at ages 19-21).[7]
 1920
American Women Earn Right to Vote
After many attempts, the 19th Amendment to the US Constitution is finally passed.[8]
 1928
England Adopts Equal Voting Rights
English women earn the same access to voting as men.[9]
 1945
United Nations Recognizes Equality
The Charger of the UN becomes the first international agreement to state equality between women and men.[10]
 1975
United Nations First Acknowledges International Women's Day
IWD is first celebrated by the UN.[11]
 1977
UN General Assembly Adopts Women's Day Resolution
The UN calls Member States to observe a "United Nations Day for Women's Rights and International Peace" on any day of their choosing throughout the year.[12]
 2001
Women's Day Goes Online
In need of a reboot after having lost momentum over the last decades of the 20th century, the International Women's Day Movement launches online. The website helps with women's campaigns and leads out in raising money for charities that impact equality for women. [13]
How to celebrate International Women's Day
There are many ways that you can go about celebrating this holiday, but all of them have a similar goal: to raise awareness about the struggles of women the world over and honor their achievements. Of course, not all achievements are huge, worldwide game-changers like women finally obtaining the right to vote—there are all sorts of other, smaller feats that women you know manage on an everyday basis that you may not pay too much attention to until you try calming 2 crying toddlers, making dinner and explaining the particulars of a newly-acquired client to your boss over the phone at the same time. This may sound ridiculously hard to pull off, but this is something thousands of women pull off every day, something that should be deeply appreciated and something that nobody should take for granted. Grand gestures aren't necessarily required to show appreciation, either—sometimes a simple "thank you, I have no idea how you do it" is enough to lift an overworked woman's spirits.
International Women's Day Is Also About Women's Rights
If you'd like to do something more, though, there is a virtually endless amount of things you can do to help improve women's lives the world. You can attend one of the 1000+ events organized globally where you can learn about what women's lives are like in different countries and make a donation to the event you attend. Reading books is also a great way of broadening your horizons, and biographies of women like fearless Somalian women's rights activist Ayaan Hirsi Ali will definitely open your eyes and inspire you to see women's lives and problems completely differently.
It's no secret that women's rights have evolved greatly. However, things could still be a lot better! People such as Malala Yousafzai, a young activist for female education in Pakistan. Her story, I am Malala, describes her fight for education as a woman in Pakistan, and the dramatic consequences of her activism. Targeted by a Taliban's assassination, Malala was shot in 2012. She was transported to different hospitals before being rushed to the UK, where she was treated and survived her injuries. Her autobiography is an eye-opening shockwave that will make you aware of the struggles that many women continue to face. Nowadays, Malala is a student at the world famous University of Oxford in the UK!
Broadening your horizon on Women's Day to understand the differences between countries and how women are treated in the world can offer a new appreciation for women. Let Malala's story inspire you to attend events or support more initiatives to help women. Why not keep your eyes open for books like Malala's autobiography that share the experience of women in different cultures?
Supporting a Woman on International Women's Day
Have you ever stopped to consider what it means to be a woman? Aside from the biological definition, there is a lot that goes into defining, feeling, experiencing and celebrating womanhood on Women's Day. No, it doesn't have to be a philosophical debate about what makes a woman who she is! But in a day and age where gender issues and gender roles are being questioned, it's only fair to broaden your perception of what a woman can be and do. The first and most important thing you need to remember is that women are sick of hearing about gender stereotypes. Therefore, Women's Day is a day to be embraced with an open mind. Question your assumptions about what people can and can't do based on gender. Why not support a female friend to follow her dreams?
Spend International Women's Day With Women Who Don't Let Conventions Define Them
What makes her a woman? Women, such as Anne Lister, have chosen to define their womanhood on their own terms. During the 19th century in England, Anne Lister, also nicknamed Gentleman Jack, took part in activities that were otherwise reserved to men and also ran typically men's businesses. She also chose to marry another woman, and lived with her, despite not receiving any legal recognition. Gentleman Jack cultivated her free spirit without compromising, which her autobiography, Gentleman Jack, reveals.
Another autobiography that enhances the definition of being a woman is Trans, a Memoir, by Juliet Jacques. Jacques describes what it means to be a woman throughout the transitioning process. On International Women's Day, show your full support by celebrating and embracing different perceptions of what it means to be a woman.
Spend A Day In Her Shoes On International Women's Day
Challenges exist in different shapes. It's something Nicole Byers, the bubbly "Nailed It" presenter on Netflix knows well. Her podcast, Why Won't You Date Me, describes with humor her quest for love and the modern expectations that society has for women. The sweet dreams of childhood are nothing like the harsh reality, like the podcast Stuff Mom Never Told You explains. Spend the day listening to the stories of everyday women, who could be your sister, your mother, or your wife.