Best Valentines Day Fundraiser
Valentines Day Fundraiser
Valentine's Day is a season of love and acts of kindness, which makes it a great time to hold a fundraiser. Just remember, the key with all fundraising is to start early and plan ahead — so, finish planning in January and start promoting before February begins.
Dance, Run and Jump for Love
Hold a Sweetheart Dance – Hold a sweetheart dance at a local retirement home and invite preschool- or elementary-age kids to be the seniors' dates. Recruit a business to sponsor the event, with proceeds benefitting an organization that helps low-income seniors.
Plan a Daddy-Daughter Dance – Host a father-daughter dance and all profits from ticket sales can benefit your nonprofit or school. This can be a dress up event or a casual dance where you have someone teaching fun dance moves. You can also have photos taken for an extra fee and a photo booth to raise additional funds. Genius Tip: Try these 15 father-daughter dance themes for your event.
Make it a Sadie Hawkins Event – Host a Valentine's dance at your high school or middle school and ticket sales can help go toward new uniforms, technology upgrades, upgraded courtyard seating and more. Note: The above photo options also can apply here.
Have a Heart – Host a relay race or a 5K for a health-related nonprofit or school. Entry fees will benefit the nonprofit. Design long-sleeve shirts (in red or pink) that will get everyone excited to get out in potentially chilly weather. Genius Tip: Use SignUpGenius to register participants and track entries.
Jump for Joy – The same idea can be applied to the classic jump-a-thon where students obtain pledges for the number of times they can consecutively jump rope or how long they can jump rope.
---
Sweets and Sweet Nothings
Have a Tea Party – Organize a Valentine's Day tea either at your headquarters or at a local restaurant or hotel. Make it a special dress-up event where ticket sales benefit your organization. This can be geared toward children of all ages, but for younger kids, they can buy an additional ticket to bring their doll or teddy bear. Have tea and cookies available for the dolls and teddy bears to make it extra special!
Sell Gift Baskets – Make and sell unique Valentine's "date" gift baskets with items couples can enjoy on Valentine's Day together — wine and cheese; specialty coffee and chocolates; popcorn, candy and movie tickets; or a heart-shaped cake pan with the ingredients needed to bake together.
Sell Custom Valentine's Cards – Have a talented group member hand letter Valentine's cards on cardstock or small canvases and sell them as a fundraiser.
Make Chocolates – Offer a chocolate-making class, and sell tickets to attend. You can partner with a local culinary school, cooking store or high-end restaurant. See if anyone will donate part of their time or offer the class at a reduced cost. It never hurts to ask.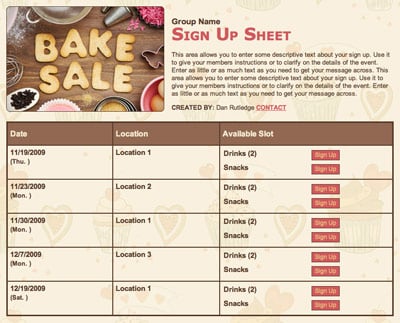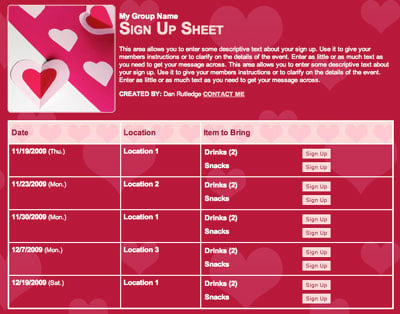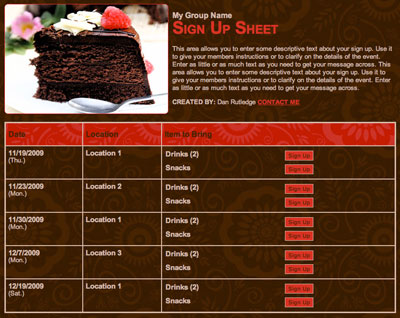 Host a Wine Pairing – Partner with a local restaurant, club or hotel to host a wine pairing on an "off" night near Valentine's Day. Create unique wine and cheese offerings as well as specialty desserts and other food. Sell tickets to attend. Genius Tip: Use SignUpGenius to gather RSVPs and sell tickets in one place.
Drink Coffee – Work with your local coffee shop to create a Valentine's-themed drink like a "sweetheart mocha" or a "heartwarming hot chocolate" for the month of February, and a percentage of the profits can benefit your organization.
Sell Baked Goods – Partner with your local bakery to make a special Valentine's cookie and/or cupcake to sell. The bakery can sell it in the store with a percentage of the profits benefiting your nonprofit — or you can sell them at another venue. Offer pre-orders for larger orders to bring in more funds!
Write Encouraging Notes – Partner with a local paper company (search Etsy if you need ideas about who to contact) to create a unique Valentine's Day card highlighting your nonprofit and how it serves/loves people well.
---
Help your team raise money with a Valentine's bake sale sign up. SAMPLE
---
School Ideas Easy as 1-2-3 (Baby, You and Me)
Love to Read – Host a book drive for a local elementary school or children's nonprofit with this theme. You can also ask students to recruit "sponsors" who will donate a certain amount of money for every book they read in the two-week period leading up to Valentine's Day.
Sell Valentine's Prints – For an art class project, ask students to draw images based on a theme such as "A Heart for (Your City)" or "Be Kind." Pick a number to scan as high-resolution images and partner with a local gift or Etsy shop to sell them, earning a portion of the proceeds.
Plan Acts of Kindness – As an act of kindness, have teenagers volunteer to babysit on Valentine's night and donate the money to a nonprofit. Another idea: If it's snowy, shovel driveways for a donation. This works well for church youth groups or clubs at high schools. Genius Tip: Browse this list of 100 random acts of kindness for more inspiration.
Surprise a Secret Valentine – Middle schools and high schools can offer a Valentine's Day secret gift exchange and donate the money to a local nonprofit or use it for a pressing school need. Students buy candy from the front office that is delivered to lockers or homeroom for a friend or sweetheart.
Up and Away – Elementary schools can sell balloons (heart shaped is an extra bonus!) with a love note attached. Parents can buy them for their kids (or kids can buy for their friends) and they will be delivered at school.
Send a Singing Telegram – Another classic throwback is the singing telegram, which is a great school choir or a cappella group fundraiser. People can pay to have a singing telegram delivered on location. The choir director or fine arts director can create a sign up sheet to organize requests and consolidate locations.
Sell Flowers – Finally, there are always flowers. While it might seem cliché to sell flowers, they're still a beautiful surprise to show love and affection. Instead of selling roses at your school, change it up and sell tulips or other blossom assortments. Find a local flower shop to sell them to you at a low cost, or you can buy tulips in bulk from a wholesaler or a membership club like Sam's Club or Costco.
With these fundraising ideas, you'll have a great starting point to raise money for your cause. It's a sweet way to start the year!
Valentine Fundraising Ideas
It's the most romantic day of the year – And a fantastic opportunity for fundraising!!!
Valentine fundraising ideas come in a wide variety of shapes and forms…
But there will definitely be at least one idea that you can use to fundraise successfully for your cause!
So Don't Miss Out on the Valentine's Day Fundraising Potential…
Take a look through this super list of ideas that could be perfect for your organization to fundraise before and on this day of romance!
And be creative with them.
Customize them for your cause and its supporters… and always think of ways to make them more fun and more effective!
Let's start the love…
Valentine's Day Fundraising Ideas:
Quick links…
Flowers | Roses | Cards | Gift Baskets | Other Raffles | Valentine's Auctions | Valentine's Dance | Wine Tasting | Wall of Love – Pinups | Valentine's Themed Mufti Day | Bake Sale
Flowers:
The first most obvious Valentine Fundraising idea you could use is the sale of flowers! This should be a pretty obvious fundraiser.
Take orders leading up to the day (possibly with a delivery service) and sell at a stand outside your organization or at a local shopping center.
You can also then sell bunches in restaurants, pubs, and parks, etc.
For some great tips and ideas on fundraising with Flowers take a read here.
Roses:
If a variety of Flowers is too much to organize than just focus on Roses. They'll be the most popular flower item for the day!
Cards:
You can either, buy and sell Valentine Theme cards, or if you have some crafty members then consider making your own Valentine's Day Cards. A great idea might be to take orders for personalized cards!
You should sell the cards alongside your flowers, or on their own through the same sales strategies as above!
T Shirts:
A great idea could be to setup a FREE Valentine's T Shirt Fundraiser with BonfireFunds.
You then design some cute and clever T Shirts for Valentines day, that people would just love to buy for that special person in their life. And of course then promote like mad!
This type of fundraising is great as people can see your fundraising progress and also promote your T Shirt fundraising page to all their friends and family.
So if they loved your shirt design (and cause), then there's a good chance they'll recommend it to friends!!! Which is powerful promoting potential.
Gift Baskets:
Here is one of my favorite Valentine Fundraising Ideas! Gift Baskets are a brilliant fundraising item that can be sold, raffled, or auctioned off…
And there are loads of ideas that you could use for your Valentine Themed Gift Baskets.
A great idea for schools would be to get each class to create a Gift Basket, with each student bringing in an item for the basket (obviously donated by their parents).
Other Raffles:
Gift Baskets are not the only things that you can raffle off.
Anything that is related to this day, or to romance or love, and that is desirable, can be used in a raffle.
For example…
Romantic Getaway tickets.
Spa Vouchers
Restaurant Gift Cards
Cinema Tickets, etc
And what is so great about a Raffle is that you can use it within an event, like at a Valentine's Dance (see below), or completely on its own. It's an exceptionally flexible and adaptable fundraising idea!
Valentine Auctions:
And of course, you could instead use all the above items for an auction.
Consider incorporating both, or one of the above two Valentine fundraising ideas into a fundraising dinner or Gala event.