Best Valentines Day Fireplace Decor
Valentines Day Fireplace Decor
Valentine's Day is fast-approaching, but the freezing winter doesn't show any signs of being nearly over.
While the most romantic day of the year is usually spent outdoors, at a nice restaurant or movie theater, the cold temperatures make a cozy night in sound very tempting for many couples, particularly those have work or school until late on February 14th.
Your mantel is always a prime decoration spot, whether you are celebrating a specific holiday, want to add life to a room or simply remember good times.
Valentine's Day is a perfect occasion to take advantage of your mantel, decking it with hearts, flowers and love signs which you can truly appreciate while cozying up to your other half on the couch.
If you need help figuring out how to pull a Valentine's Day mantel decoration off successfully, we've got your covered. This gallery surely includes something that resonates with you, your style and budget.
Have a good look at these Beautiful Valentine's Day Mantel Decoration Ideas and get to work so you can have your romantic mantel decoration ready on the 14th!
Heart-Filled Valentine's Day Mantel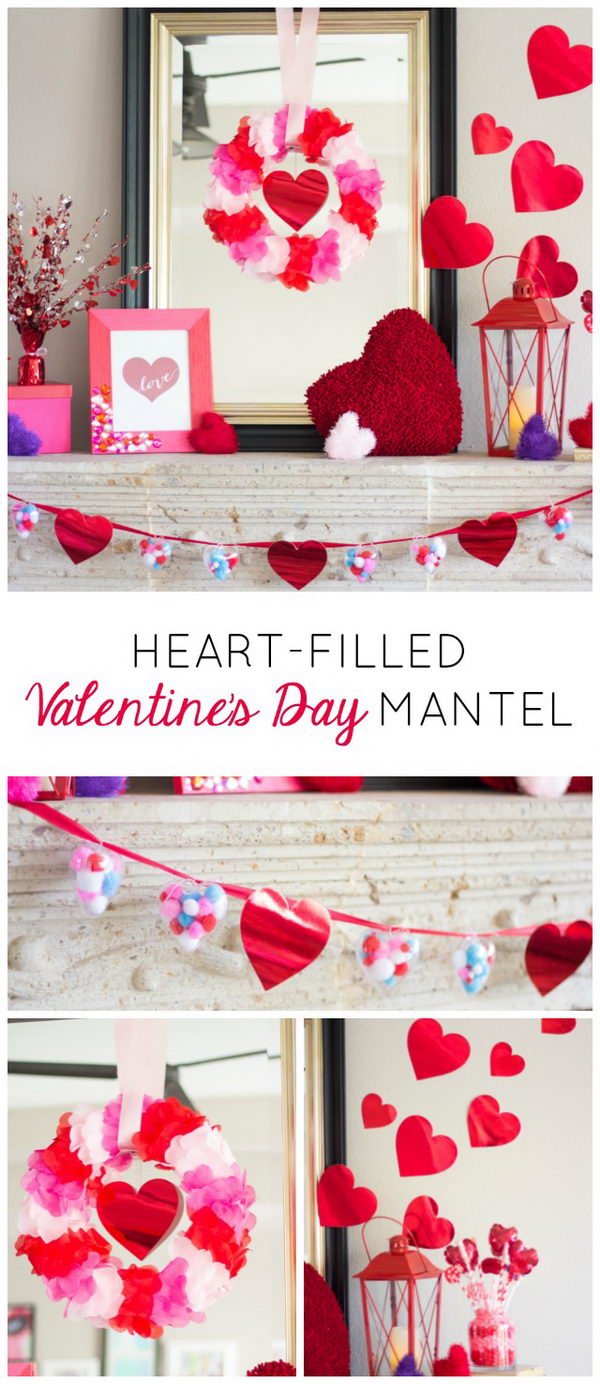 This mantel is literally full of hearts, from the topiary on the side with hearts sprouting from sticks, to the little pink frame with a heart in the center, to the mirror which has a fabric heart cluster ornament hanging over it, to all the stuffed hearts spread along the mantel top. A heart themed banner is also hanging at the bottom. via designimprovised
Repurpose Old Windows Into A Statement Piece Showing Your Love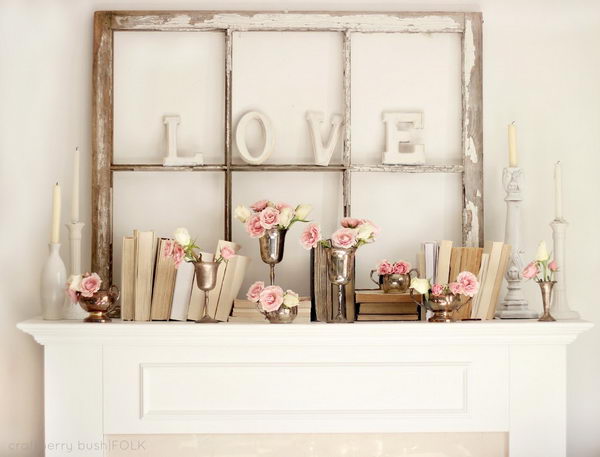 These distressed repurposed windows are the perfect frame for the white block letters placed in between the upper row spelling "LOVE". The message on the wall also really compliments the flower arrangements that rest on top of the actual mantel. via craftberrybush
DIY No Sew Garland And Chalkboard Message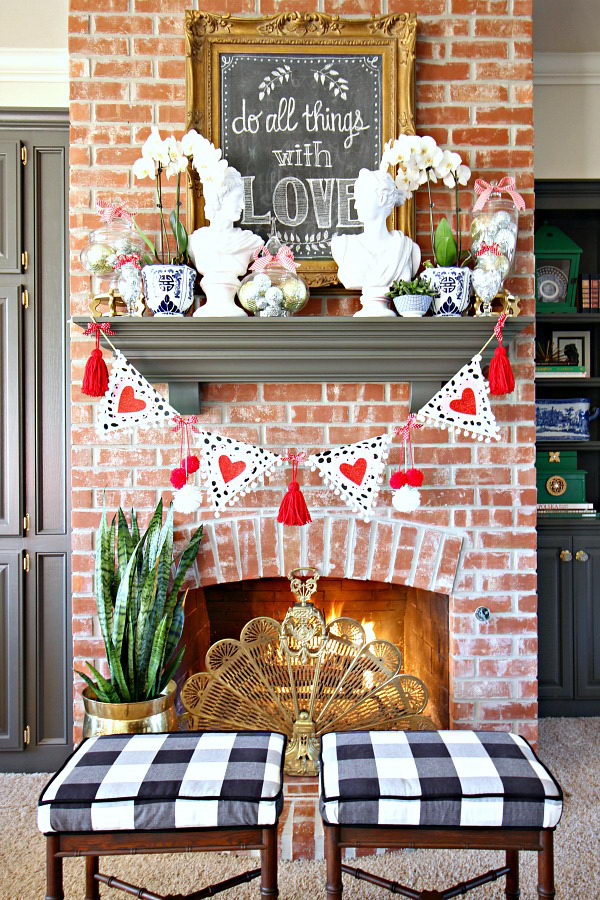 This mantel is certainly a little busy, but definitely full of love. It has a no-sew garland which features a fun pattern, hearts and even lace accents, but the fun continues on top. It also features several flower arrangements as well as a framed chalkboard on the wall, which was decorated for the occasion. via dimplesandtangles
Decorate The Mantel With Valentines Day Heart Paintings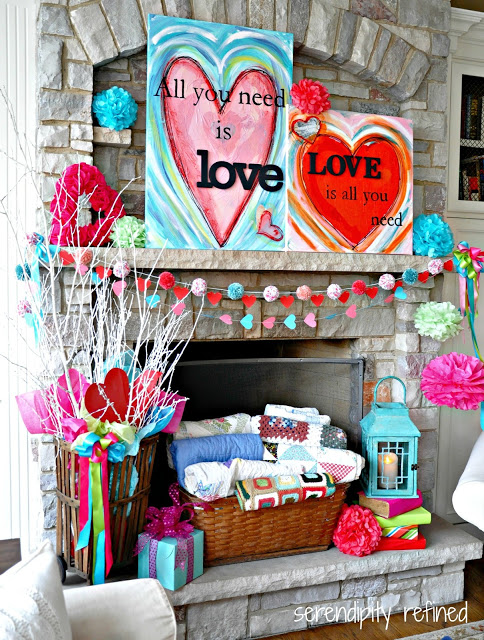 This is a great way to decorate your mantel if you usually leave the wall bare. Make some simple watercolor heart paintings with messages and hang them for the occasion. You can also add a white and red pompom garland like the one in the picture to make the mantel extra festive. via serendipityrefined
Valentines Day Wreath And Tassel Decoration For Mantel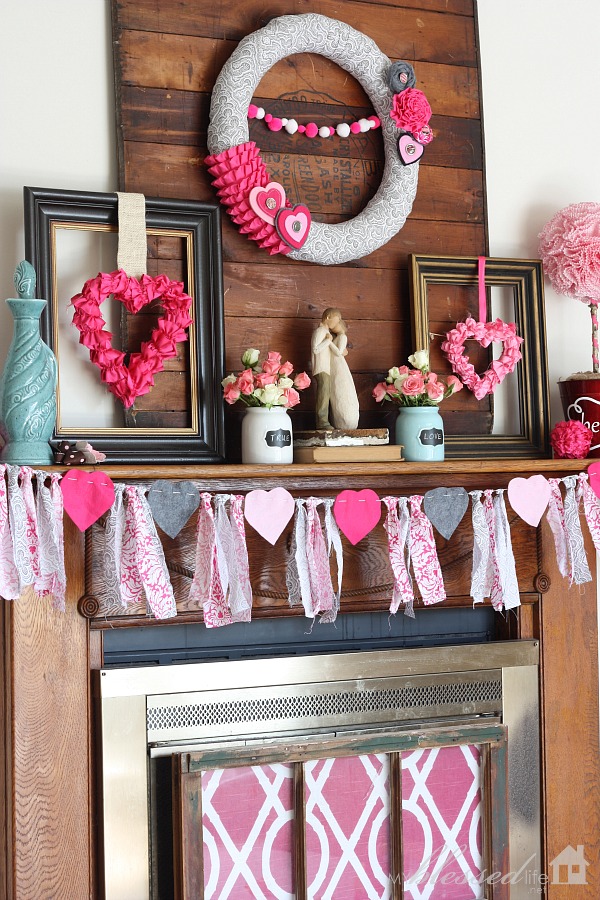 This mantel definitely has a rustic yet romantic style to it. A simple wreath decorated with pink flowers was hung on the wooden panel above it, while a garland featuring tassels and hearts in different colors was added to the bottom. via myblessedlife
XOXO Garland And Sparkly Tassel Garland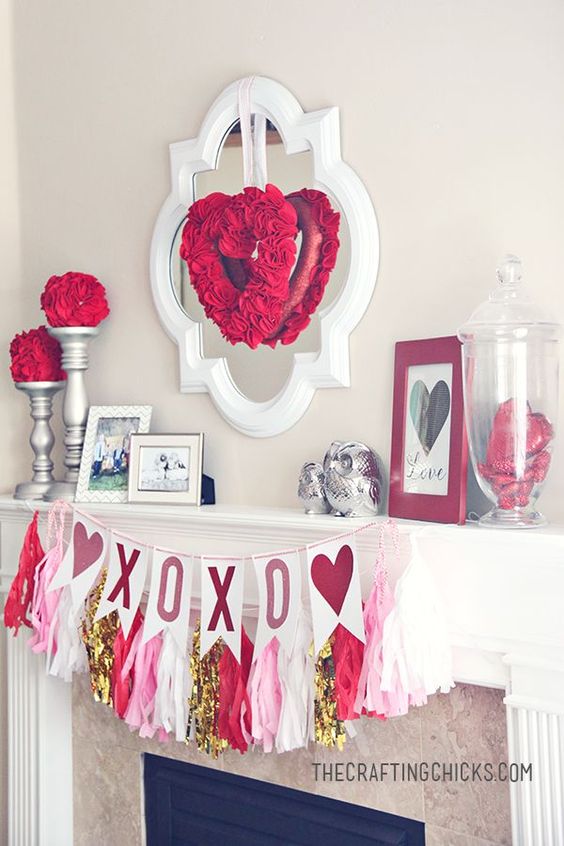 This mantel area is fully decorated in red and white, which are the colors of the season. They're in everything from the heart wreath on the wall, to the flower arrangements on the mantel top and finally the fun and colorful "XO" tassel garland, which also features some gold accents. via thecraftingchicks
Red Roses Topiary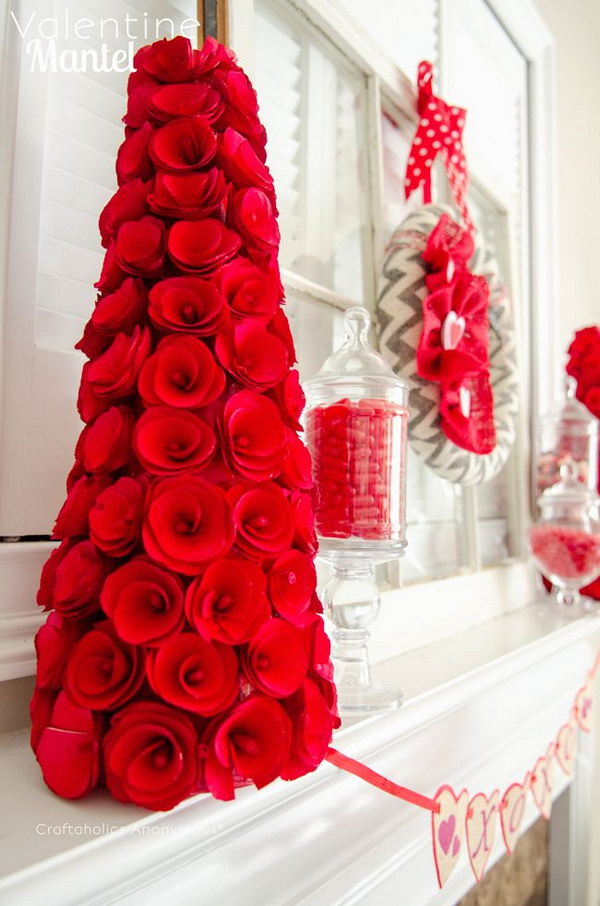 Red and white seems to be the trend, and this mantel does not disappoint. Not only does it have cone-shaped fake red rose topiaries at each end, but it also features a nice red and white wreath, red candles and a red and white heart garland at the bottom. via craftaholicsanonymous
DIY Glitter Love Canvas Sign And Pom Pom Garland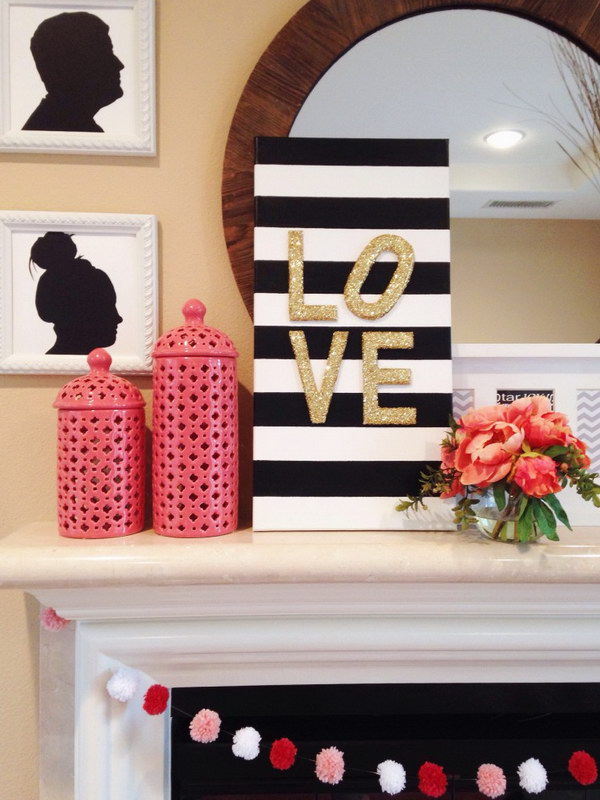 This mantel is definitely unique, as it features a black and white canvas with the word "LOVE" written in gold glitter as its main piece. Pink flowers and matching jars complete the mantel top decoration, while a small pompom garland hangs at the bottom. via heylaurenrene
Re-purposed Wood Heart Art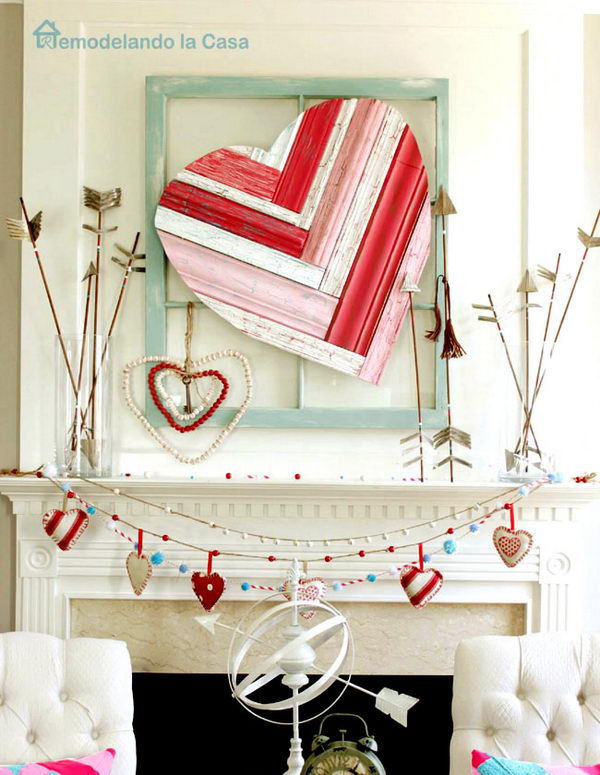 This mantel decoration would have been overwhelming, if not for the mix of light and bright colors. The main piece is the red and white framed heart on the wall, which was made from wood scraps. Metallic heart and arrow ornaments surround it, while a matching heart garland hangs from the mantel, completing the setup. via remodelandolacasa
DIY Heart Cards Garland

Here is another case of a fully decorated mantel which features a window and block letter setup, a couple of romantic frames on the mantel top and of course the garland made of multiple hearts playing cards, which looks just incredible. via happinessishomemade
White Pom-Pom Garlands And Red Rose Wreath With A Pop Of Turquoise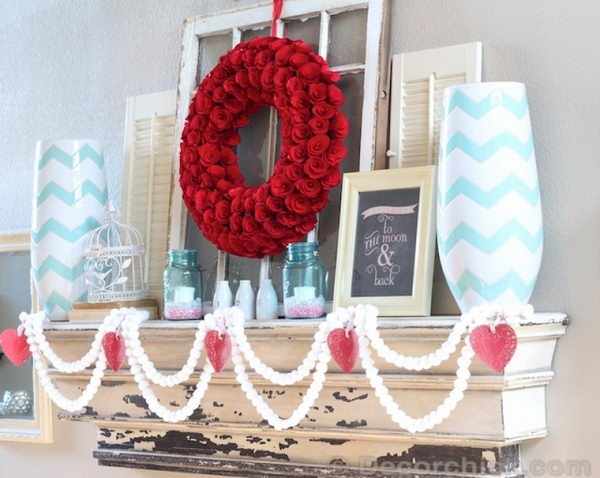 This classic colored romantic decoration looks beautiful against the turquoise wall. It features a full red rose wreath in front of the window as well as a white tiered pompom garland at the bottom, with red hearts in between the different arches. via decorchick
Scrapbook Paper Heart Frame Art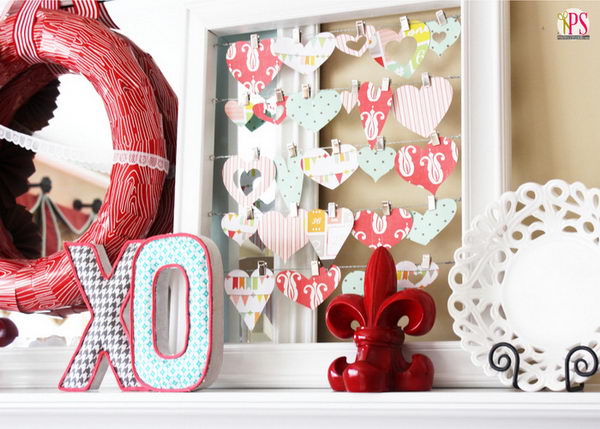 Here's a busy yet dainty centerpiece to a very well decorated mantel. A framed project was created using patterned scrapbook paper, which gives it that dainty 3D look due to its mainly soft colors. A flashier "XO" sign was placed in front of it and you can also see a red wreath on the wall to the side. via positivelysplendid
Valentine Heart + Faux Fur Topiaries Mantle Decor

This mantel decoration is all about "LOVE", from the block letters with shiny tassels at the front, to the giant pink heart on a pallet in the background and finally the two red heart topiaries on either end. via madeinaday
Giant Foam XOXO Valentine Mantel Decoration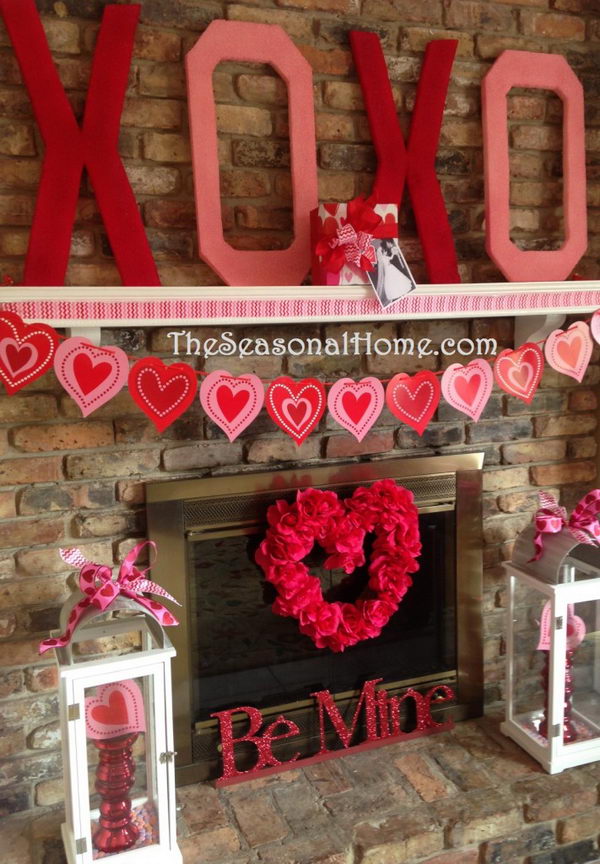 This mantel decoration is all about that rustic glamour and lots of love, with the "XOXO" foam sign on the top, the heart garland and red "Be Mine" sign at the bottom, the heart wreath in front of the actual fireplace and finally the two decorated lanterns on each side. via theseasonalhome
DIY Book Page Heart Wreath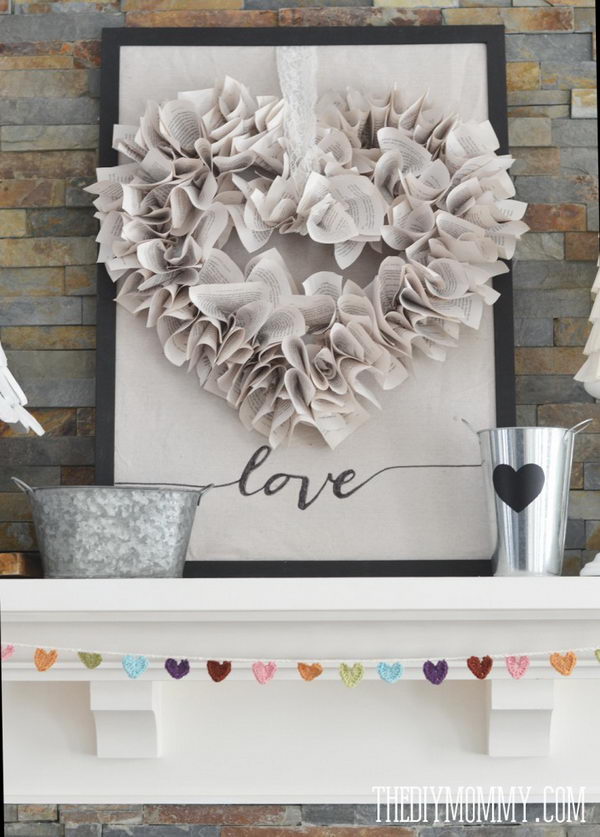 Here's a great piece that proves you can make a big statement without using strong colors. This framed black and white canvas features a 3D heart-shaped wreath in the center which was created using book pages. The word "LOVE" is also written in simple black script at the bottom. Another cute touch are the small shiny hearts that decorate the actual mantel. via thediymommy
Gold Love Helium Balloon
This mantel is fully decorated for Valentine's Day, from the hearts inside the fireplace, to the pink flower arrangements on the floor and mantel and finally the "LOVE" sign on the wall, which was created using gold helium balloons that can be easily molded into shape. via nouba
DIY Button Heart And Felted Garland
This is another great example of a cute red and white mantel decoration. It features two framed messages with heart and red button decorations, a red and white centerpiece and finally a white and red garland made of small pompoms hanging at the bottom. via pinkpeppermintdesign
3D Valntines Day Letters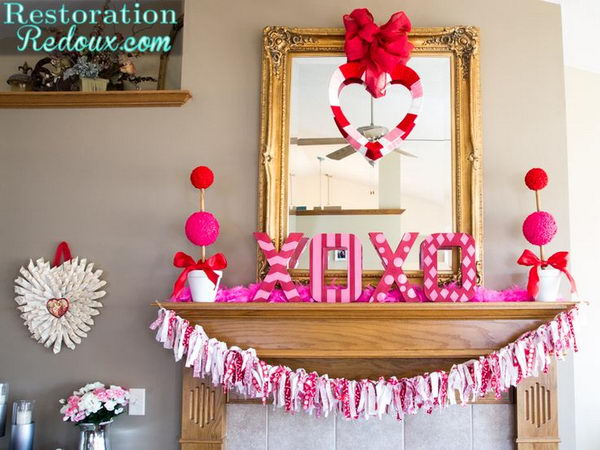 This particular mantel is quite well decorated, as everything matches, even though there are several elements to it. The main decorations are the red and white patterned "XOXO" sign as well as the tassel garland. The heart hanging atop the mirror with a bow is in the same style as the sign, and the topiaries at the ends also match, as does the heart doily to the side. via restorationredoux
DIY Glitter Heart Garlands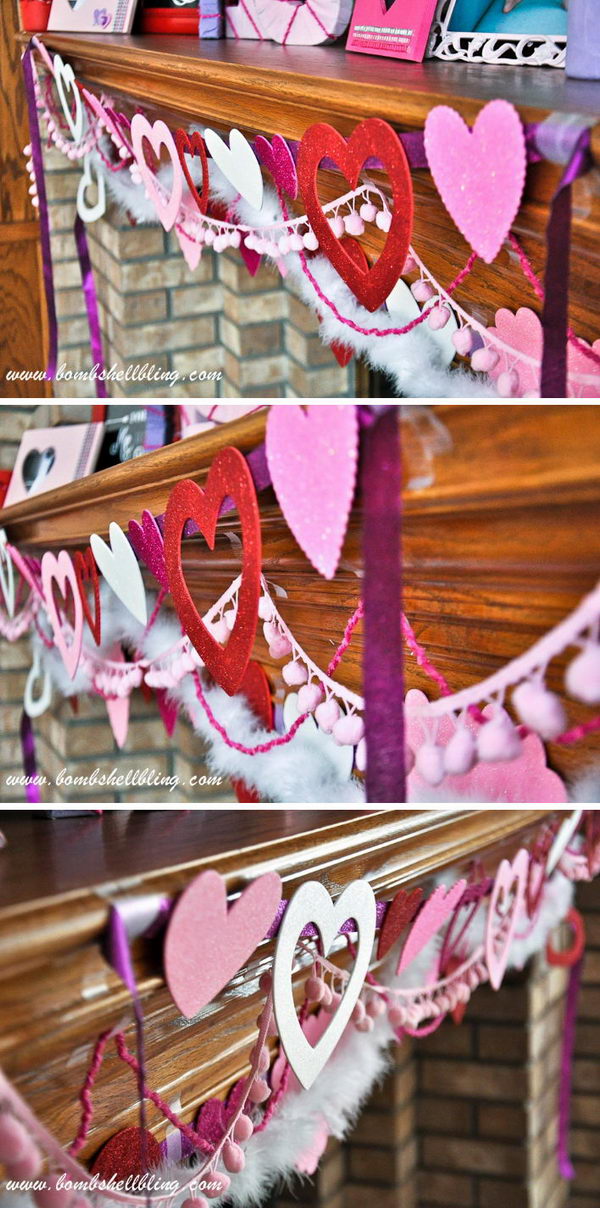 These glitter heart garlands are quite busy, but they are exactly what the name suggests: garlands made of red, white and pink glittery paper or fabric, some of which are full and others hollow, creating diversity and visual interest. via bombshellbling
Valentines Mint + Pink Mantel Decoration
This mantel decoration is definitely different due to its pink and mint color scheme. It features a framed garland, several pink flower arrangements on mint vases, an "XO" sign and of course, the pink and mint tassel garland at the bottom. via craftaholicsanonymous
Red, White And Black Paper Heart garland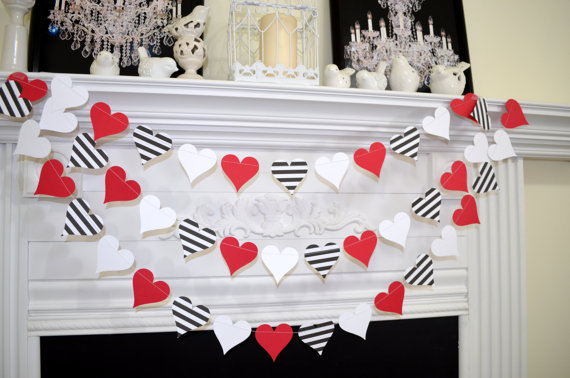 Here's another fun and unusual decoration. This triple tiered garland is made of red, striped and white hearts, celebrating love without being typical or cheesy. via catchmyparty
DIY Topiary Moss Love Letters

Here's another very unusual decoration, as the main color is the green from the plants and the moss which covers the block letters spelling "LOVE". A dimensional framed piece decorated with cascading hearts serves as the background for the plants and sign. via cornerofplaidandpaisley
Pink Valentine Mantel Decoration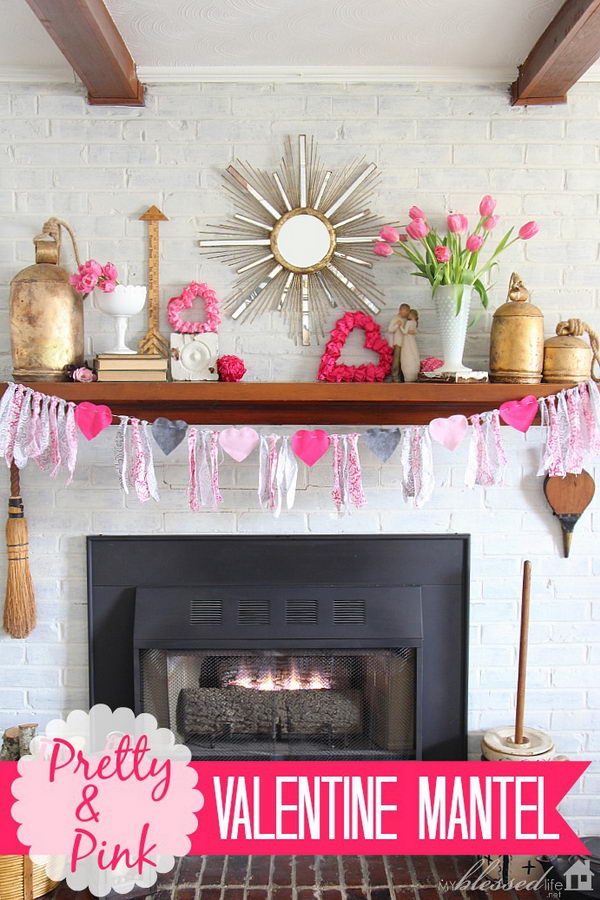 This mantel decoration is quite subtle and classy. Its main piece is the light pink tassel and hearts garland hanging over the fireplace but the top is less obvious, with accents of pink and hollow heart ornaments spread around quite casually. via myblessedlife
DIY Valentine's Day XO Garland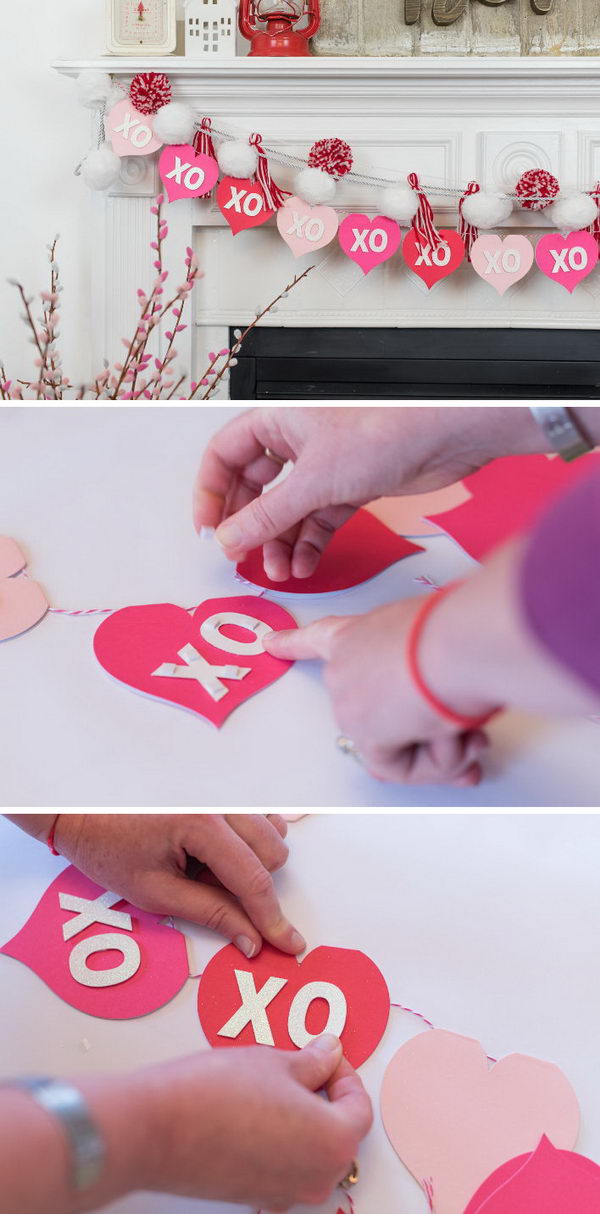 This is once again a double layer garland. The main piece is made from colorful 3D hearts, some of which say "XO" and others don't. A second, smaller one sits just above it and it's made of pompoms and tassels that hang over the hearts down below. via kingstoncrafts
Black And White Canvas With The Red Paper Wreath In The Middle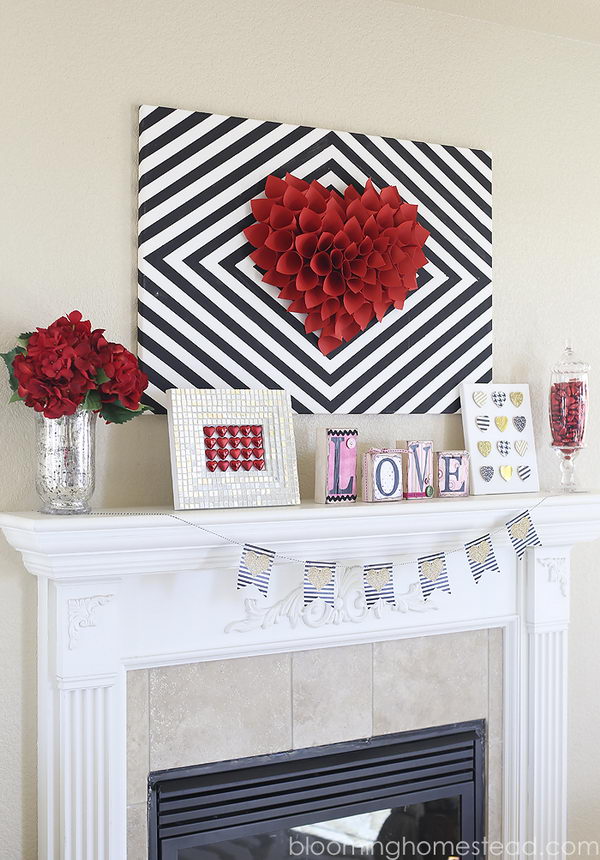 This mantel features several decorations, including the stripes and hearts garland at the bottom, as well as various canvases, a block "LOVE" sign and topiaries at the ends. The main piece, however, is the black and white canvas on the wall with a heart wreath in the center, made from paper petals that resemble the ones in the flower arrangement below. via bloominghomestead
Pallet And Heart Garland Mantel

Here's a really fun and unique mantel decoration. It features a big, patterned "XO" sign in red white and pink, with a big heart inside the "o", as well as a criss-crossed small and colorful triple tiered heart garland hanging at the top. via landeeseelandeedo
Confetti Love Letters And Doily Garland Decorated Mantel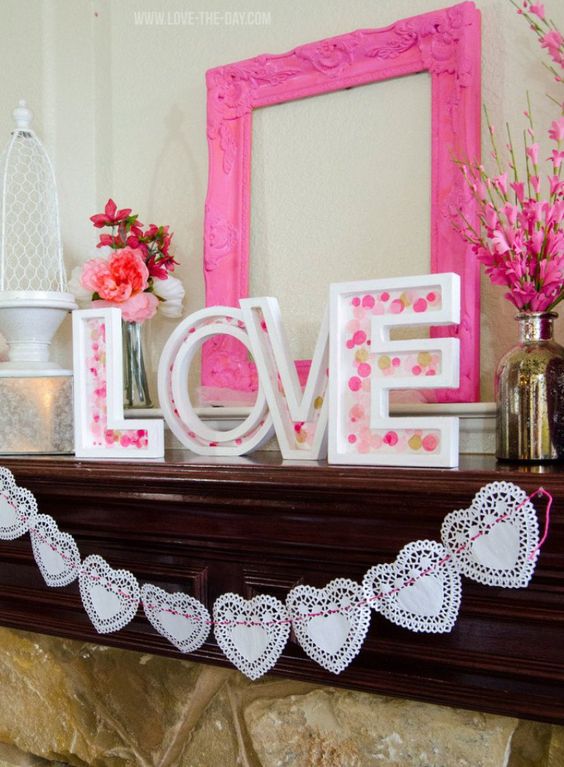 This mantel is unmistakably decorated for Valentine's with its bright pink frame, floral patterned "LOVE" sign, flower arrangements and the white heart doily garland at the bottom. via love-the-day
Adorable Valentine's Day Mantel In Bright Colors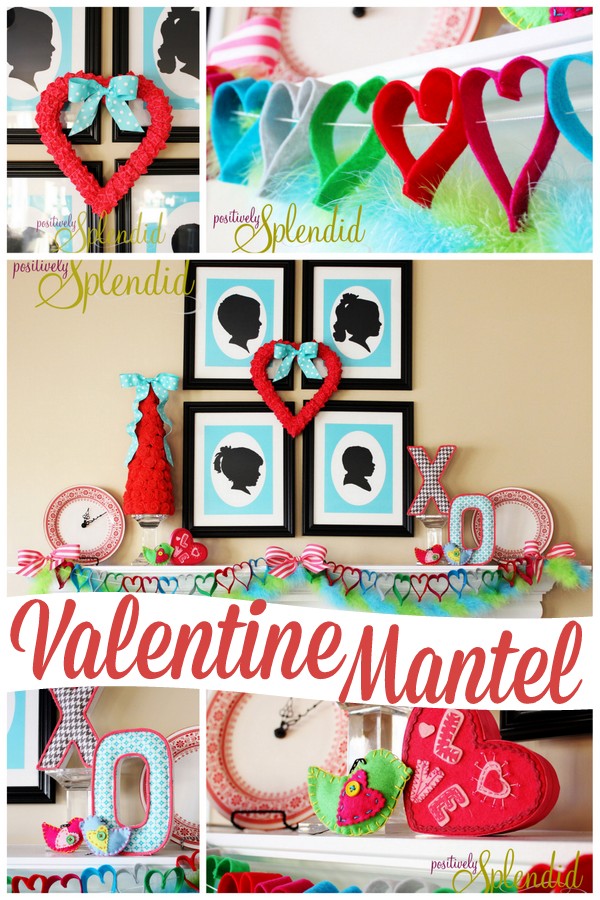 This mantel is quite literally a "rainbow of love" with its colorful frames united by a heart wreath as well as the tiny hollow rainbow heart wreath going over the mantel and tied with a pink bow at the center. via positivelysplendid
Be Mine Valentine Chalkboard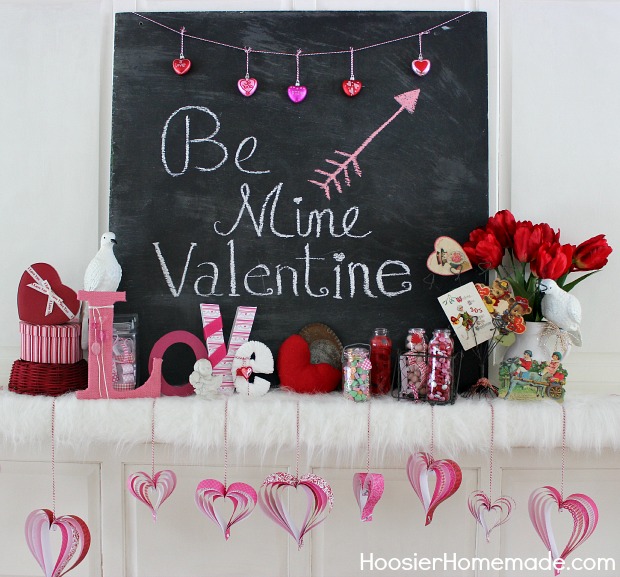 This mantel decoration is a true love declaration with the chalkboard canvas saying "Be Mine" and decorated with a little colorful garland as well as an array of small items such as flowers, plush hearts and a pattern block letter sign on the top. Several large heart ornaments also hang down from the mantel's edge. via hoosierhomemade
Twig and Smitten Photo Mantel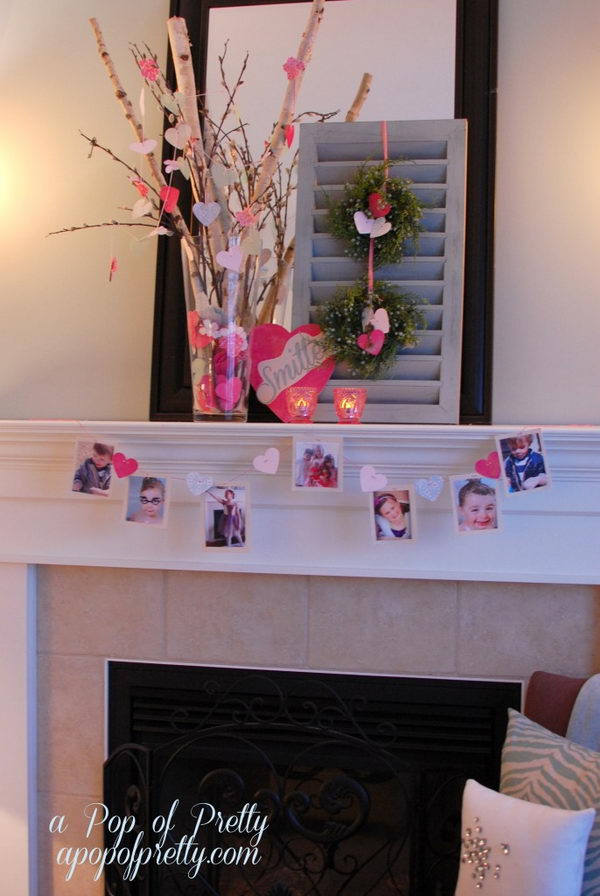 This mantel decoration is simple yet quite cute and romantic as it's all about memories. There a is dry plant arrangement at the top, next to small, repurposed shutters that frame two pictures with moss around them. A garland of sorts, featuring scattered hearts and pictures, covers the front. via apopofpretty
Valentine Glitter Mason Jar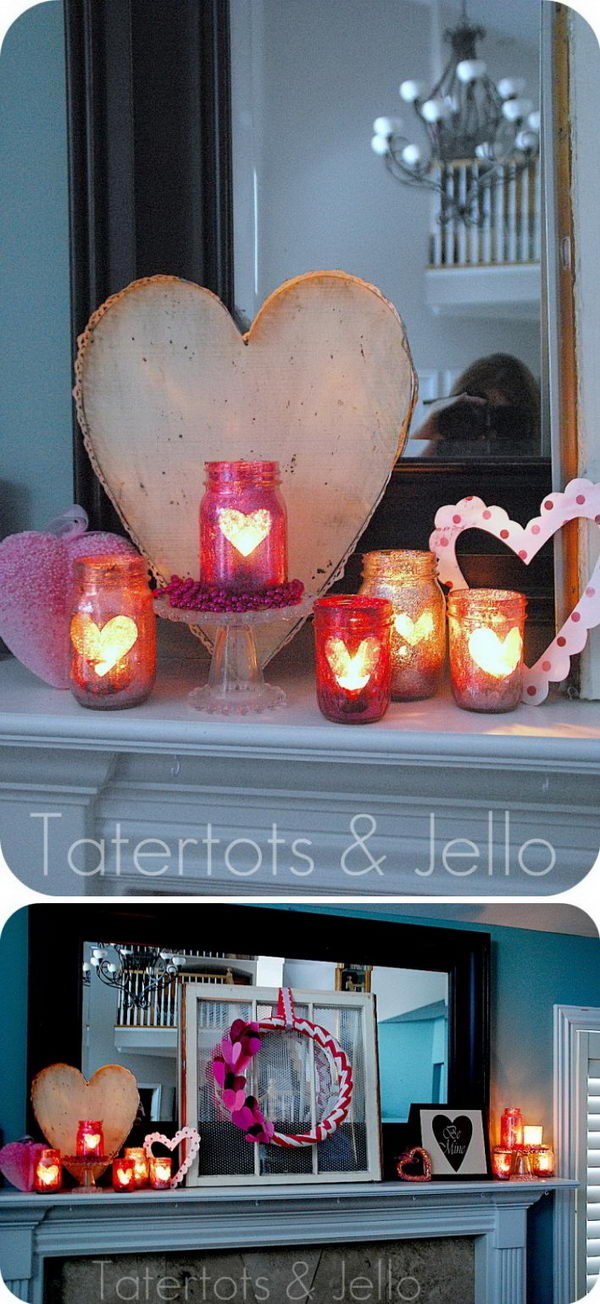 This mantel decoration is all about gold, hearts and glitter. You have a massive heart at the back, in front of which were scattered several red see-though mason jars with gold glitter hearts at the side. A scalloped white and red heart, a canvas with a message in chalkboard style and a big wreath can also be found on this mantel's top. via tatertotsandjello