Best Valentines Day Felt Board Quotes
Valentines Day Felt Board Quotes
If you don't have a letter board, you might be wondering where to get one. You can purchase a letter board at a craft store, although my most recent trip to a big store was fruitless as I was really surprised to find they didn't have any available. Weird! So I always suggest Amazon for a great selection of letter boards. Click here to see one of my favorite rustic farmhouse style letter boards.
27 SWEET AND FUNNY VALENTINE'S LETTER BOARD QUOTES
Sometimes you want to say something sweet; sometimes you want to say something silly. Whether you're looking for funny Valentine's Day inspired quotes or sweet and romantic quotes, I've got you covered! Let's start with laughter…
FUNNY QUOTES
1. Will you be my Valentine? Actually, you have no choice. We're married.
2. There is no one else I would rather lie in bed with, looking at our phones together.
Letter board on Amazon:
3. Love is in the air! Or maybe that's bacon.
4. I love you to Target and back.
5. I am your Valentine's present. You're welcome.
6. Roses are red, violets are blue. I love watching Netflix and eating pizza with you.
7. I love you more than Diet Coke. But please don't ask me to prove it.
8. All you need is love.    And chocolate.   And money.
9. You're the Obi Wan for me.
10. Cute Star Wars themed letter board idea from Polished Habitat:
11. I would walk across LEGO's for you.
12. I found the person I want to annoy for the rest of my life.
SWEET AND ROMANTIC QUOTES
13. Love, kisses, and Valentine wishes.
14. I loved you then, I love you still. Always have, always will.
15. Be mine.
16. Do small things with great love.  -Mother Teresa  (adapted quote)
17. P.S. I love you
18. You keep me safe. I'll keep you wild
19. Love makes this house a home.
20. But the greatest of these is love.
21. Free kisses
Sweet letter board idea from Glitter Inc.:
22. If you live to be a hundred, I want to live to be a hundred minus one day so I never have to live a day without you.   -Winnie the Pooh
23. Love is patient, love is kind.
Fun letter board set up from Doodle Craft Blog:
24. Let's do more things together that make us forget to check out phones.
25. What a wonderful plot twist you were, my love.
26. You make me happy in a way no one else can.
27. Meeting you was like listening to a song for the first time and knowing I would love it forever.
FUNNY VALENTINE QUOTES FOR INSTAGRAM & LETTER BOARDS
Even though they've been around for a couple years, letter boards are still going strong!
I use them for practically every holiday or season, including Valentine's Day.
It's a super quick and easy way to add a bit of seasonal whimsy, without having to haul seasonal bins out of storage. Pop a letter board on a shelf and BOOM . . . you're done decorating!
This year I thought I'd share some funny Valentine quotes you can put on your own letter board!
Warning: I tend to enjoy the funny, cute sayings rather than the mushy, romantic ones. I guess they remind me of the little Valentines you used to give out to your besties in the classroom.
FUNNY LETTER BOARD QUOTES FOR YOUR VALENTINE
All you need is love. But a little chocolate now and then doesn't hurt.
I love you more than Target.
There is nobody else I'd rather lie in bed and look at my phone next to.
Skip the flowers get donuts instead.
I love you with all my butt. I would say heart, but my butt is much bigger.
Love is in the air. Wait, no that's bacon.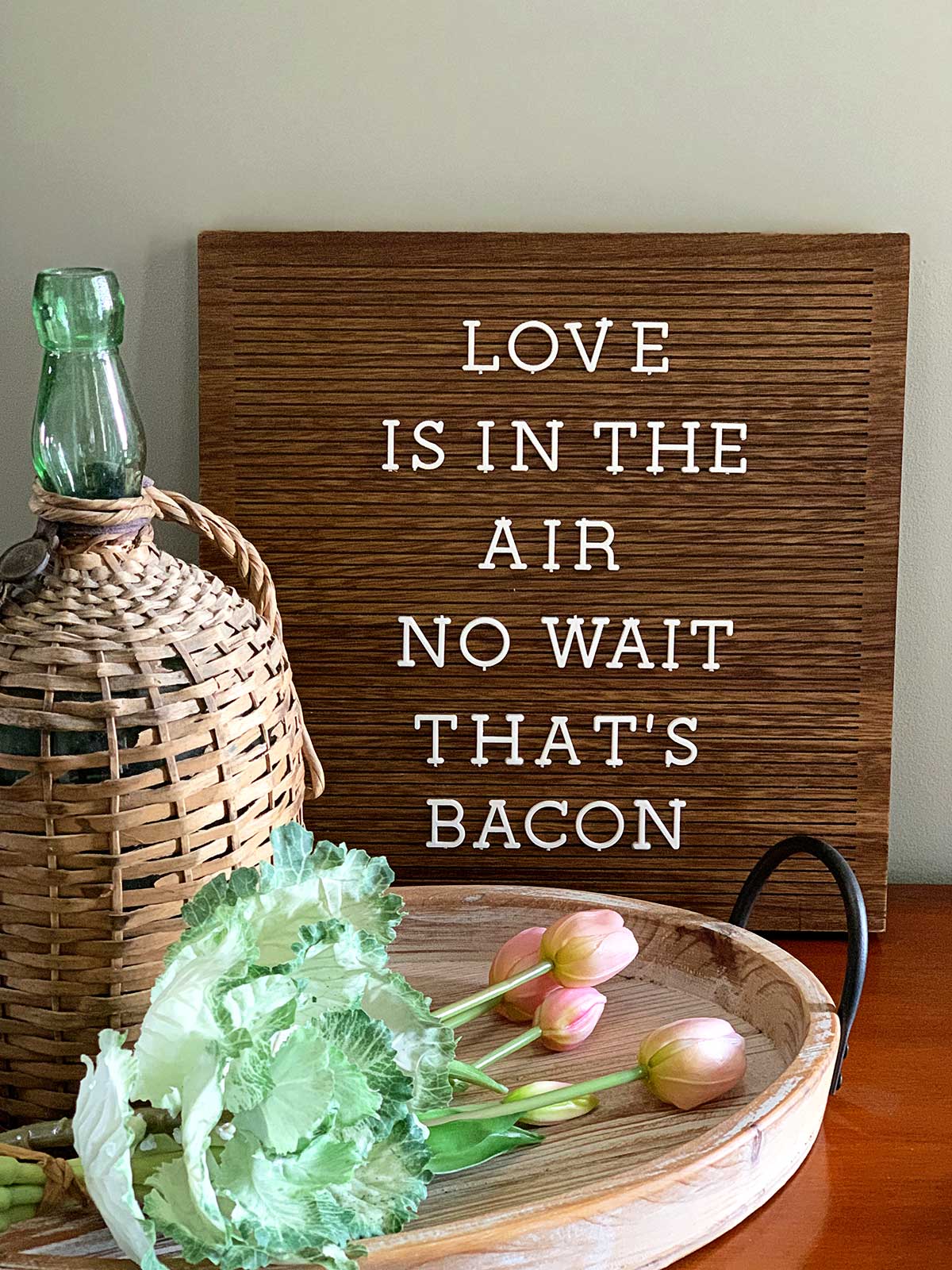 My love is like a candle. If you forget about me, I will burn your house down.
I'm your Valentine. No returns.
You're the cheese, to my macaroni.
I sure hope my parachute opens, because I'm falling fast for you.
Roses are red, violets are blue. I wanna watch Netflix with you.
I love you more. The end. I win.
So glad we're in the same bubble. (this one will make no sense 10 years from now)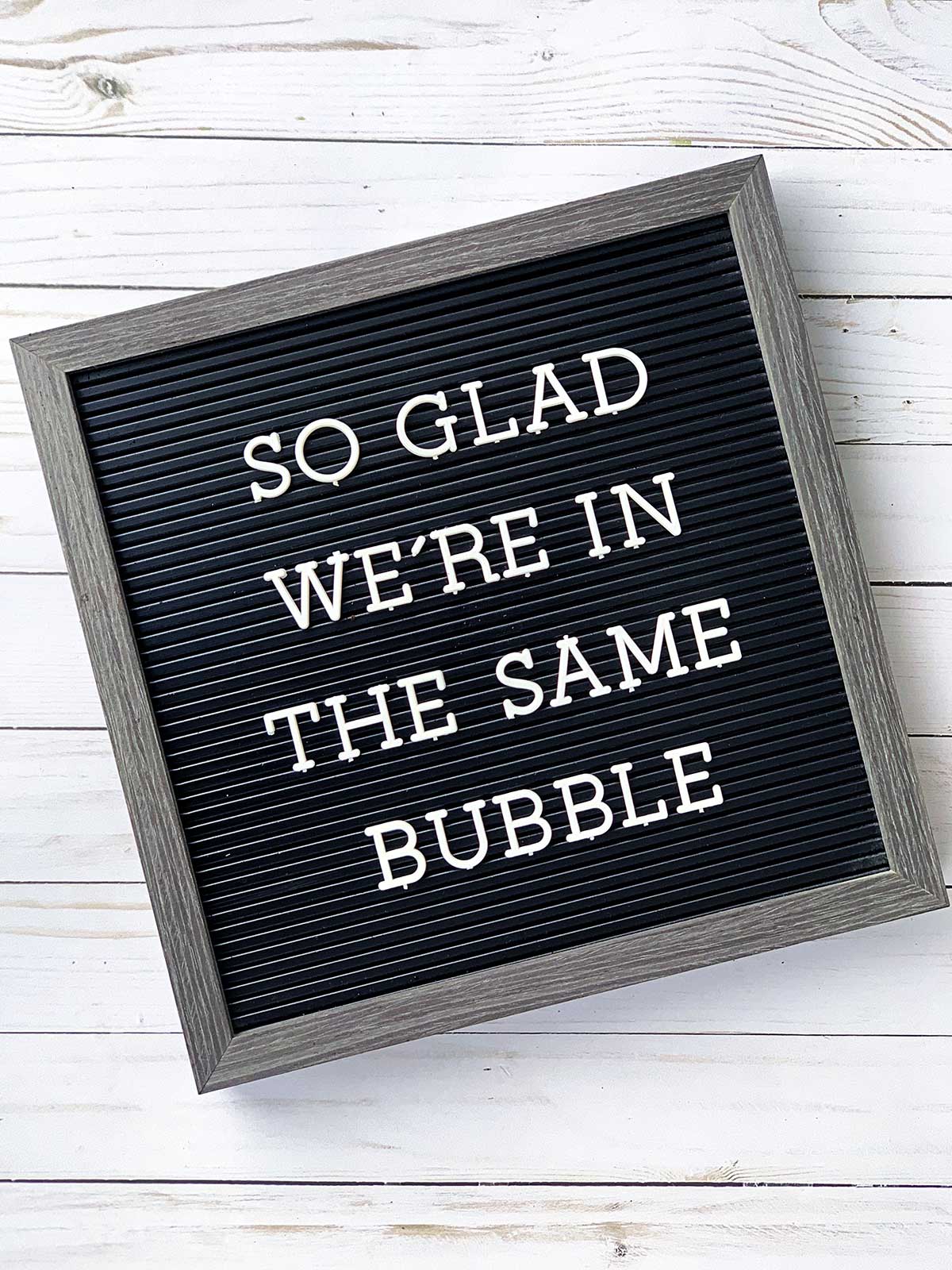 You stole a pizza my heart.
I would walk across Legos for you.
Love is in the air. So is smog, mold, measles and TB. Covid, while we're at it.
Love the wine you're with.
You're my lobster.
I found the person I want to annoy for the rest of my life.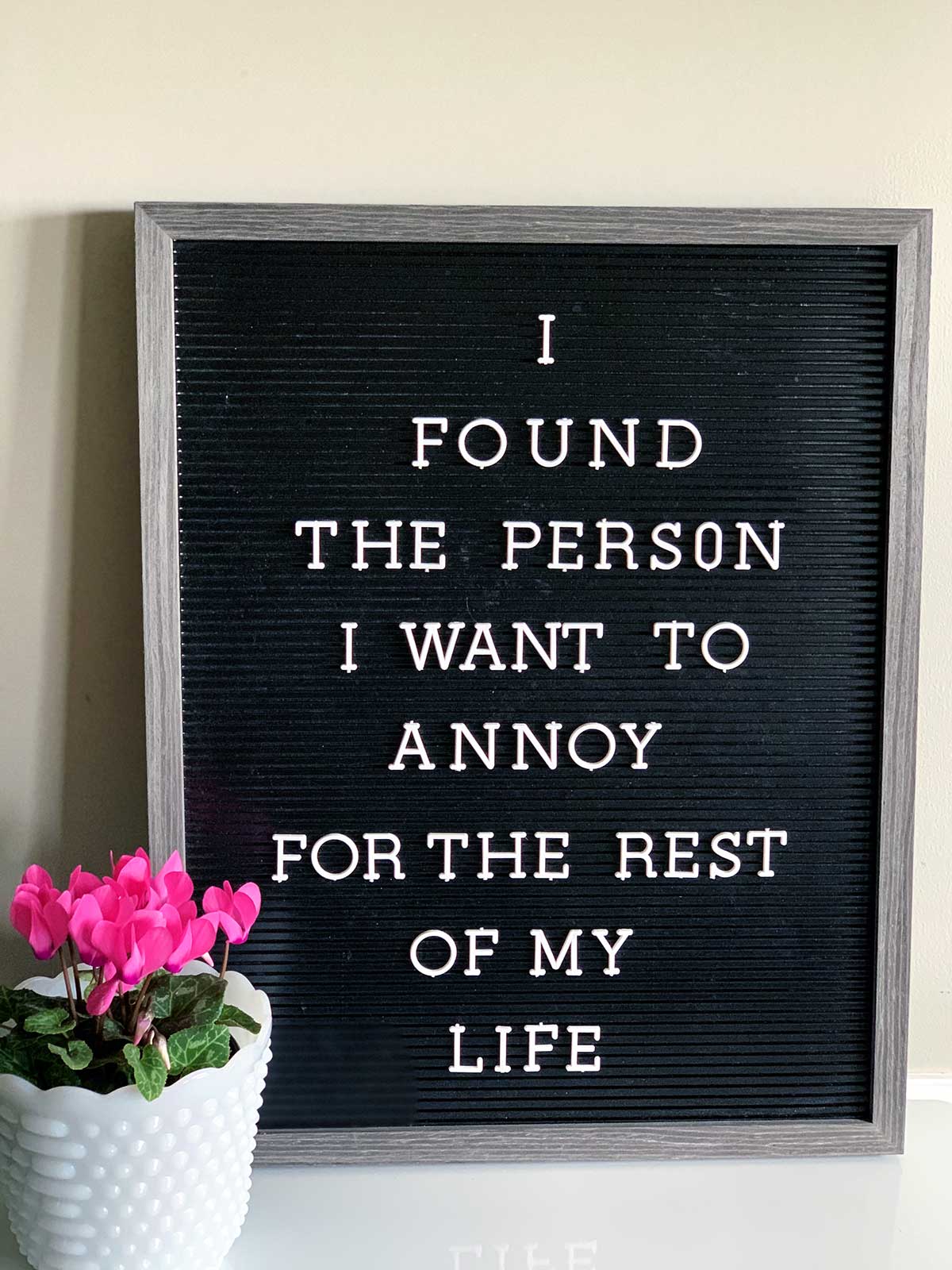 I love you a whole latte.
Is your name WiFi, because I'm feeling the connection.
The more you weigh, the harder you are to kidnap. Stay safe. Eat cake.
Are you Google? Because you have everything I'm searching for.
You're the sprinkles on my ice cream cone.
Happy Valentine's Day to myself. I love you.
VALENTINE'S DAY LETTER BOARD IDEAS
Who doesn't love felt letter boards? They are so fun and can be used to convey so many emotions, thoughts, and experiences. Here are some fabulous ideas for your Valentine's day letter board!
Letterboard quotes are also a fun way to celebrate the valentine's day holiday while staying at home with your family. If you're looking for other ideas to celebrate valentine's in lockdown, check this out.
SWEET LETTER BOARD QUOTES FOR VALENTINE'S DAY
This one is my idea – because we live in Hawaii so it is appropriate don't you think?
Here's an iconic Whitney Houston song, perfectly shared on a felt letter board.
For sure – always buy the flowers.
Gotta get a little nerdy!
Gotta get silly.
Love is definitely the key ingredient.
Puns are great on Valentine's day letter boards!
Cute song lyrics make great letter boards.
You can also get super crafty and make your letter board home decor fabulous.
SILLY VALENTINE'S FELT LETTER BOARD IDEAS
The fridge is where my heart is too sometimes. Mmm food.
Poems definitely are not easy.
Marriage is for joking.
Who doesn't love a Netflix couch snuggle with their favorite person?
How are you setting up your Valentine's day felt letter boards?