Best Valentines Day Ela Activity For Middle School
Valentines Day Ela Activity For Middle School
I feel like my Middle School (7th and 8th Grade) students sometimes get forgotten on Holidays, but I also don't like to make myself crazy with a bunch of activities or insane ideas. I knew that if I ever got a  chance, I would want to start by making Middle School ELA Valentine's Day Activies.
Because of this, I have been trying to create fun and simple holiday activities that are ELA based, but also fun and out of the ordinary for the kids.
Last year on Valentine's Day I pulled a bunch of Valentine's Day-Themed ELA activities together to create a fun, no-pressure filled day with my middle schoolers in our ELA classes.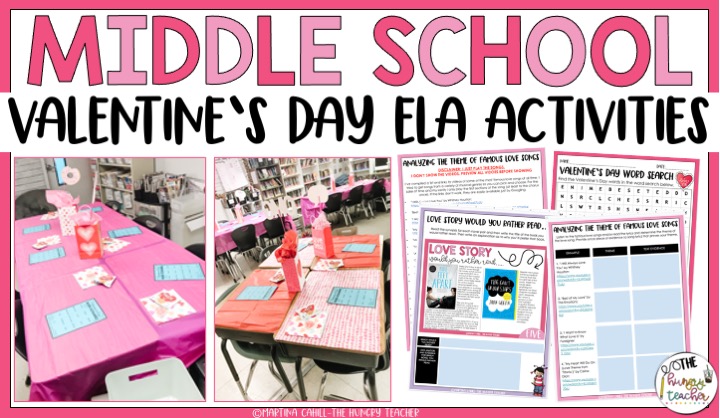 We had so much fun with:
Figurative Language Valentine's Day-Themed phrases
Rhetorical Appeals in Valentine's Day commercials
Valentine's Day Love Songs Theme Analysis Teacher
Love Story Novel Would You Rather Read…
Valentine's Day Word Scramble for a warm-up
They are also all Digital in Google Slides if you are doing distance learning!
For each activity, I have included reference sheets:
Rhetoric
Figurative Language
The activities were meant for mostly review for my students, but I also know that whether or not these concepts have been taught, sometimes students just need a reminder!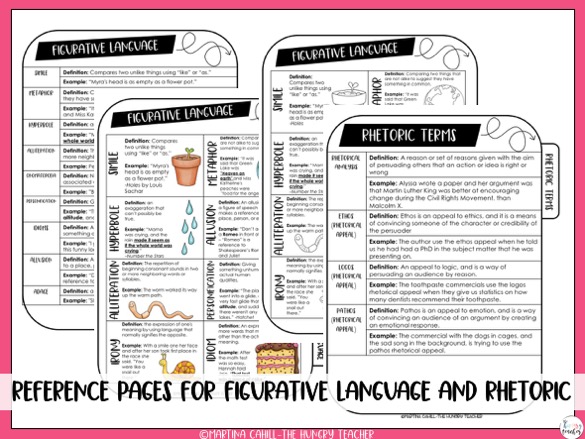 Fun Valentine's Day Word Search Warm-Up
Below is the table of contents of everything included, plus the fun Valentine's Day Middle School ELA word search. I always like to do a fun Holiday based word search on days like this, because it's a nice break for my students. Nothing hard or crazy, just fun! Middle schoolers like fun too ha!
Valentine's Day Commercials Rhetorical Appeals Analysis Activity 
This might be one of my favorite things I have ever come up with ha!
When I came up with my Middle School ELA Valentine's Day activities we were right in the middle of our rhetoric unit and we had been watching TV commercials to analyze them for rhetoric.
I wanted to continue that so we watched a Valentine's Day TV Commercials and analyzed their rhetorical appeals! The kids loves it!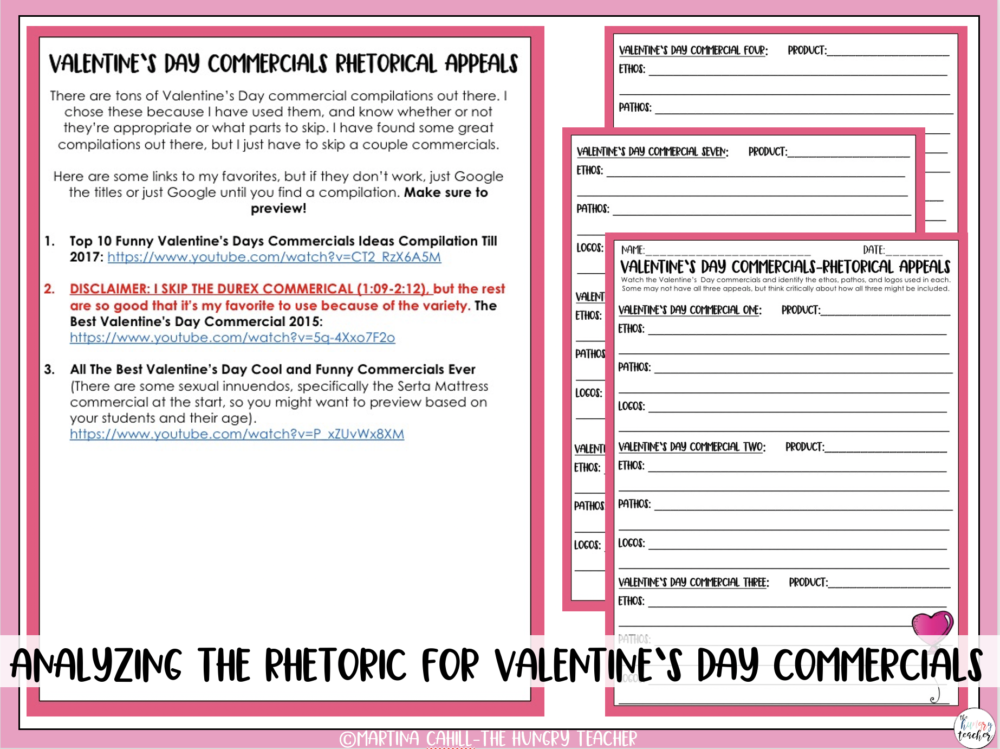 Valentine's Day-Themed Figurative Language Activity 
Lastly, is a fun figurative language Valentine's Day Middle School ELA themed activity (plus you can get this one as a freebie too!) All answer keys are included and it's a fun and easy Halloween activity no matter how much time you have.
Other Holiday Packs
Since making my Valentine's Day Middle School ELA themed activities (which were a huge hit with teachers and students) I have since made a Halloween version. I have bundled both these packs, and plan to make more in the coming months (probably for St. Patricks Day and the New Year, just to have one for each season!
Valentine's Day Classroom Activities
Valentine's Day is one of the most exciting holidays for young students. Why? The crafts and candy, of course!
Valentine's Day Ideas for School
An annual card exchange is always a blast—and can be a good way for students to practice writing—but students (and teachers!) like variety too. If you're looking ways to celebrate on February 14, here are seven Valentine's Day classroom activities for elementary school students.
1. Write notes of kindness.
Valentine's Day is about love and being kind to one another. Put all your students' names in a jar and have each person pick one. Ask everyone to write a few words saying what they like about that person and exchange notes. Then you can display the notes in your classroom! You can even turn this into a larger Valentine's Day activity for students where children in the early grades practice writing in complete sentences and older learners practice structuring paragraphs.
2. Have a door-decorating contest.
Invite teachers and students to decorate their classroom doors. After the decorating, students can observe their peers' creations and choose a winner based on both content and aesthetics. Kids will love the opportunity to be creative and express themselves. For example, you can have students write what they love about learning or love about their classmates on paper hearts.
3. Read some Valentine's Day books.
Reading a Valentine's Day picture book may seem simple, but this is the perfect holiday to celebrate a love of reading. A few of our favorite books for Valentine's Day include:
Happy Valentine's Day, Curious George! by N. Di Angelo (Grades Pre-K–3)
Mouse and Mole: Secret Valentine by Wong Herbert Yee (Grades 1–4)
I Like You by Sandol Stoddard Warburg and illustrated by Jacqueline Chwast (Grades Pre-K–3)
The Valentine Bears by Eve Bunting and Jan Brett (Grades Pre-K–3)
Ollie's Valentine by Olivier Dunrea (Grades Pre-K–K)
We Go Together!: A Curious Selection of Affectionate Verse by Calef Brown (Grades Pre-K–3)
4. Make a heart collage.
Have students gather materials with different textures and cut or form hearts of various sizes. They can glue them to paper for an easy artistic creation. This can be a fun independent art activity, or you can divide students into groups so they can practice being creative in collaboration with their peers.
5. Craft up some Valen-slime!
Not into the ooey-gooey romantic side of Valentine's Day? Make it gooey in a different way with some Valen-slime! Directions here. Have students participate in different parts of the slime creation, calling them up one by one or in small groups to contribute.
6. Set up a candy heart estimation jar.
Fill a jar with conversation hearts (or another small candy, like M&Ms) and give everyone a chance to guess how many there are. Whoever's closest wins a portion of the jar (or the whole thing, if you're feeling generous!). You can also turn this into a math lesson for older students by providing tips about what strategies they could have used to come up with an estimate.
7. Do a crystal heart science experiment.
Grow your own crystals around pipe cleaner hearts using simple materials. Your students will be amazed at the process and transformation! Full instructions here.
We hope you find these Valentine's Day activities for school helpful. Remember to spread love and kindness in the classroom every day—not just on February 14!