Best Valentines Day Easy Crafts
Valentines Day Easy Crafts
Valentine's Day is a holiday that just begs for crafting adventures. How can you resist pasting, glittering, and decoupaging all of those tiny red hearts? Even if you're not what one might call "crafty," you're bound to have a ton of fun with the easy DIY Valentine's Day craft ideas we've compiled here. Whether you need inexpensive Valentine's Day gifts, a winning Galentine's Day gift, or a simple snow day activity to do with your kids, you'll be set with our list.
Every year, you probably celebrate with a romantic dinner and a Valentine's Day movie marathon while cozy on the couch. This year, keeping your hands busy by making some cute crafts will be a much welcomed addition to the day. Many of these crafts are perfect if you're a newbie to DIY projects, because they're simple and call for easy-to-find materials. Crafting some of these knickknacks like the Mason jar heart vase or origami heart bouquet will be the perfect Valentine's Day activity. Or, try making the heart table runner and doily-stamped napkins to create a Valentine's tablescape. Your Valentine's Day desserts will look beautiful among your DIY decorations!
Gather your craft supplies and read on for the most fun Valentine's crafts for any age!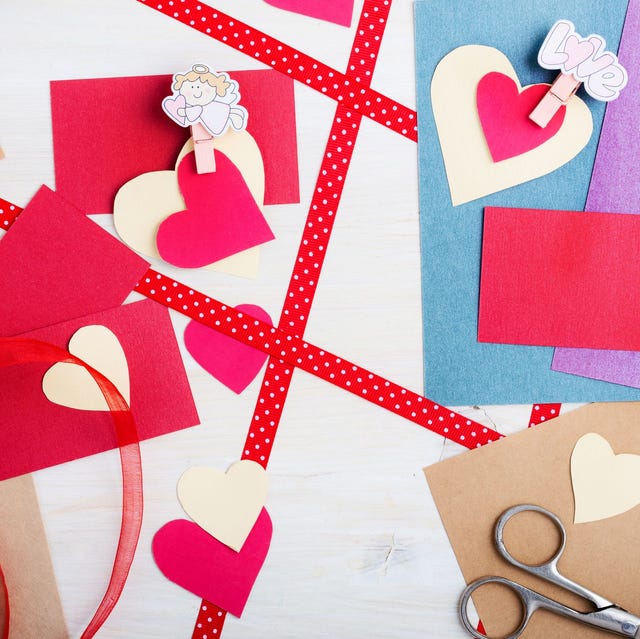 DIY Valentine's Day Mantel Décor
This darling framed heart is made of nothing more than shiplap and a few quick coats of paint! Gorgeous, right?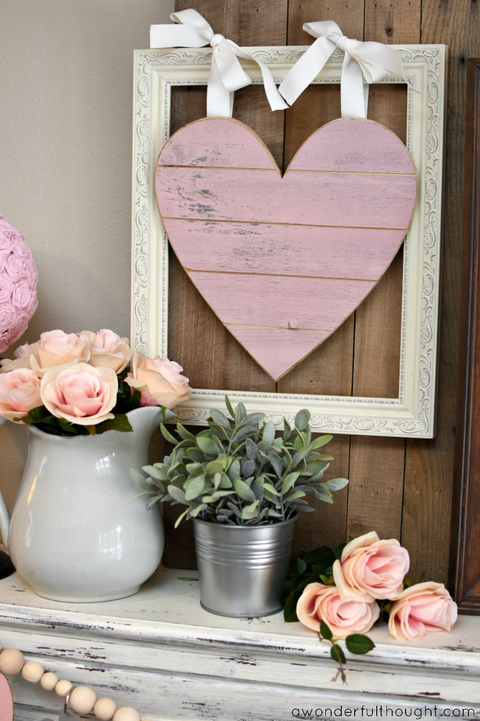 DIY Succulent Valentines
Flowers are nice and all, but succulents last longer—and they come in the cutest pots. These pretty plants will look lovely on your Valentine's windowsill.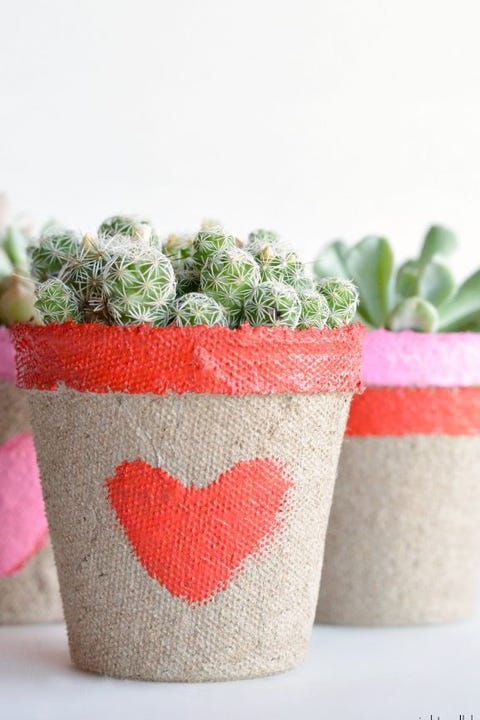 Heart Doily Balloon Tails
These DIY balloon "tails" will be the talk of any Galentine's Day party—and they couldn't be easier to throw together, either.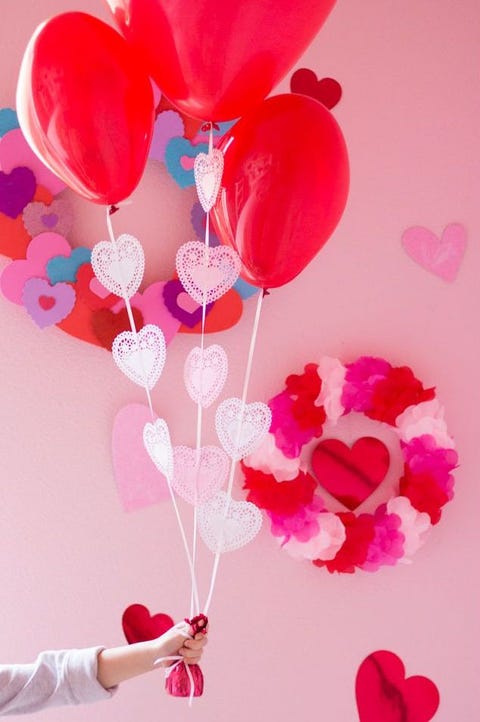 Sweater Heart Pillows
Got any old sweaters lying around? Repurpose them with this easy, fluffy craft.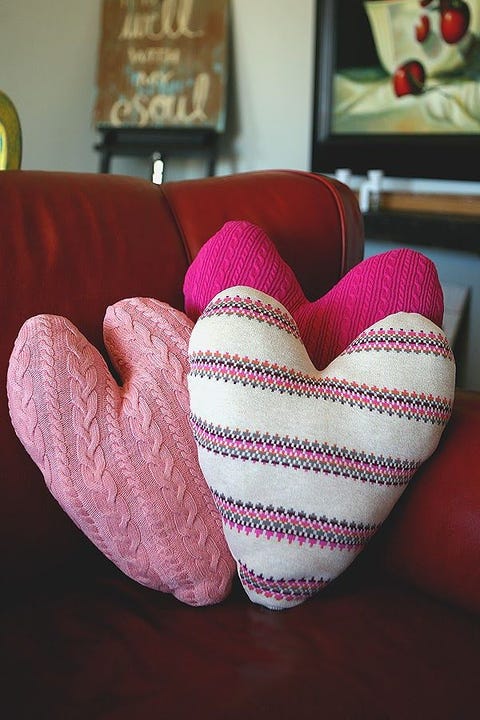 DIY Balloon Heart Backdrop
DIY photo station, here you come! Your guests will have a hard time believing you actually made this backdrop yourself.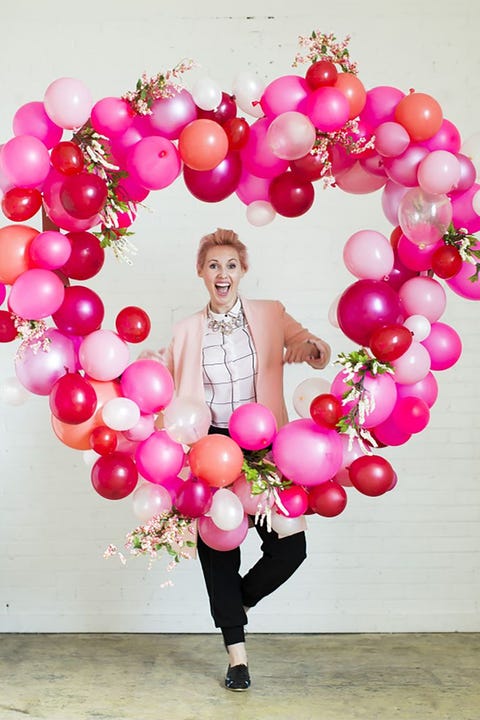 Candy Heart Valentine Bouquet
Get this: There's actually a vase full of water hidden within those conversation hearts. It's the dreamiest optical illusion!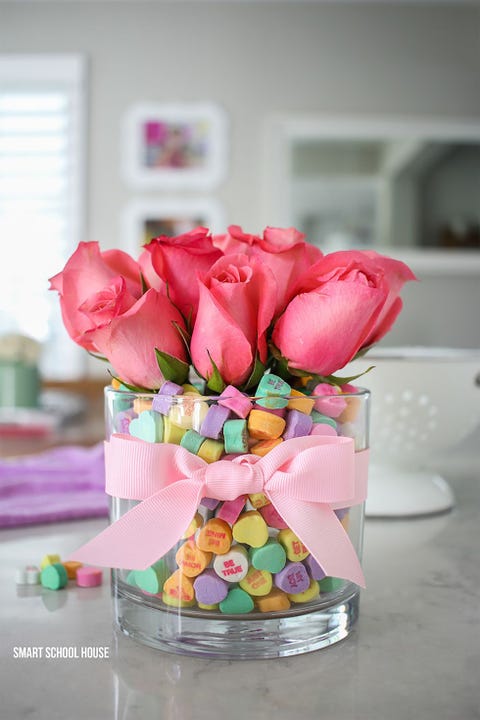 Conversation Heart Balloons
The best thing about this totally do-able Valentine's Day craft? You can customize the phrases on each balloon to read just about whatever you'd like—or even add your loved ones' names.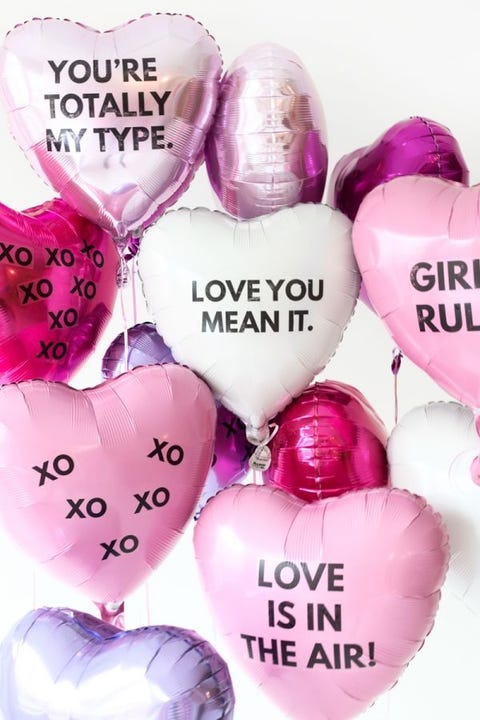 Candy Heart Garland
Is it any wonder that several of the crafts we've curated here pay homage to those tiny conversation heart candies? They're classic!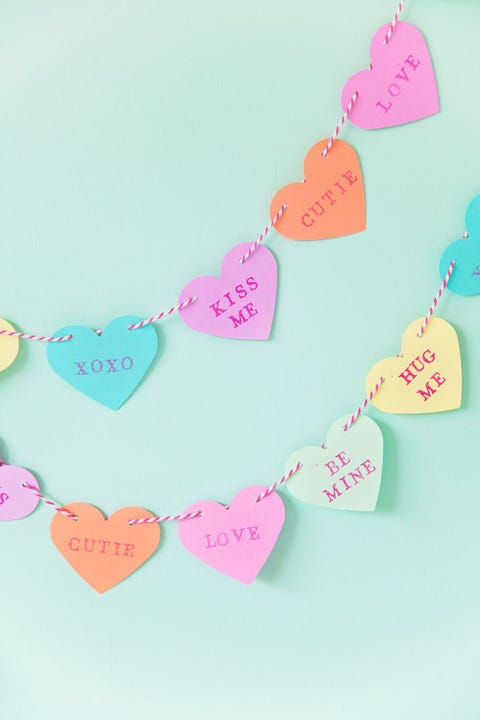 Valentine's Day Globe
Punny and cute? Yup, that's our kind of craft. Letter stickers make it a cinch to bring this sweet DIY décor idea to life.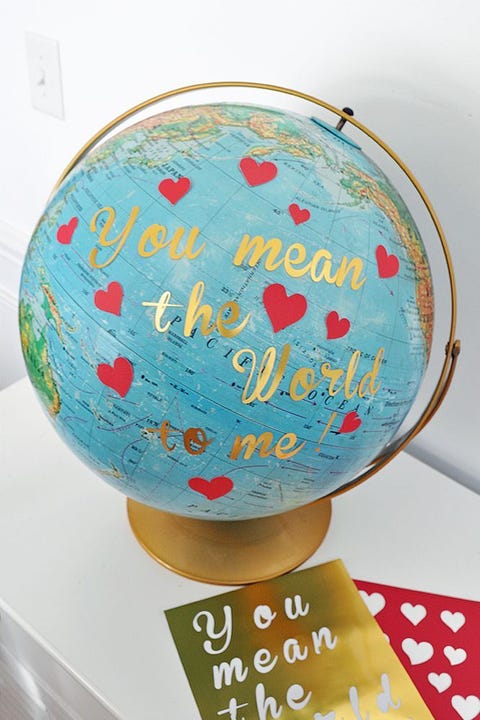 Origami Flowers Bouquet
Dress up any bouquet with these pretty origami flowers! The technique is a cinch once you get going.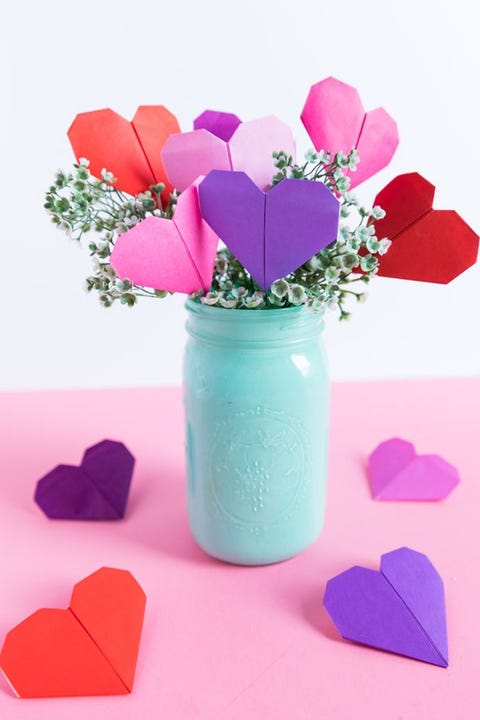 Kiss Balloons
Grab some lipstick and a few white balloons, and you're ready to craft your way to the cutest DIY party décor ever. (You can also just hand one of these balloons to your kids before snapping a family photo.)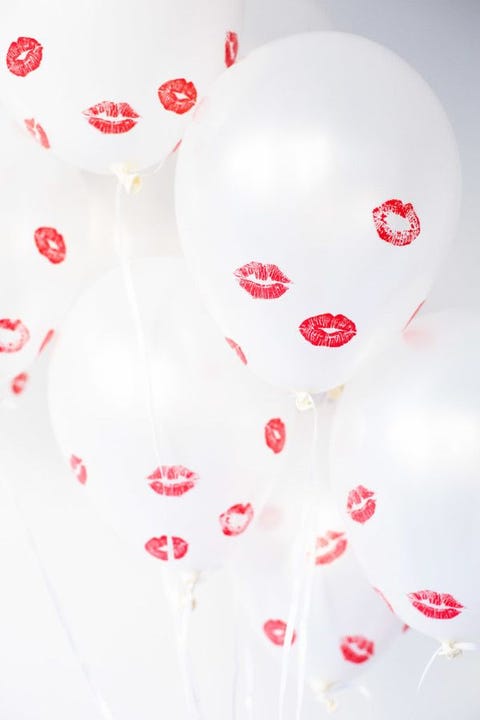 Wine Bottle Labels
Take your gift up a notch: Dress up your sweetheart's or Galentine's bottle of wine with these cute printable labels.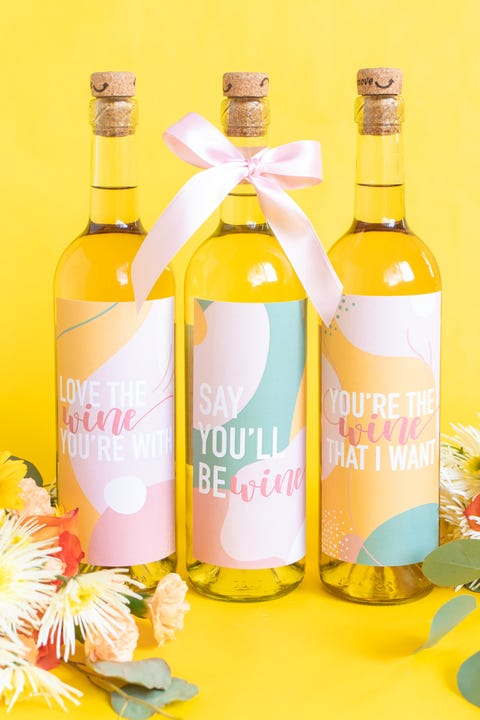 Valentine's Glitter Heart Box
These precious glitter boxes are the perfect size for goodies of any kind! Make them in a few different colors and fill with treats.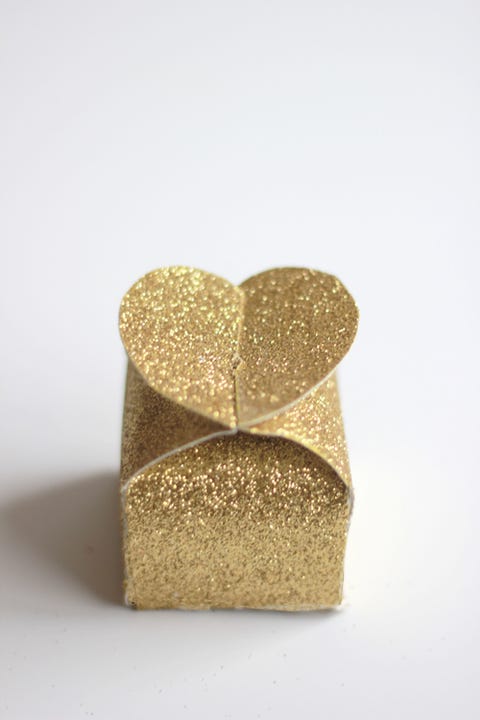 Round Love Sign
Pink and white stripes with a touch of gold give this DIY love sign all the glam you need! It's easier to make than you might guess.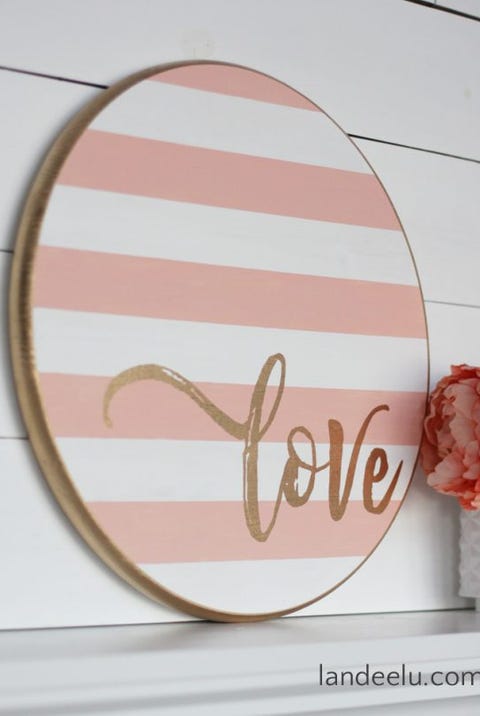 Valentine's Printable Vouchers
What would your Valentine like best of all? Give a few of these printable vouchers and let him or her pick!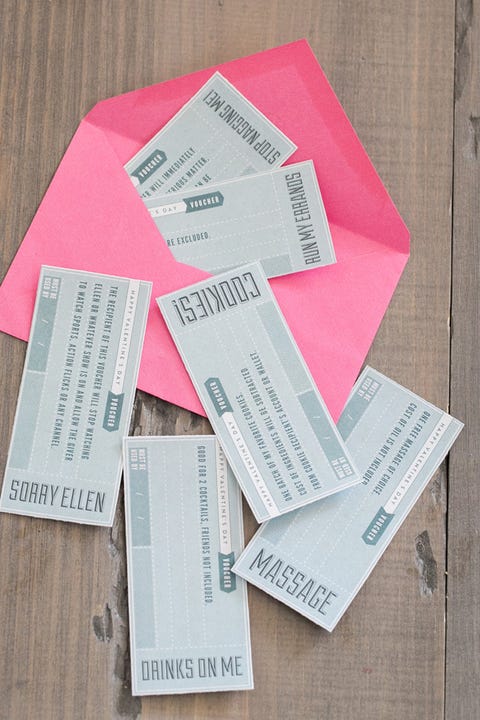 Gold Leaf Heart Cookies
Wouldn't a little cellophane bag of these be great gifts for family and friends? The kids can help, too!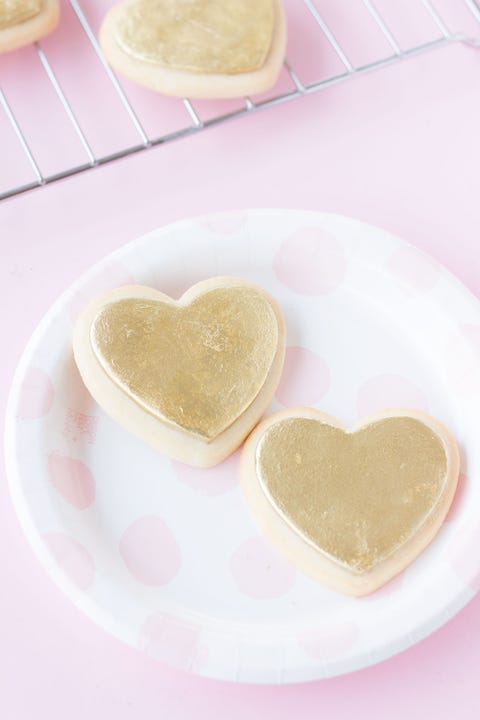 Sugar Lip Scrub
A luxurious lip scrub made from just a few ingredients? Yes, please! It's perfect for gift-giving or keeping for yourself.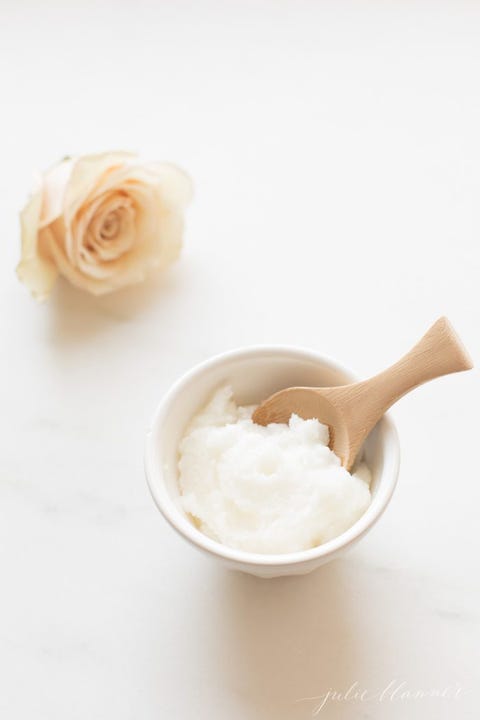 Thumbprint Heart Mason Jar
Cute and so simple! Make a few of these adorable jars—they're the perfect craft for any age. Fill with flowers or sweet treats and give them away (or keep a few for your own display).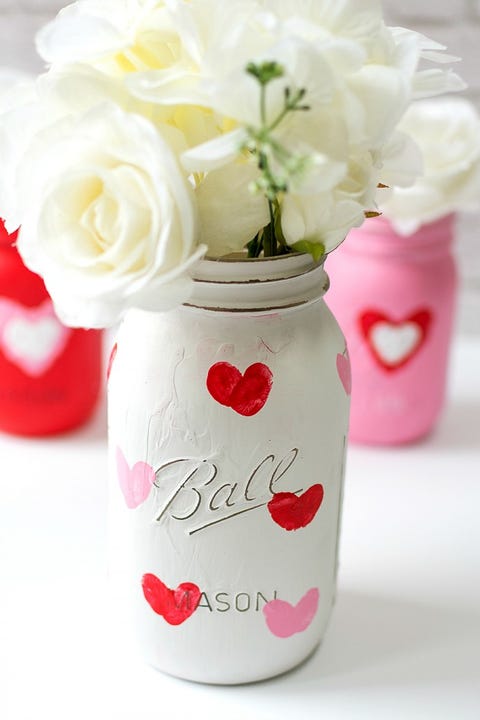 Paper Heart Box
Create this precious heart box filled with candies for the one you love.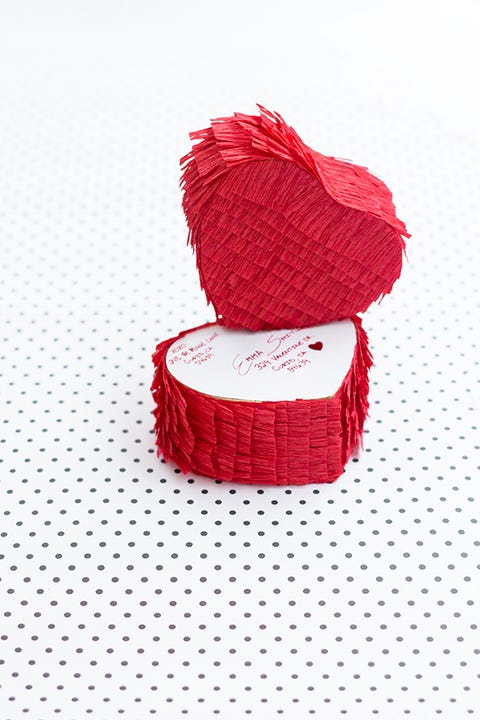 Fabric Stuffed Hearts
Tuck these adorable stuffed hearts on a stick into a plant, a bouquet, or make them a bouquet of their own. It's a great way to use up fabric scraps too.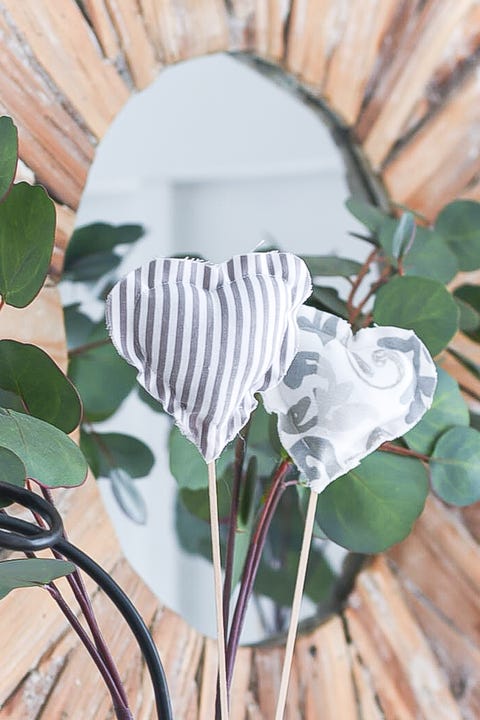 Infused Sugars
Make this simple, delicious infusing sugar with citrus, lavender, or any flavor you crave to dress up cocktails, cakes, and cookies. Package in a cute little bottle, and you've got a one-of-a-kind gift.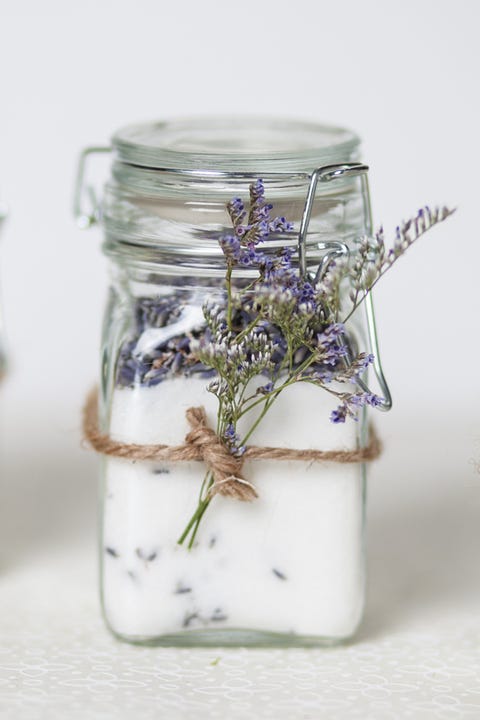 S'mores Mason Jar Gift
Fill a Mason jar with goodies, then dress with a printable tag. Bonus: The Mason jar has a handle so your recipient will be able to use it as a mug for years to come after the goodies are gone!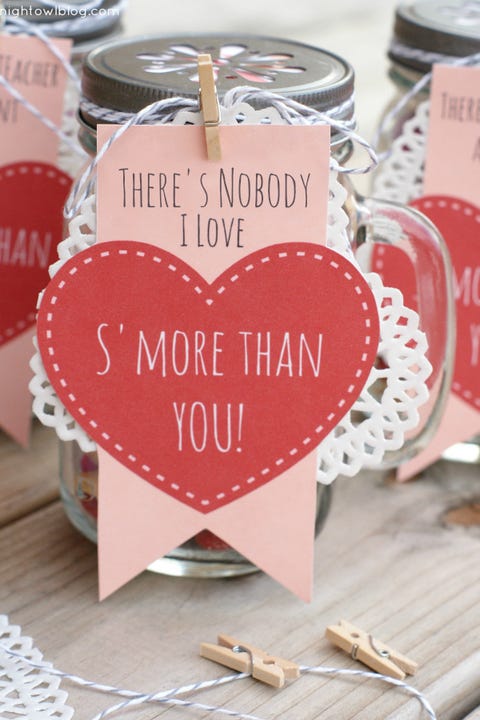 Felt Heart Ornaments
A few of these adorable felt ornaments are all you need to show that love is in the air. They're great for beginning crafters too.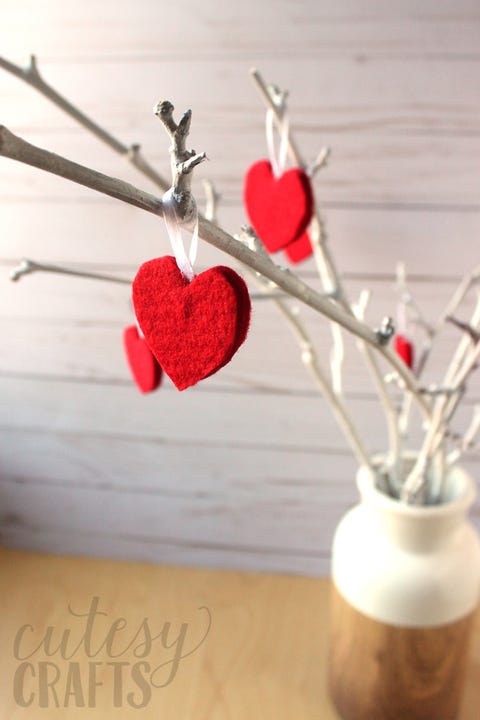 Homemade Bubble Bath
Make your own bubble bath with simple ingredients, your favorite essential oil scent, and zero harsh chemicals. This is the perfect romantic gift for your loved one (or yourself!).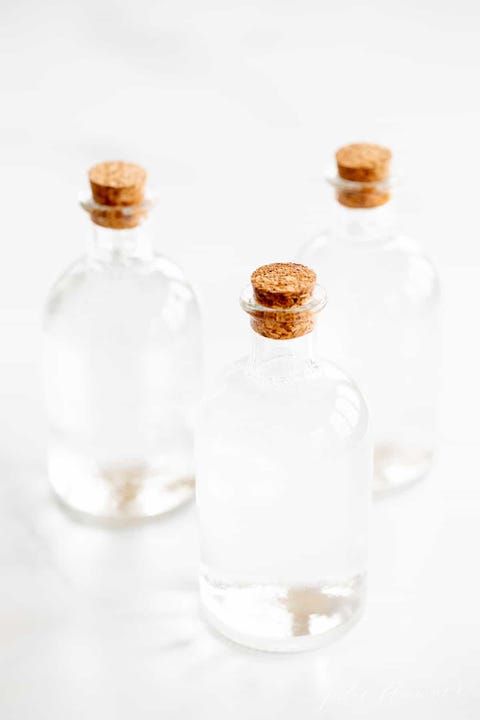 Wine Cork Heart Wreath
You've saved all those corks, and now you finally have a fun way to use them! This easy craft comes together in a hurry and makes a cute centerpiece or kitchen accent.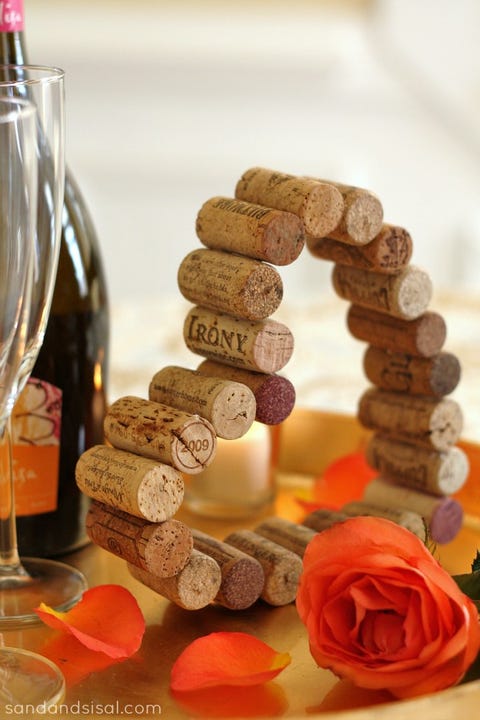 Conversation Heart Leggings
Who wouldn't love a pair of these charming DIY leggings? They're just the thing to brighten any winter's day, especially Valentine's Day!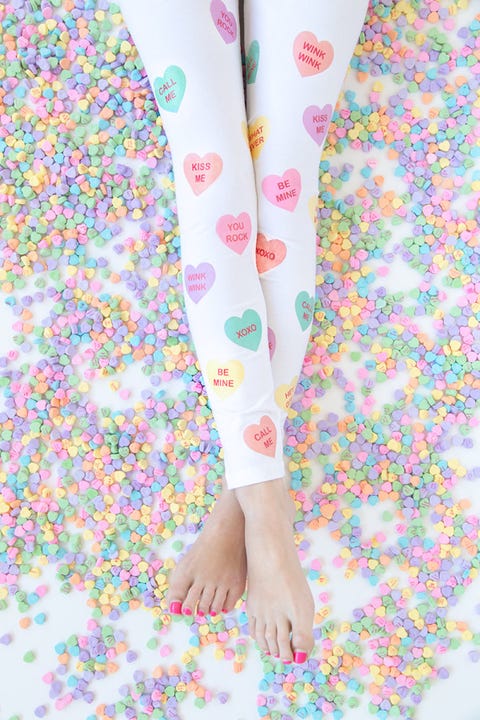 Lavender Lip Balm
The soothing scent of lavender makes this moisturizing DIY lip balm irresistible. With no harsh chemicals, it's a wonderful gift to make for your Galentines or your kids.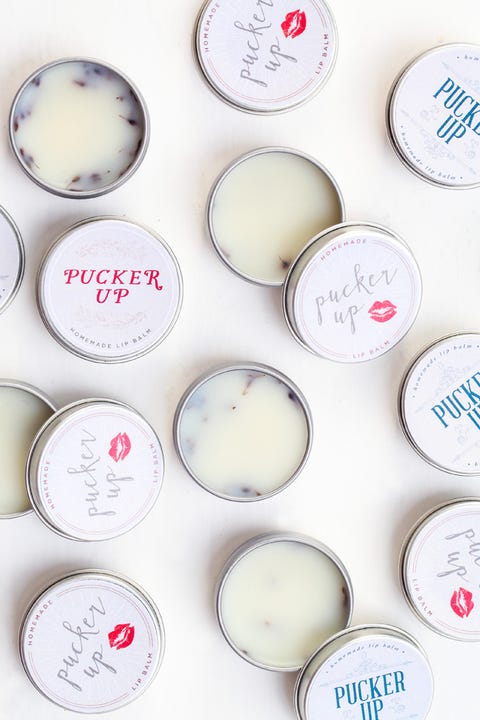 Hugs and Kisses Mantel Art
Everyone needs more hugs and kisses! Make these easy mantel art pieces to show your love.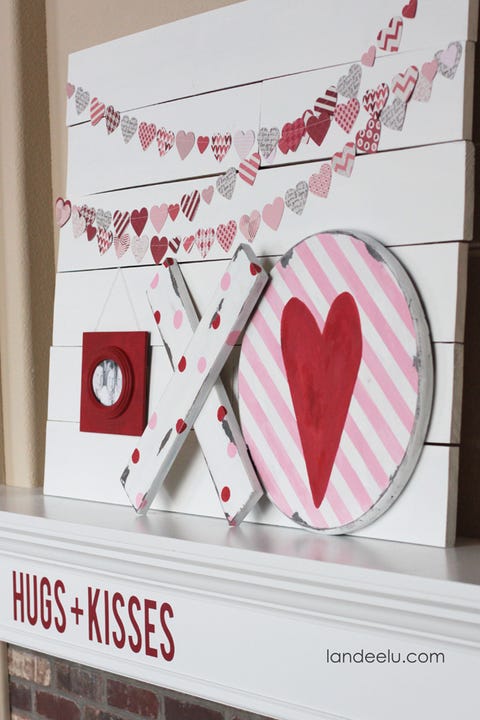 Valentine's Day Piñata Box
Make one of these cute VW love bugs to display or fill with goodies. Warning: They're almost too cute to give away!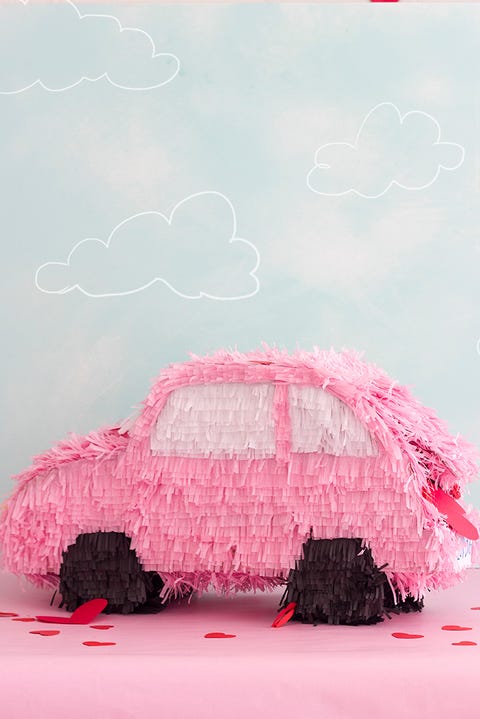 Valentine's Bouquet
Valentine's flowers are so pricey! Make your own arrangement with an inexpensive bouquet from the grocery store. Put it in a pretty vase, and you've got a great gift for way less than ordering from the florist.