When it comes to Valentine's Day dinner recipes, only the most delicious, special, and romantic meals will suffice. So if you are wondering, "what to make for Valentine's Day dinner", then you, my friend, are in the right place. We are sharing over 40 of the best romantic Valentine's Day dinner ideas that you can cook for your significant other or for your best friends on Galentine's Day. I am talking about fresh seafood, tender chicken dinner, comforting creamy pasta, and more!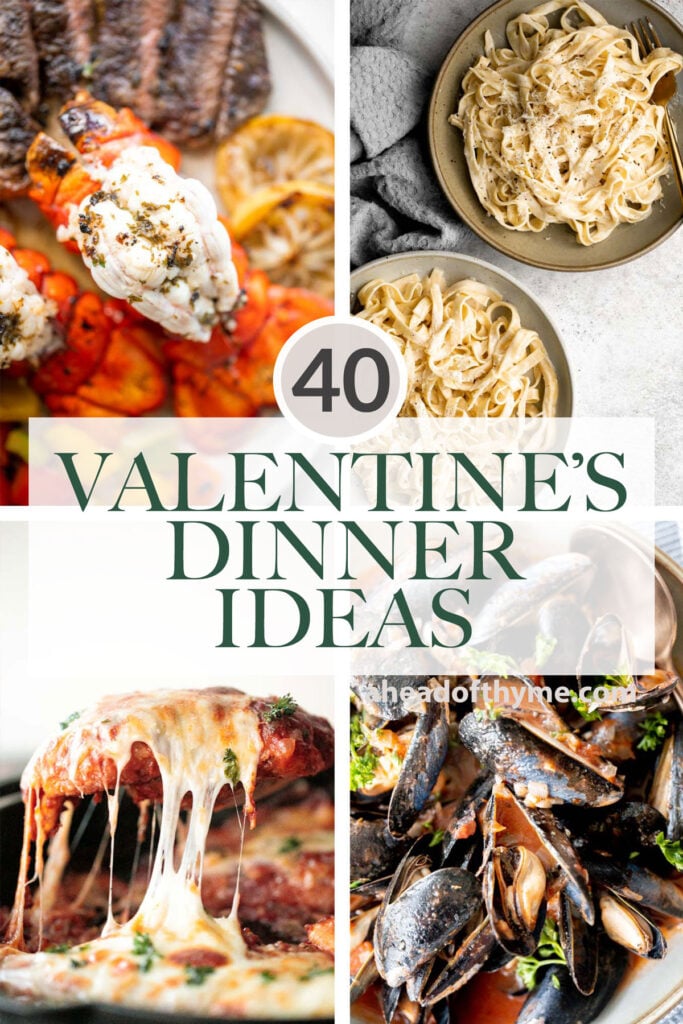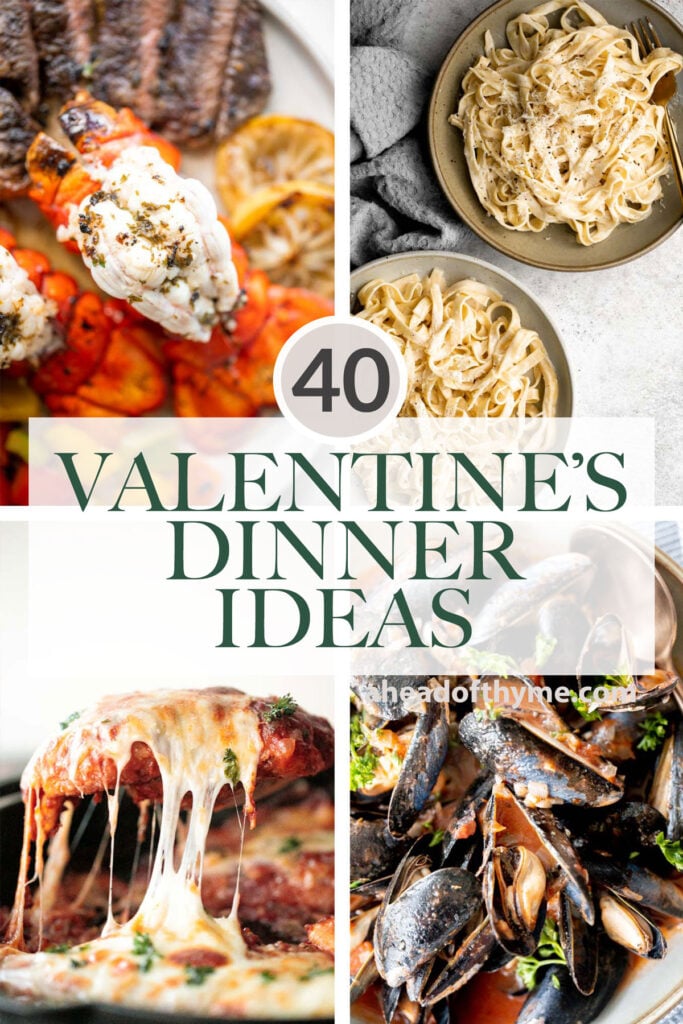 BEST VALENTINE'S DAY DINNER IDEAS
Surf and Turf Steak and Lobster Tails
Fancy, restaurant-quality surf and turf is super easy to make with fresh lobster tail and tender rib-eye steak with a delicious garlic butter sauce. One of my favorite Valentine's Day dinner ideas.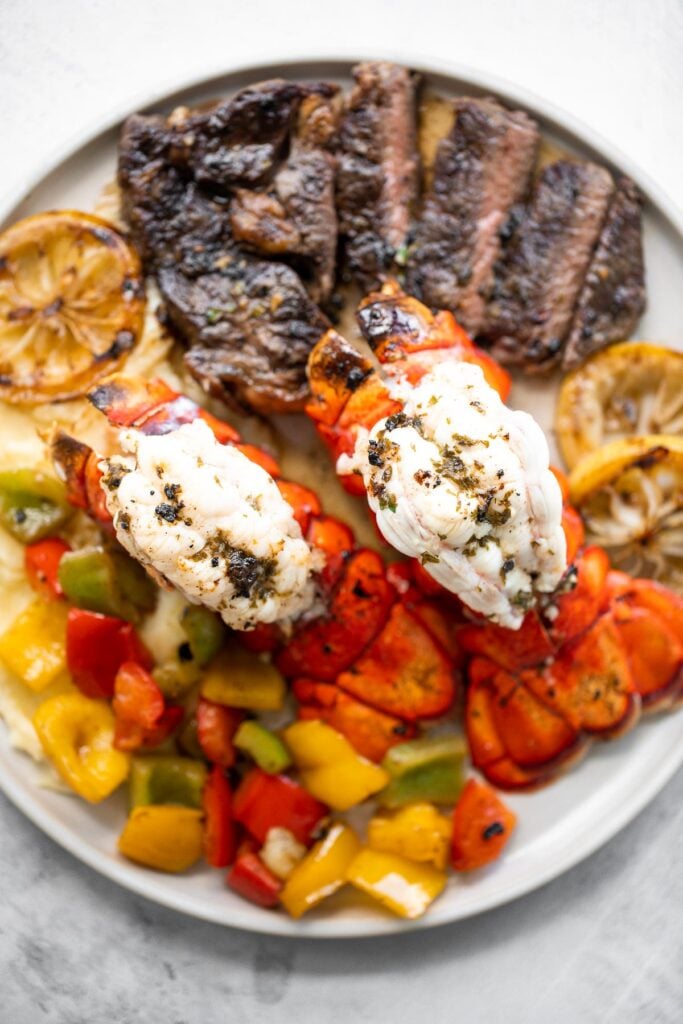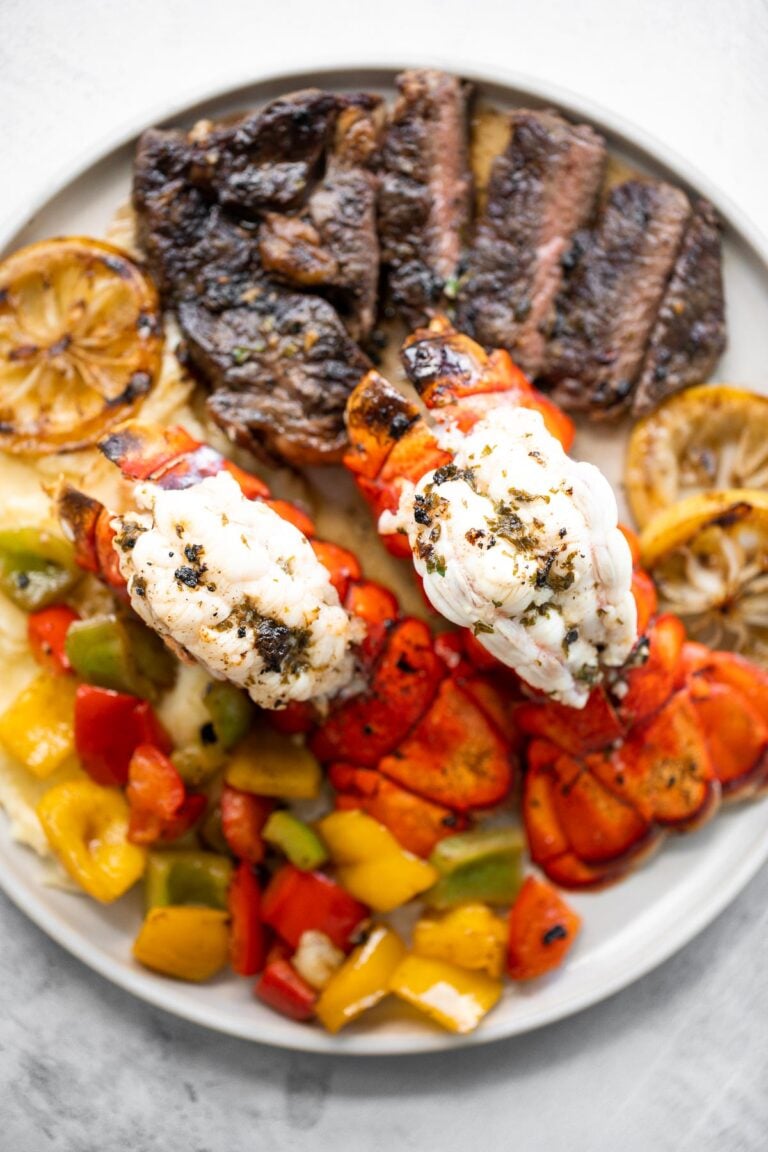 Quick and easy, creamy lemon chicken piccata is a simple and delicious 30-minute meal made with tender chicken breast in a light lemon sauce with capers. One of my favorite summer dinner ideas. You can also try Creamy Lemon Parmesan Chicken.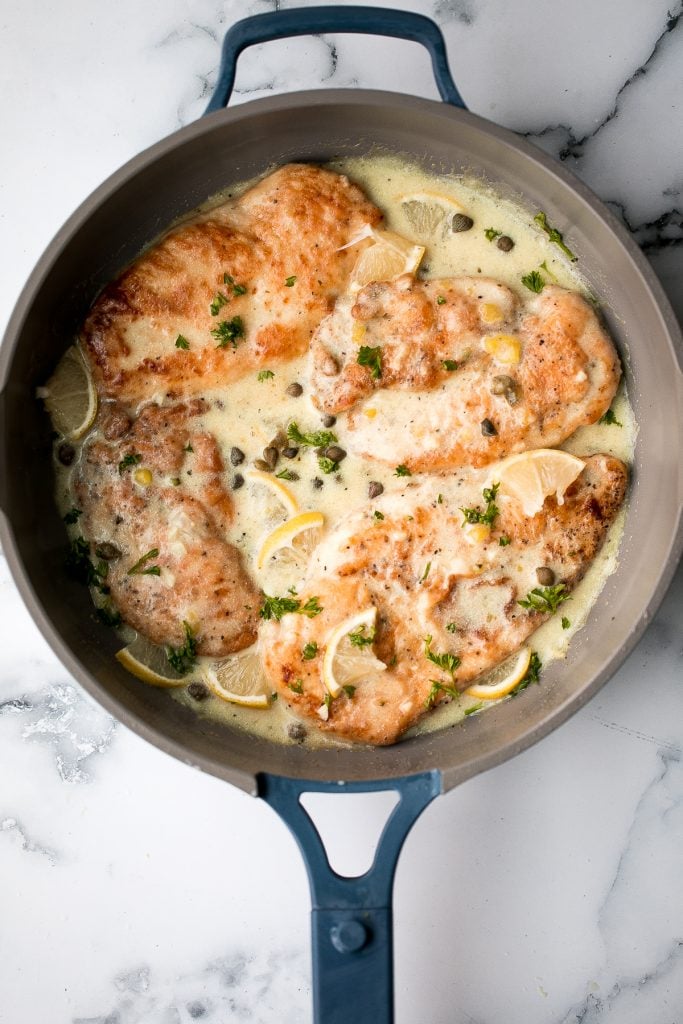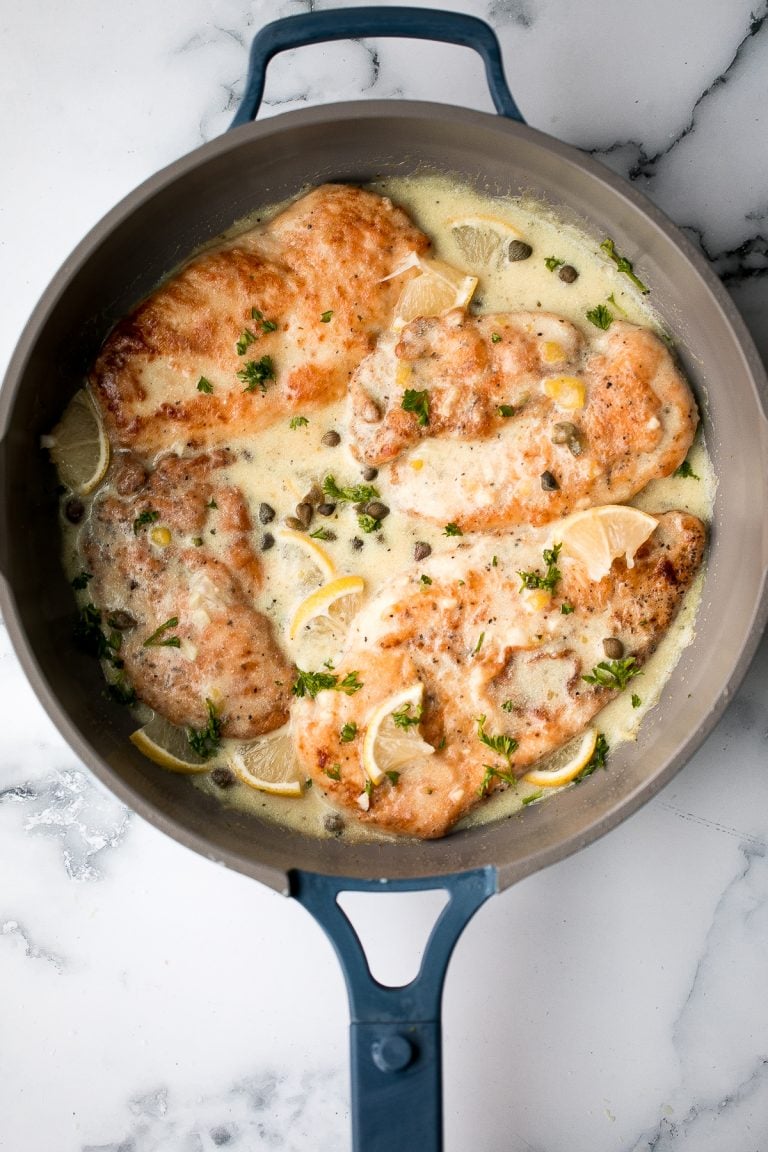 Seared Scallops
Garlicky, buttery, and perfectly seared scallops take less than 10 minutes to prep and cook. It's the easiest fancy, restaurant-grade meal to make at home. A perfect Valentine's Day dinner recipe.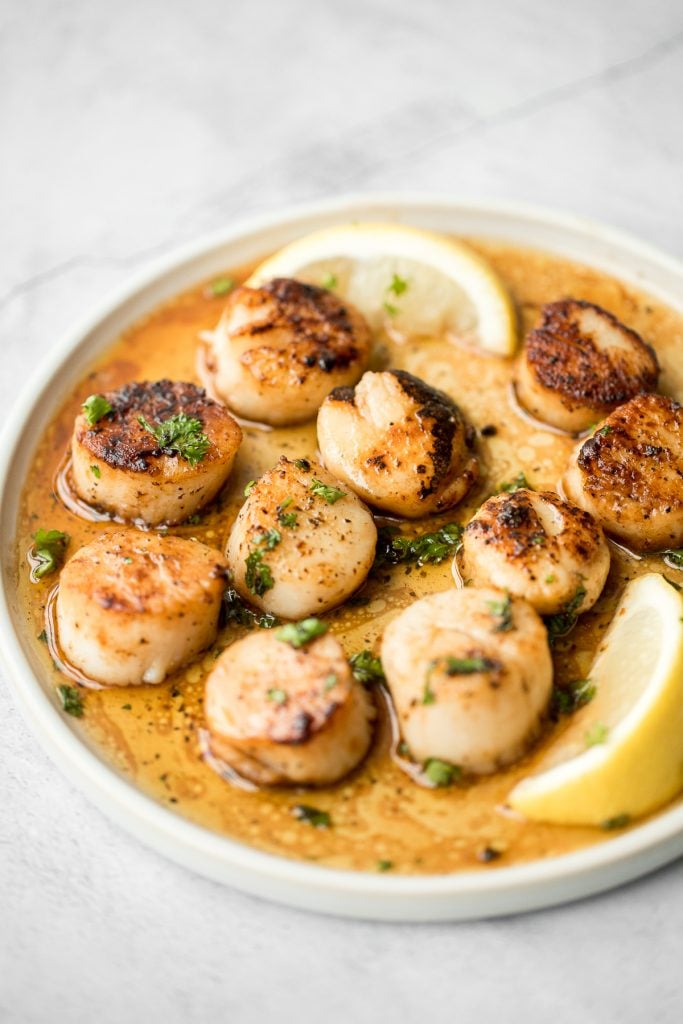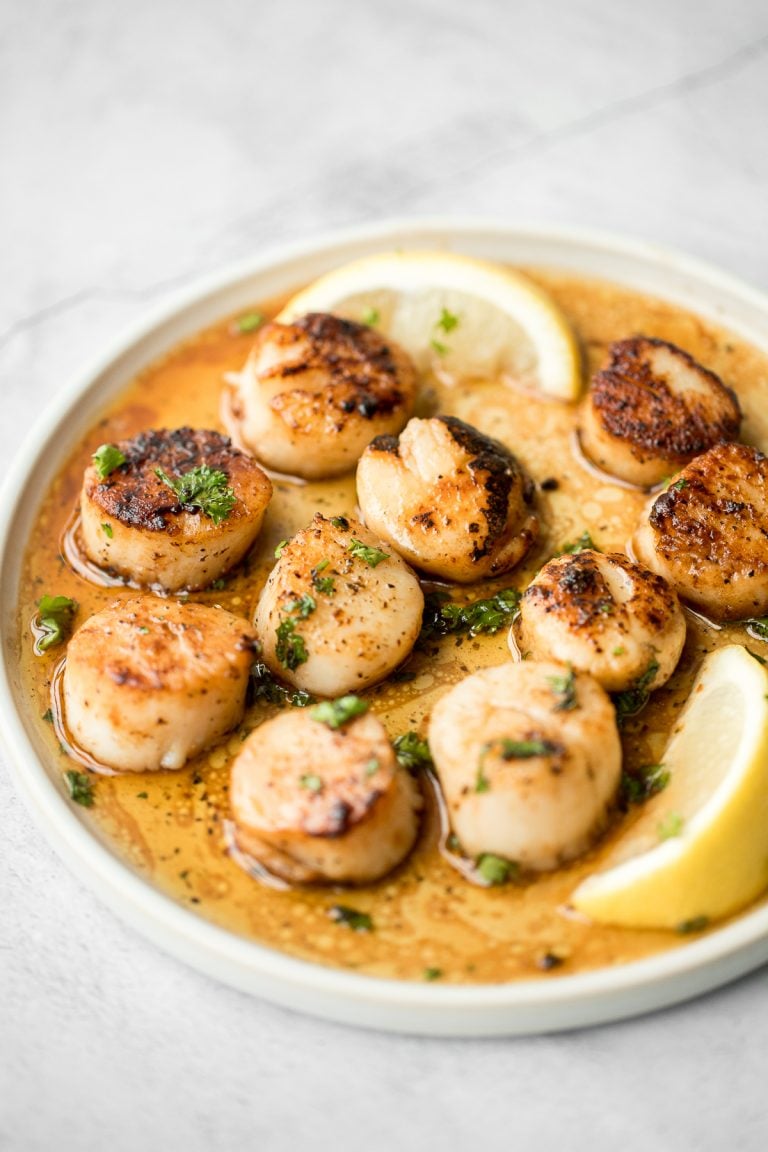 Easy Chicken Parmesan (Parmigiana)
Easy chicken parmesan (parmigiana) with crispy breaded chicken, tomato sauce, and melted mozzarella and parmesan cheese. The best comfort chicken dinner for Valentine's Day.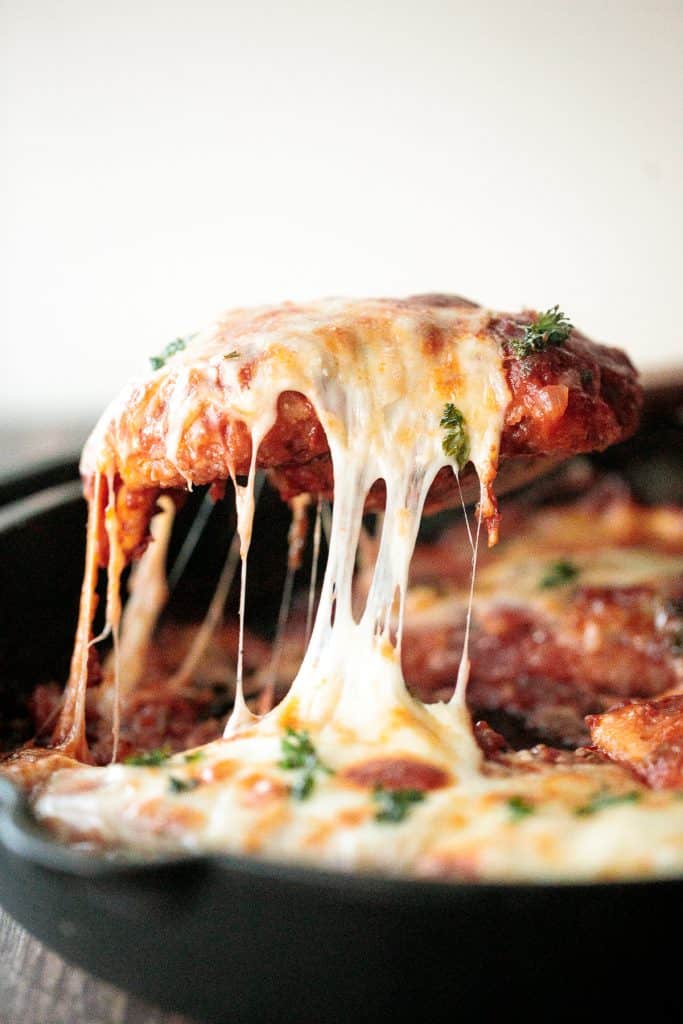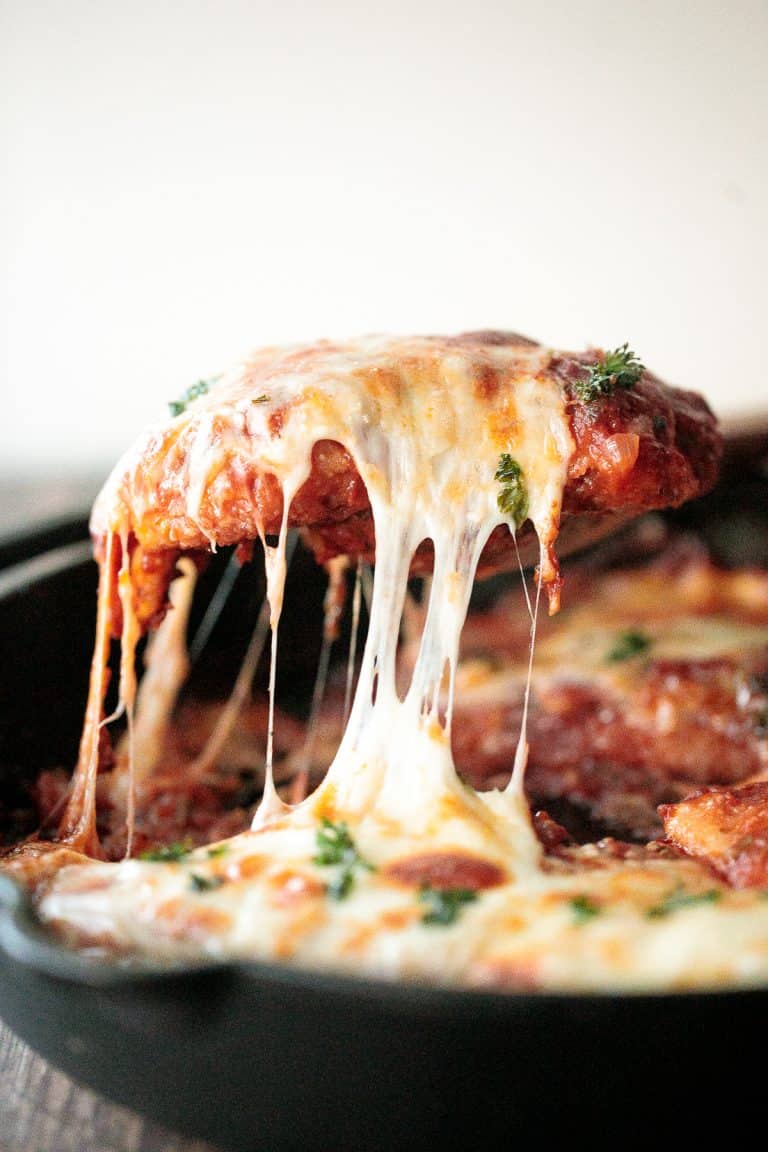 Chicken Parmesan Stuffed Peppers
Chicken parmesan stuffed peppers are delicious, flavorful, healthy, and filling, and combines two all-time favorites. Great for meal prep and freezes well.
Shrimp Fettuccine Alfredo Pasta Bake
Creamy shrimp fettuccine alfredo pasta bake is garlicky, buttery, cheesy, loaded with shrimp + parsley and topped with mozzarella. Easy comfort food goals.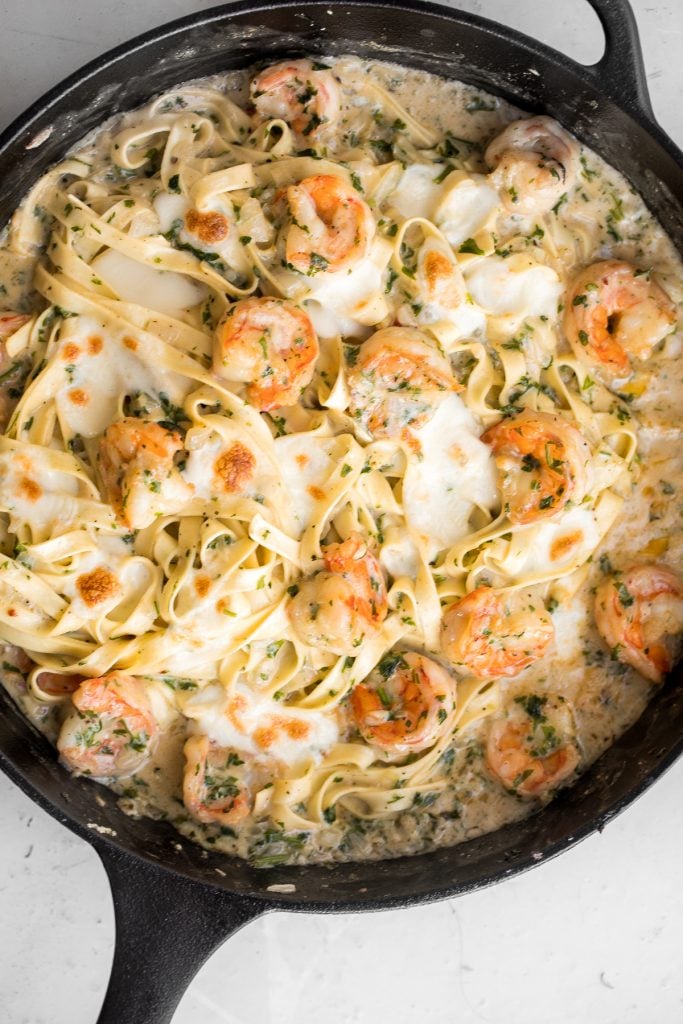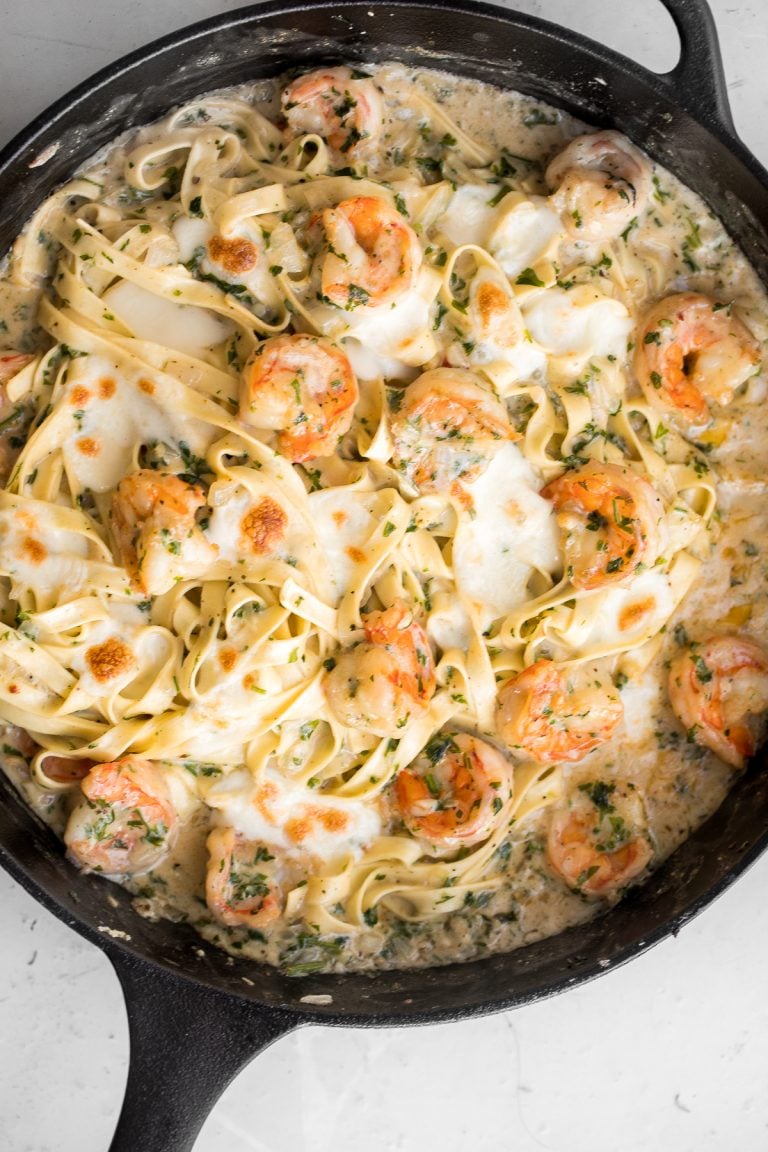 Steamed Mussels in Tomato Sauce
Steamed mussels in tomato sauce is an impressive restaurant-quality dish that is so quick and easy to make at home in less than 25 minutes.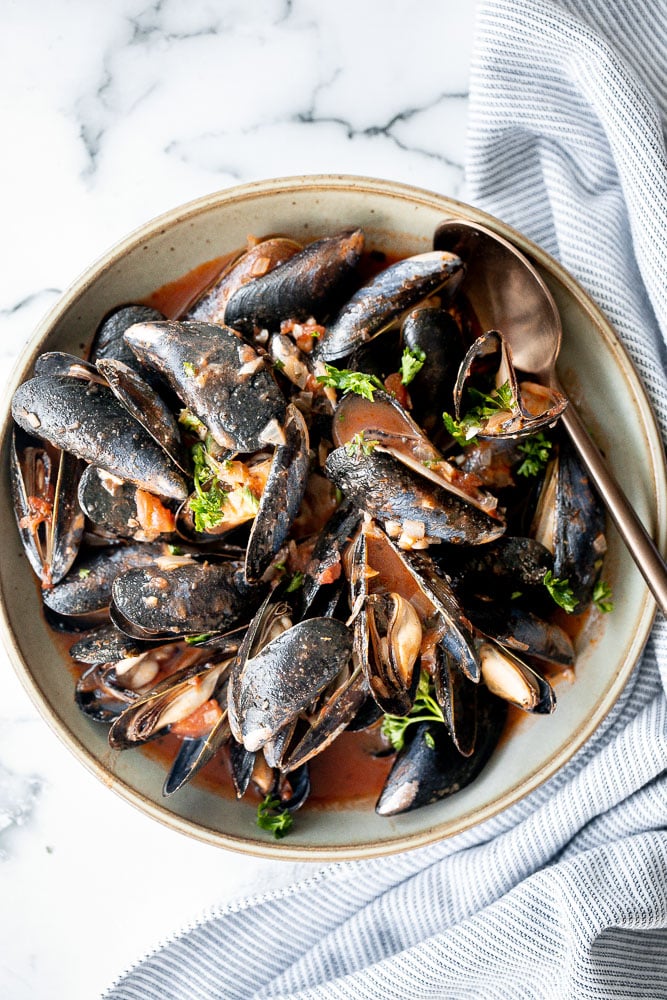 Garlic Butter Salmon
Tender, flaky, flavorful garlic butter salmon is well-seasoned, seared to perfection, and basted until juicy. Quick and easy to make in 20 minutes.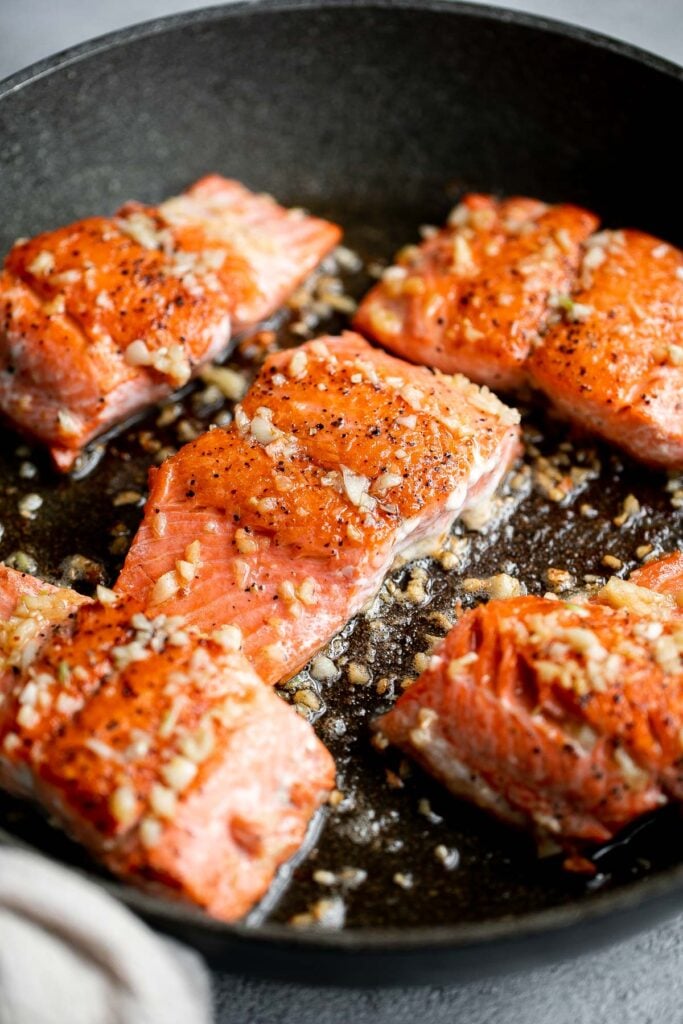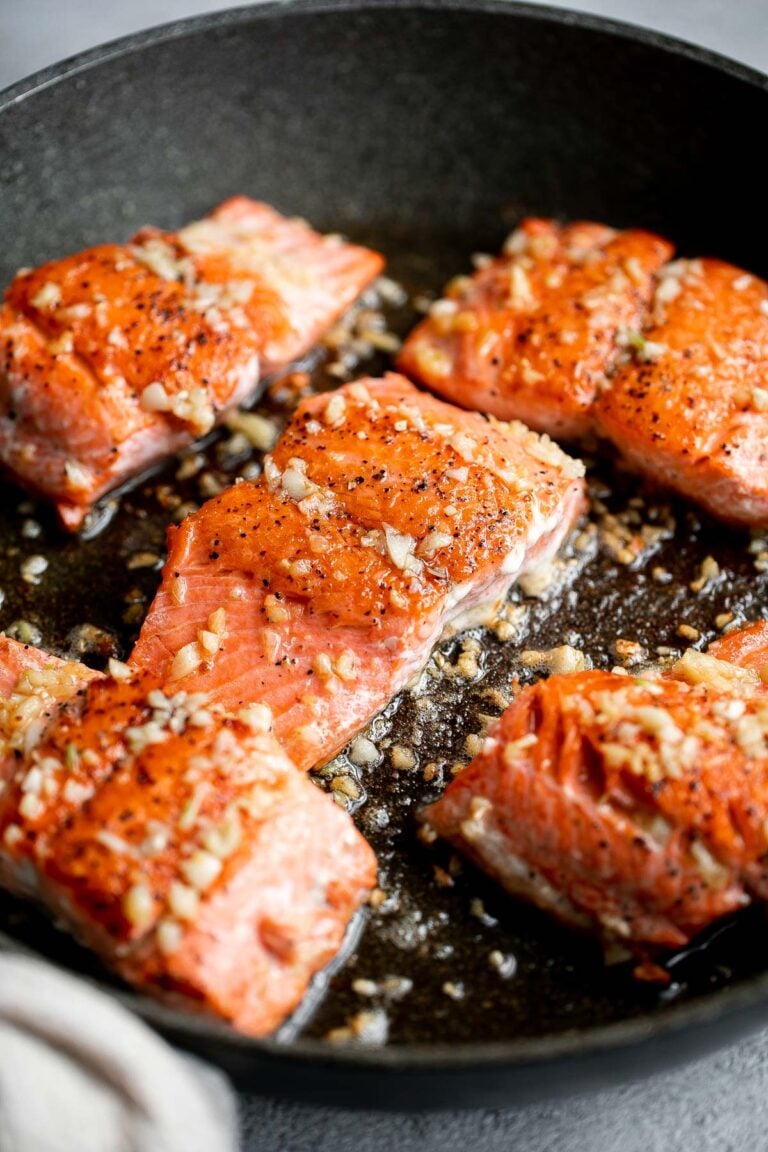 Thai Turkey Meatballs in Coconut Curry
Thai turkey meatballs in coconut curry are the perfect weeknight dinner when you want something delicious, healthy, flavorful, and satisfying.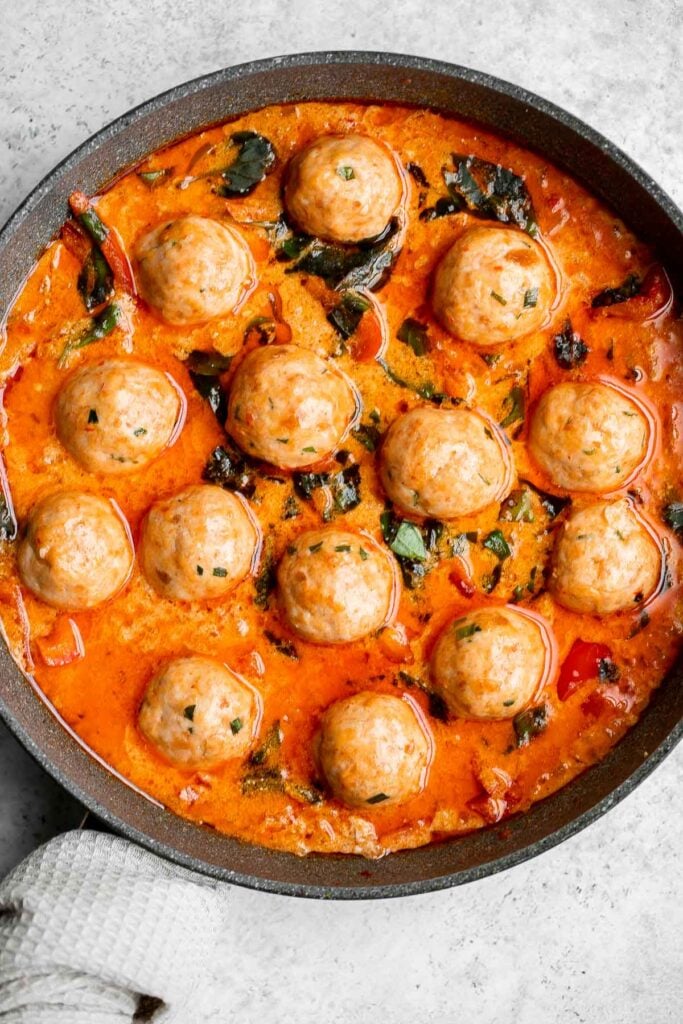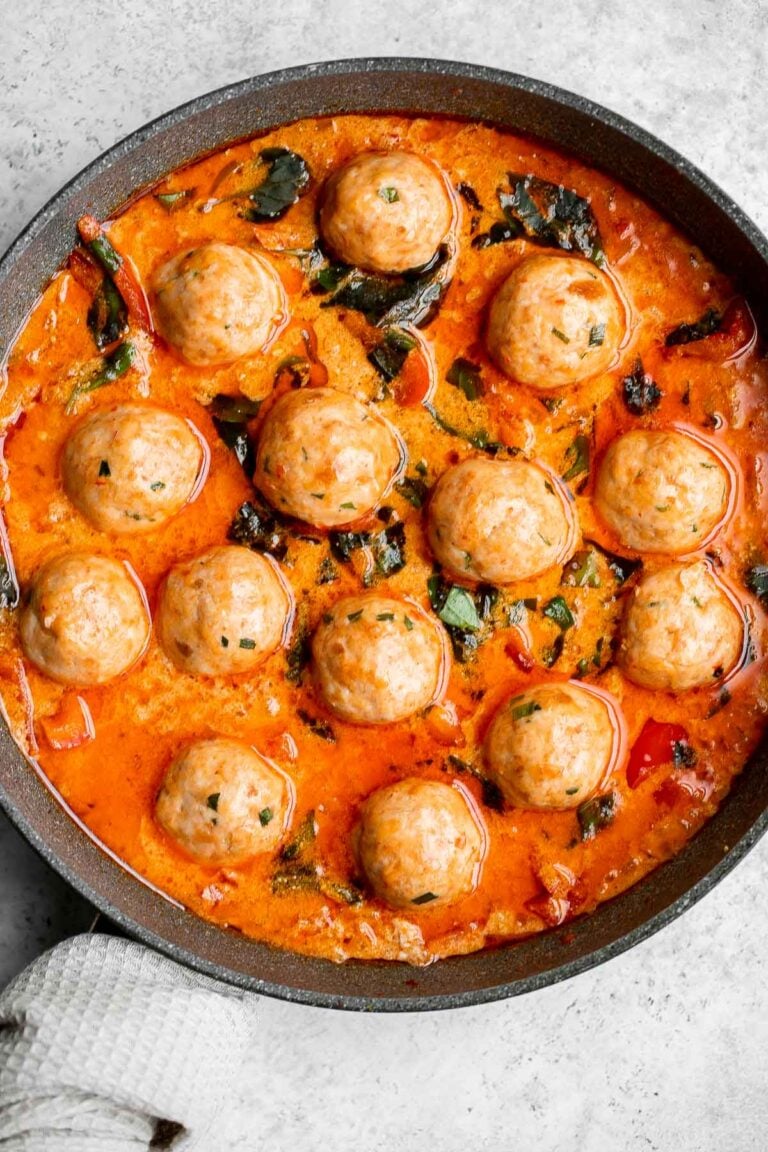 White Chicken and Spinach Lasagna
Creamy white chicken and spinach lasagna with tender shredded chicken is the most comforting creamiest cheesiest white lasagna. Easy to make ahead & freeze.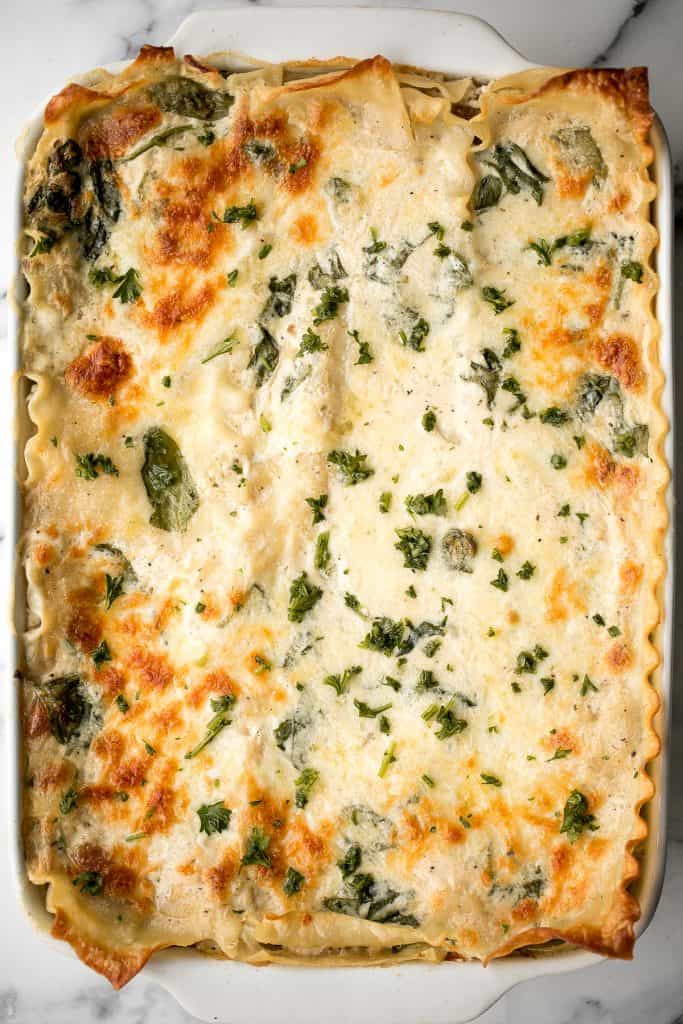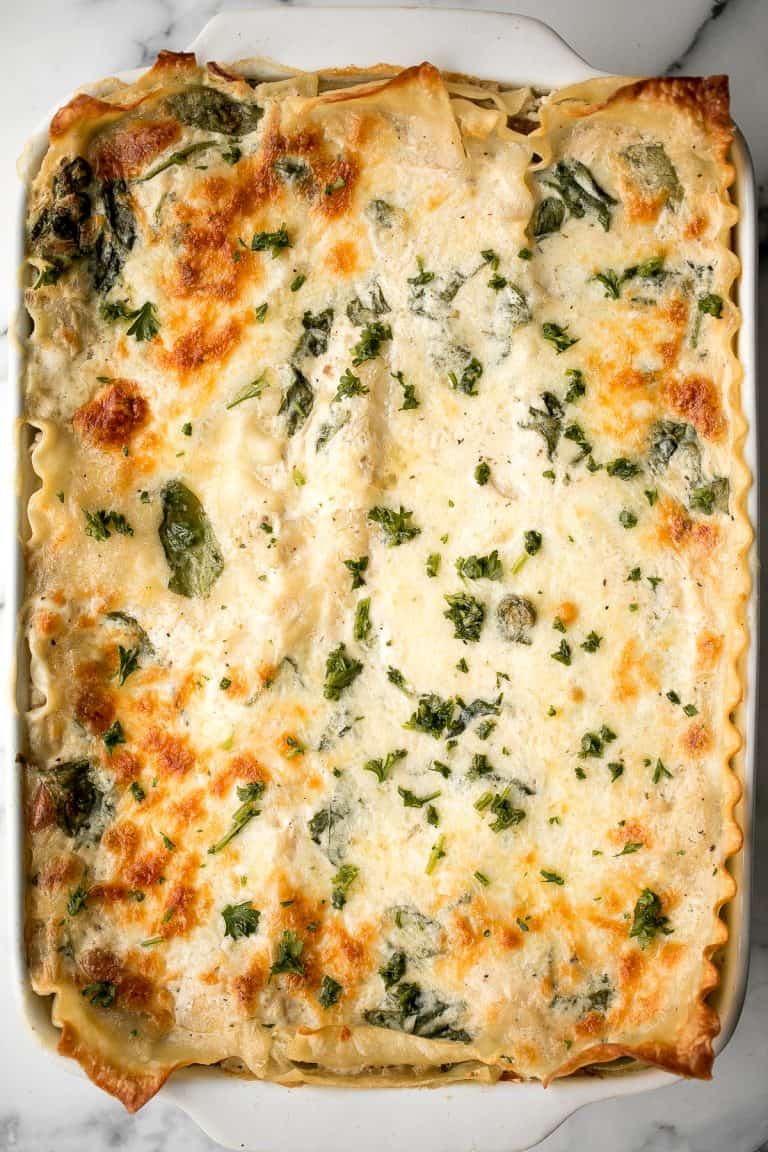 Lemon Asparagus Soup with Parmesan
Lemon asparagus soup with parmesan is the perfect spring soup — smooth, light, fresh, and flavourful. It's customizable and can be served hot or cold.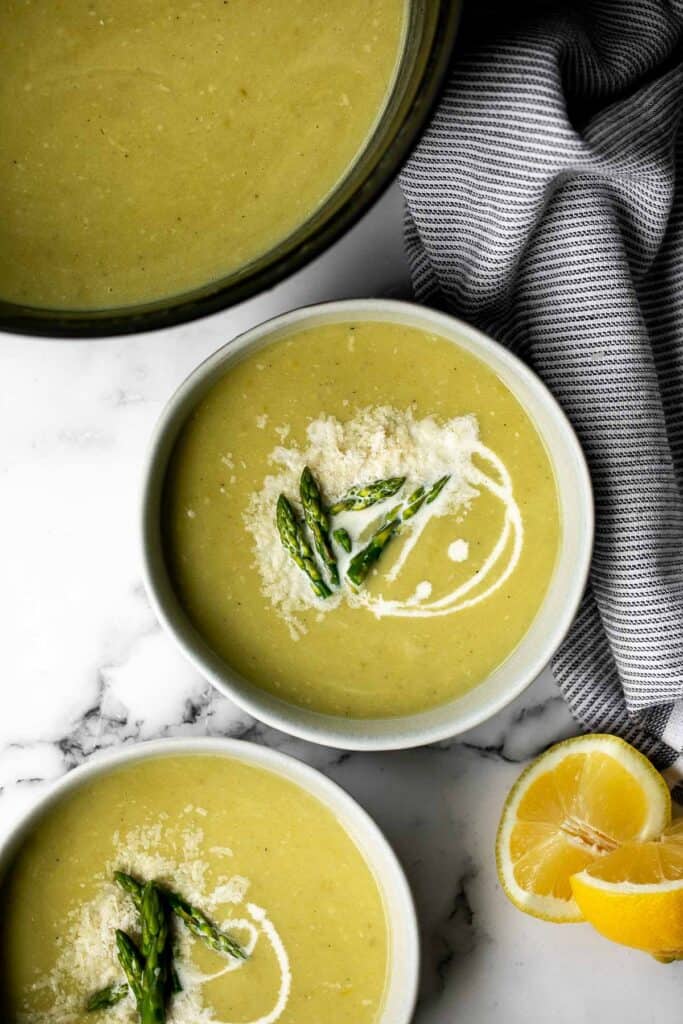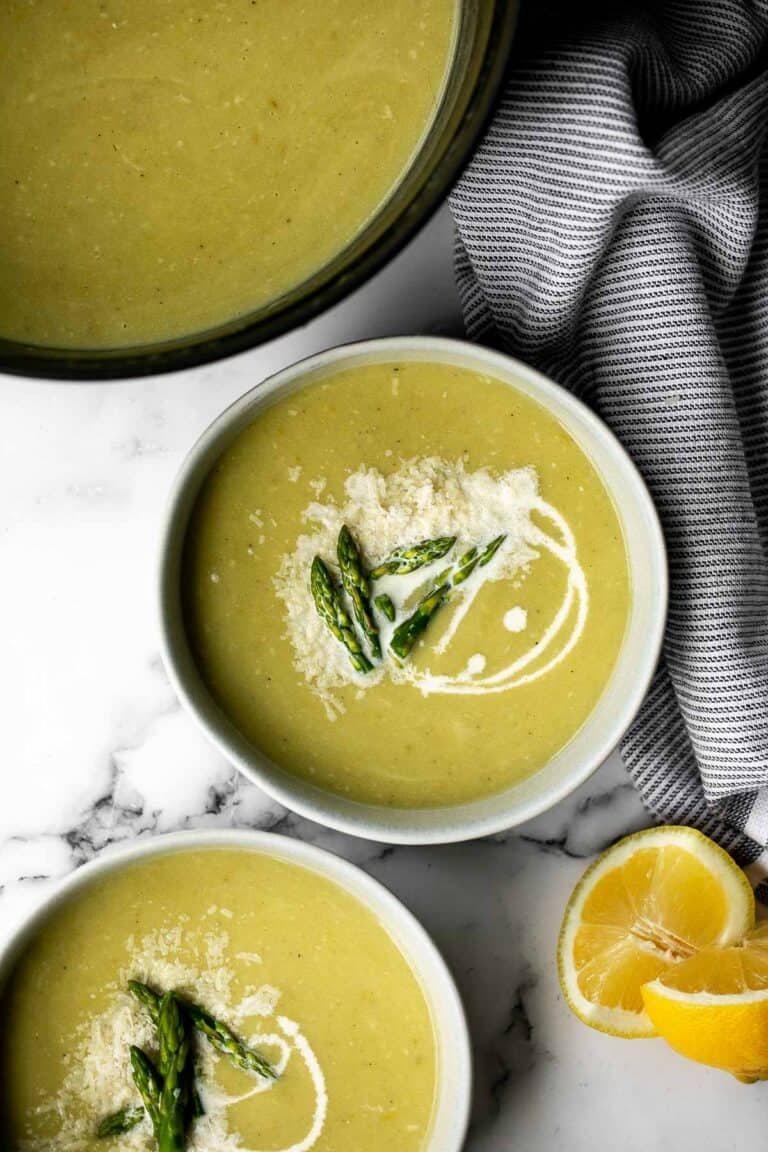 Creamy Tuscan Shrimp
Creamy Tuscan shrimp packed with sun-dried tomatoes, spinach, and garlic, is creamy, rich, and delicious. Make it in just 15 minutes, including prep!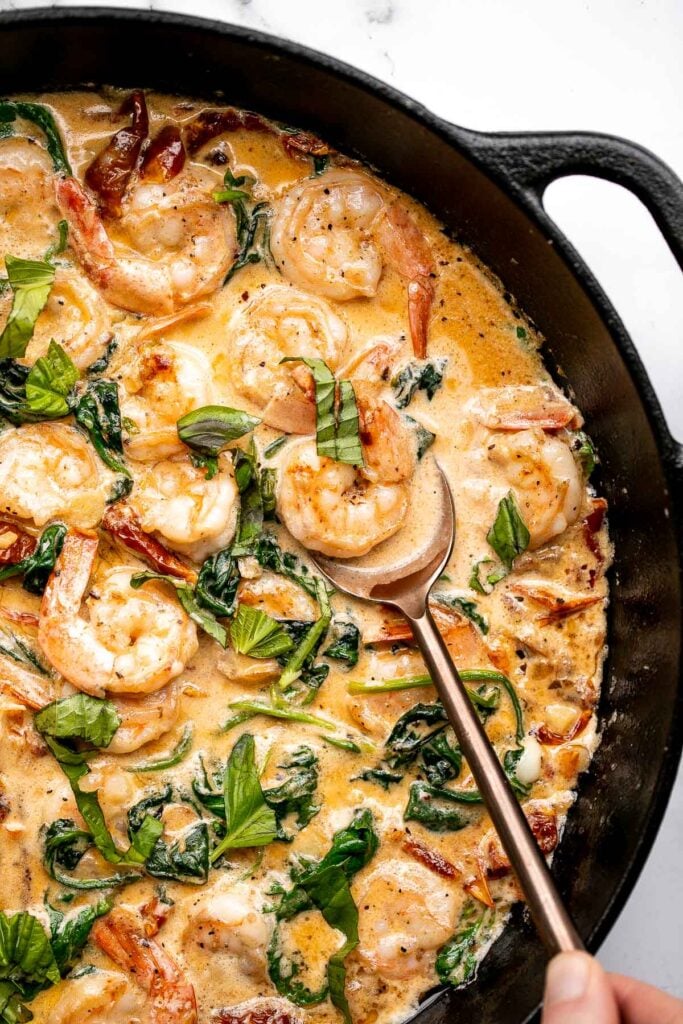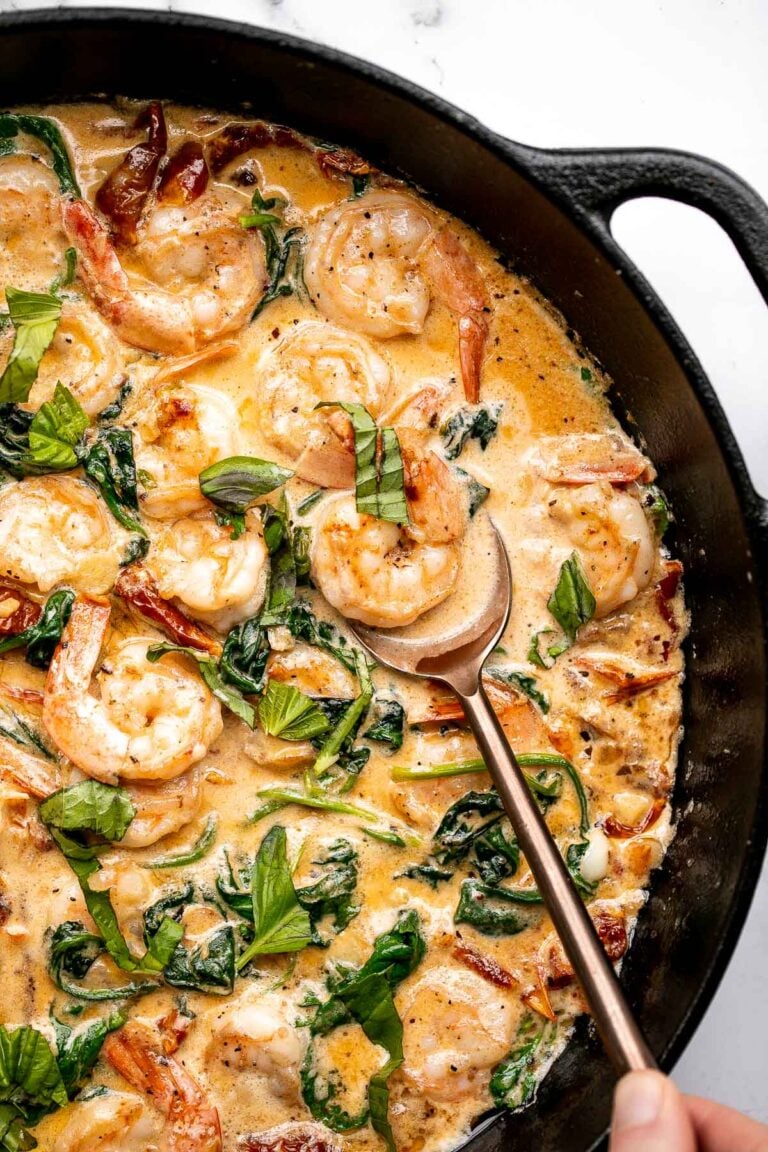 Spaghetti Carbonara
Creamy spaghetti carbonara (Spaghetti a la Carbonara) is a simple classic Italian pasta with pancetta that's quick and easy to make in minutes.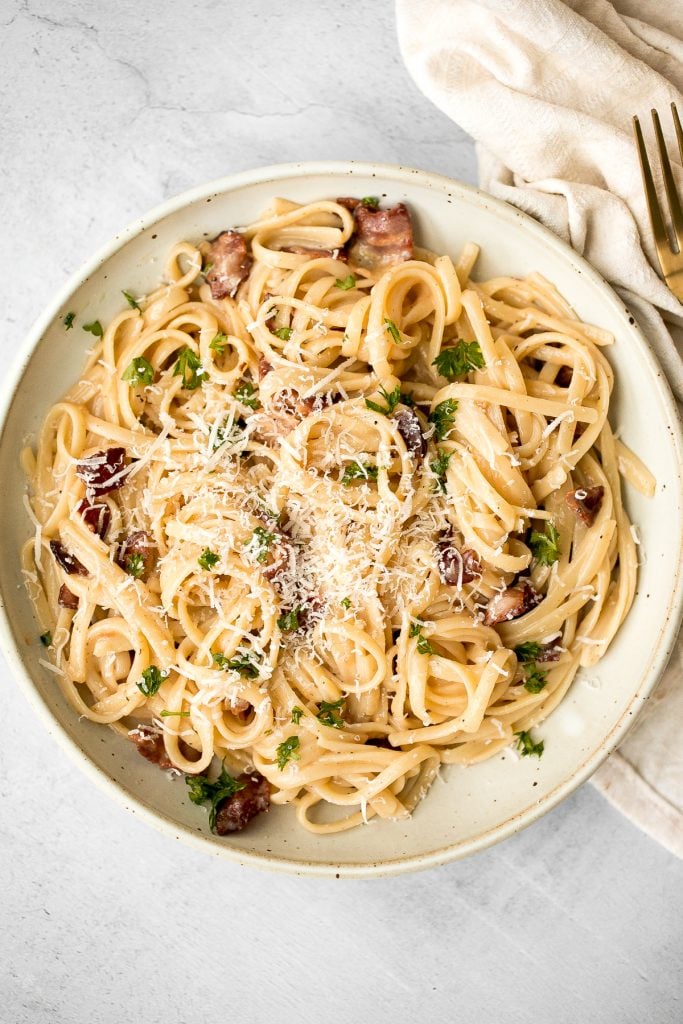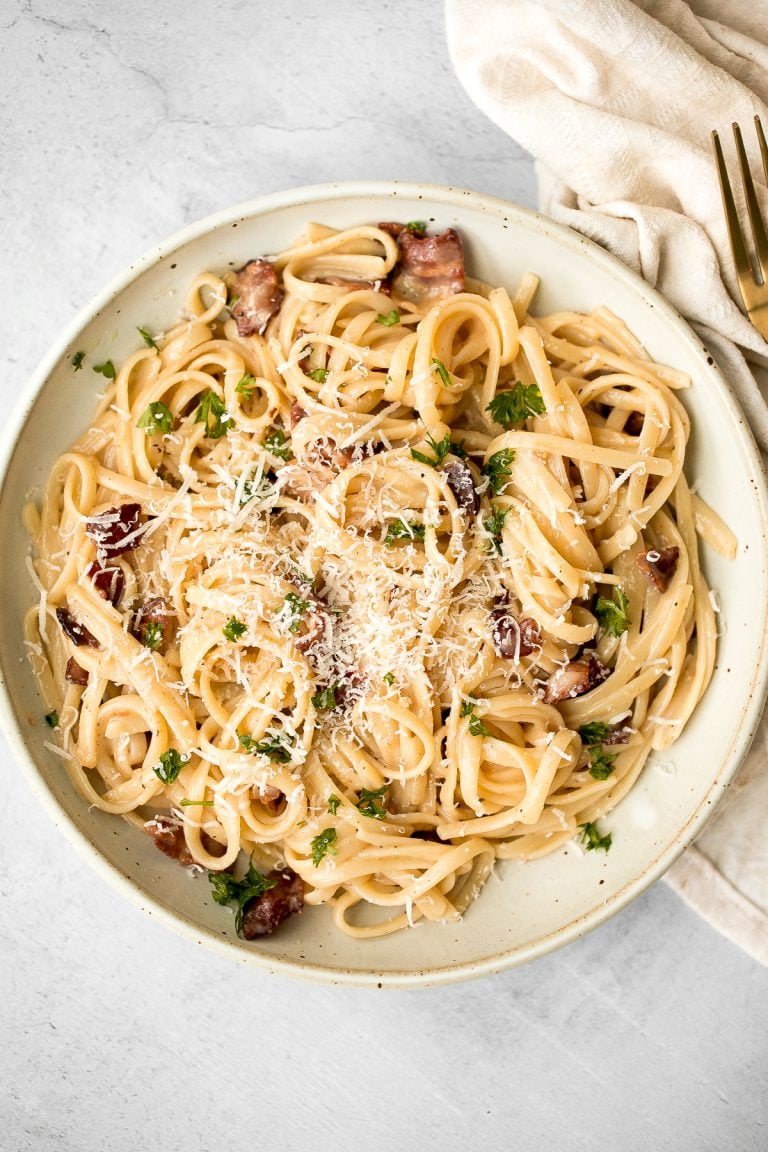 Creamy Garlic Mushrooms
Creamy garlic mushrooms are a simple, delicious, and easy side dish. This comforting family favorite that is quick and easy to make in just 15 minutes.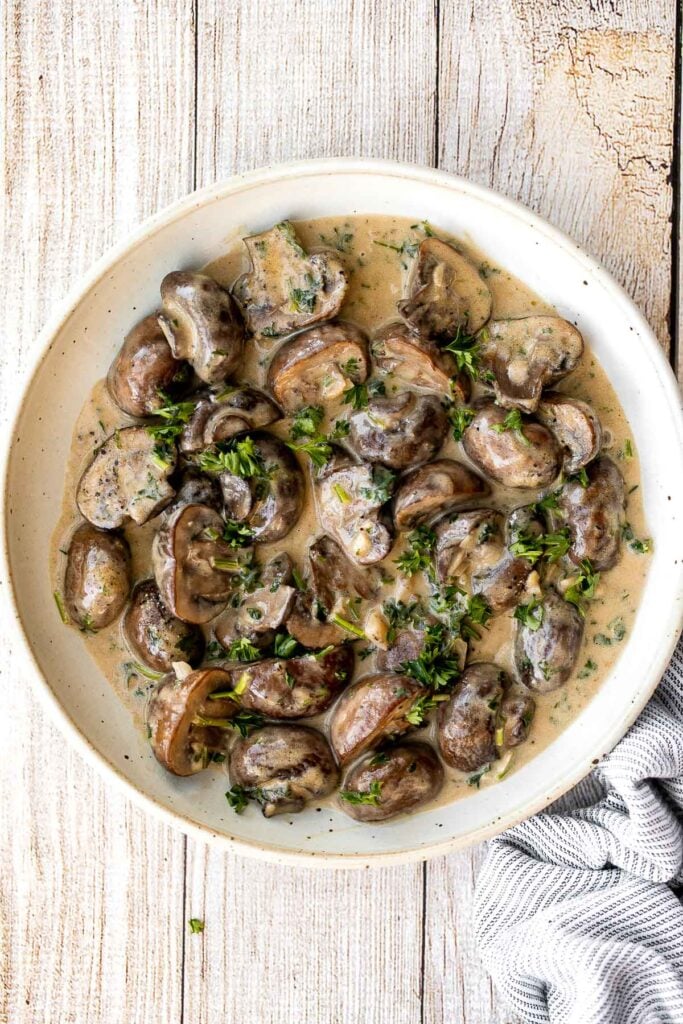 Teriyaki Salmon
Quick easy teriyaki salmon is tender, flaky, and flavorful, with bold flavors from the delicious teriyaki marinade. Great for dinner or meal prep lunches.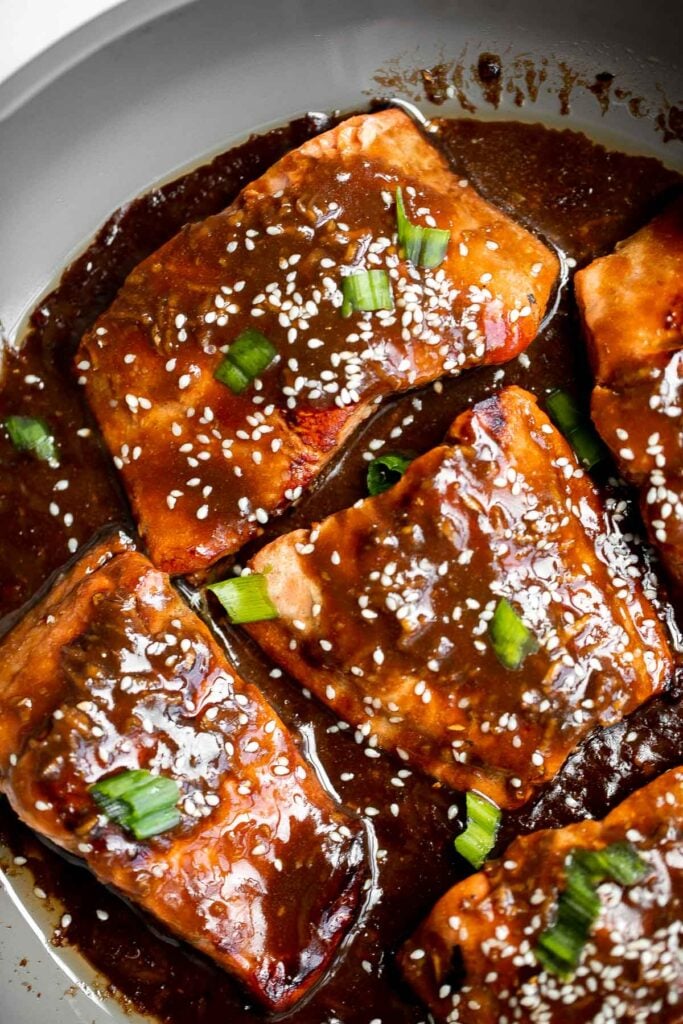 Shrimp Scampi with Zucchini Noodles
Shrimp scampi with zucchini noodles is a low-carb, keto, and gluten-free version of a classic pasta dish. It is healthy, garlicky, flavorful, and delicious.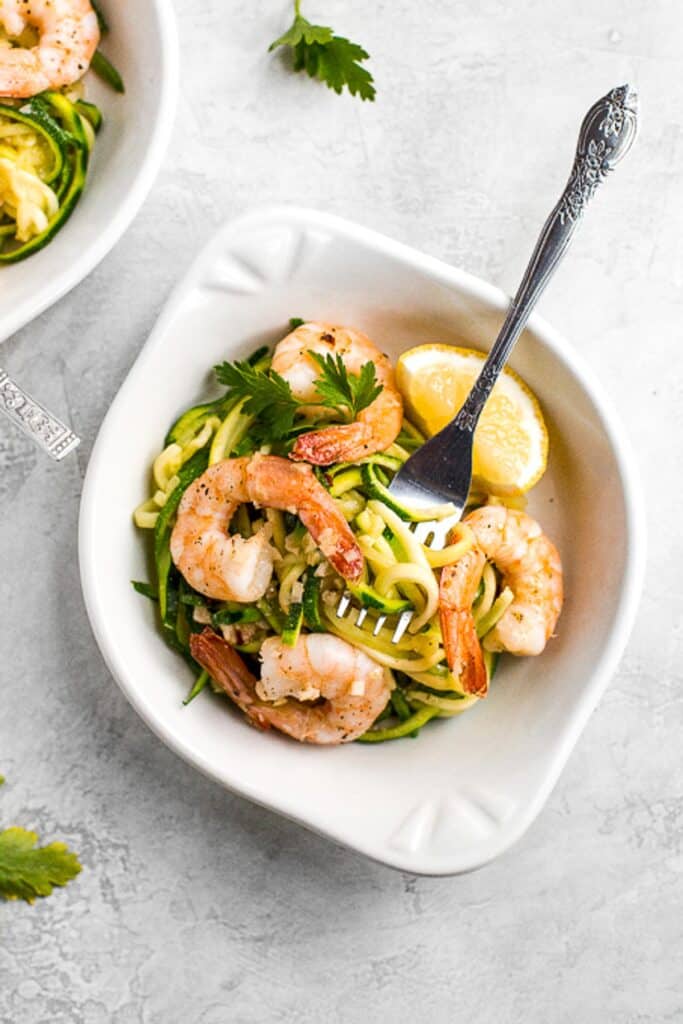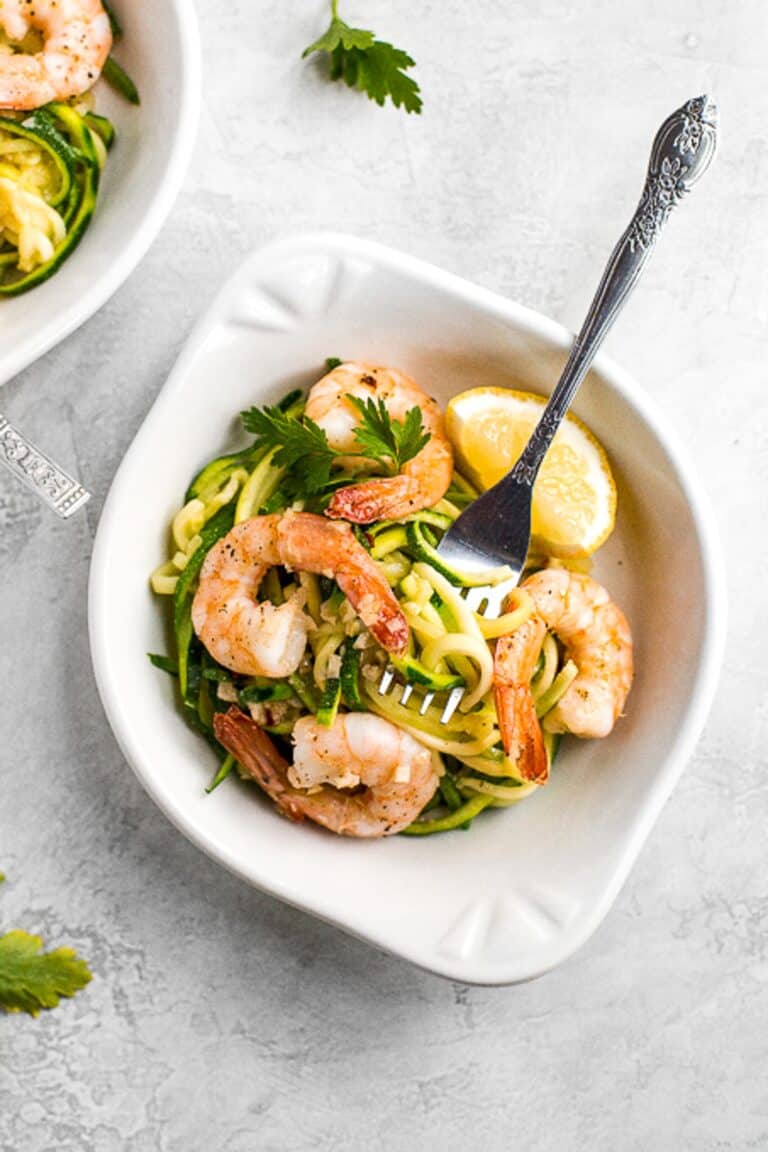 Shanghai Style Fried Noodles
Better than take-out, flavourful and authentic Shanghai fried noodles with chicken, mushrooms, and bok choy is made in just 10 minutes – the easiest dinner!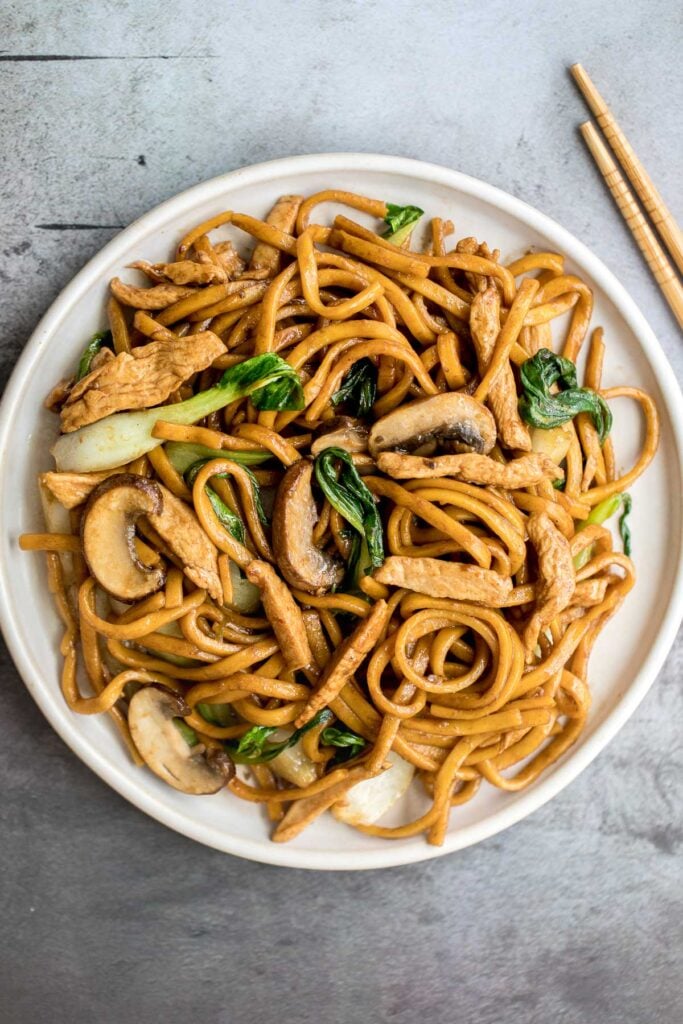 Creamy Chicken Roulade with Spinach and Mushrooms
Give your chicken breasts an upgrade by stuffing them to make fancy, juicy chicken roulade with spinach and mushrooms topped with a creamy alfredo sauce. Serve it over spaghetti alfredo with spinach and mushrooms.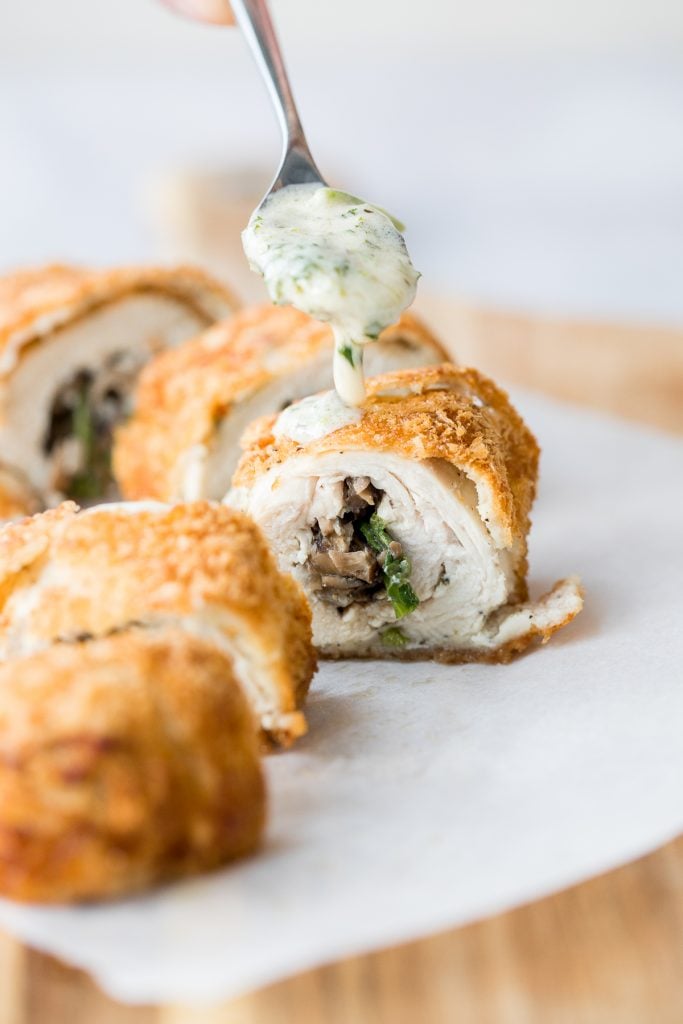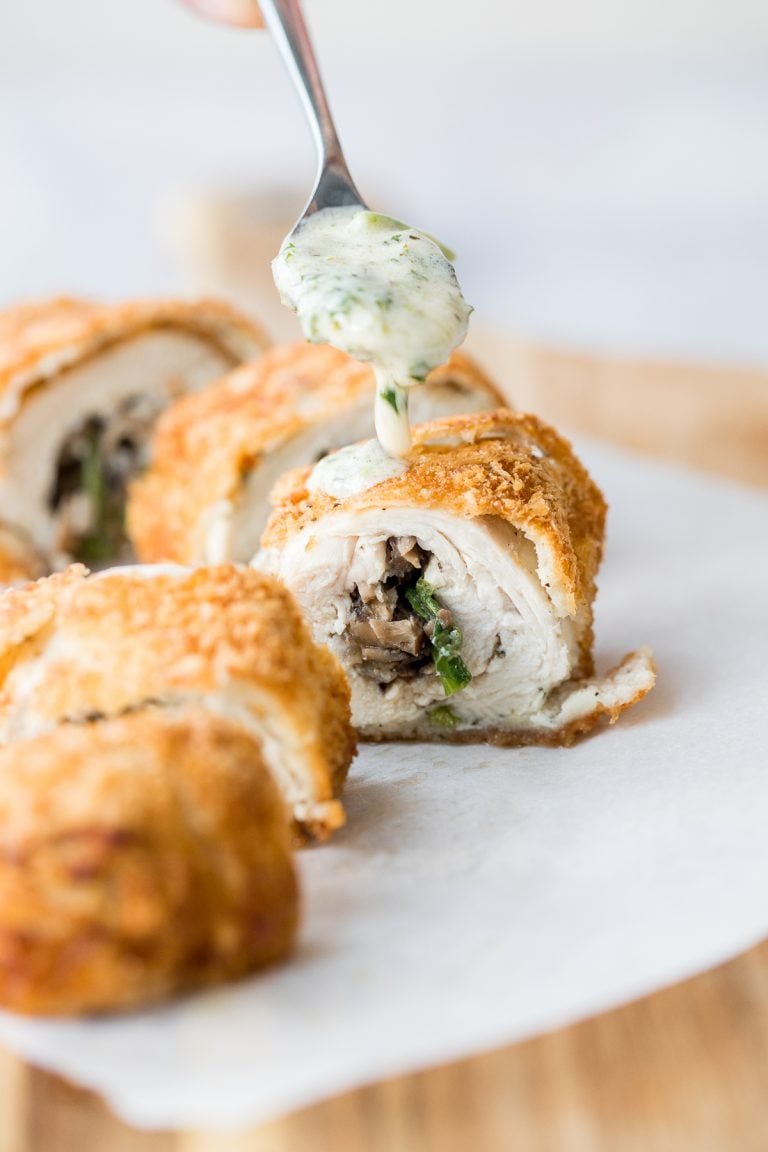 Chicken Marsala
Chicken marsala in creamy mushroom sauce is a quick and easy 30-minute chicken dinner that is pure comfort food goals. A total crowd favourite.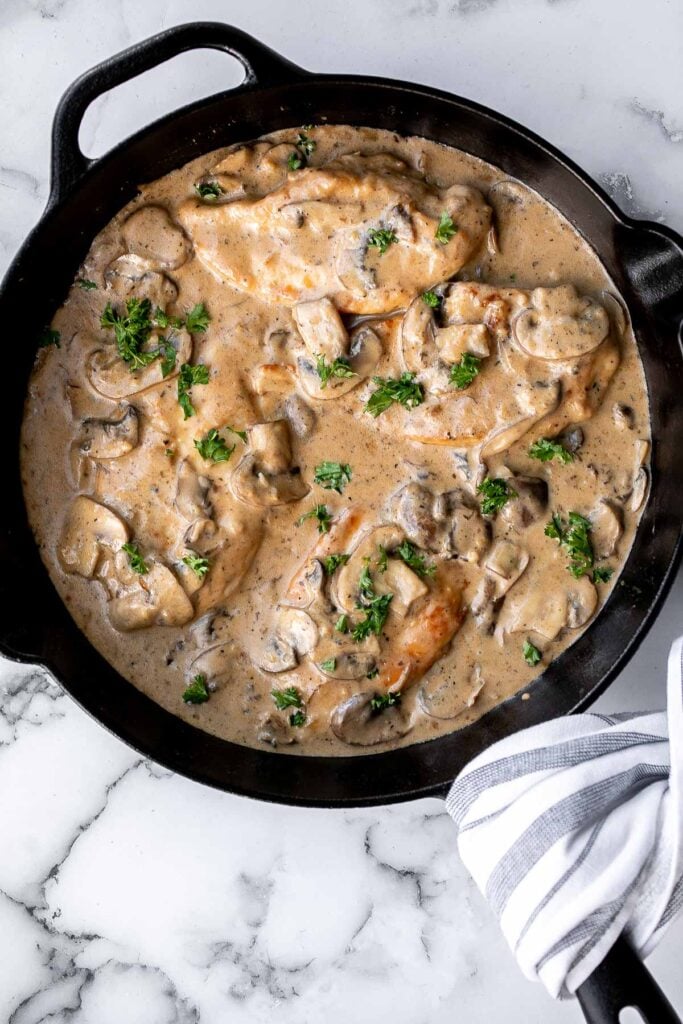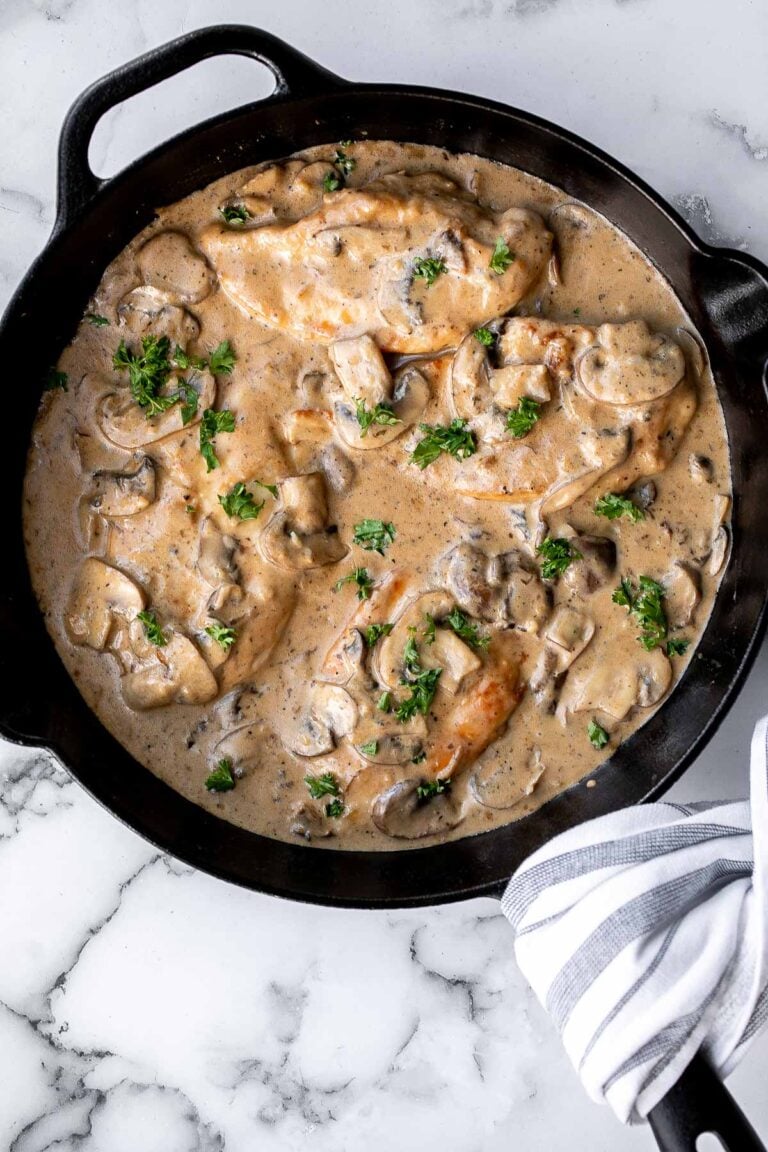 The Best Ribeye Steak
Better than the steakhouse, the best tender and juicy ribeye steak with a perfect seared crust is garlicky, buttery and packed with so much flavour. Serve with a side of Air Fryer Asparagus or Mascarpone Mashed Potatoes.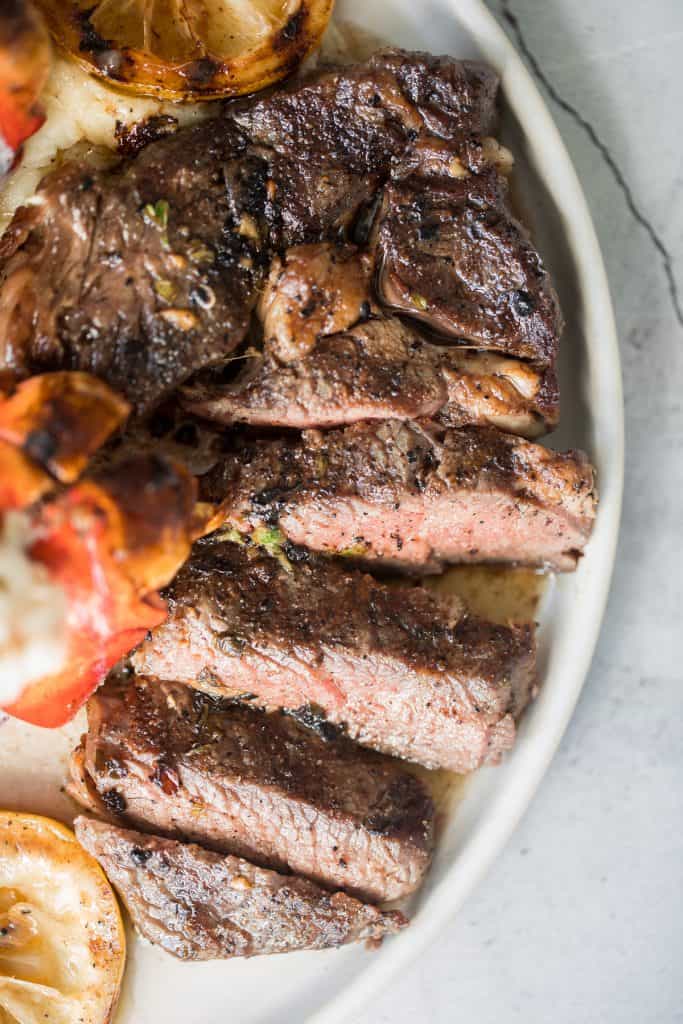 Fettuccine Alfredo
Fettuccine alfredo is a classic Italian pasta dish that is rich, creamy, and delicious. Plus, it comes together in less than 15 minutes! Perfect for Valentine's Day dinner.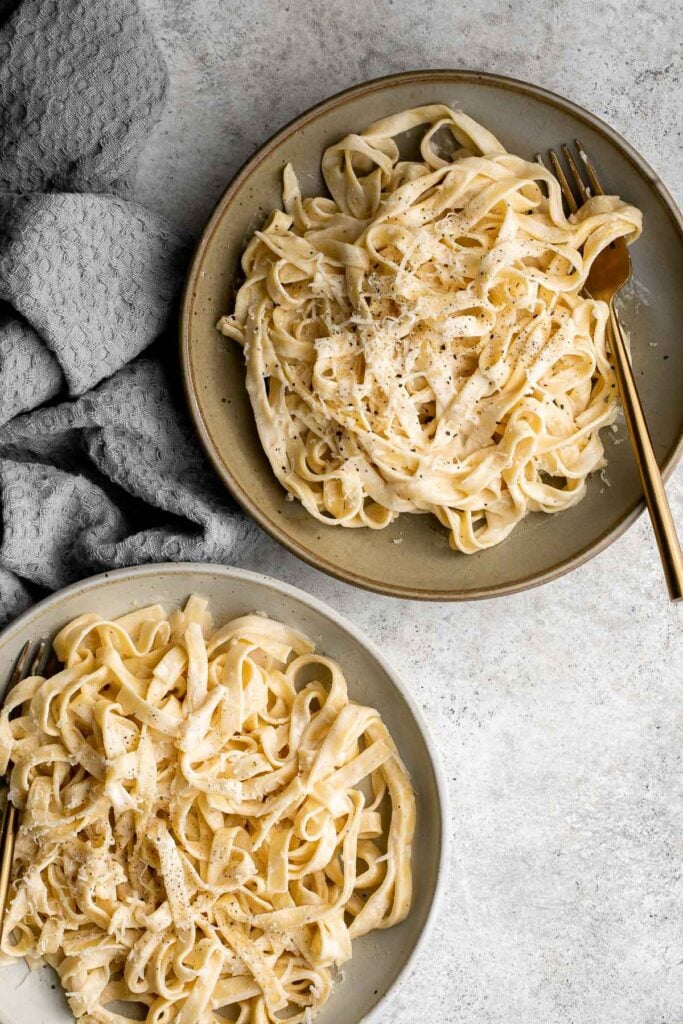 Parmesan Crusted Chicken
Baked parmesan crusted chicken is breaded in a herby parmesan breadcrumb mixture and baked until crispy perfection. So flavourful and delicious.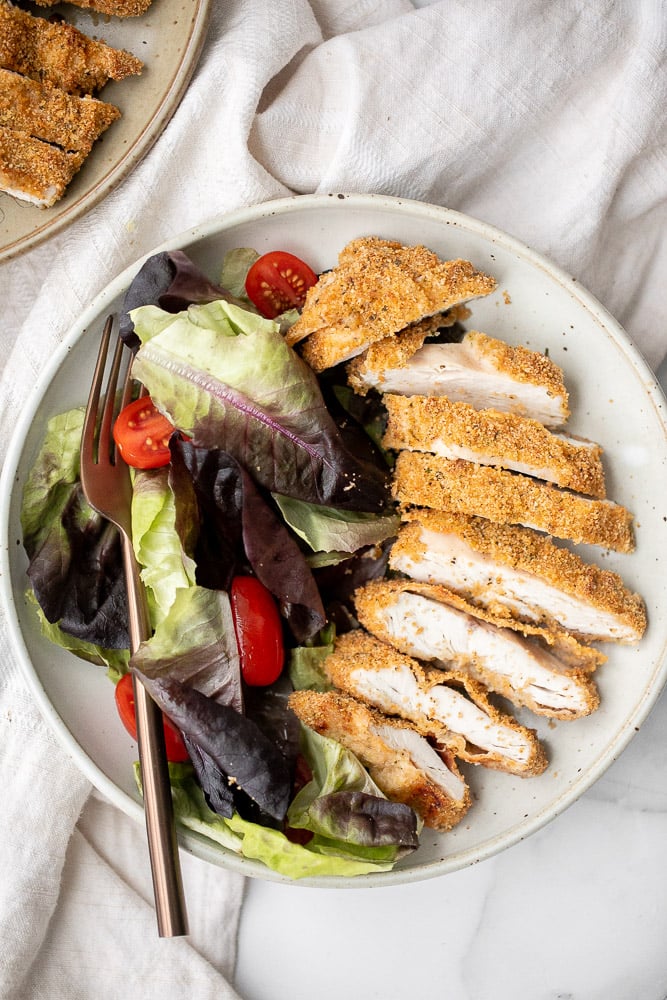 Miso Black Cod (Sablefish)
Flaky, oily, and tender, miso black cod (or sablefish) packed with delicious Asian flavours is an indulgent meal that's as healthy as it is delicious.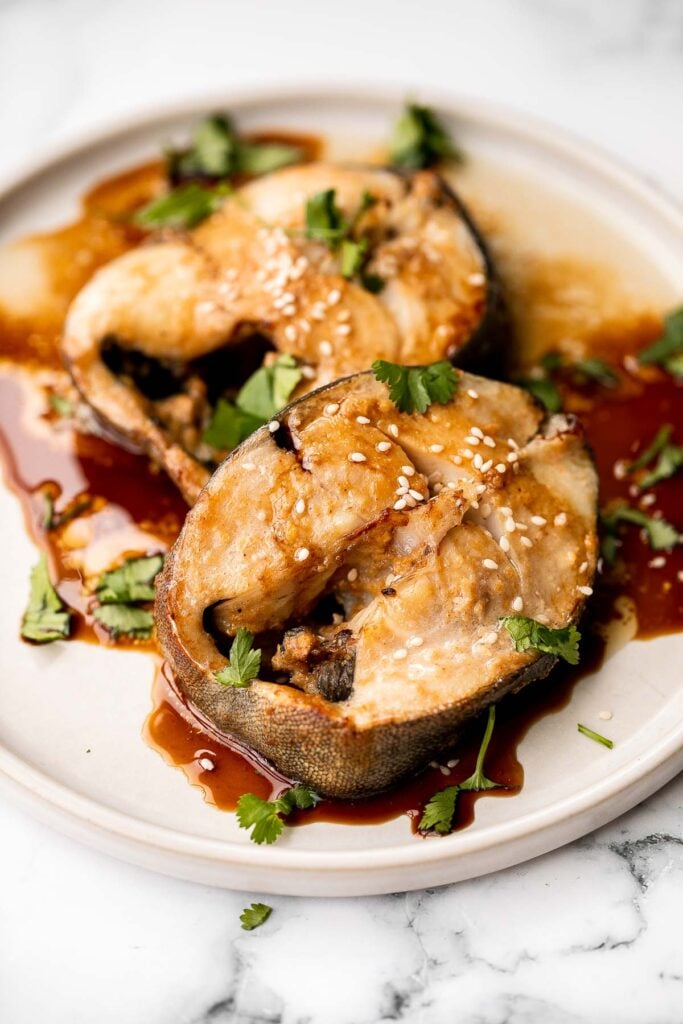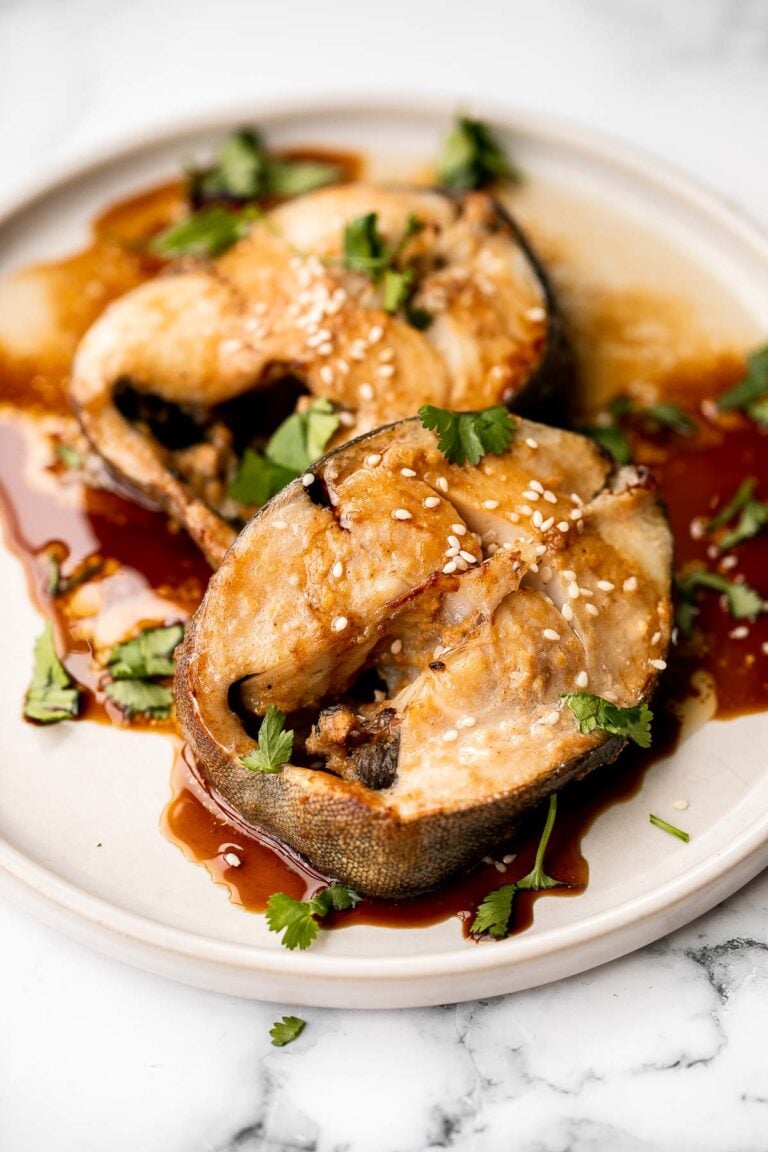 Greek Salmon
Greek salmon is delicious, flaky, and tender. This healthy oven-baked salmon is packed with Mediterranean flavors and is ready in just 20 minutes.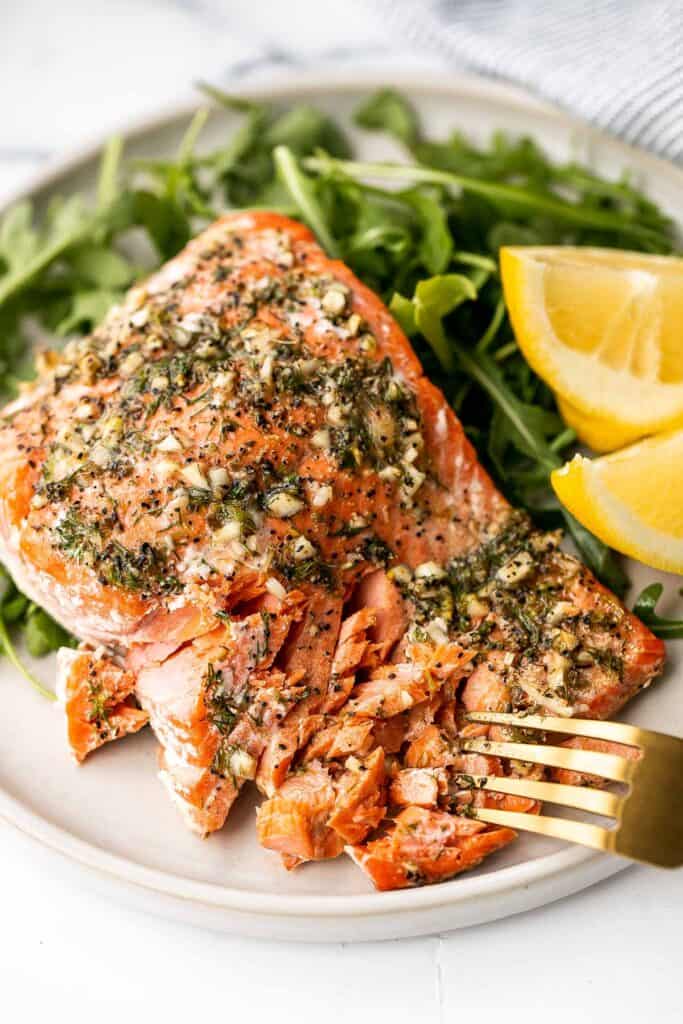 Creamy Turkey Gnocchi Soup
Creamy turkey gnocchi soup is the ultimate comfort food — creamy, rich, and delicious, made with good carbs, clean protein, and veggies in 25 minutes. You can also substitute the turkey for rotisserie chicken.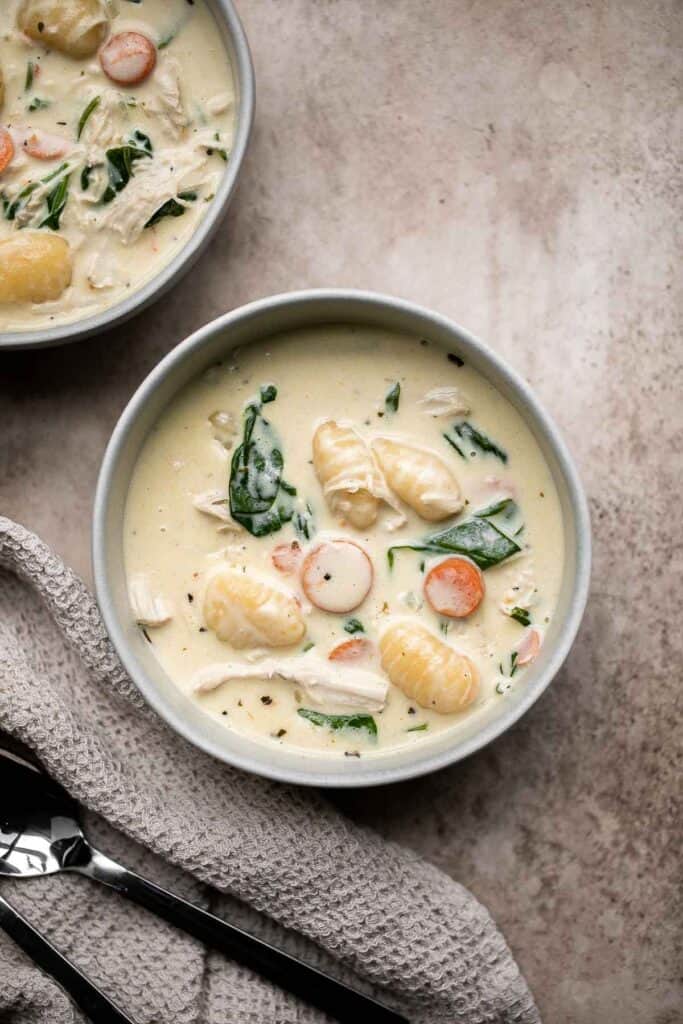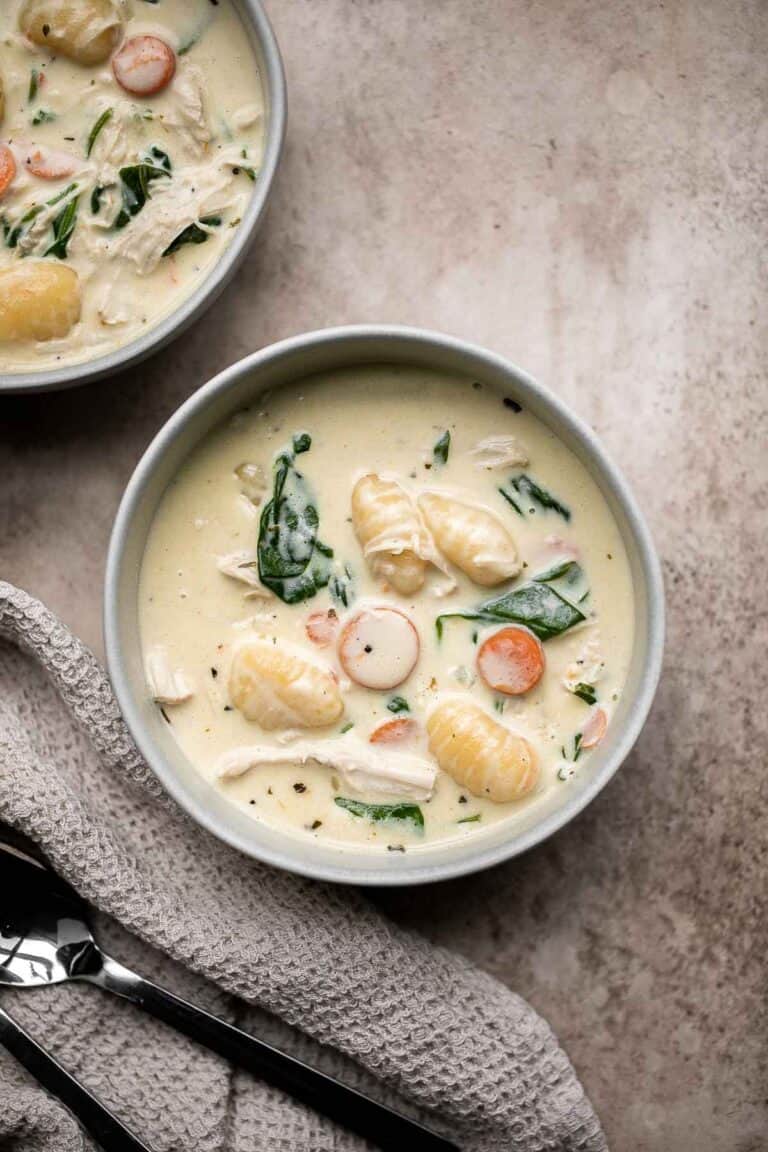 Beef Noodle Stir Fry
This beef noodle stir fry is the 20-minute dinner that you have been looking for — quick and easy, delicious and flavorful, and so much better than takeout.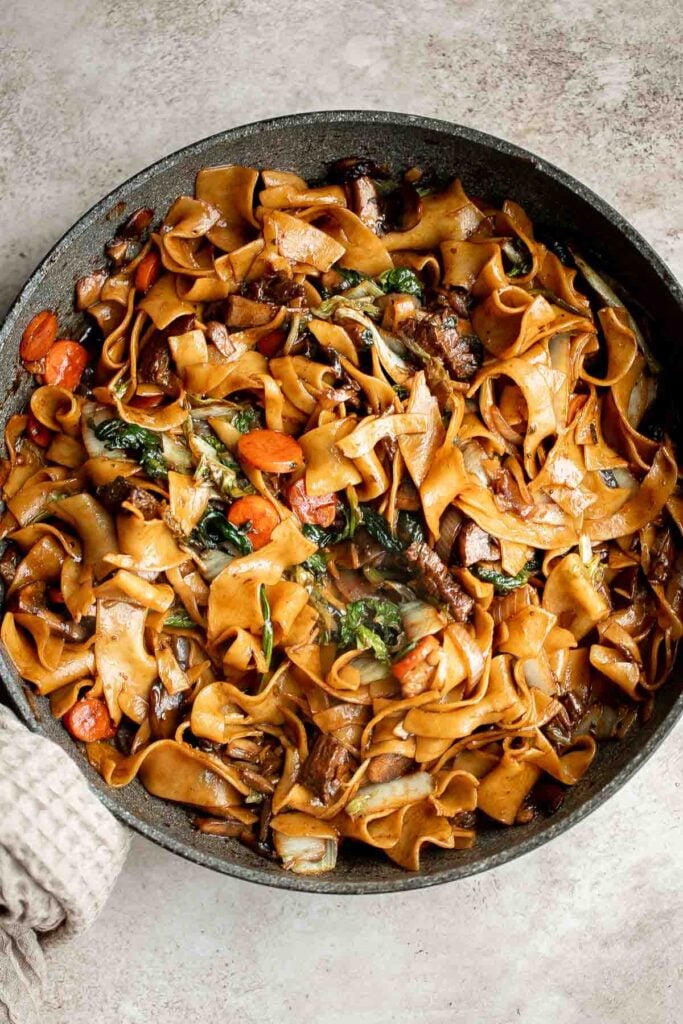 Baked Caprese Chicken
Baked caprese chicken is tender, juicy, and delicious, topped with burst tomatoes, mozzarella cheese, fresh basil, and a drizzle of balsamic glaze.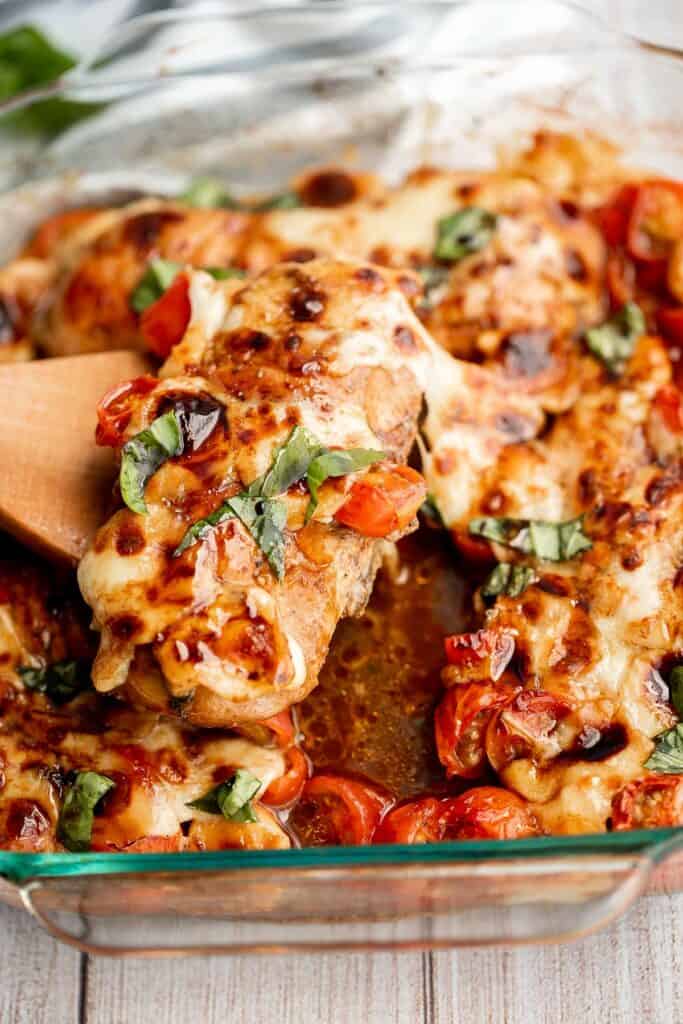 Spaghetti Bolognese
Quick easy spaghetti bolognese with a rich, thick, delicious and flavourful meat sauce is a family favourite ready in 30 minutes. Best weeknight dinner.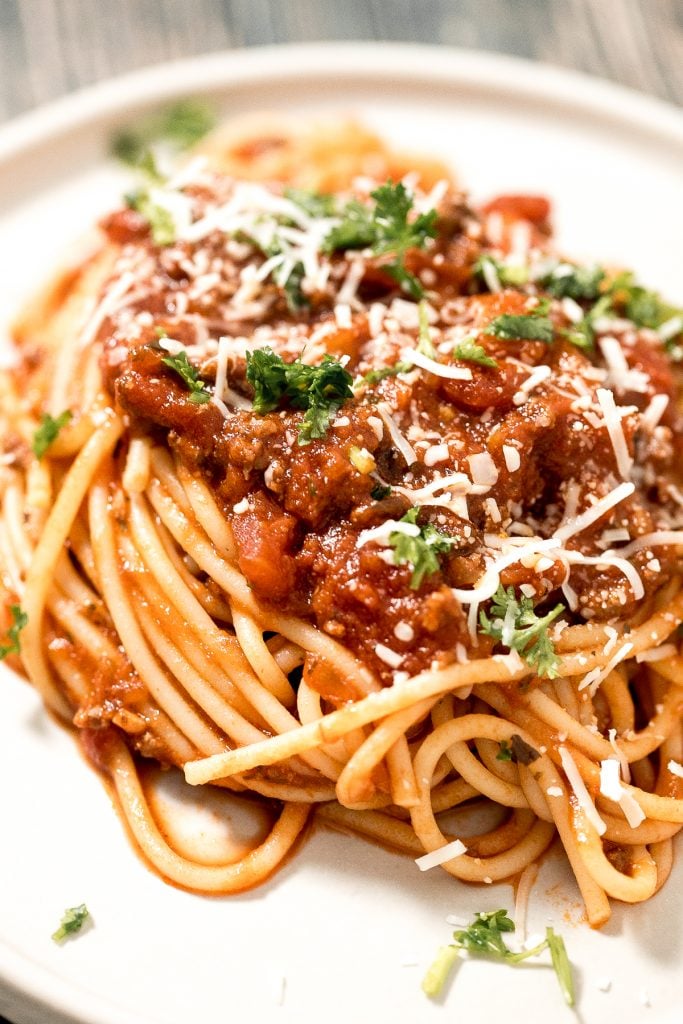 Herb-Crusted Rack of Lamb
This delicious garlic and herb-crusted rack of lamb is tender, juicy, and flavourful. It is surprisingly quick and easy to make at home in about 30 minutes.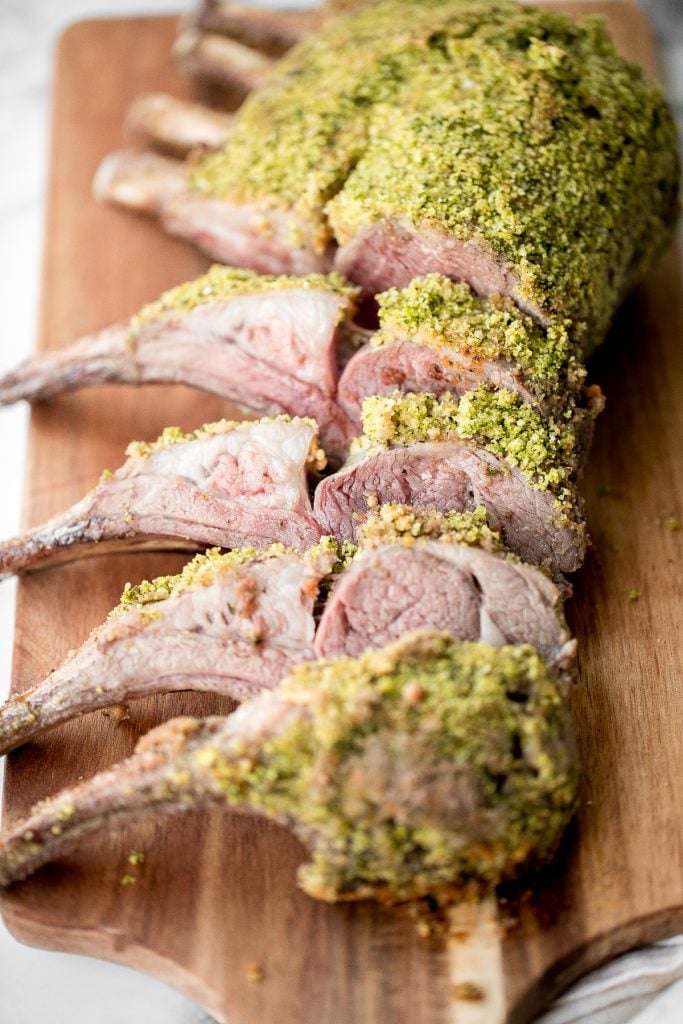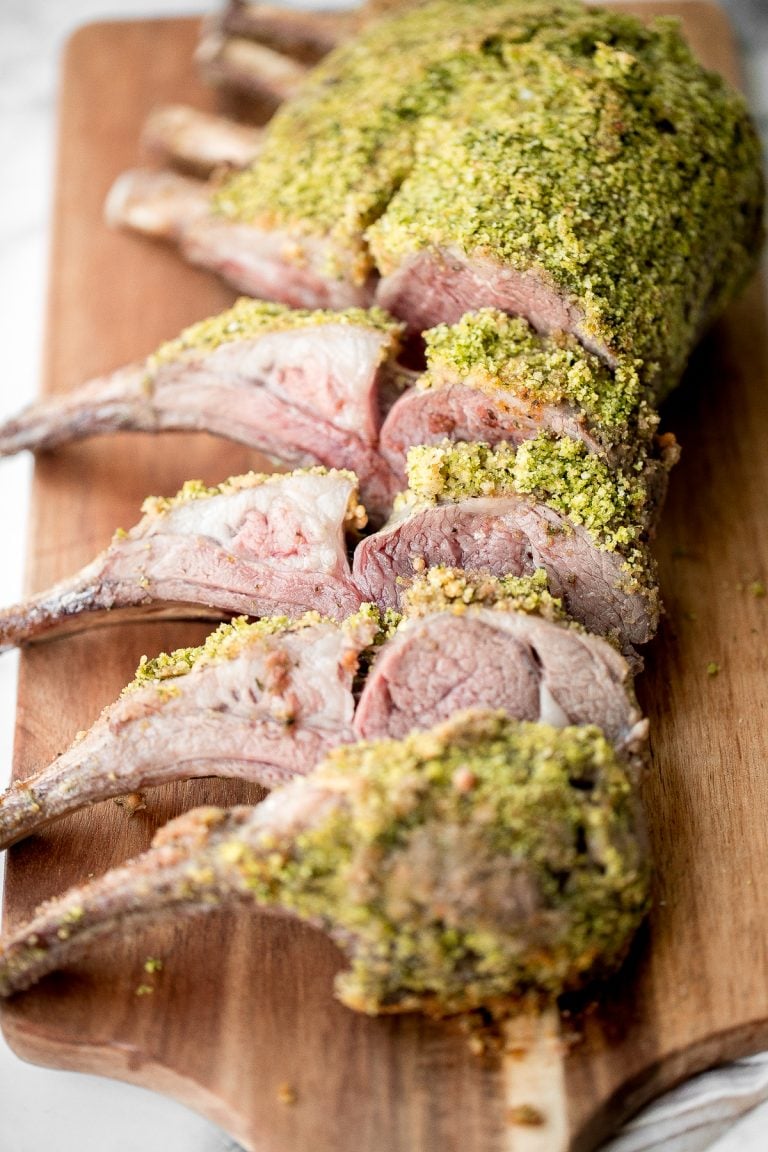 Creamy Shrimp Pasta with Sun-dried Tomatoes
Creamy shrimp pasta with sun-dried tomatoes is a delicious, quick and easy meal that takes just 20 minutes to prep and make. The perfect weeknight dinner. | aheadofthyme.com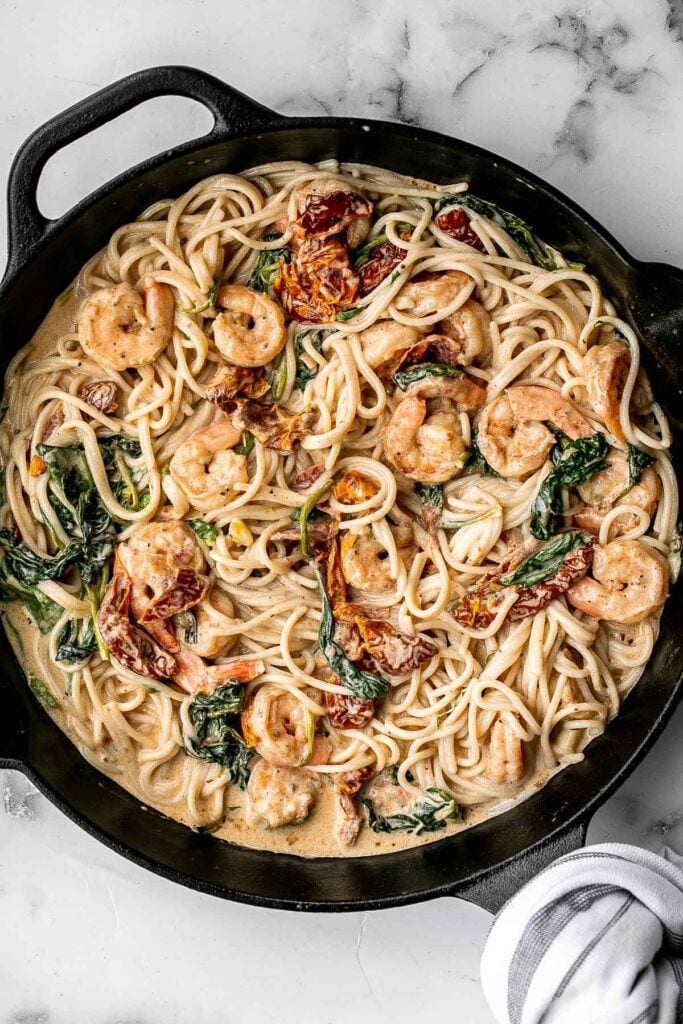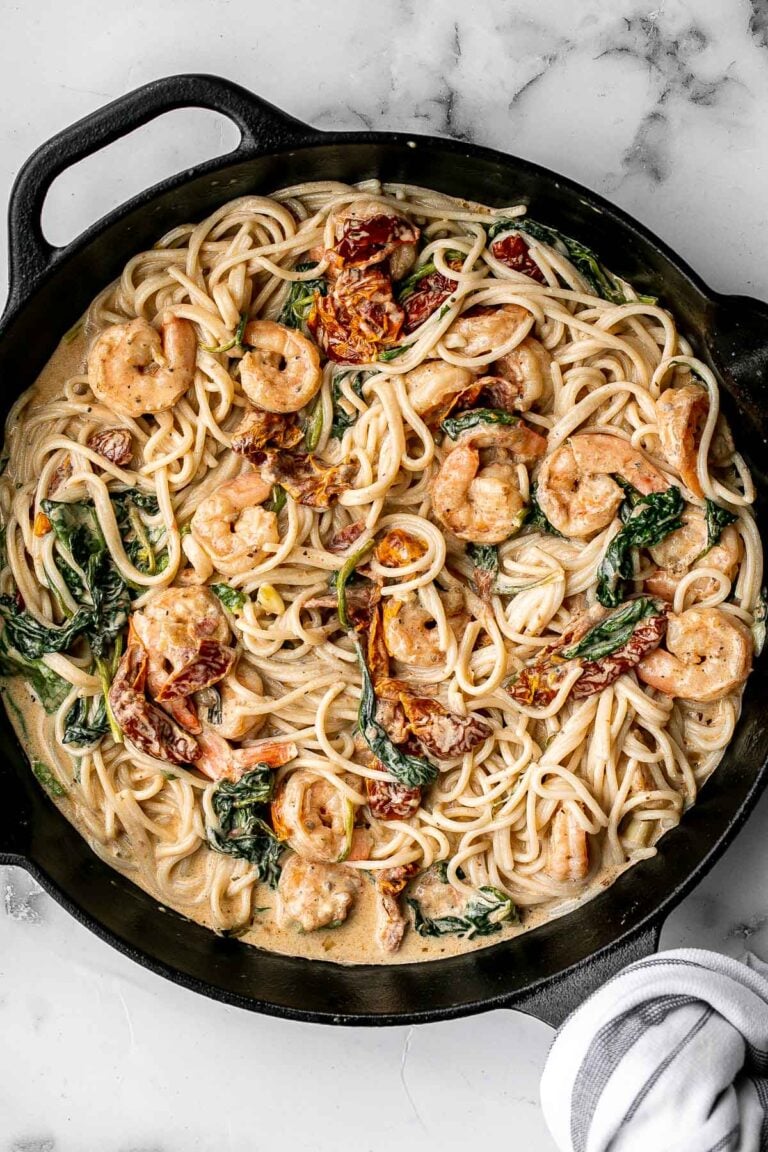 Almond-Crusted Halibut
You won't believe how easy it is to make fresh, flavourful and delicious almond-crusted halibut with lemon garlic butter this season.
Greek Lemon Garlic Whole Roast Chicken
Easy Greek lemon garlic whole roast chicken is tender, juicy and succulent with the crispiest skin. Prep this flavourful one pan meal in just 15 minutes.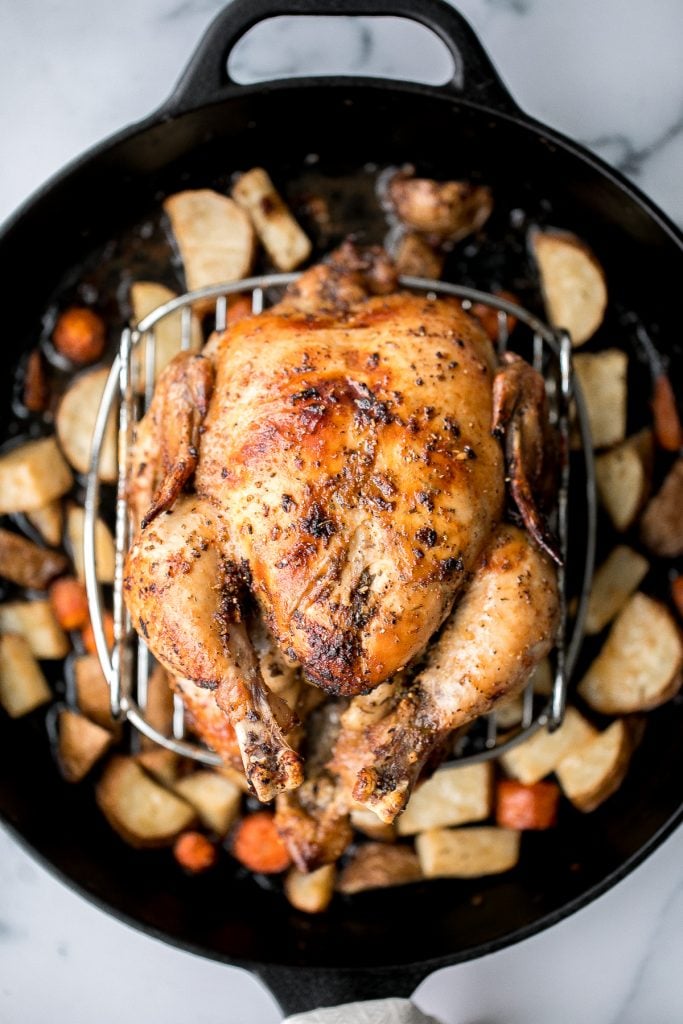 Skillet Chicken with Lemon Garlic Sauce
Delicious creamy skillet chicken with lemon garlic sauce is a one-skillet meal that is ready in 30 minutes. It's garlicky, saucy, creamy, and so flavourful. Bread is a must to dip into this delicious sauce. Try pull apart garlic bread or easy no yeast biscuits.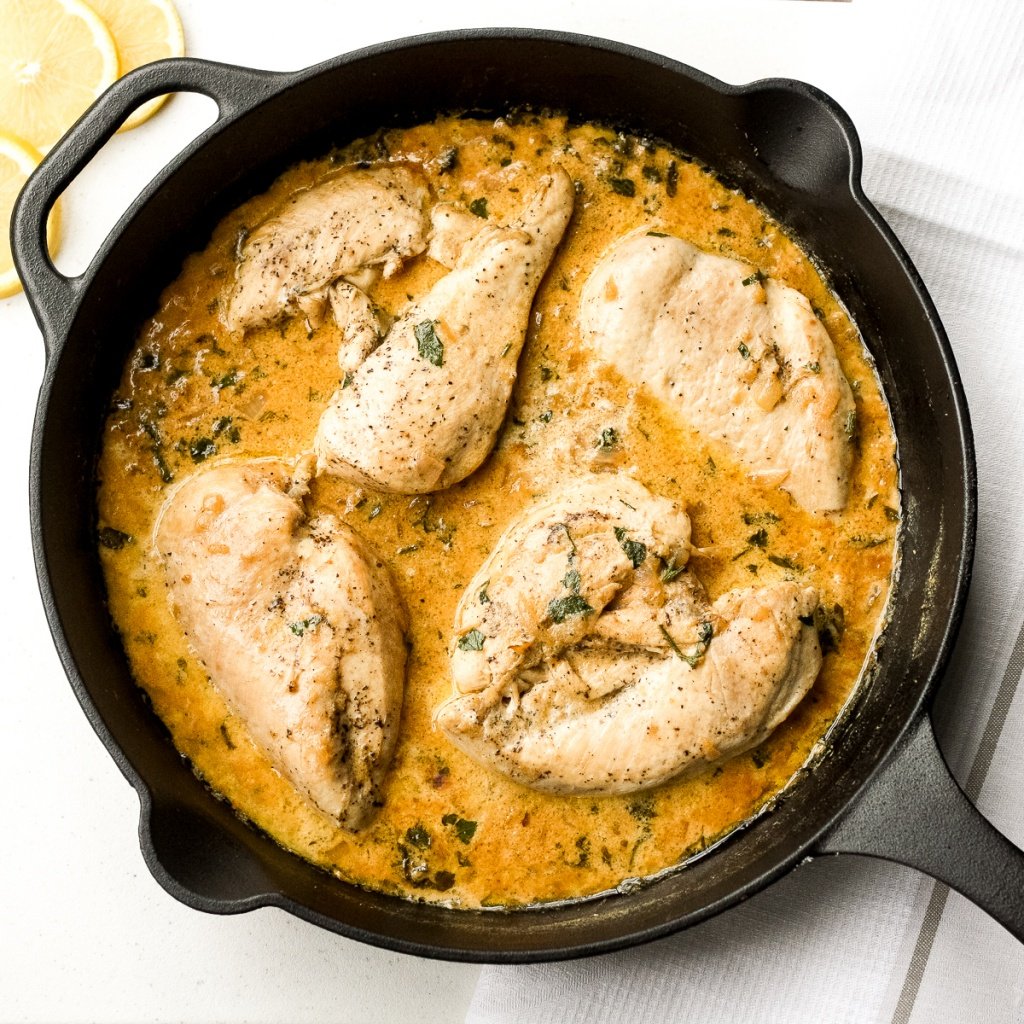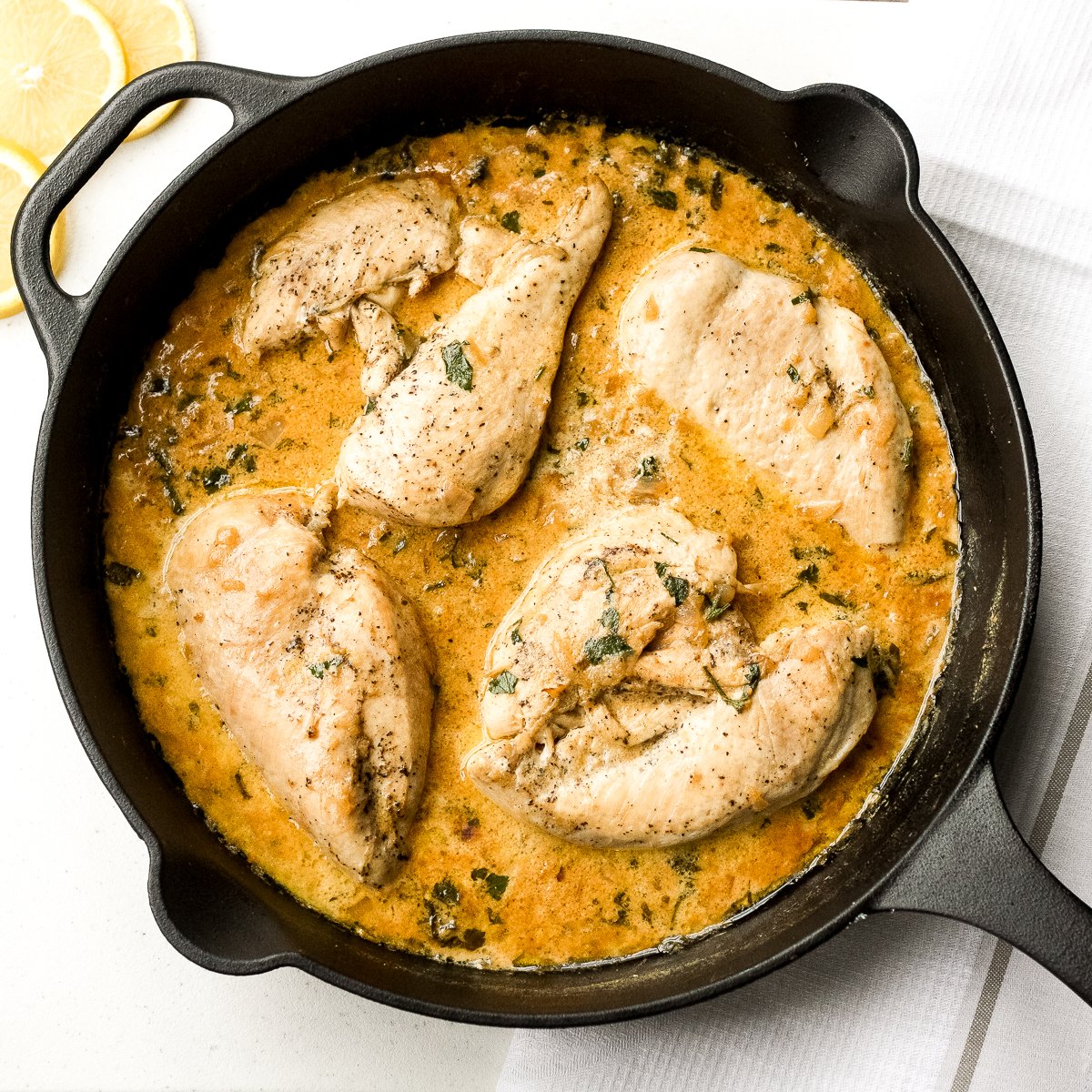 Mascarpone Pesto Pasta
Quick and easy mascarpone pesto pasta is the tastiest creamy pasta dish you'll ever make in under 15 minutes. It's the best weeknight dinner.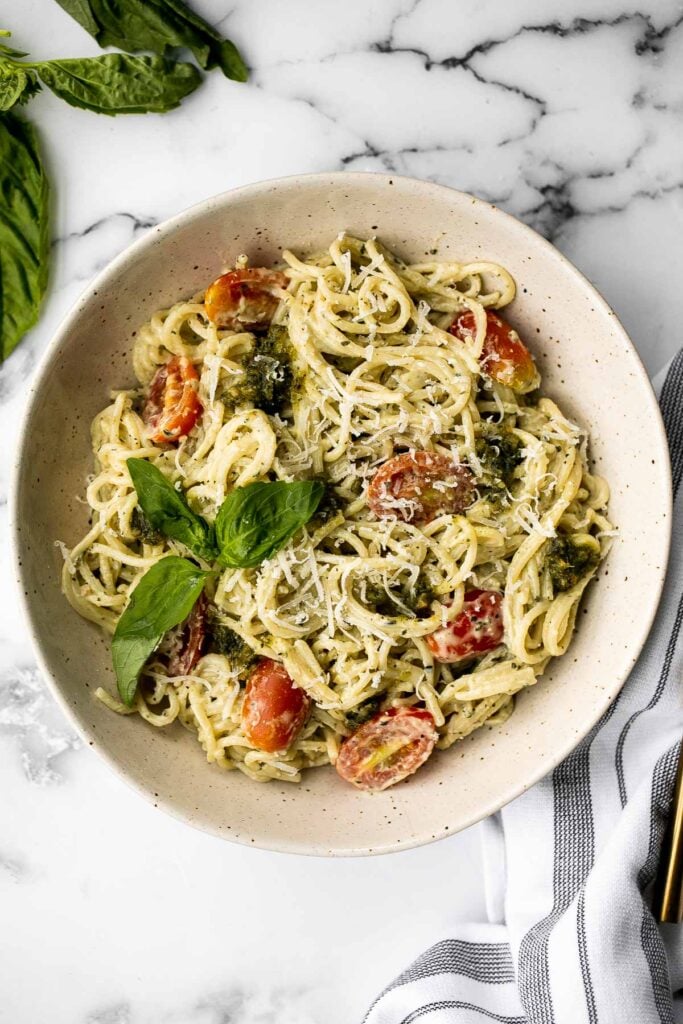 Baked Souvlaki Chicken Breast
Juicy, tender, and moist, baked chicken breast with the best Greek souvlaki marinade is the most flavorful and delicious chicken dinner in under 30 minutes.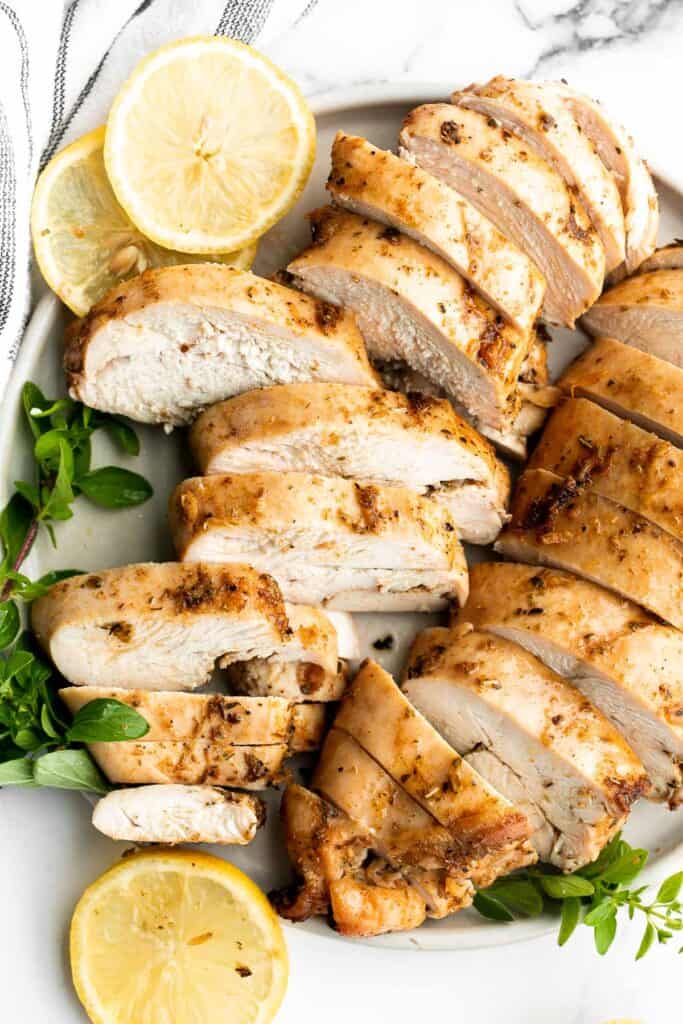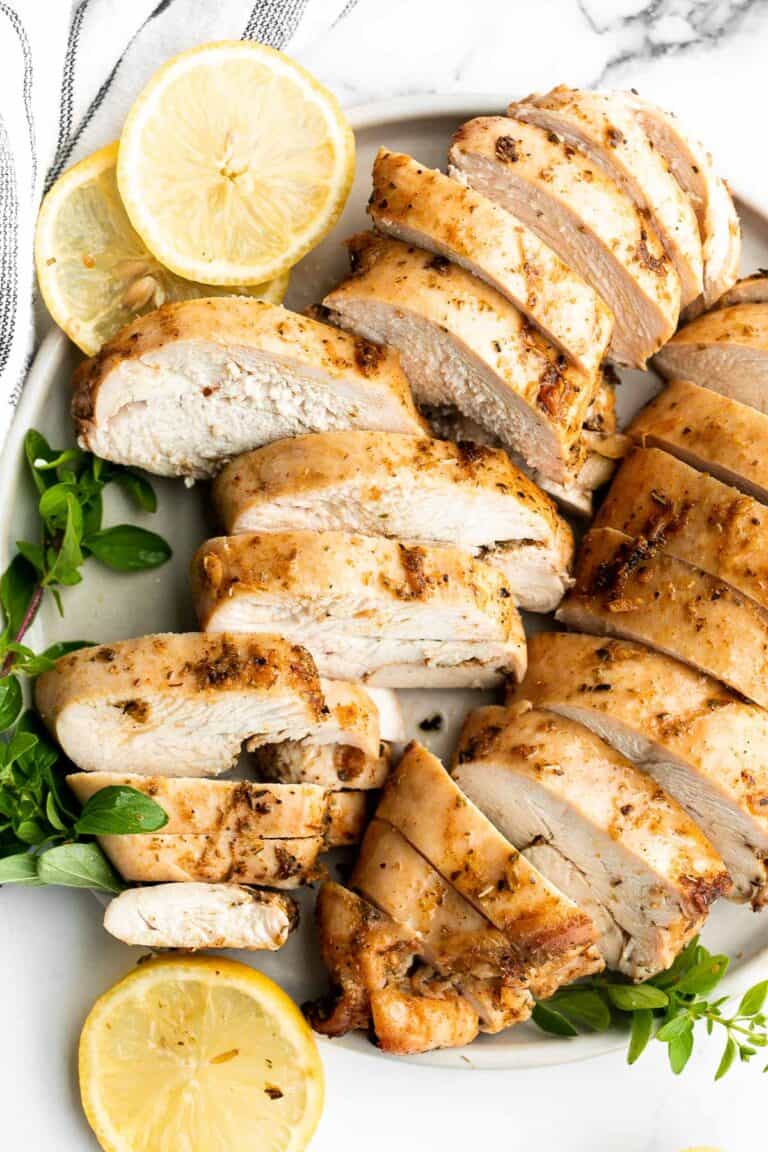 Creamy Parmesan (No Wine) Risotto
Up your cooking game with this exquisite creamy parmesan risotto with seared scallops (optional) that belongs on a restaurant table!
VALENTINE'S DAY DINNER TIPS
Plan your menu ahead of time. You can prepare some of these delicious recipes in advance, and store them in an airtight container for a few days at room temperature or longer in the refrigerator. Some can even be made further ahead and frozen, according to recipe directions.
Prep your ingredients. If you aren't able to make something ahead, then prepare as much as you can in advance — whether that means chopping ingredients for a salad, making a sauce, or assembling a casserole and storing in the refrigerator until it's ready for the oven.
Set the table. Set the table early with fancy plates, flatware, glasses, placemats, and napkins to make Valentine's Day dinner even more special.