Best Valentines Day Daughter Quotes
Valentines Day Daughter Quotes
Valentine's Day is a day of love and appreciation and letting others know how you truly feel about them. This is typically a holiday we often think of as being reserved for people in a romantic relationship, but I think it's also a celebration of love for anybody who has someone special in their life.
Family relationships are bonds formed by blood and marriage and prove to be some of the deepest types of love out there.
This is the perfect time to express your love for your kids, too!
We've collected a few examples of parent-daughter love with these sweet Valentine's Day quotes for daughters.
You know, just in case you need some inspiration to tell your daughter just exactly how much you love her.
When you don't know what to write in your daughter's Valentine's Day card, look over these Valentine's Day quotes for daughters.
1. "Daughter, you are loved for the little girl you were…the special woman you are now…and the wonderful daughter you will always be."
2. "Daughter: a female child; a daughter is a person who grows up to be your friend; a daughter is a mother's treasure and a father's pride and joy; a daughter is a gift of love."
3. "My daughter…When I look at you & I see my past, present, and future, I see my little girl dressing up, covering her face with makeup. I see you running in the garden, picking flowers and bringing one to me. I see that beautiful smile on your face and knowing in that moment the pride of being a parent. No matter how old you are, you will always be my baby girl. I am so proud of you and I will love you with all I am for all eternity."
4. "Mothers hold their children's hands for a while, but their hearts forever."
5. "My dear daughter, I love you just the way you are — my little star. Always remember that!"
6. "When we are together you bring joy to my heart…full of laughter and smiles, you've blessed me from the start."
7. "A daughter is one of the most beautiful gifts the world has to give." — Laurel Atherton
8. "I am a strong woman because a strong woman raised me."
9. "A daughter is someone you laugh with, dream with and love with all your heart."
10. "I love you more than there are stars in the sky, waves in the ocean and grains of sand on the beach."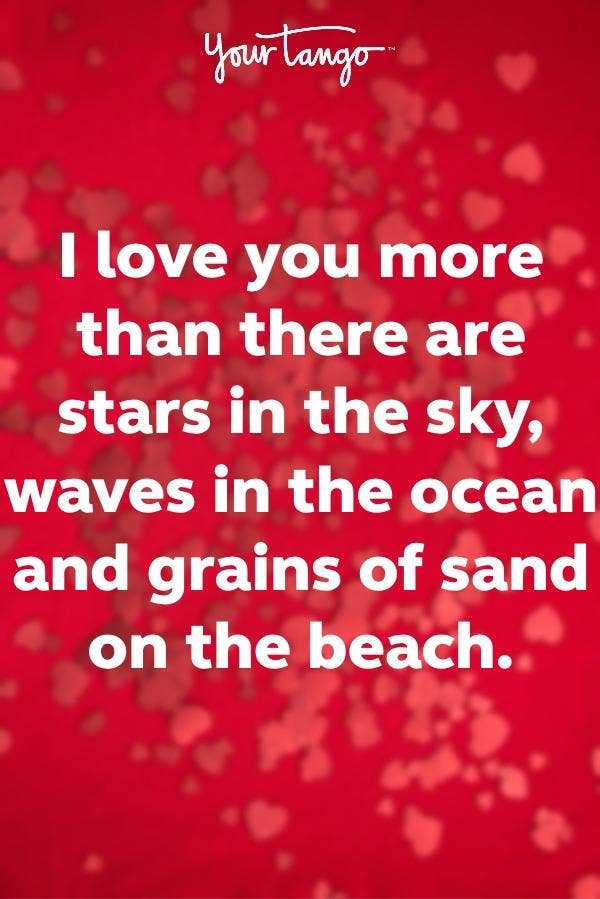 11. "A daughter is just a little girl who grows up to be your best friend."
12. "I am always with you. Be brave, have courage and love life."
13. "You've been a blessing right from the start. I love you, my daughter, with all of my heart."
14. "Everywhere you journey in life, you will go with my love by your side. Forever it will be with you. Truly, joyful and more meant to be than words could ever say."
15. "I'll always love you and I couldn't be more proud of you if I tried."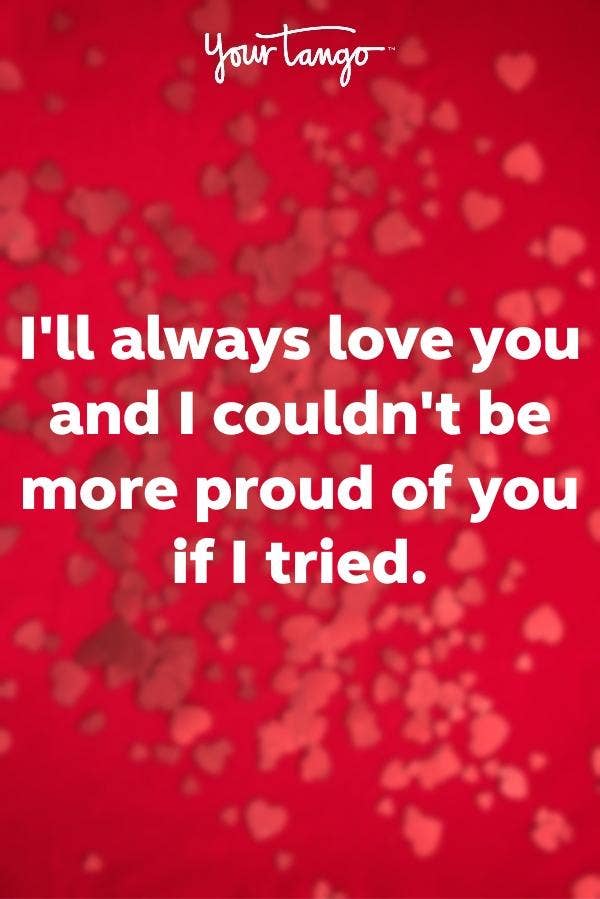 16. "You are the joy of my life, the source of my dearest memories, the inspiration for my fondest wishes and the sweetest present life could ever give to anyone."
17. "But, my greatest accomplishment and my greatest pride and joy are my children. They are truly my greatest success." — Catherine Pulsifer
18. "My son is my son till he gets a wife, but my daughter is my daughter all the days of her life." — Thomas Fuller
19. "Patience, my daughter, learn patience and life will be easier." — Catherine Pulsifer
20. "Now trust a heart that trusts in you." — Emily Bronte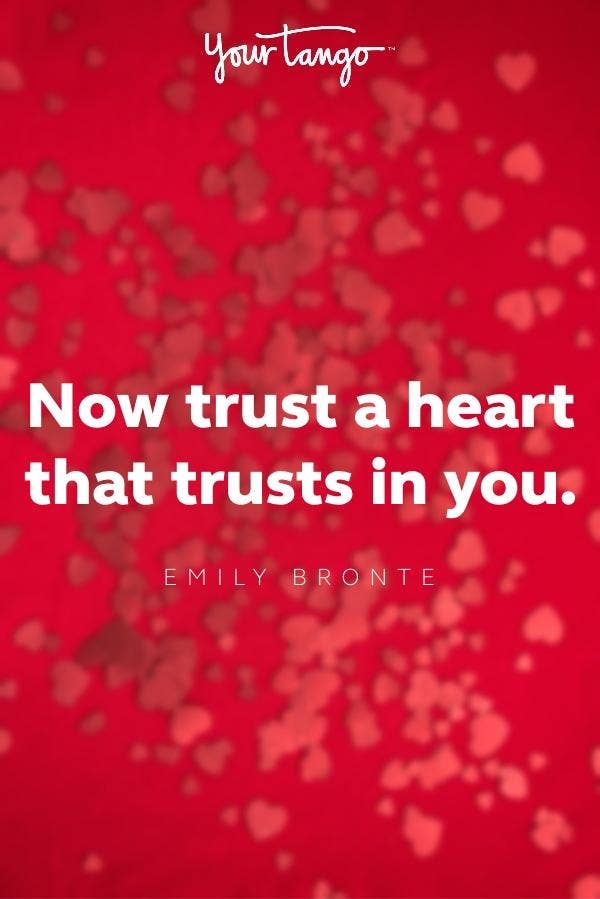 21. "I realized that our daughter needed the same things we lacked in our younger years…wisdom. Without wisdom, we continue to blunder through life repeating the same mistakes." — Laura Alexander
22. "What I wanted most for my daughter was that she be able to soar confidently in her own sky…" — Helen Claes
23. "He who has daughters is always a shepherd." — Proverbs
24. "My daughter, while we have had adversity, we also have had more sweet memories that allow us to overcome the challenges we faced." — Ann Butler
25. "A daughter may outgrow your lap, but she will never outgrow your heart."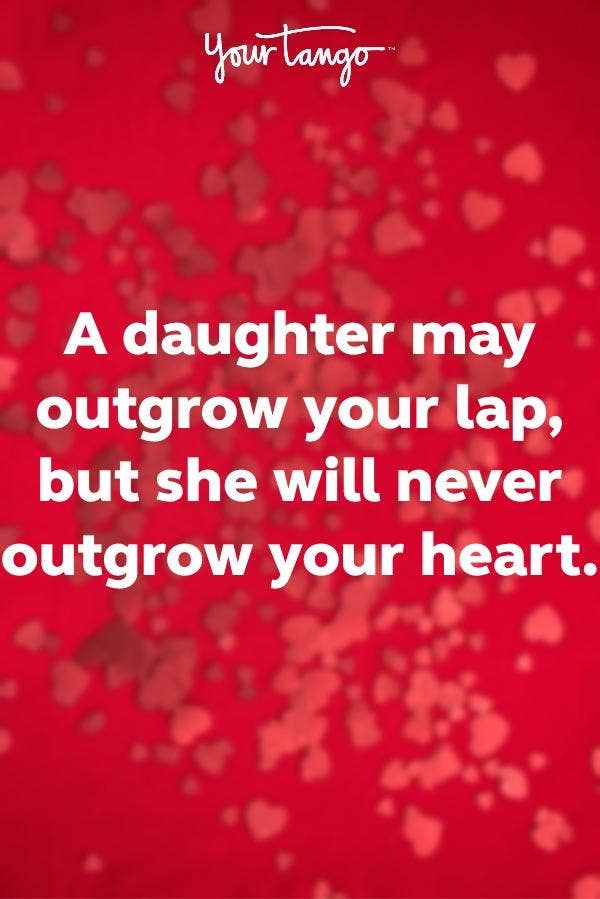 26. "Daughters can sometimes be too serious, teach them to laugh and not take life too seriously." — Catherine Pulsifer
27. "I desire to have a life filled with positive energy and satisfaction of living authentically in my purpose. That's what I also want for my daughter, and that is what I want for you." — Keya Briscoe
28. "My daughter, you've blessed my life greatly. I'm so glad we're friends… The time we have together is the best that I spend."
29. "A daughter is just a little girl who grows up to be your best friend."
30. "There were times when I didn't have a lot of friends. But my mom was always my friend. Always." — Taylor Swift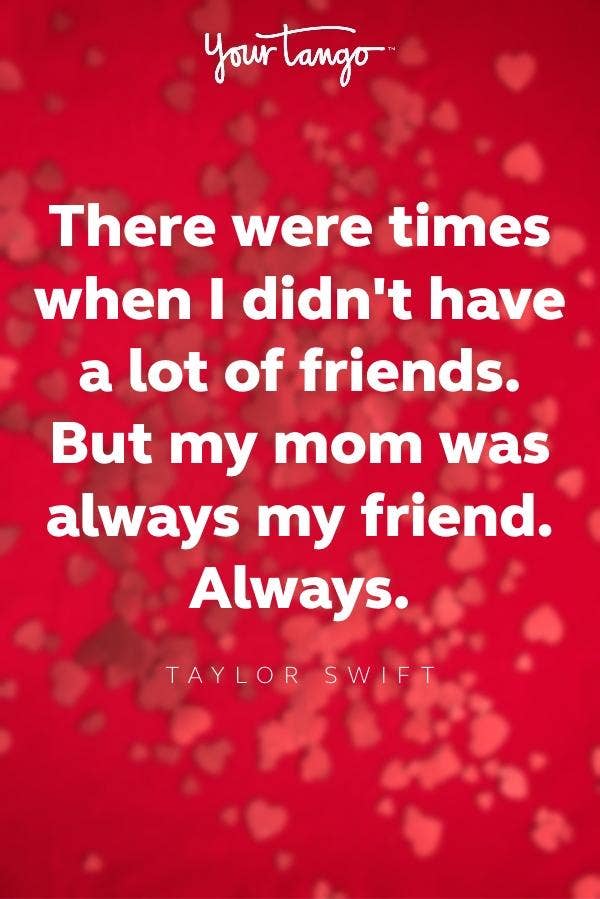 Subscribe to our newsletter.
Hey You! Want more of YourTango's best articles, seriously addictive horoscopes and top expert advice? Sign up to get our free daily newsletter!
31. "Words are not enough to express the unconditional love that exists between a mother and a daughter." — Caitlin Houston
32. "My daughter is my biggest achievement. She is a little start and my life has changed so much for the better since she came along." — Denise Van Outen
33. "In my life, you are the sun that never fades and the moon that never wanes."
34. "My daughter makes me laugh with her incredibly humorous take on the world. Everything makes her laugh and I aspire to take in the world in the same shoes she does."
35. "The more the daughter knows the details of her mother's life, the stronger the daughter." — Anita Diamant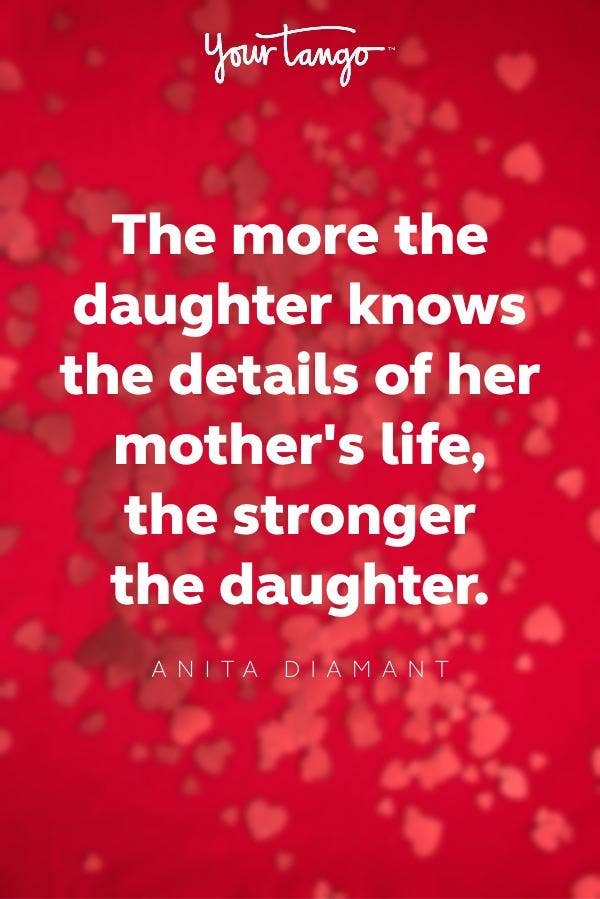 36. "My mom taught me a woman's mind should be the most beautiful part of her." — Sonya Teclai
37. "We, mothers, are learning to mark our mothering success by our daughters' lengthening flight." — Letty Cottin Pogrebin
38. "You are my angel, you remind me of the goodness in this world and inspire me to be the greatest version of myself." — Steve Maraboli
39. "A mother is the only person in the world, who can turn a daughter's worries and fears into happiness."
40. "I've never had a moment's doubt. I love you. I believe in you completely. You are my dearest one. My reason for life." — Ian McEwan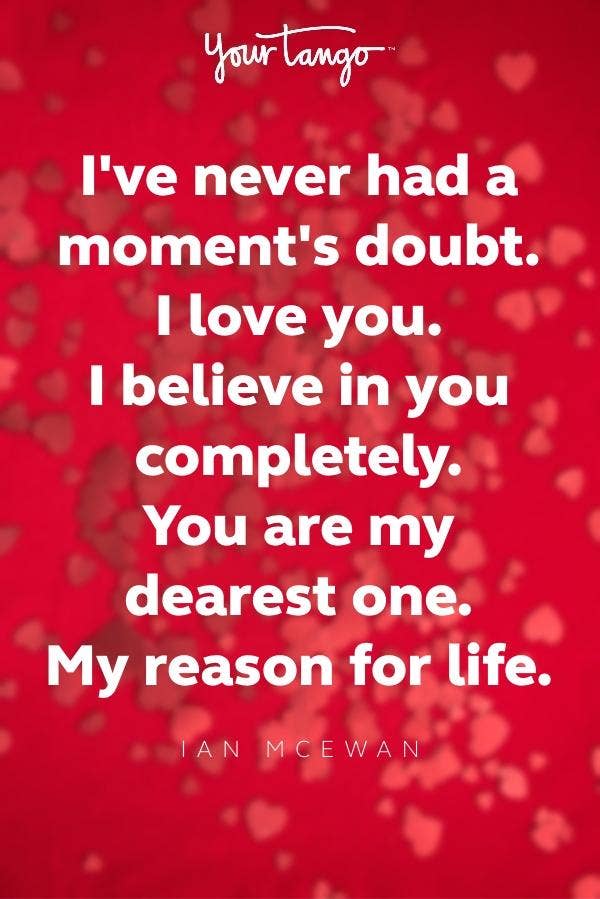 41. "My daughter is the happy memories of the past, the joyful moments of the present, and the hope and promise of the future."
42. "Courage, sacrifice, determination, commitment, toughness, heart, talents, guts. That's what little girls are made of." — Bethany Hamilton
43. "If you ever feel like giving up, just remember a little girl is watching who wants to be just like you."
44. "Chin up Princess, or the crown slips."
45. "My mom is part of me. You can't say that about many people except relatives, and organ donors." — Carrie Latet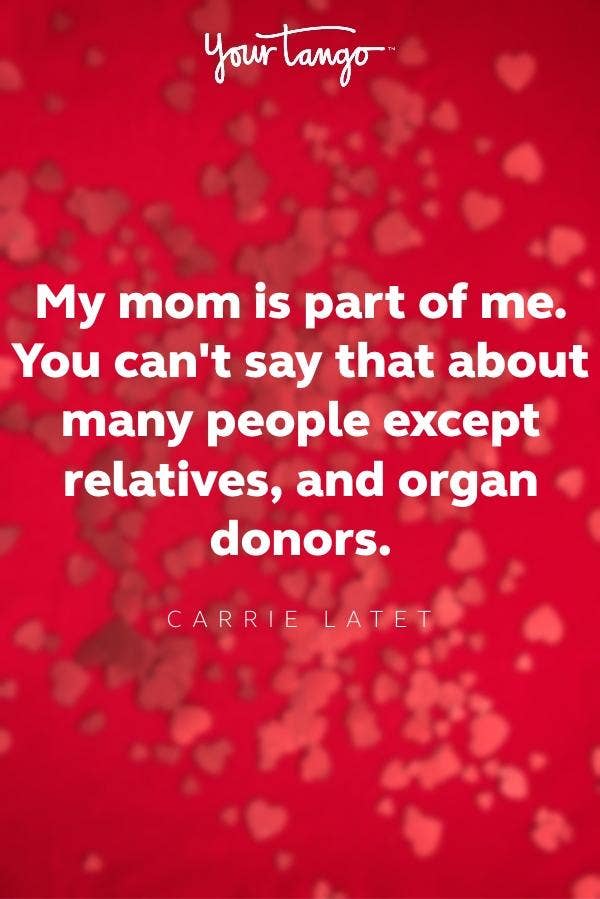 Related Stories From YourTango:
7 Appeals To Moms (From Women Without Children)
Mom Asks If She's Wrong For Letting 16-year-old Son With Autism Sleep With Her In Her Bed
Dad Asks If He's Wrong For Installing A Hidden Camera In His House As A 'Trust Check' Without Telling His Daughter
46. "Having a little girl has been like following an old treasure map with the important paths torn away." — Heather Gudenkauf
47. "By the time a woman realizes her mother was right, she has a daughter who thinks she's wrong."
48. "Daughters are like flowers, they fill the world with beauty, and sometimes attract pests."
49. "A daughter is a day brightener and a heart warmer."
50. "You're always with me, like a handprint on my heart."