Best Valentines Day Cruise
Valentines Day Cruise
Valentine's Day is meant to be full of romance, but it can be hard to put together the perfect gift. Flowers and candy may be romantic, but they've also been done before. As for reservations at your favorite restaurant, it's hard to enjoy fine dining when it's packed–and if the winter weather isn't cooperating, your whole evening could be ruined.
So this year for Valentine's Day, why not really do something special? You can escape the winter weather and give your partner the trip of their dreams by planning a tropical getaway aboard a Carnival cruise. It's the perfect way to score ideal romantic time together while indulging in total fun and relaxation. There are even special Valentine's Day-themed activities and events to enjoy when you sail near the big day.
12 Romantic Valentine's Day Cruise Events You'll Love
1. Duck Hunt
This special event is fun for passengers of all ages. Cute, Valentine-themed rubber ducks are hidden in various locations around the ship. Find one and you'll get the chance to win a sweet teddy bear as an extra Valentine's Day treat!
2. Kiss Cam
Ever wish you were featured on the jumbotron at your favorite sporting event? Carnival's Kiss Cam gives you a chance to show the world how much you love your sweetie. These events are typically during the Morning Show at the Seaside Theater.
3. Valentine's Day Trivia
Think you know everything there is to know about St. Valentine? Prove it by answering Carnival's fun and challenging questions about the big day. Show off your smarts or work together with your loved one as a team–you may just learn a thing or two!
4. Valentine's Day Love Messages
If the Kiss Cam is too much for you, try a more heartfelt approach. You'll have the opportunity aboard to record a brief message declaring your love in your own words. Messages will be played during the Morning Show, and it's guaranteed to make your partner melt!
5. Musical Men
Are you single? Don't worry, there's still plenty of V-Day fun to be had. In the game of Musical Men, soon-to-be-lovers meet up as the ladies vie for a seat on a man's knee. The circle gets smaller until there's just one couple left. It's a fun time that just might match you up with the perfect Valentine!
6. Romeo Contest
Think you have what it takes to woo the crowd? Show your stuff by making a romantic proposal, singing a love song, reciting poetry or wowing them with your best pick-up line. May the best Casanova win!
7. Romantic Dining at Steakhouse
Indulge in a perfectly cooked steak and a bottle of wine at Steakhouse, one of the most popular restaurants onboard. For Valentine's Day, you can also take part in Steakhouse's special carnation flower giveaway for an extra bit of romance. There's also a Valentine's Day luncheon aboard select ships.
8. Chocolate, Chocolate, Chocolate
There's a reason why chocolate is the traditional treat of St. Valentine's Day–it's a decadent dessert guaranteed to please even the most discriminating palate. Carnival takes this mainstay to new heights with a special chocolate Valentine's dessert in the main dining room.
9. Photo Souvenirs
Commemorate your trip with a special couple's portrait taken by professional photographers aboard. You can choose a Valentine's Day theme backdrop to let Cupid in on the fun. You'll also have plenty of opportunities to snap your own memorable selfies and Instagram-worthy shots of your gorgeous destinations.
10. Massage at Spa Carnival
There's no better way to relax and reconnect than with a relaxing day at Spa Carnival. Get a side-by-side Swedish massage, then enjoy the rest of the day at the Serenity Adult Only Retreat, where you'll enjoy some quiet time lounging together or enjoying a drink from the bar. Heavenly!
11. Find the Perfect Gift
Don't forget to make sure you have something in hand for the big day. You can shop for a variety of items onboard including a glittering piece of jewelry for a truly one-of-a-kind memento of your journey. Go ahead and splurge–after all, it's tax- and duty-free!
12. Renew Your Vows
If you're swept away by the romance of a cruise wedding, you can renew your vows at sea. Not married yet? It doesn't get more romantic than a Valentine's wedding and honeymoon aboard! It's an unforgettable way to start your new life together, and the wedding event planners will make sure yours is a day to remember.
Whether your plan is to cruise to the Caribbean, Mexico, or The Bahamas this February, your Valentine's Day celebration will be one for the ages when you give your loved one the trip of a lifetime. No matter how long you've been together or how well you know each other, there's always room for a big surprise when you book a romantic trip to show how much you care. You can do as much or as little as you like, but you'll never run out of ways to celebrate the sweetness of Valentine's Day when you celebrate aboard a Carnival Cruise ship.
Spirit of Philadelphia 2022 Valentine's Day Dinner Cruise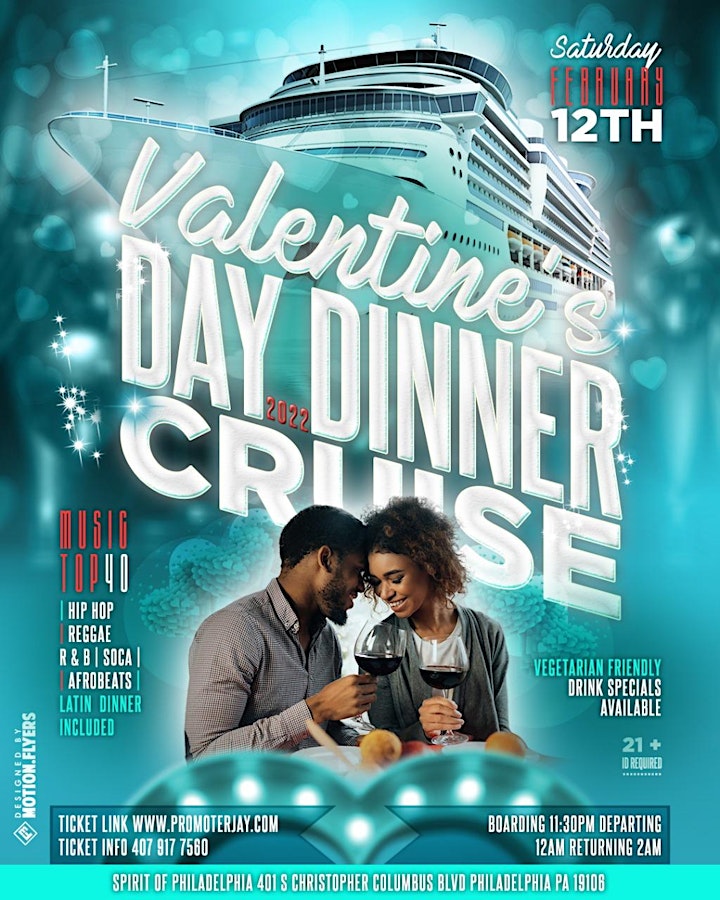 This is a Ticketed Event. After Tickets are sold out. We will not Have anymore. Get your tickets in Advance. This event will sell out. Due to passenger limitations , we will only have limited exact amount of tickets. Please purchase in advance. Tickets will be Instantly emailed to you after purchase.
** Face Mask Required when Boarding
About this Event
2022 Valentine's Day Dinner Cruise
Take your romantic Valentine's Day dinner onto the water aboard the Spirit of Philadelphia. As you board, you and your special person will take a high quality photo to remember the night. Then head to your table where you can enjoy buffet style dining setting the tone for the night — Enjoy 2 Climate control heated decks while taking in the beautiful panoramic views of the Delaware river and other local sights during this intimate dinner cruise. Over 500 Guest will be in attendance as we celebrate Valentines day in style avoiding the crowded standard restaurants on Valentines day .
All Aboard The Spirit of Philadelphia
401 S Christopher Columbus Blvd Philadelphia, PA 19106
Saturday February 12th 2021
BOARDING @ 11:30PM —–DEPARTING @ 12:00AM—— RETURNING @ 2AM
For decades, the Spirit of Philadelphia has provided a unique combination of dining, dancing, entertainment and incredible views on the Delaware River. While aboard, guests enjoy contemporary food stations and unparalleled views of Philadelphia's skyline set to a lively soundtrack of Top 40 hits and all your favorites.
Photographers will be on site.
Must be 21 or older with valid id to board to Drink
Get ready for Romantic Valentines Day Dinner Cruise
2022 Valentine's Day Dinner Cruise
Dress Code is FORMAL ( Dress to Impress)
Music
Live DJ music and entertainment with Guest Host
Hip Hop – R & B – Top 40 – Latin – Soca – Reggae – AfroBeats
Food
TBA
Ladies and Gentleman of Philadelphia. This is the grand daddy of Valentines Day Dinner Cruises aboard the plush Spirit of Philadelphia. Cruise the Delaware river aboard this 10 Million dollar vessel in style . This is the number 1 Valentines Day Dinner Cruise near You. Get Your tickets in advance because we will run out.
For Info/Tickets/B-day Celebrations: call/text
407 917 7560
Email: [email protected]
You can purchase Tickets online via debit/credit card here
All sales are Final – No refunds
*** PARKING IS AVAILABLE ON SITE