Three Stooges Quotes
Every time you think, you weaken the nation.

I'm positive about the negative, but a little negative about the positive.

If at first you don't succeed, keep on sucking till you do succeed.

Well being as there's no other place around the place, I reckon this must be the place, I reckon.

There's a thousand reasons why I shouldn't drink… but I can't think of one right now.

Don't you dare hit me in the head, you know I'm not normal!

If there's anything I like better than honey and ketchup, it's baloney and whipped cream — and we haven't got any!

I shoot an arrow into the air, where it lands I do not care: I get my arrows wholesale!

A simple job for simple people.

I got sick of the dough and thought I'd go on the loaf.

All for one; one for all.

The Bushwhackers are living proof that the Three Stooges had children

Three has always been tougher than Two. Think of any of your famous threesomes. The Three Stooges? Look at the anger there. My bet is that before Curly was born, Moe and Larry could play together for hours without even a single poke in the eye. Huey, Dewey, and Louie? Donald Duck never had a moment's peace. The Good, the Bad, and the Ugly? I rest my case.

I mean, I do love clever and witty, but I think that the 'Three Stooges' were geniuses. They'd have to be for their appeal to have lasted this long.

Ever since I was a little kid, I was competitive.

What else don't women like besides the Three Stooges? Tom Waits. Being hurt physically or emotionally.

I'm grew up a huge fan of The Three Stooges and Monty Python, so somebody getting slapped in the face with a fish, or falling out of a chair, or running into a door, or tripping over their own feet and eating it, is all stuff I find really, really funny.

Growing up, I missed the whole 'Three Stooges' thing. Either they weren't on the station in my hometown, or we hadn't bought a TV set yet, or they came to town too late for me. I'm pretty sure that at the right age, I would have loved them.
The Three Stooges
The Three Stooges were an American vaudeville and comedy team active from 1922 until 1970, best known for their 190 short subject films by Columbia Pictures that have been regularly airing on television since 1958. Their hallmark was physical farce and slapstick. Six stooges appeared over the act's run (with only three active at any given time): Moe Howard and Larry Fine were mainstays throughout the ensemble's nearly fifty-year run and the pivotal "third Stooge" was played by (in order of appearance) Shemp Howard, Curly Howard, Shemp Howard again, Joe Besser, and Curly Joe DeRita. The act began in the early 1920s as part of a vaudeville comedy act billed as "Ted Healy and His Stooges", consisting originally of Healy and Moe Howard. Over time, they were joined by Moe's brother Shemp Howard, and then Larry Fine. The four appeared in one feature film, Soup to Nuts, before Shemp left to pursue a solo career. He was replaced by his younger brother, Jerome "Curly" Howard, in 1932. Two years later, after appearing in several movies, the trio left Healy and signed on to appear in their own short-subject comedies for Columbia Pictures, now billed as "The Three Stooges". From 1934 to 1946, Moe, Larry and Curly produced over 90 short films for Columbia. It was during this period that the three were at their peak popularity. Curly suffered a debilitating stroke in May 1946, and Shemp returned, reinstating the original lineup, until his death of a heart attack on November 22, 1955. Film actor Joe Palma was used as a stand-in to complete four Shemp-era shorts under contract (the maneuver thereafter became known as the "fake Shemp"). Columbia contract player Joe Besser joined as the third Stooge for two years (1956–57), departing in 1958 to nurse his ailing wife after Columbia terminated its shorts division. The studio then released all the shorts via Screen Gems, Columbia's television studio and distribution unit. Screen Gems then syndicated the shorts to television, whereupon the Stooges became one of the most popular comedy acts of the early 1960s. Comic actor Joe DeRita became "Curly Joe" in 1958, replacing Besser for a new series of full-length theatrical films. With intense television exposure, the act regained momentum throughout the 1960s as popular kids' fare, until Fine's paralyzing stroke in January 1970. Fine died in 1975 after a further series of strokes. Attempts were made to revive the Stooges with longtime supporting actor Emil Sitka in Fine's role in 1970, and again in 1975, but this attempt was cut short by Moe Howard's death on May 4, 1975.
Larry Fine:
Oooh, I can't see, I can't see!
Moe Howard:
What's the matter?
Larry Fine:
I've got my eyes closed.
[Moe eye pokes Larry again]
Larry Fine:
[to Moe, about Shemp] Ted Healy scared the piss out of your brother and it landed on me.
Moe Howard:
Is there anything you won't bet on?
Larry Fine:
Yeah, a winner.
Jerome 'Curly' Howard:
Hey Moe, what do you mean hitting me like that?
Moe Howard:
I'm sorry, Babe. I didn't mean it.
Jerome 'Curly' Howard:
Next time, make it harder so they can hear it in the back row.
Tom Cosgrove:
[to heckler] Hey fella, you think anybody could do this?
Shemp Howard:
*You* do it.
Jack L. Warner:
Good evening boys, allow me to introduce myself, Jack Warner.
Moe Howard:
One of the Warner Brothers?
Jack L. Warner:
*The* Warner Brothers. Enjoyed your act.
Moe Howard:
Enchanted!
Larry Fine:
Enraptured!
Jerome 'Curly' Howard:
Embalmed!
Jules White:
My name's Jules White, Tek-no-crap.
Larry Fine:
Tek-no-crap?
Jules White:
That's right, I take no crap from anybody.
Moe Howard:
[to Curly] Look at you, you collect these stray dogs the same way you collect stray women. At least, you don't marry the dogs.
Jerome 'Curly' Howard:
I'm sorry Moe, I'm sorry I talked that way. I'm just temperamental, you know me.
Moe Howard:
Yeah, 95 percent temper, 5 percent mental.
Guard:
Haven't you heard?
Larry Fine:
Heard what?
Guard:
Mr. Cohen, he's dead. Had a heart attack last night in Phoenix.
Larry Fine:
Guess he was human after all.
[last lines]
Moe Howard:
What are we waiting for?
Larry Fine:
What the hell…
Moe Howard:
[lining up on stage] Spread out!
[first lines]
Young Moe:
How old are you?
Young Shemp:
Seventeen.
Young Moe:
Come on, you're older than that.
Young Shemp:
No, I got a birth certificate.
Young Moe:
You couldn't get that dirty in seventeen years.
Young Moe:
How 'about you, how old are you?
Young Jerome:
I was seven. Three years in Sanford, Connecticut.
Young Moe:
That makes you nine.
Young Jerome:
Not 'til I get back to Connecticut…
Moe Howard:
[about Curly] Pa, would ya stop singing Kaddish? It's not like he's dead, he's just going to California.
Jenny Horwitz:
It's the same thing!
The 3 Stooges Quotes
#1. What else don't women like besides the Three Stooges? Tom Waits. Being hurt physically or emotionally. – Author: Julie Klausner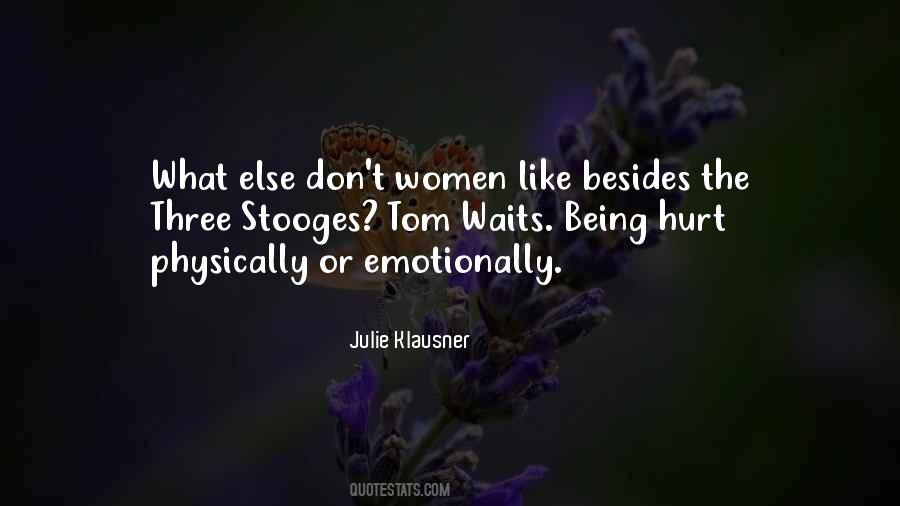 #2. I like the Stooges. You know what movie I saw that I sort of discovered late was Jerry Lewis in 'The Nutty Professor'. I really liked that. – Author: Mike Judge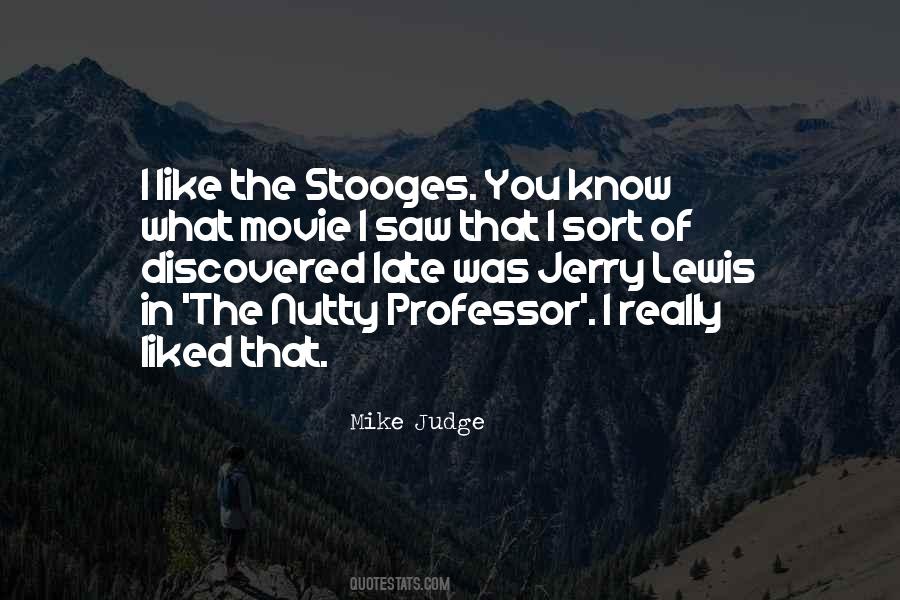 #3. I'm like the fucking Three Stooges of espionage. All three of 'em. All rolled into one! – Author: Abigail Roux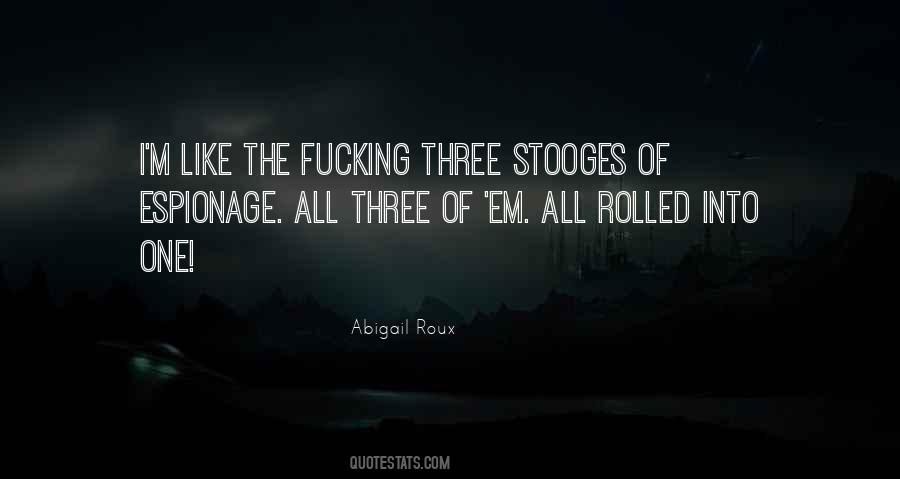 #4. You're not related to the Three Stooges are you? 'Cause I could swear this escape scene is one of theirs." ~ Jim – Author: Katie MacAlister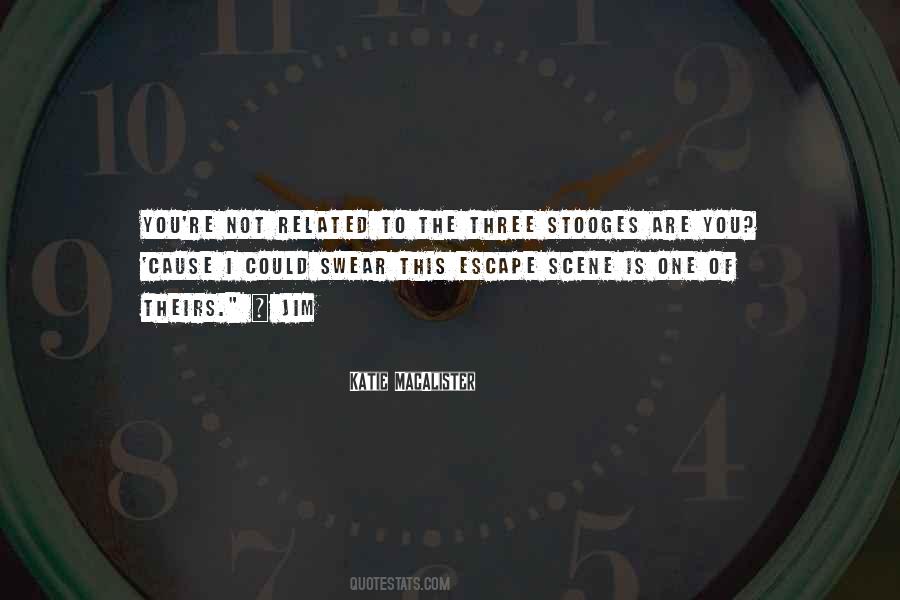 #5. Women, they don't know what they're missing when it comes when it comes to the courageous comedy of the Three Stooges."
"Yes, yes, we do know what we're missing. We miss it on purpose."
Conversation between Flynn and Mallory in The Key of Light – Author: Nora Roberts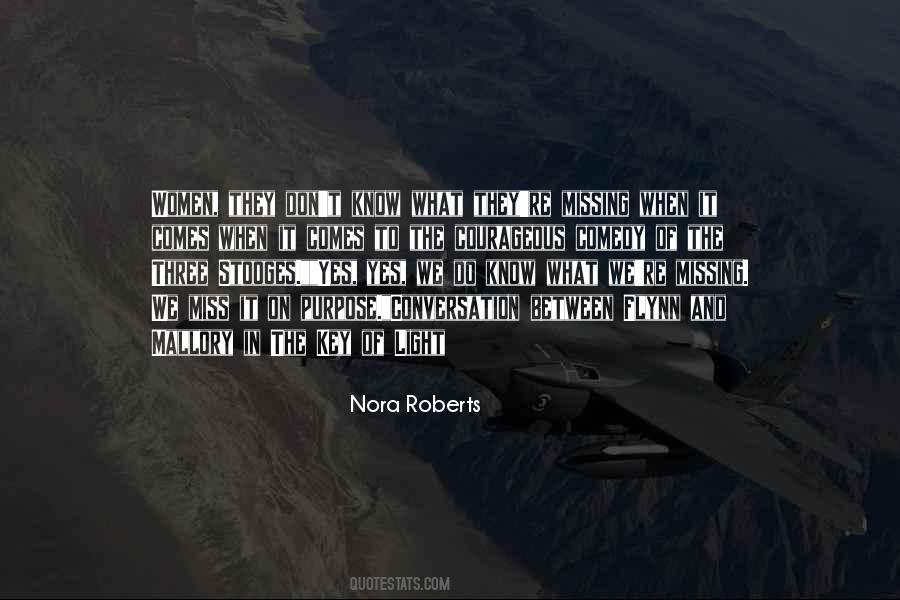 #6. I mean, I do love clever and witty, but I think that the 'Three Stooges' were geniuses. They'd have to be for their appeal to have lasted this long. – Author: Paula Poundstone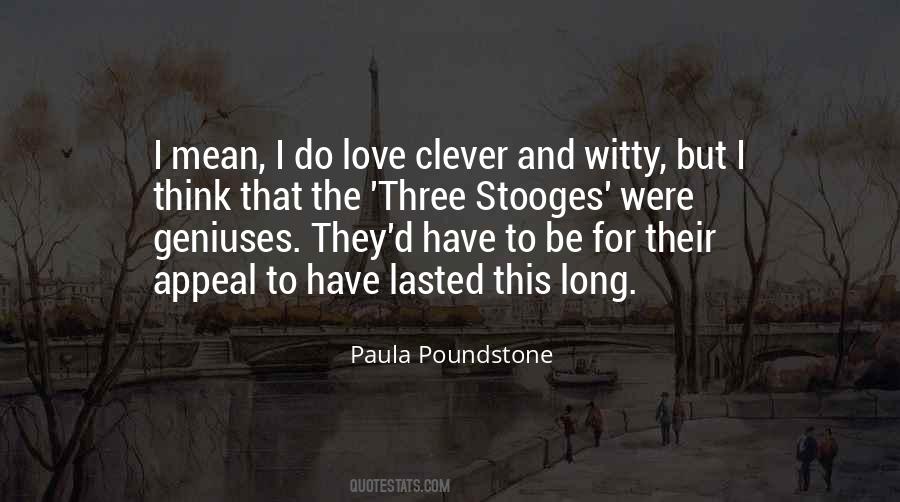 #7. I started watching 'The Stooges' religiously and obsessively when I was probably about four or five years old till around the age of 18. – Author: Chris Diamantopoulos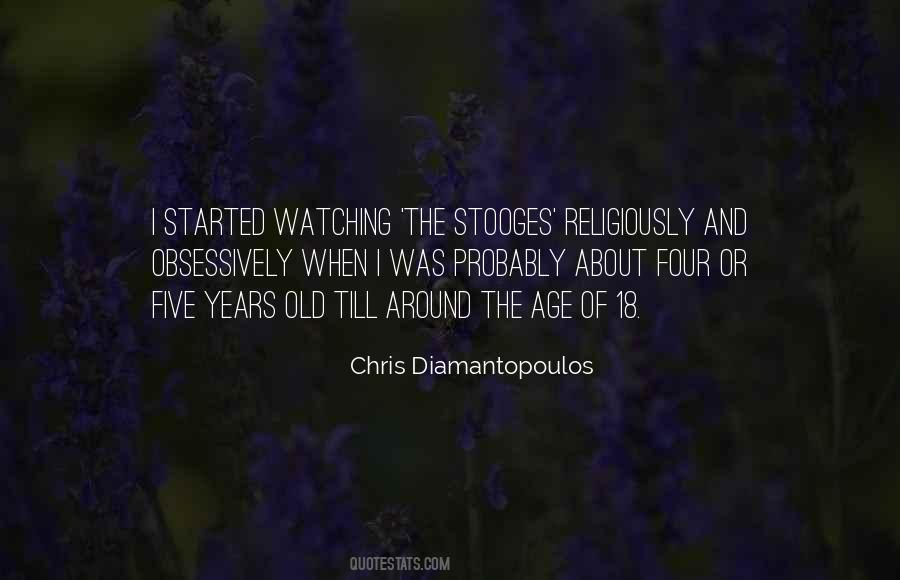 #8. If you absolutely had to have sex with one of the Three Stooges, who would it be? – Author: Douglas Carter Beane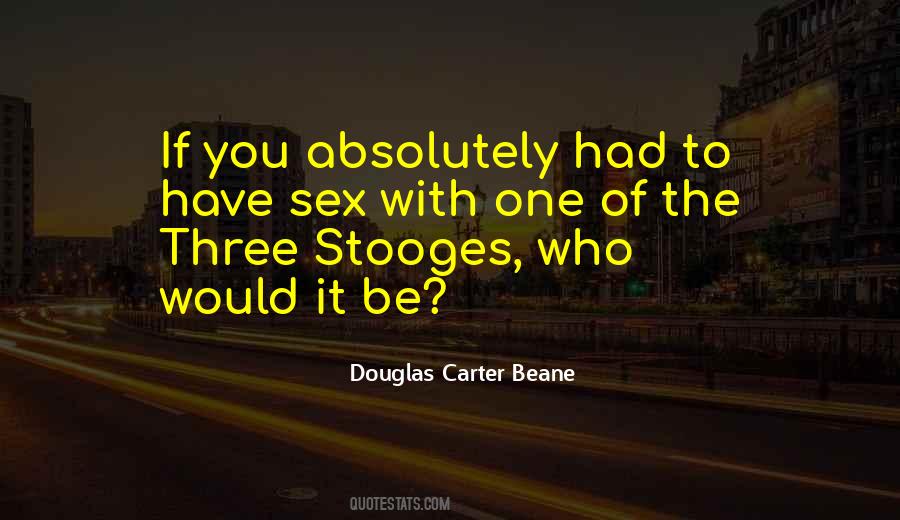 #9. They're living proof that the 3 stooges had children. – Author: Bobby Heenan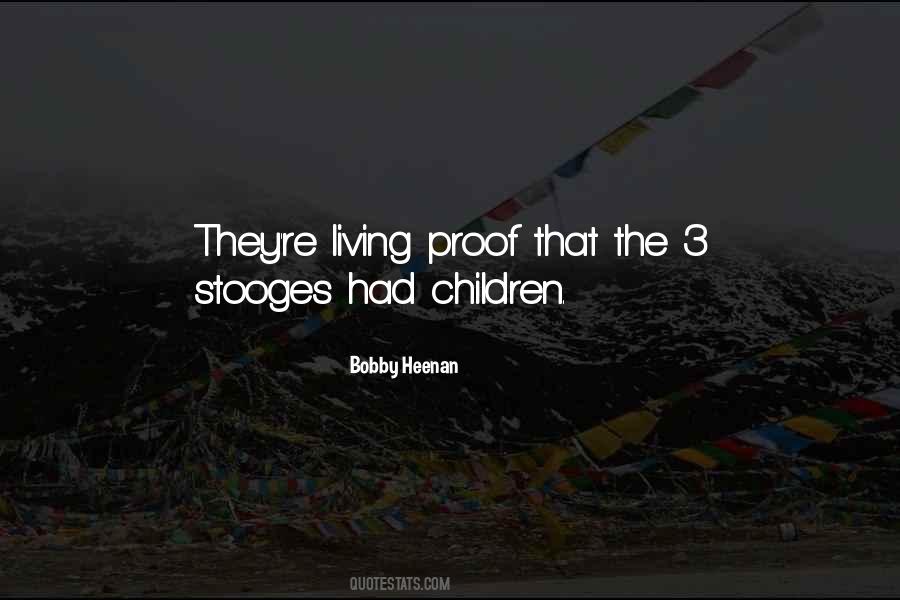 #10. I grew up a huge fan of The Three Stooges and Monty Python, so somebody getting slapped in the face with a fish, or falling out of a chair, or running into a door, or tripping over their own feet and eating it, is all stuff I find really, really funny. – Author: Thomas Sadoski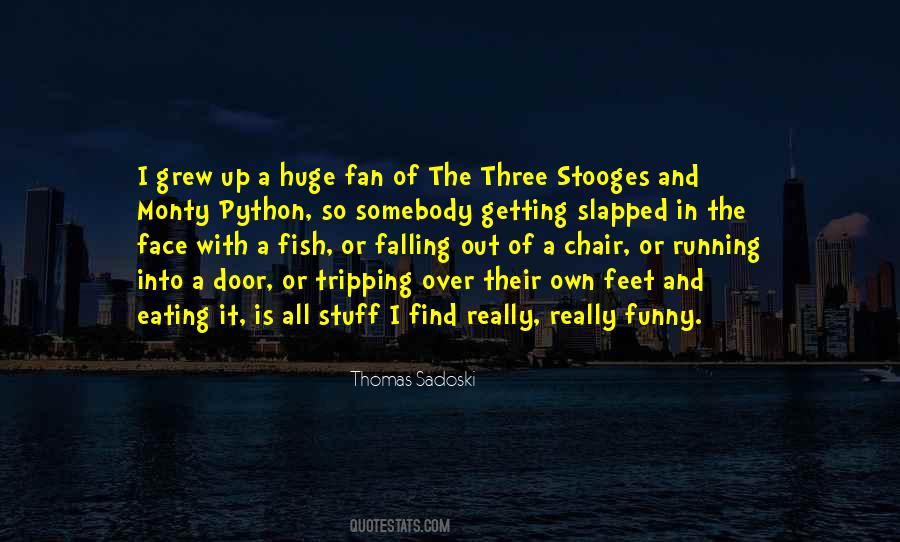 #11. Don't you dare hit me in the head … you know I'm not normal. – Author: Curly Howard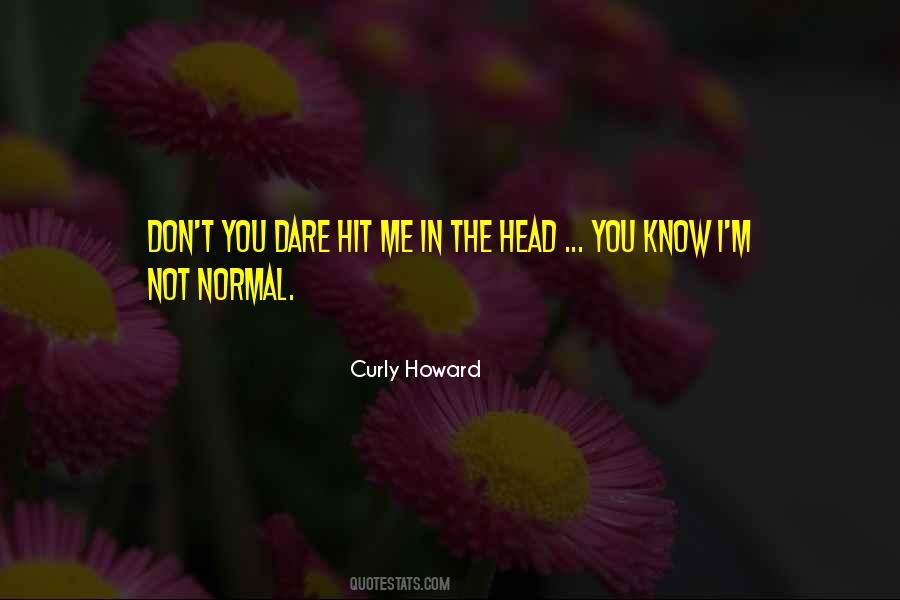 #12. We love the Stooges, and young kids today don't watch them. They think it's their dad's comedy. So we thought we could reintroduce them to a new audience. – Author: Bobby Farrelly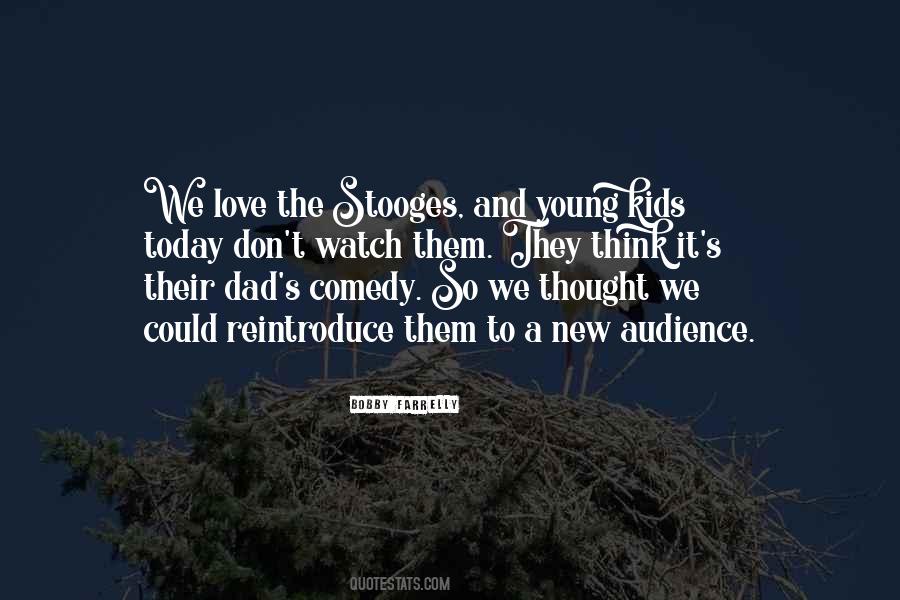 #13. Every time you think you weaken the nation. – Author: Moe Howard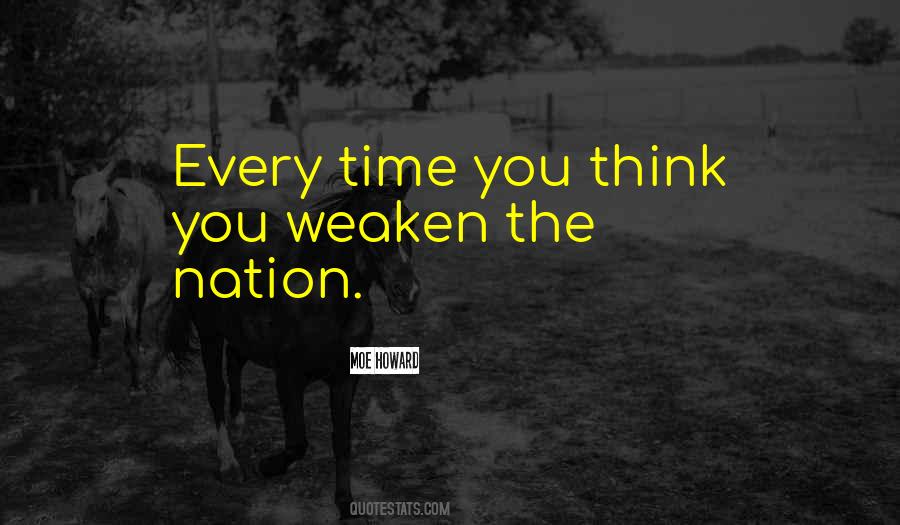 #14. I'm positive about the negative, but a little negative about the positive. – Author: Curly Howard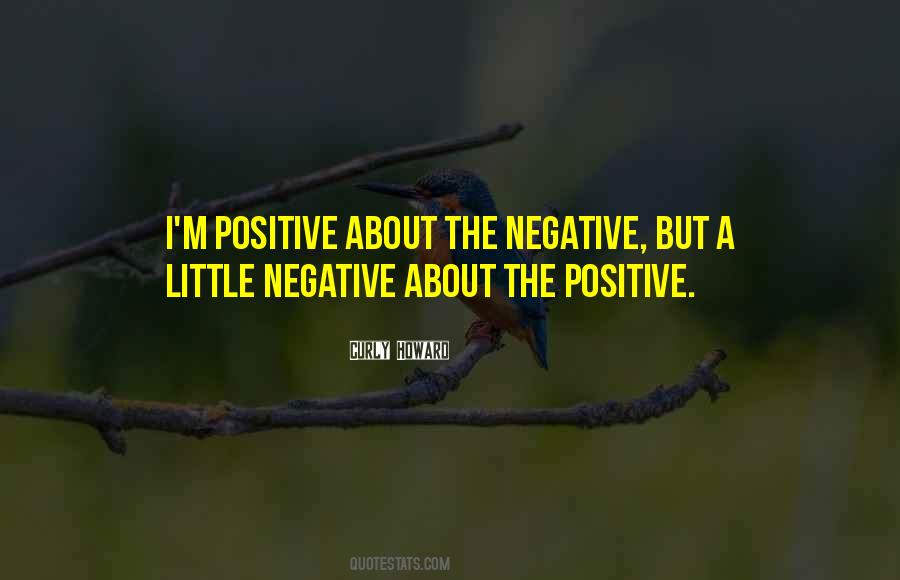 #15. I remember Iggy and the Stooges' song 'Search and Destroy' reaching out from my speakers to me like my own personal anthem. – Author: Nikki Sixx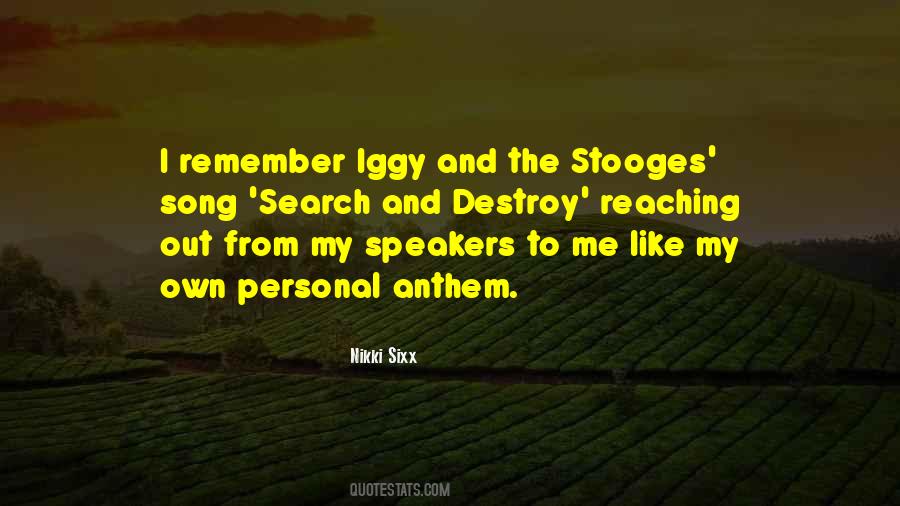 #16. In Detroit, it was an average night to go and hear the Stooges, Parliament-Funkadelic and the MC5 on the same show. We were all into the 'Free Jazz' movement, the musics of Ornette Coleman and Sun Ra; and experimenting with guitar sounds, and trying different beats, and pushing the rhythm farther… – Author: Wayne Kramer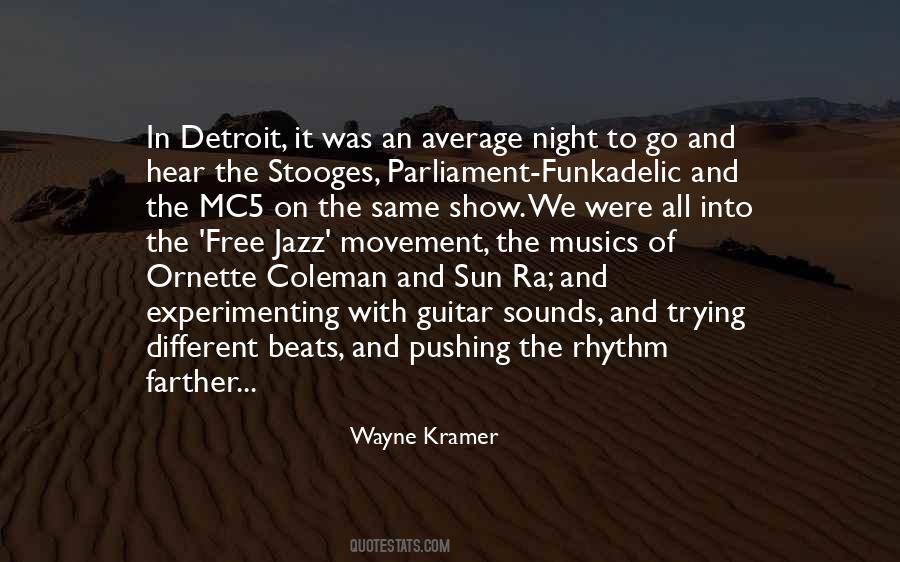 #17. Why I oughta … – Author: The Three Stooges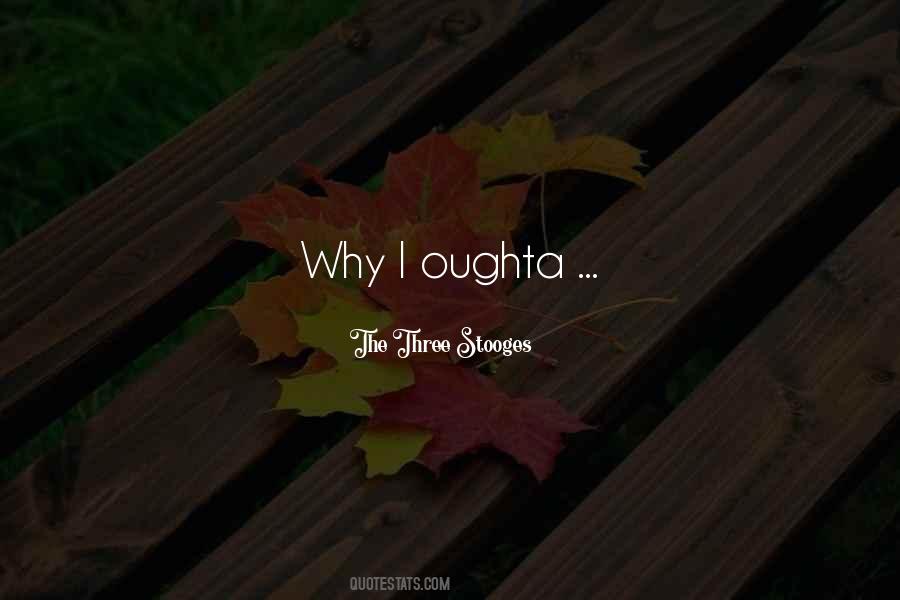 #18. Judge: Why don't you answer him?
Curly: He's tawkin' pig Latin! I dunno what he's sayin'!
Judge: He's asking you if you swear … !
Curly: [cuts the judge off] No, but I know all the woid – Author: The Three Stooges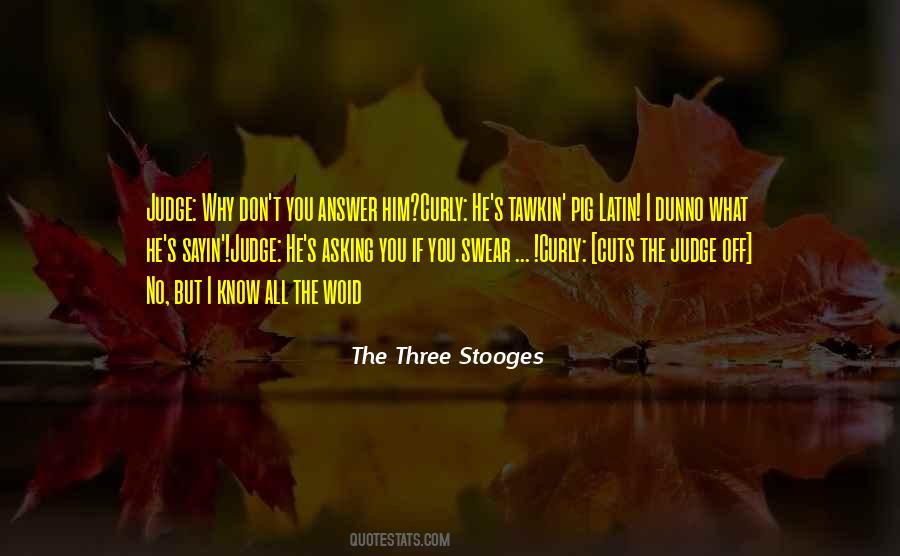 #19. I can't be a mummy, I'm a daddy! – Author: Curly Howard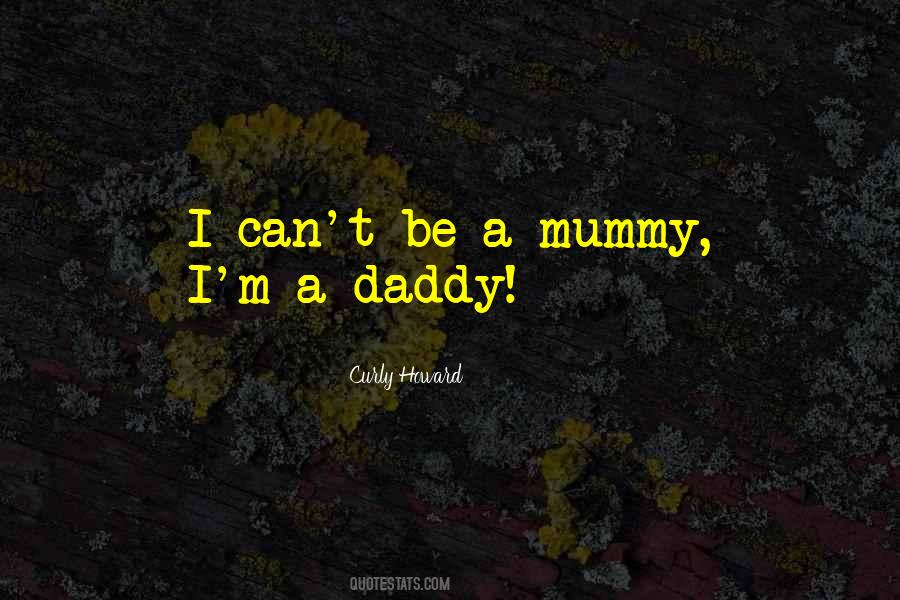 #20. There's "Bloodstains" by Agent Orange. "Rise Above" by Black Flag. "Streets of San Francisco" by the Swingin' Utters. "Gimme Danger" by Iggy and the Stooges. – Author: Jason Myers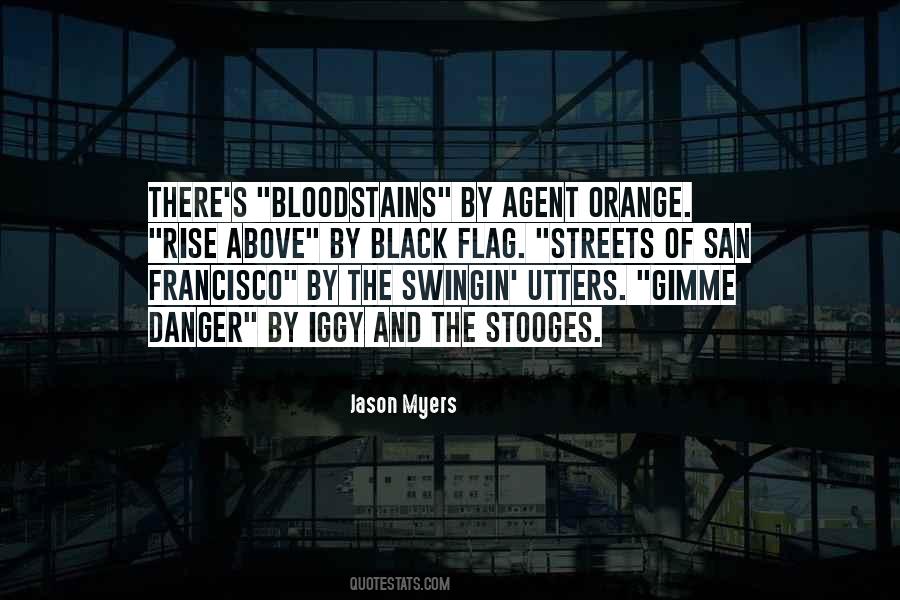 #21. Amelia nodded her head, "That makes perfect sense."
"No is doesn't," jeered Otto.
"Yes, it does," sighed Amelia. "Don't you ever remember anything important?"
"Of course, I remember how many Star Trek seasons there were and when the Three Stooges were born! – Author: Monet Polny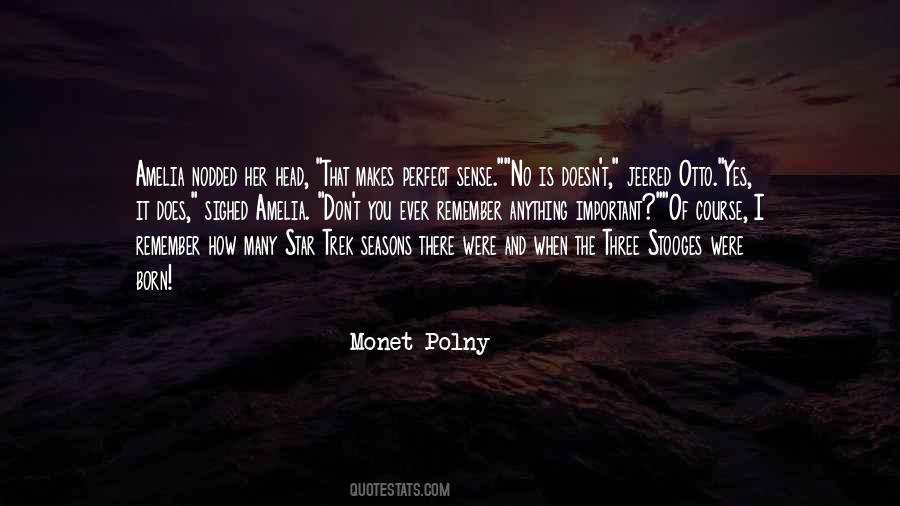 #22. Moe: [Black Louie is using Larry as a human target for knife-throwing] Be careful you don't hit Larry.
Curly: Where is he?
Moe: Over there.
Curly: I don't see him.
Moe: Take off the glasses.
[Curly takes his glasses off]
Moe: Over there by the wall.
Curly: What wall? – Author: The Three Stooges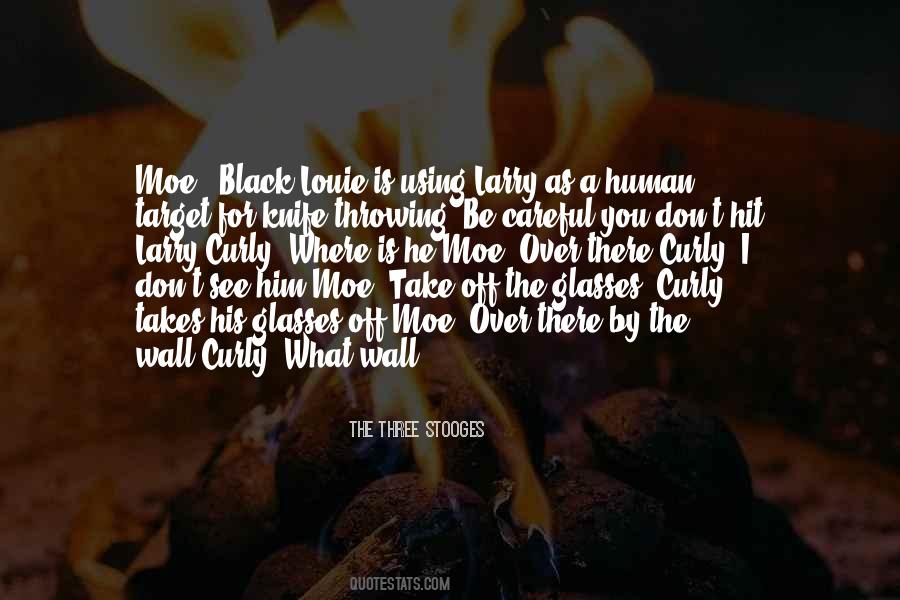 #23. Judge: Take the stand.
Curly: [picks the chair up] Where'll I put it?
Judge: No, no, take the stand!
Curly: I got it! Now what'll I do with it?
Court clerk: [angrily sets it back down] SIDDOWN! – Author: The Three Stooges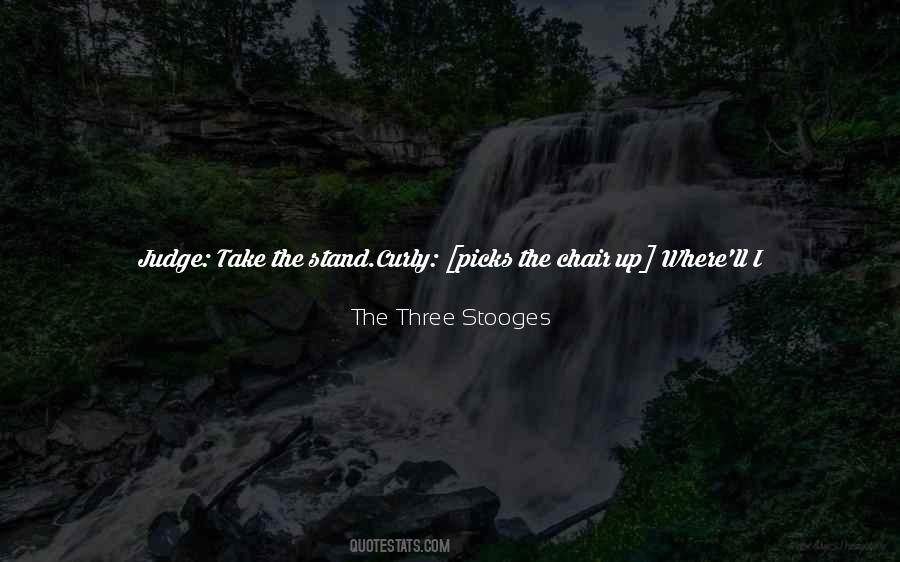 #24. I mean Iggy and The Stooges first couple of albums I think sold twenty five thousand between the two of them you know and so to talk in terms of an underground I mean you have to go really to the independent labels and things like that. – Author: Lester Bangs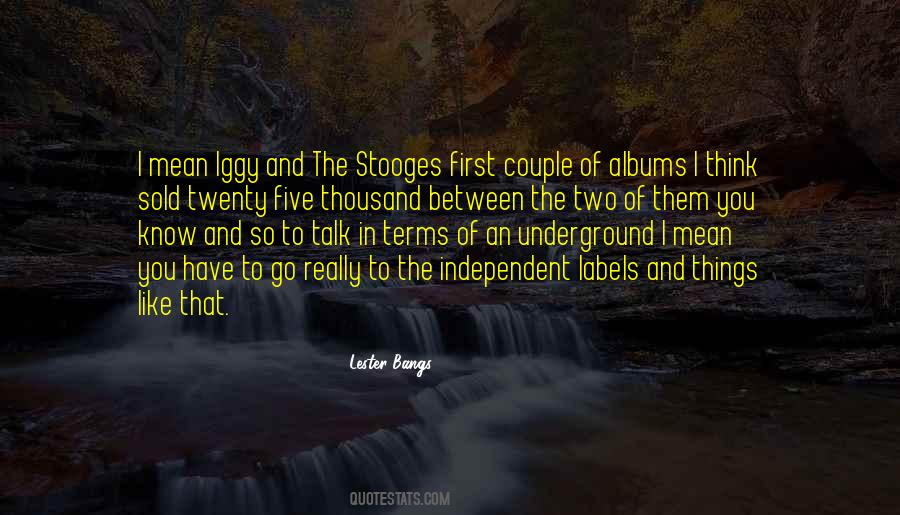 #25. After doing comedy for a while and knowing how hard it is to do physical comedy right, I learned how incredibly talented the Three Stooges really were after re-watching old episodes. They still stand up! – Author: Carly Craig