The Bulls are complicated. They are bot sweet and salty, being the loyal buddy and the sarcastic truth-teller at the same time. They are realistic but would take the leap of faith for their dreams.
Having a Taurus in life is a blessing. You can count on them in difficult times. Being a Taurus, however, can be a bumpy card ride.
If you are a Taurus sun, born between April 20 and May 21, these Taurus quotes may resonate with you.
Taurus will say it to your face, not behind your back.
Taurus won't sit and wait. They get sh*t done themselves.
Taurus are doing more than you know, on things you don't know about.
Taurus keep their phone silent 24/7 because they are tired of everyone's bullsh*t.
Taurus remembers everything you do and don't do.
The struggles of Taurus:
Ask for help
Accept themselves instead of trying to fix every flaw
Verbally express love and care
Stop caring too much about others' opinions
Let go of grudges
Taurus will take the long way home just to listen to more songs.
The ruling planet of Taurus is Venus. Under its influences, Taurus live life through their senses. And music is not only amusement to them, but also an emotional outlet. They won't leave home without their earphone.
Treat Taurus like an option, and they will cross you out completely.
Everything you know about Taurus is what they want you to know.
Taurus have the weirdest collection of screenshots.
How to spoil Taurus
Give them warm, loving hugs
Cook for them
Remember what they like and dislike
Plan your future with them
Accept them for who they are instead of trying to change them
Two things Taurus want:
Be successful + Not leaving bed
Read also: 69 Quotes about success that will motivate you towards your goal
Little Things That Melt A Taurus' Heart:
Lyrics from an old song
Old couples holding hands
Getting help without asking for it
A hug from the back
Someone ordering exactly what they want
Appreciation for their efforts
Taurus doesn't hold grudges. They use them as motivation.
Don't ever lie to Taurus. They are walking lie-detectors.
Taurus will take forever to go through the menu, and still order the same food.
Taurus doesn't get mad. They get disappointed and move on.
Taurus are not mean but sarcastically humorous.
If Taurus show you their vulnerability, they trust you.
If Taurus set a goal, they will achieve it against all the odds.
Taurus won't tell you they love you. They show you with action.
Taurus are not lazy. They are investing their time selectively.
The undying loyalty of Taurus is both a strength and a weakness.
Taurus make great playlists.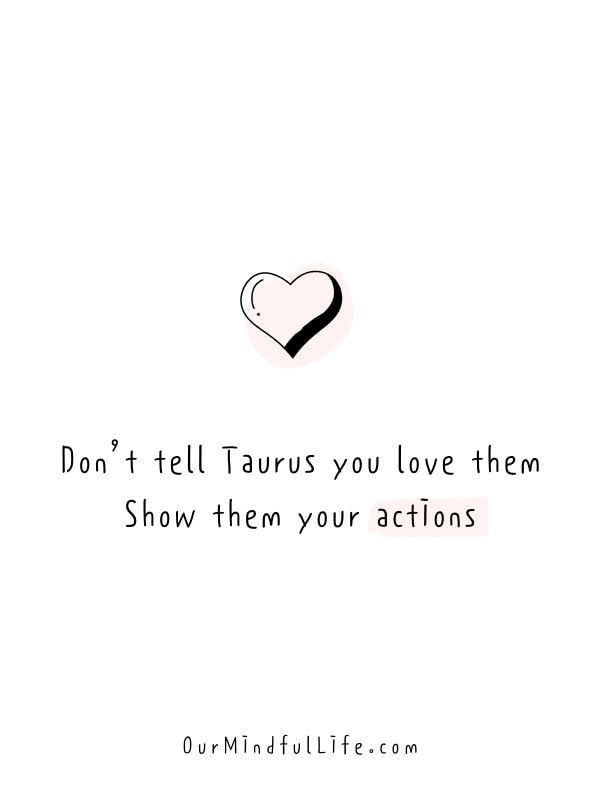 Don't tell Taurus you love them. Show them your actions.
When Taurus see you don't care, they won't either.
Read also: 72 Down-to-earth gorgeous Taurus tattoos for the real Bull
Things that Taurus don't do:
Compete for love and attention
Blindly follow trends
Keep on texting someone who left them on read
Forget people who've wronged them
Give second chances to liars
Relatable "Taurus be like" quotes
Taurus on a first date: "Promise me you won't change."
What makes a Taurus happy: good food, a warm blanket and someone to cuddle.
Indifference is the best revenge.
I don't need people to talk to. I need someone who will listen.
An angry Taurus be like: "I will 100% regret what I am about to say but whatever."
Taurus going out like: looking elegant and chic without trying.
Taurus be like: Upset for not being invited even though they won't go anyway.
Money doesn't buy happiness, but it brings security.
Constantly waiting for others to initiate.
The Taurus motto: Keep going until you get it right. Then keep going until you can't get it wrong.
Treat me like a game, and I'll show you how it's played.
Taurus in quarantine: trying six recipes a day and wishing it all go away
Taurus in love: "Can't keep my hands to myself."
Taurus at work: 80% Workaholic, 20% Patience, 0% Tolerance
Taurus: the expert of dark jokes.
Inspiring quotes from famous Taurus
I've always been a very young person with a very old soul.
– Kehlani
I like to use the hard times in the past to motivate me today.
– Dwayne Johnson
I learned to appreciate repetition. That's why I can dance. It's how I learned to act.
– Channing Tatum
I don't really need to stand out; there's room for everyone.
– Adele
I really feel that my body craves to be in the mountains or by the ocean or in the countryside.
– Miranda Kerr
I like to be able to get up and go and buy a pint of milk without bumping into 20 people I know.
– Lily Allen
I am a Taurus. My will is awful. If I like something, there is nothing else.
– Elsa Peretti
Life is too short to miss out on the beautiful things like a double cheeseburger.
– Channing Tatum