Best Robert California Quotes 2021
Most Memorable Robert California Quotes
Robert California, also known as Bob Kazamakis, is a popular guest character That appeared on the show 'The Office'. The character is played by James Spader, an actor That is well known For his works and a big score to get on the show.
The character of Robert California was only supposed to be a one episode role but the producers called Spader and said they'd like to see more of the Robert California character in the show and Spader accepted.
He made his first appearance in the series seventh season finale, "Search Committee", and was interviewed For the Scranton branch Manager position. In the season 8 premiere, "The List", it is confirmed That Robert California was going to be on the show For an extended time and wow the audience with his intimidating and humorous remarks towards the other characters. The season eight finale, "Free Family Portrait Studio", was the last time viewers saw Robert California in the series.
Robert California Quotes
"Oof! [laughs] Wouldn't wanna be a Sabre employee right about now. [laughs] I'm actually the CEO." – Robert California
"Yes, For God's sake, Andy, yes, please come in." – Robert California
"Our favorite names, silly made-up names, normal names said in a silly voice. Wouldn't That be nice?" – Robert California
"You don't work in sales, do you." – Robert California
"[Speaking to Andy over the phone] You don't even know my real name. I'm the f*cking Lizard King." – Robert California
"Erin when you recount your day never say you woke up. That's a waste of your time. That's how Every day is begun For everyone since the dawn of man." – Robert California
"I never allow sexual desire to influence a business decision. So I find It best to recuse myself temporarily until I've had a chance to make love, and then go back and analyze the situation rationally. Buffett operates the same way." – Robert California
"Jim, what does your daughter think of the street?" – Robert California
"You see, I sit across from a man. I see his face. I see his eyes. Now, does It matter if he wants a hundred dollars of paper or a hundred million dollars of deep-sea drilling equipment? Don't be a fool. He wants respect. He wants love. He wants to be younger. He wants to be attractive." – Robert California
"Can everyone just, please… I had a one-man saturnalia last night, in celebration of the finalization of my divorce. I got into a case of Australian reds, and – how should I say this – Columbian whites. What – what is this about, uh, Binghamton?" – Robert California
"Jim your daughter Cecilia, what does She think of the Street?" – Robert California
"Ah. [chuckles] Well, I will not be blackmailed by some ineffectual, privileged, effete, soft-p*nised debutante. You wanna start a street fight with me, bring It on, but you're gonna be surprised by how ugly It gets. You don't even know my real name. I'm the f*cking lizard king." – Robert California
"I'm afraid you've lost my interest." – Robert California
"There is no such thing as a product. Don't ever think there is. There is only… sex. Everything… is sex. You understand That what I'm telling you is a universal truth,… Toby." – Robert California
"Shh… shh… [vomits in trash can]." – Robert California
"When I was a boy, there was an empty house just up the hill from my family's. It was rumored a man committed suicide there after being possessed by the devil." – Robert California
"There is only sex. Everything is sex." – Robert California
"Do I look like someone who would waste my own time?" – Robert California
"Here's what It is, it's a doodle. Some people doodle at work when they let their mind run. They draw houses, penises. Funny how the houses are always colonials and the penises are always circumcised, don't you think?" – Robert California
"Sesame Street." – Robert California
"One day, a young woman, Lydia, moved into the house with Her infant child. That very night, Lydia was awakened by a loud, heinous hissing sound. [hisses] She walked to the nursery, and there, in baby's crib, was a snake wrapped around baby's neck, squeezing tighter and tighter." – Robert California
"I'm the f*cking lizard king" – Robert California
"Will you be heard? Will you have a voice? Will I steamroll over you? Do you feel heard right now, Jim? Do you have a voice, right now? You can answer me." – Robert California
"There's something about an underdog That really inspires the unexceptional." – Robert California
"Elmo. God save us… the Elmo era. Sesame Street was created to reflect the environment of the children watching it. The complete self-absorption of Elmo is brilliantly reflective of our time. Our's is a cultural ghetto. Wouldn't you agree?" – Robert California
"The crib was full of dirt. Baby struggled to free itself from underneath, reaching and clawing, gasping for air. Embalmed bodies rose from their sarcophagi, lurching toward baby. For they were mummies." – Robert California
"I am so tired of the Black Eyed Peas…" – Robert California
"One day, the Baby will grow up. But, without you, Andy and I would be sitting in our dirty diapers, waiting For someone to change us, wipe us. I should be toasting you, thanking you, For allowing me to have the easiest job in the universe. Cheers." – Robert California
"That was your choice, not mine. The fallacy is That It is up to the steamroller. It is up to the object… whether It will be flattened or not, and I can tell from the small interaction we've had already, you won't be flattened by anybody. Do you agree with me, Jim?" – Robert California
"Let me tell you some things I find productive. Positive reinforcement. Negative reinforcement. Honesty." – Robert California
"For Lydia and Her husband had had an argument, one they couldn't get past. Each night, they slept one inch farther apart, until one night, Lydia left. It was about this time She lost herself in imaginary worlds. She had quit the book club, the choir, citing something about their high expectations. Her lips slowly grew together from disuse." – Robert California
"Erin when you recount your day…" Robert California
"[more emphatically than Jim] Yes. You do. [nods at the Search Committee, then looks over at the camera with a smirk on his face]" – Robert California
"Hey, my friend, trust me. This is For the best. I never understood That corporate mess." – Robert California
"I'll tell you some thing I find unproductive. Constantly worrying about where you stand based on inscrutable social cues, and then inevitably reframing It all in a reassuring way so That you can get to sleep at night. No, I do not believe in That at all." – Robert California
"Every time She wanted to act and didn't, another part of Her face hardened, until It was stone. And That fevered night, She rushed to the nursery, threw open the door, 'Baby, are you okay?' Baby sat up slowly, turned to mother and said, 'I'm fine, b*tch. I'm fine.'" – Robert California
"I am never uncomfortable" – Robert California
"That business can't attract anyone. It's awful up there. Those people seem like they're in prison, waiting out life sentences in a… dying industry." – Robert California
"If I invited you to lunch, I think you're a winner. If I didn't I don't. But I just met you all. Life is long, opinions change. Winners, prove me right. Losers, prove me wrong." – Robert California
"When I put in the screening room, I bought three movies: Caligula, Last Tango in Paris, and Emmanuelle 2. Last two movies I actually watched in here: Marley and Me and On Golden F*cking Pond." – Robert California
"I'm afraid you've lost my interest." – Robert California
"They never have improved on the Oreo, have they?" – Robert California
"I know you now, your nature. I'm done. Not worth continuing. [at the same time, Dwight says: You don't know me! Anything about me! Get out of my head!]" – Robert California
"You read my notebook? And photo-copied it? And distributed it?" – Robert California
"Shaping a company is, in a sense, similar to training a geisha. You have to mold not merely the physical form, but also the character. The two must harmonize. Are they still there? They want a decision who gets the big client. Well, they can wait. I'll still be talking about geishas long past their bedtime. You know, I trained as one." -Robert Califonria
"I saw an episode of how they make paper on Sesame Street. [nods at Dwight mockingly]" – Robert California
Robert California Quotes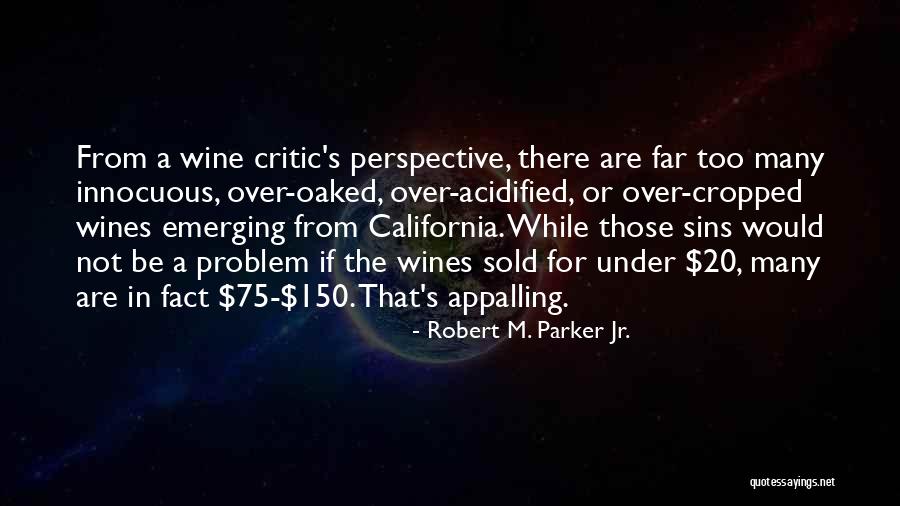 From a wine critic's perspective, there are far too many innocuous, over-oaked, over-acidified, or over-cropped wines emerging from California. While those sins would not be a problem if the wines sold for under $20, many are in fact $75-$150. That's appalling. — 
Robert M. Parker Jr.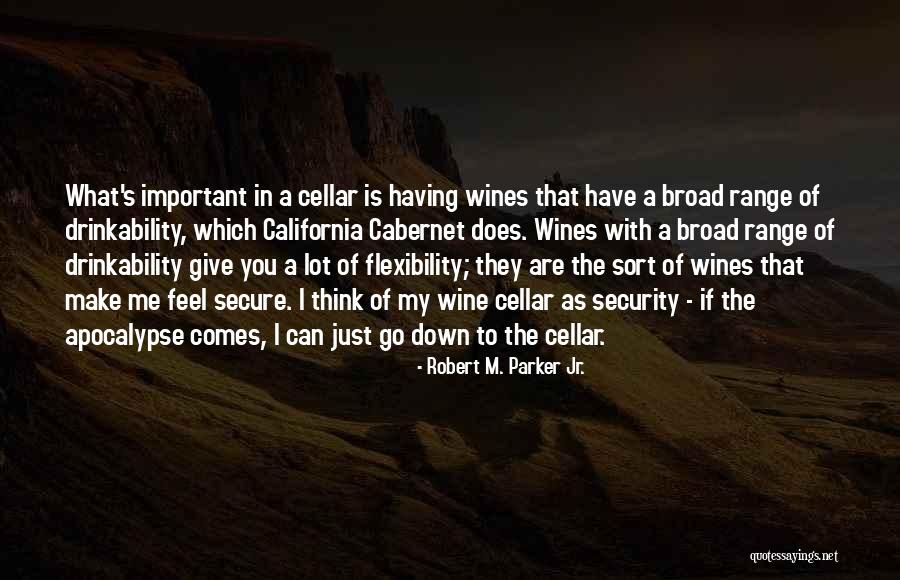 What's important in a cellar is having wines that have a broad range of drinkability, which California Cabernet does. Wines with a broad range of drinkability give you a lot of flexibility; they are the sort of wines that make me feel secure. I think of my wine cellar as security – if the apocalypse comes, I can just go down to the cellar. — 
Robert M. Parker Jr.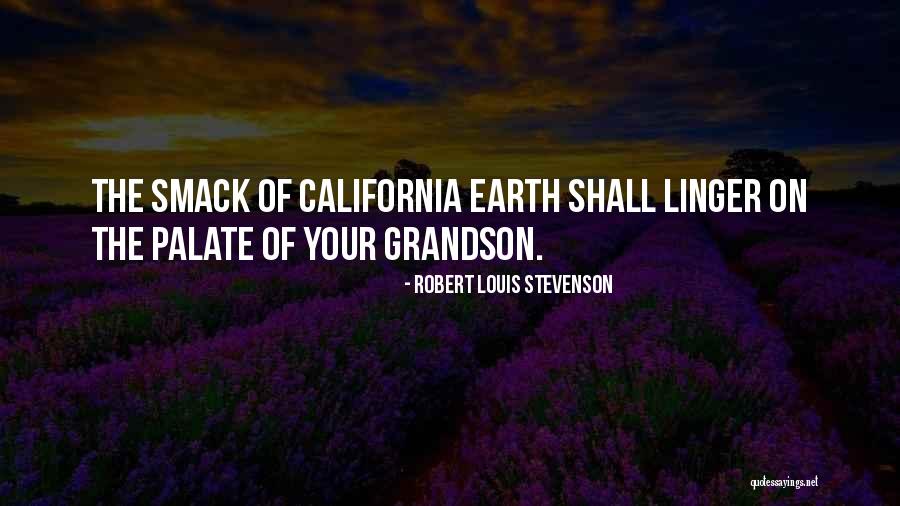 The smack of California earth shall linger on the palate of your grandson. — 
Robert Louis Stevenson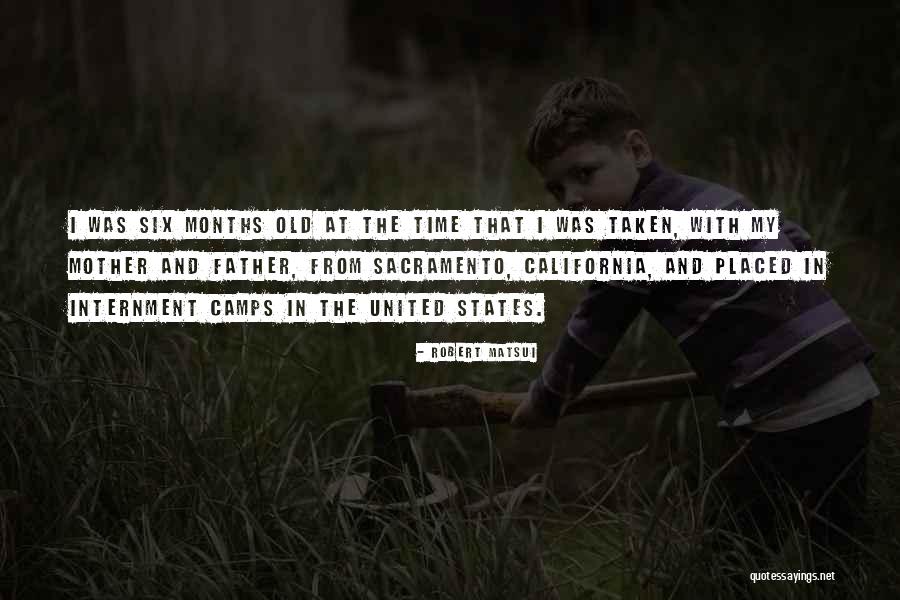 I was six months old at the time that I was taken, with my mother and father, from Sacramento, California, and placed in internment camps in the United States. — 
Robert Matsui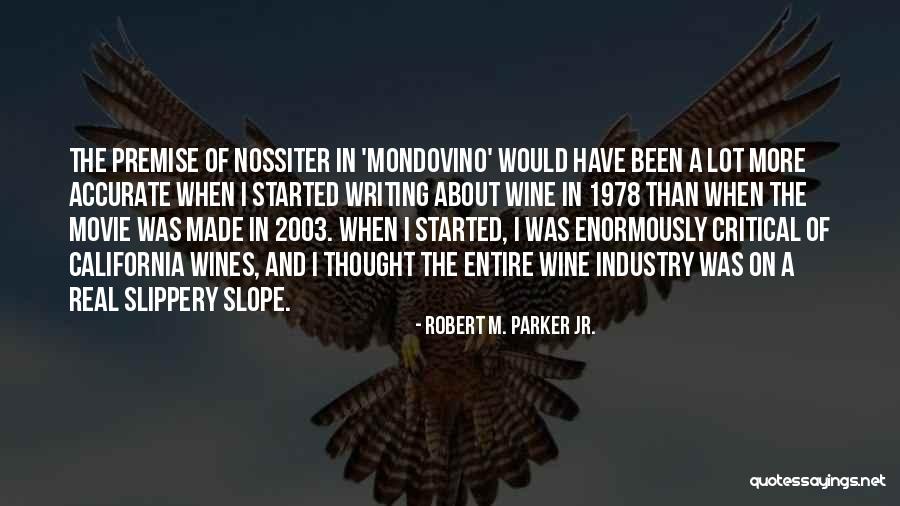 The premise of Nossiter in 'Mondovino' would have been a lot more accurate when I started writing about wine in 1978 than when the movie was made in 2003. When I started, I was enormously critical of California wines, and I thought the entire wine industry was on a real slippery slope. — 
Robert M. Parker Jr.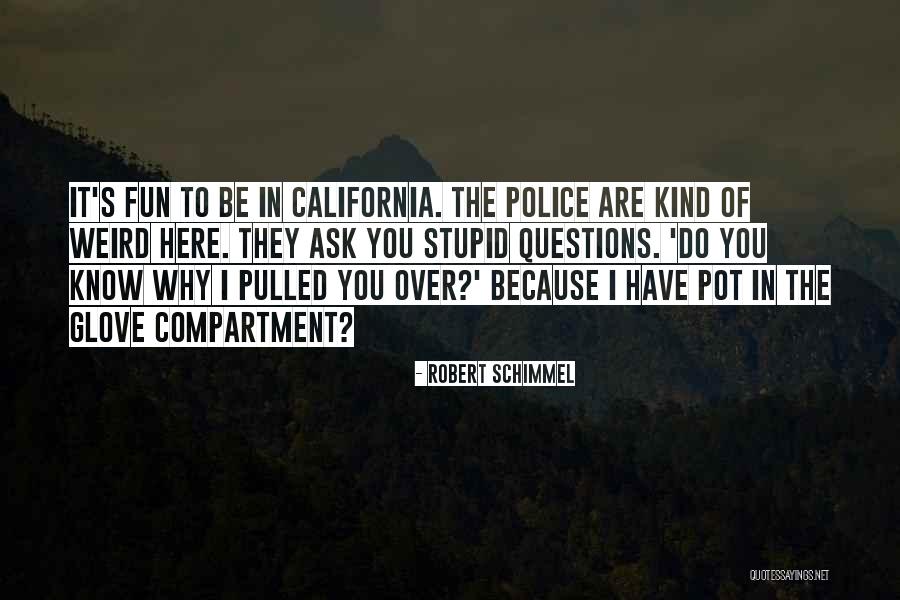 It's fun to be in California. The police are kind of weird here. They ask you stupid questions. 'Do you know why I pulled you over?' Because I have pot in the glove compartment? — 
Robert Schimmel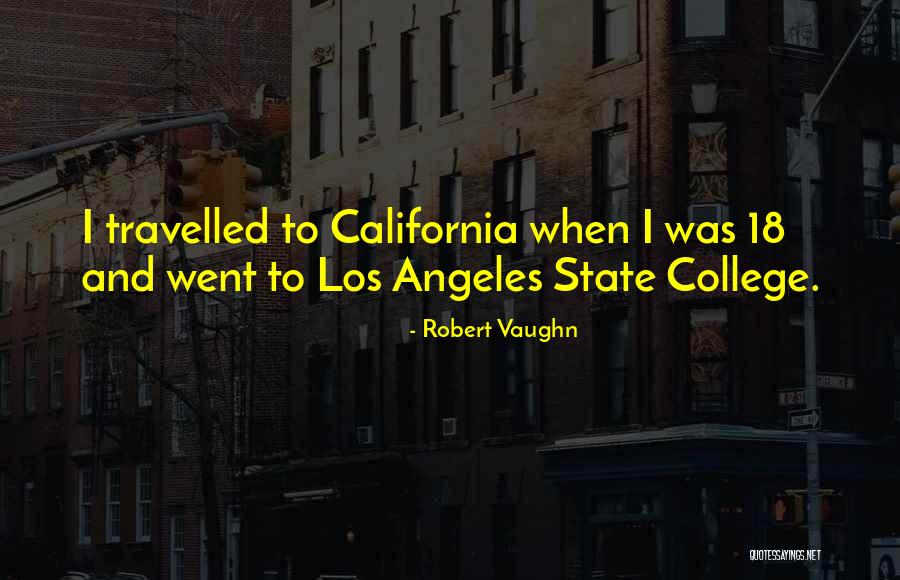 I travelled to California when I was 18 and went to Los Angeles State College. — 
Robert Vaughn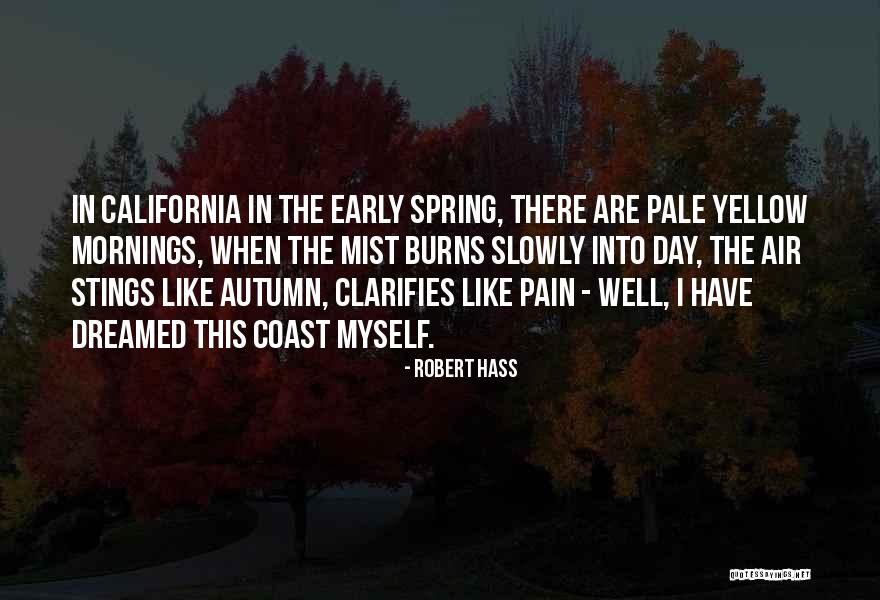 In California in the early Spring, There are pale yellow mornings, when the mist burns slowly into day, The air stings like Autumn, clarifies like pain – Well, I have dreamed this coast myself. — 
Robert Hass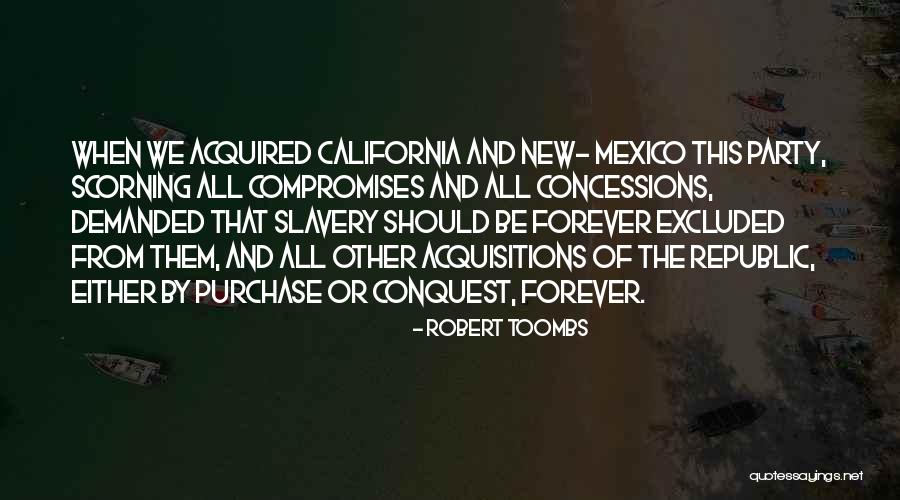 When we acquired California and New- Mexico this party, scorning all compromises and all concessions, demanded that slavery should be forever excluded from them, and all other acquisitions of the Republic, either by purchase or conquest, forever. — 
Robert Toombs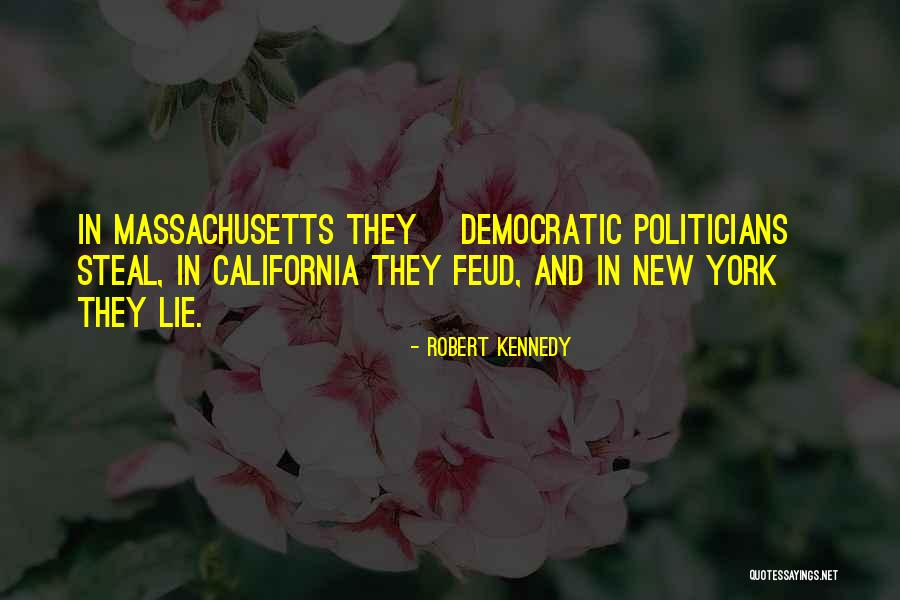 In Massachusetts they [Democratic politicians] steal, in California they feud, and in New York they lie. — 
Robert Kennedy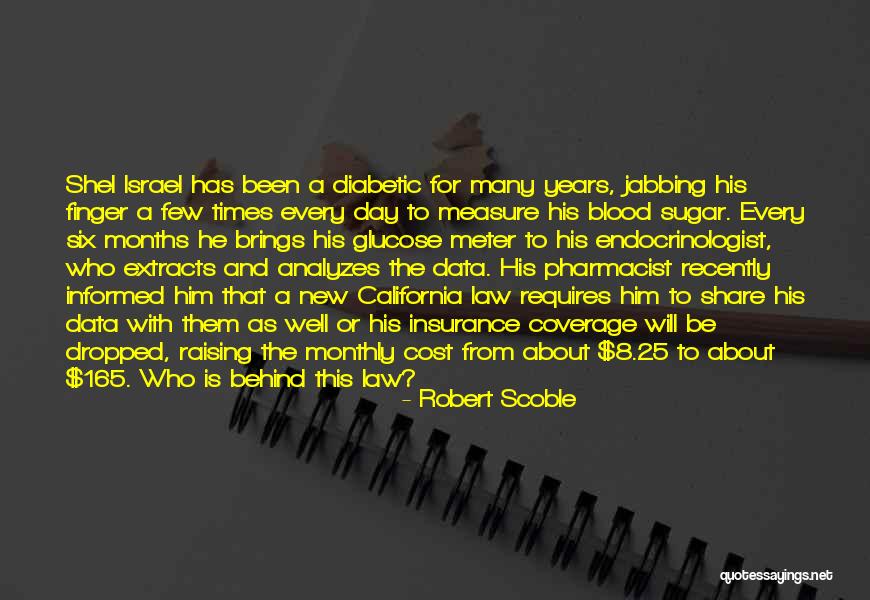 Shel Israel has been a diabetic for many years, jabbing his finger a few times every day to measure his blood sugar. Every six months he brings his glucose meter to his endocrinologist, who extracts and analyzes the data. His pharmacist recently informed him that a new California law requires him to share his data with them as well or his insurance coverage will be dropped, raising the monthly cost from about $8.25 to about $165. Who is behind this law? — 
Robert Scoble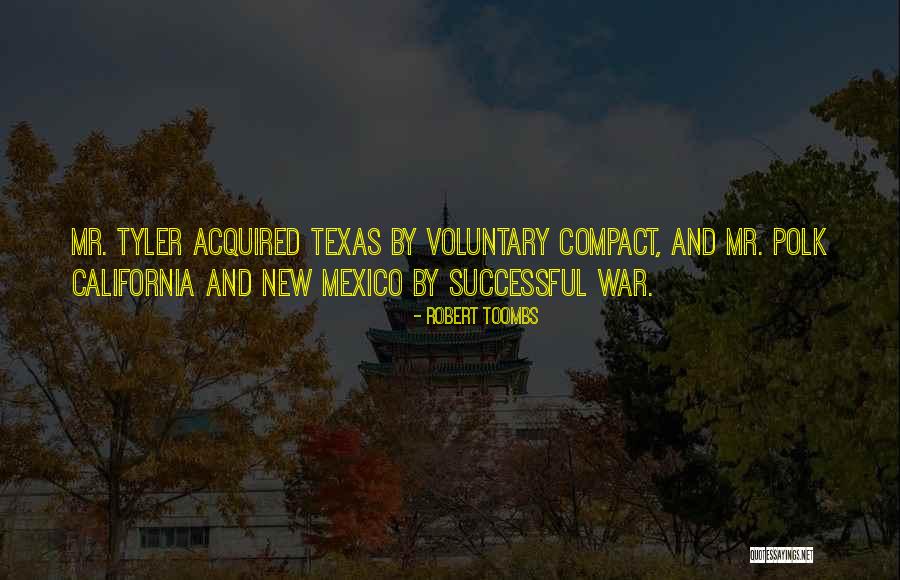 Mr. Tyler acquired Texas by voluntary compact, and Mr. Polk California and New Mexico by successful war. — 
Robert Toombs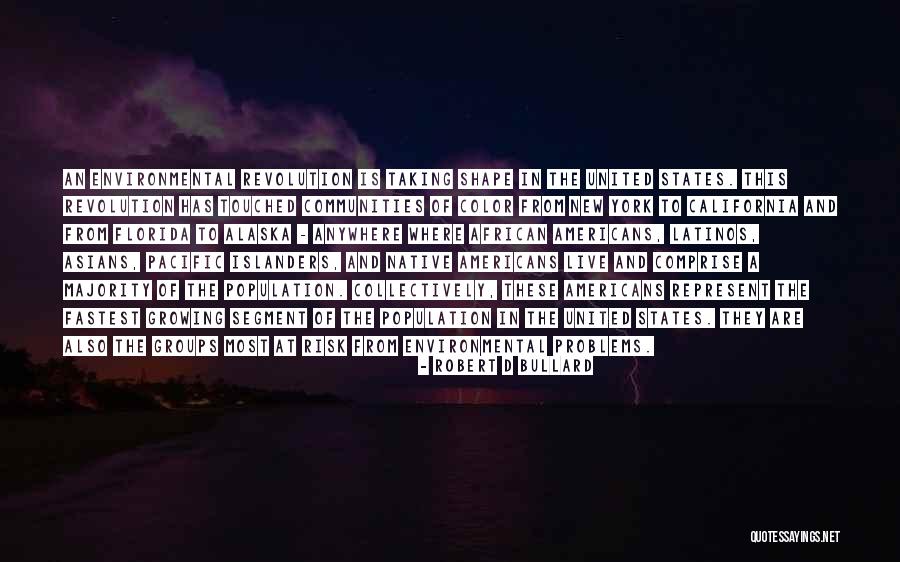 An environmental revolution is taking shape in the United States. This revolution has touched communities of color from New York to California and from Florida to Alaska – anywhere where African Americans, Latinos, Asians, Pacific Islanders, and Native Americans live and comprise a majority of the population. Collectively, these Americans represent the fastest growing segment of the population in the United States. They are also the groups most at risk from environmental problems. — 
Robert D Bullard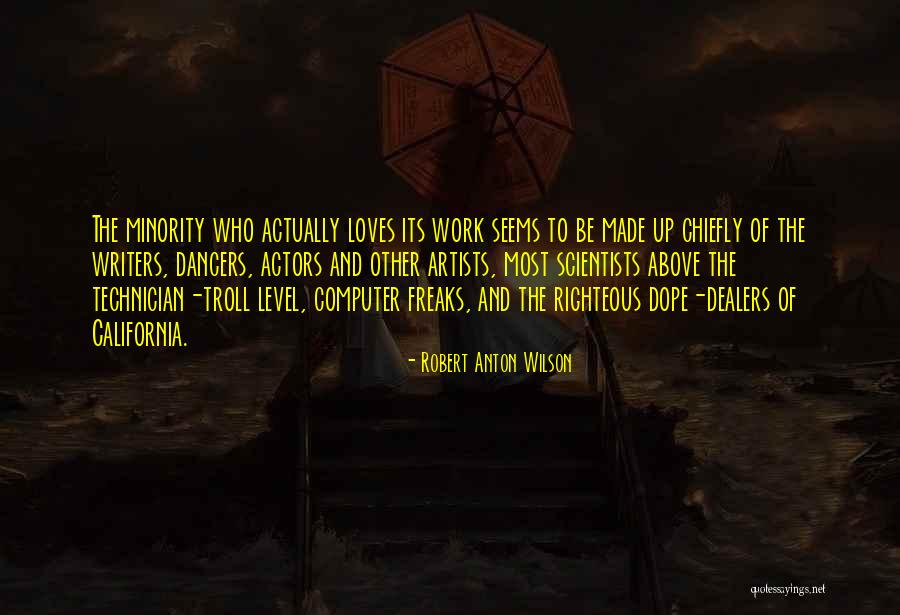 The minority who actually loves its work seems to be made up chiefly of the writers, dancers, actors and other artists, most scientists above the technician-troll level, computer freaks, and the righteous dope-dealers of California. — 
Robert Anton Wilson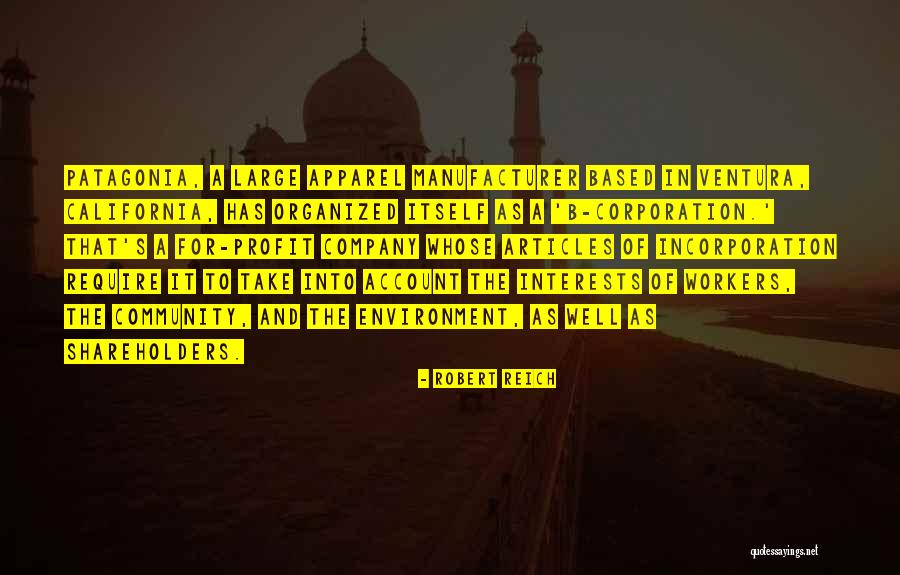 Patagonia, a large apparel manufacturer based in Ventura, California, has organized itself as a 'B-corporation.' That's a for-profit company whose articles of incorporation require it to take into account the interests of workers, the community, and the environment, as well as shareholders. — 
Robert Reich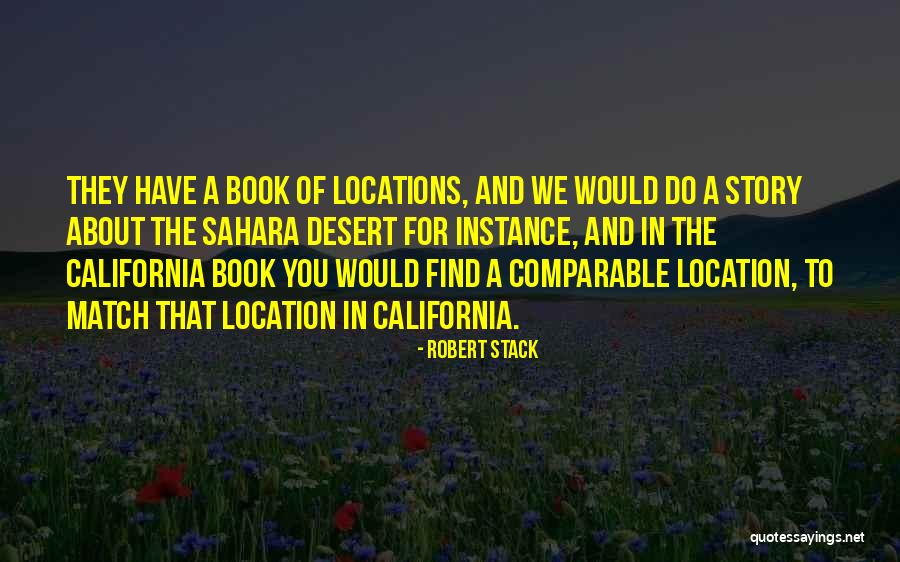 They have a book of locations, and we would do a story about the Sahara Desert for instance, and in the California book you would find a comparable location, to match that location in California. — 
Robert Stack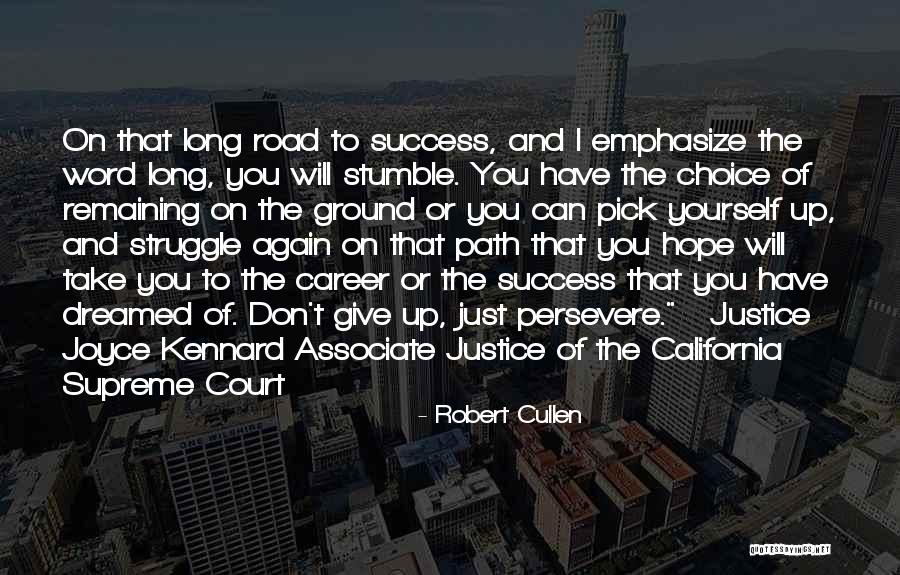 On that long road to success, and I emphasize the word long, you will stumble. You have the choice of remaining on the ground or you can pick yourself up, and struggle again on that path that you hope will take you to the career or the success that you have dreamed of. Don't give up, just persevere." Justice Joyce Kennard Associate Justice of the California Supreme Court — 
Robert Cullen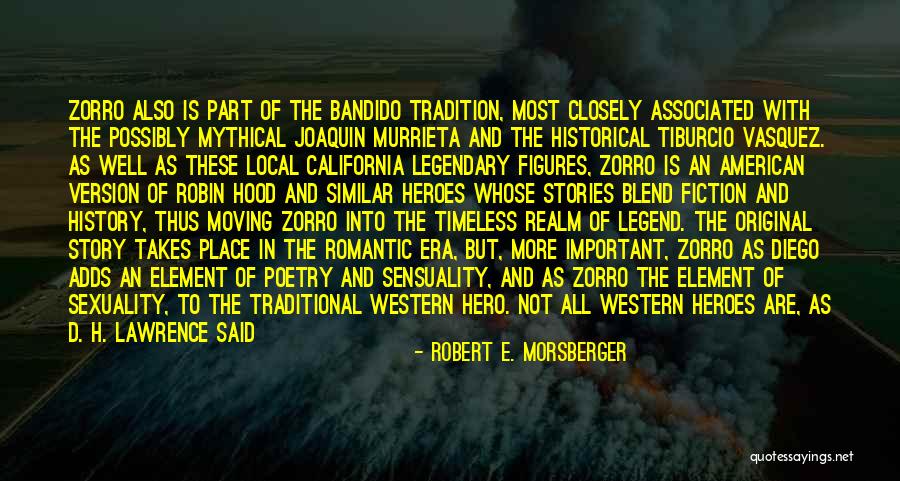 Zorro also is part of the bandido tradition, most closely associated with the possibly mythical Joaquin Murrieta and the historical Tiburcio Vasquez. As well as these local California legendary figures, Zorro is an American version of Robin Hood and similar heroes whose stories blend fiction and history, thus moving Zorro into the timeless realm of legend. The original story takes place in the Romantic era, but, more important, Zorro as Diego adds an element of poetry and sensuality, and as Zorro the element of sexuality, to the traditional Western hero. Not all Western heroes are, as D. H. Lawrence said of Cooper's Deerslayer, "hard, isolate, stoic, and a killer," but in the Western genre the hero and villain more often than not share these characteristics. What distinguishes Zorro is a gallantry, a code of ethics, a romantic sensibility, and most significant, a command of language and a keen intelligence and wit. — 
Robert E. Morsberger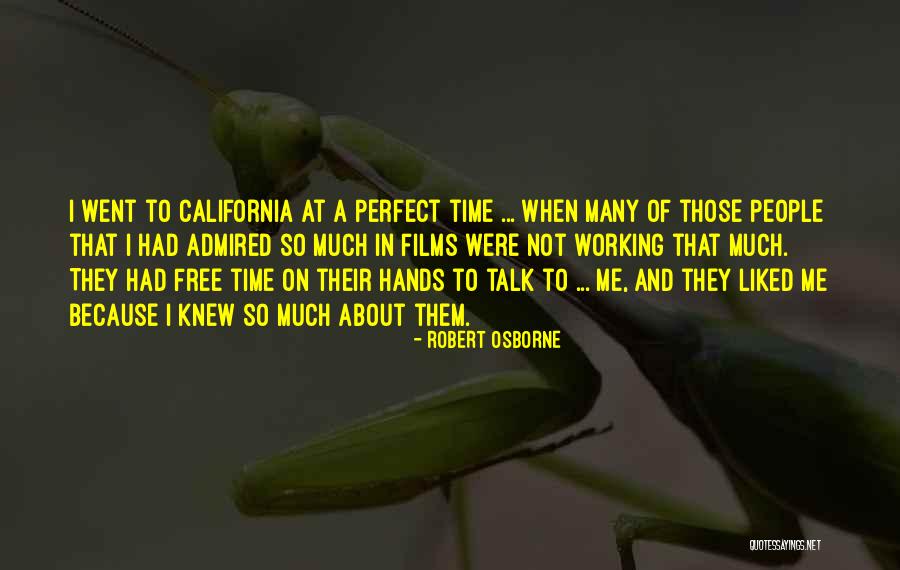 I went to California at a perfect time … when many of those people that I had admired so much in films were not working that much. They had free time on their hands to talk to … me, and they liked me because I knew so much about them. — 
Robert Osborne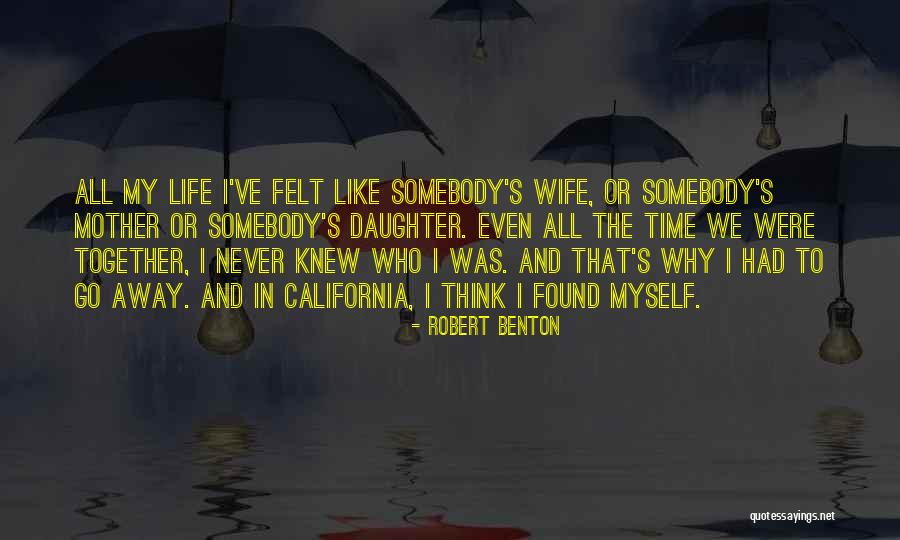 All my life I've felt like somebody's wife, or somebody's mother or somebody's daughter. Even all the time we were together, I never knew who I was. And that's why I had to go away. And in California, I think I found myself. — 
Robert Benton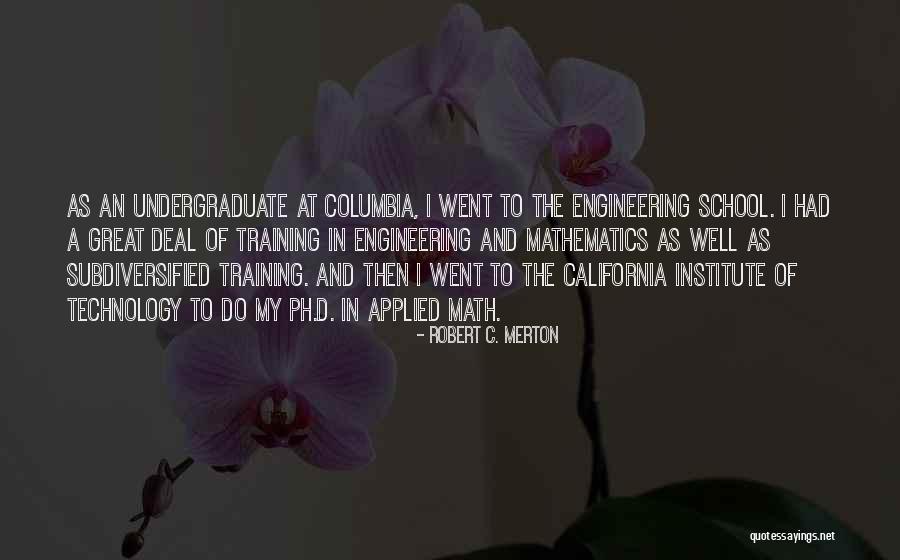 As an undergraduate at Columbia, I went to the engineering school. I had a great deal of training in engineering and mathematics as well as subdiversified training. And then I went to the California Institute of Technology to do my Ph.D. in applied math. — 
Robert C. Merton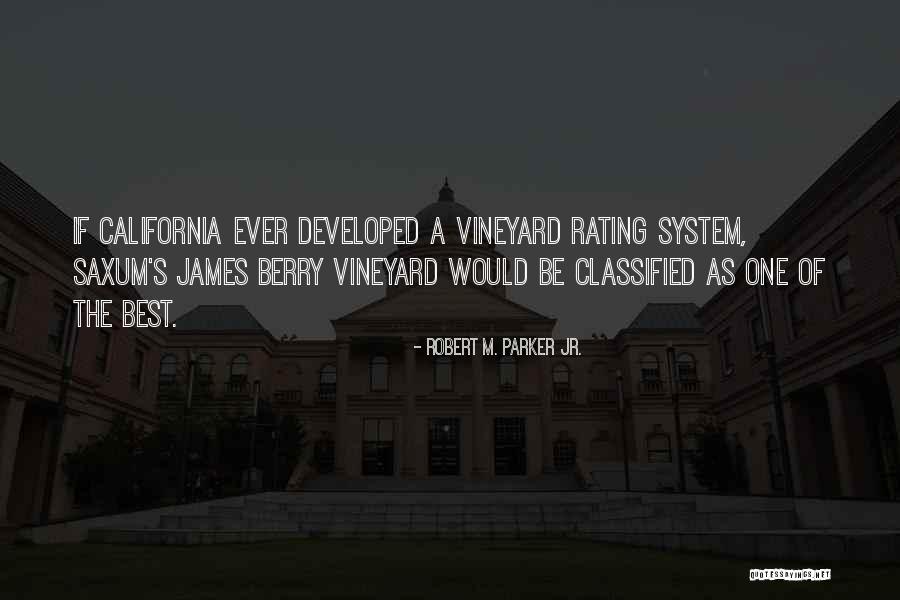 If California ever developed a vineyard rating system, Saxum's James Berry Vineyard would be classified as one of the best. — 
Robert M. Parker Jr.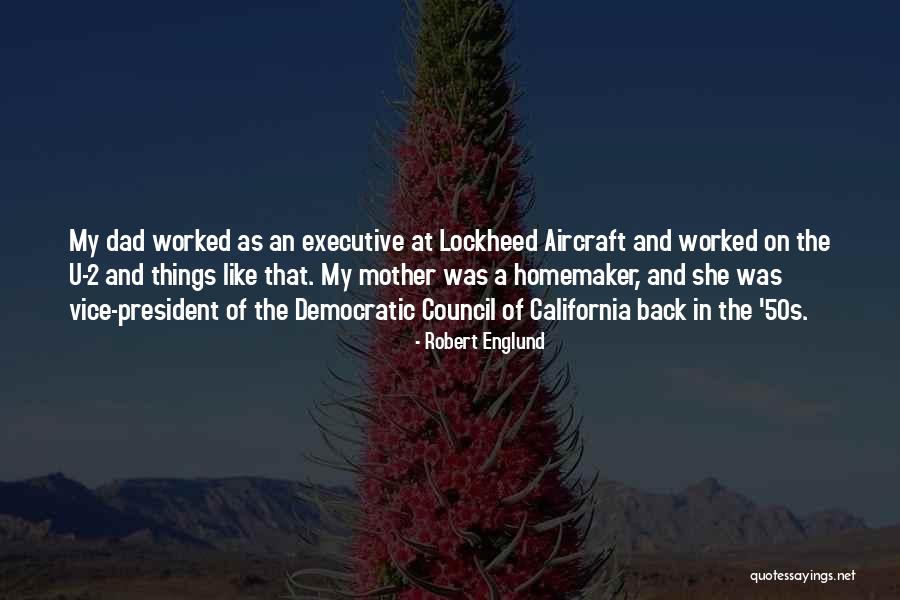 My dad worked as an executive at Lockheed Aircraft and worked on the U-2 and things like that. My mother was a homemaker, and she was vice-president of the Democratic Council of California back in the '50s. — 
Robert Englund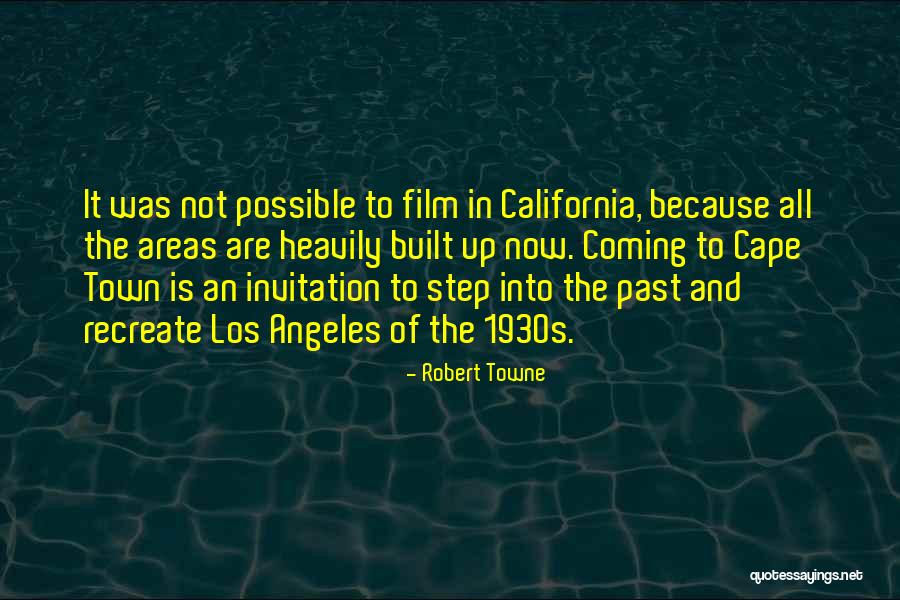 It was not possible to film in California, because all the areas are heavily built up now. Coming to Cape Town is an invitation to step into the past and recreate Los Angeles of the 1930s. — 
Robert Towne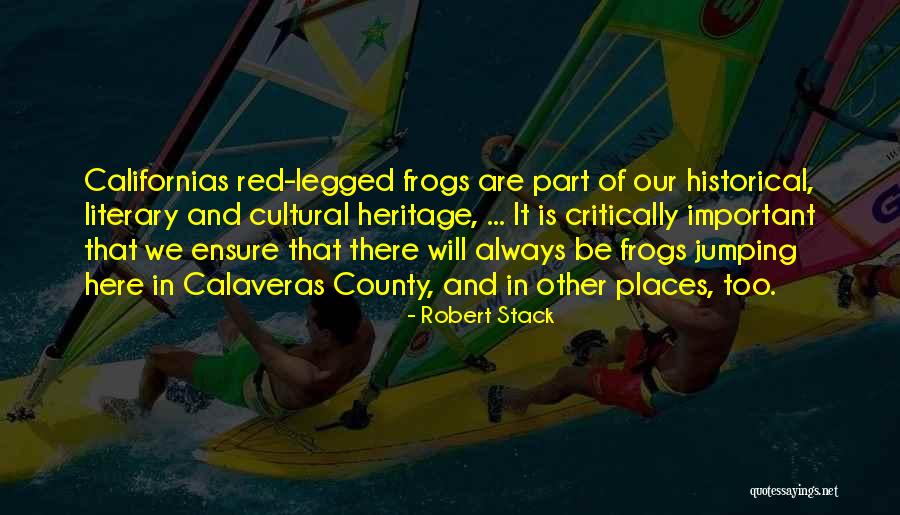 Californias red-legged frogs are part of our historical, literary and cultural heritage, … It is critically important that we ensure that there will always be frogs jumping here in Calaveras County, and in other places, too. — 
Robert Stack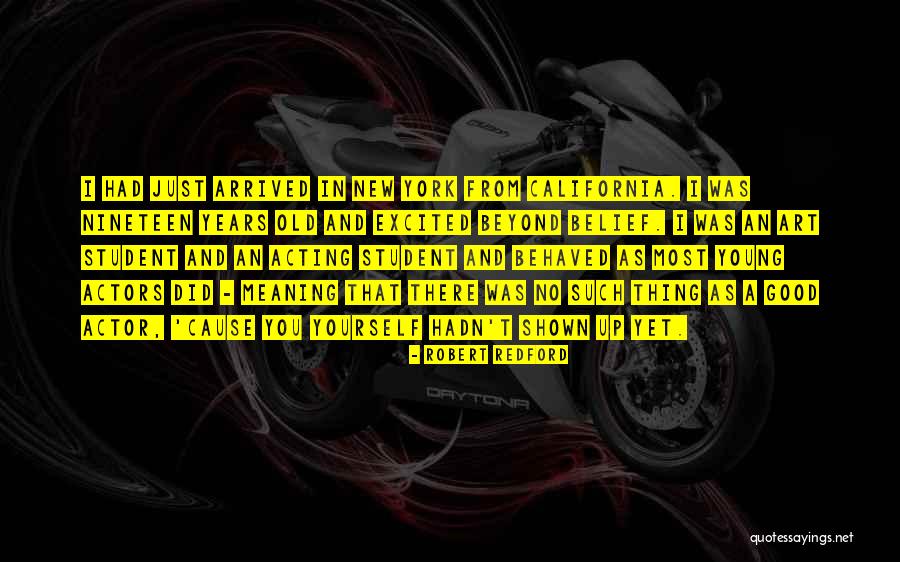 I had just arrived in New York from California. I was nineteen years old and excited beyond belief. I was an art student and an acting student and behaved as most young actors did – meaning that there was no such thing as a good actor, 'cause you yourself hadn't shown up yet. — 
Robert Redford