Best New Year's Eve Dinner Ideas To End the Year Deliciously
Whether you're throwing a household New Year's Eve bash or staying up late to watch the ball drop in Time Square, you'll need some fun and festive New Year's Eve dinner ideas to get you ready for the night ahead. From belly-filling casseroles to vegetable-focused vegetarian ideas, we rounded up tons of delicious mains to keep you satisfied 'til the clock strikes midnight. No matter your New Year's Eve food traditions, we've got something for you. Feeling fancy? Try a spotlight-stealing steak dinner crowned with a pat of butter, or a whole-roasted salmon recipe that doubles as a stunning centerpiece. Start the year off right with colorful, filling salads or celebrate your cravings for carbs, carbs and more carbs (such as pasta, gnocchi and risotto, to name a few).
Choose one of our quick and easy dinners (including Instant Pot recipes!) if you'd prefer to focus your energy on New Year's resolutions instead, or get together with a partner, friend, or family to whip up an elaborate feast, even if it's just a simple dinner for two. Eat the comfort foods you love, share the holiday with family and friends (virtually!) and always, always, save room for New Year's Eve dessert.
New York Strip Steak
When served with garlicky spinach and hasselback potatoes, this perfectly cooked steak is the ultimate New Year's dinner.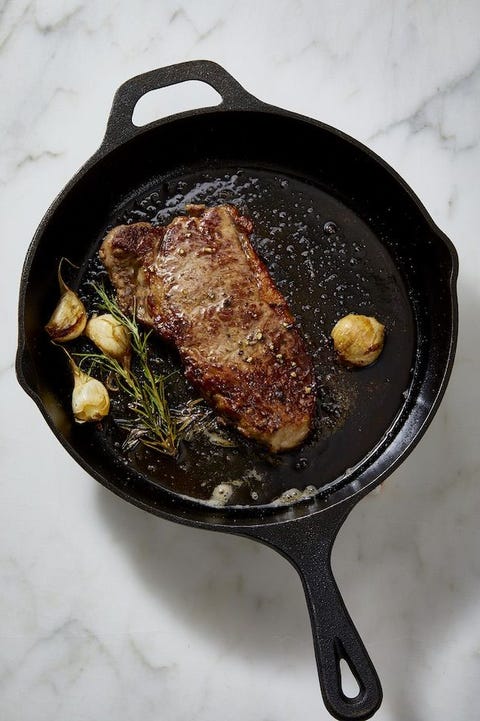 Short Ribs With Creamy Polenta
These tender braised Instant Pot short ribs are the newest star of New Year's Eve dinner, no effort required.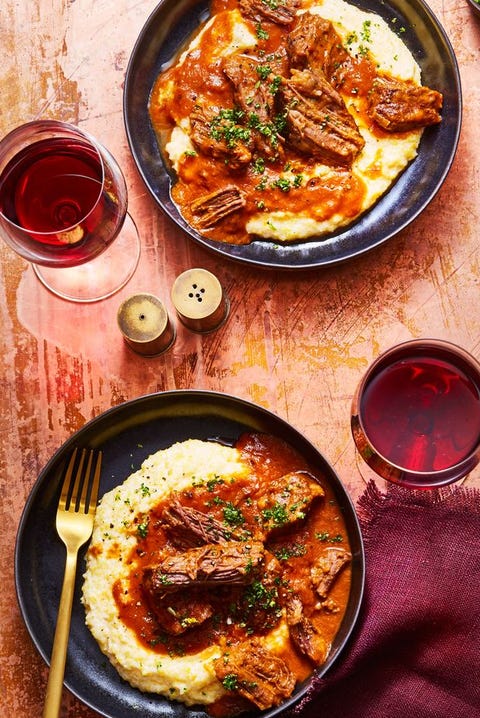 Coq au Vin Rosé
A twist on classic coq au vin (which uses red wine instead of rosé), this crowd-pleaser gets its flavor from mushrooms and bacon too.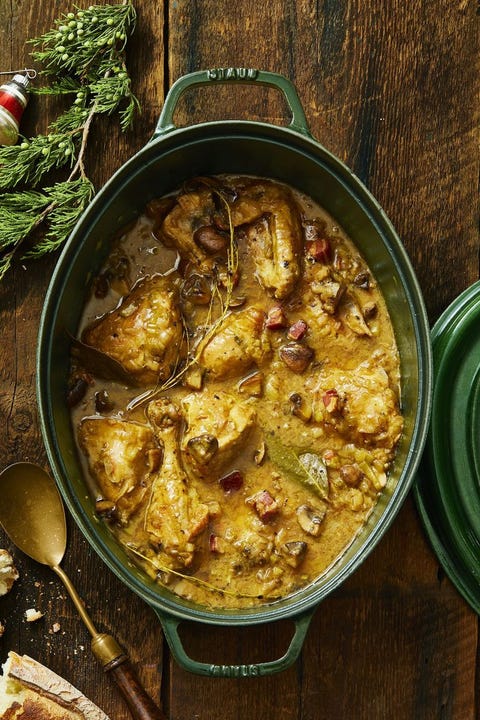 Chicken, Sausage and White Bean Stew
This protein-packed stew, loaded with slow cooked chicken and beans, will keep you full 'til midnight.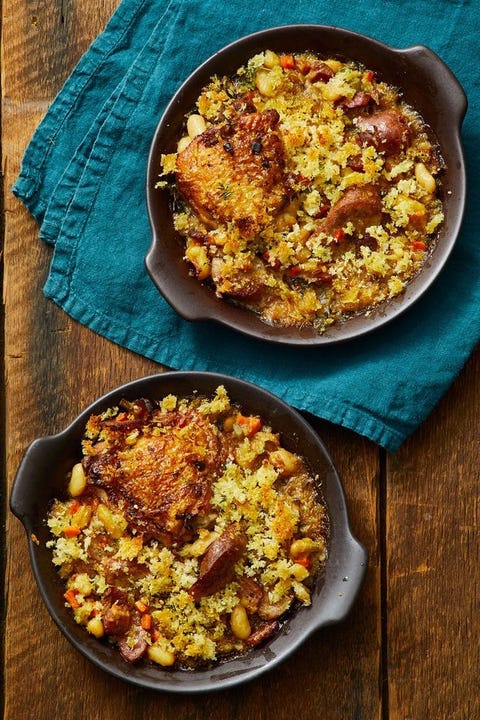 French Onion Soup
Onions, slowly cooked until deep brown and caramelized, give this classic soup its distinctive flavor. Don't skip the topping: Cheesy broiled toasts.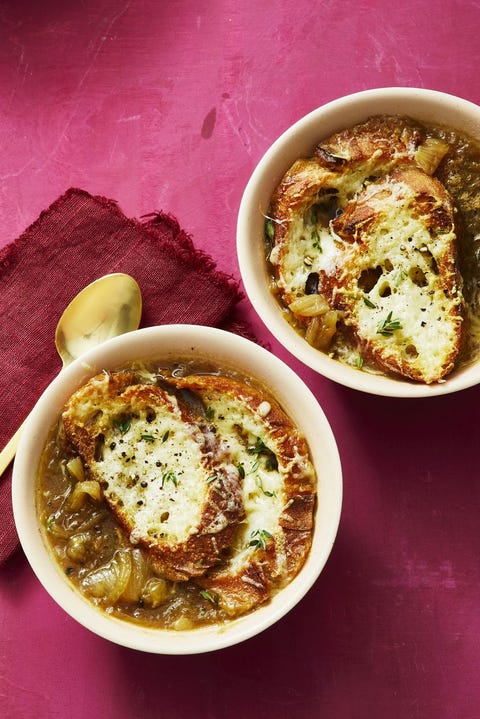 Sweet Pea Risotto
Full of bright, sweet peas (you can buy frozen!), this creamy dish will please vegetarians and carnivores alike.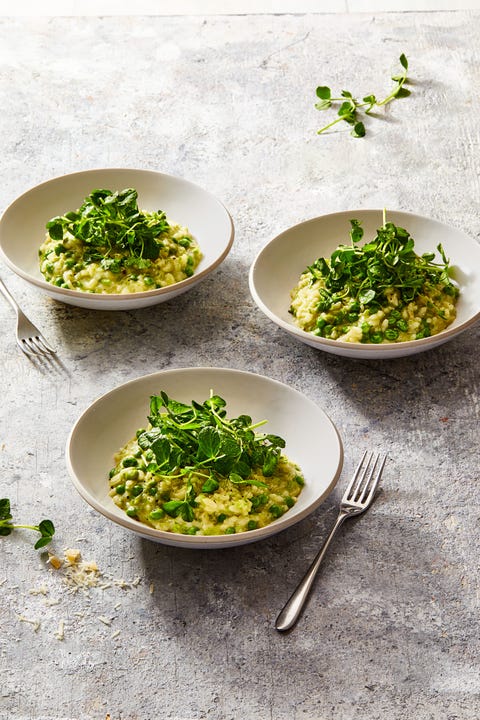 Mustard Glazed Pork Chops
A spicy mustard sauce cuts through the richness of pork for a well-balanced dish.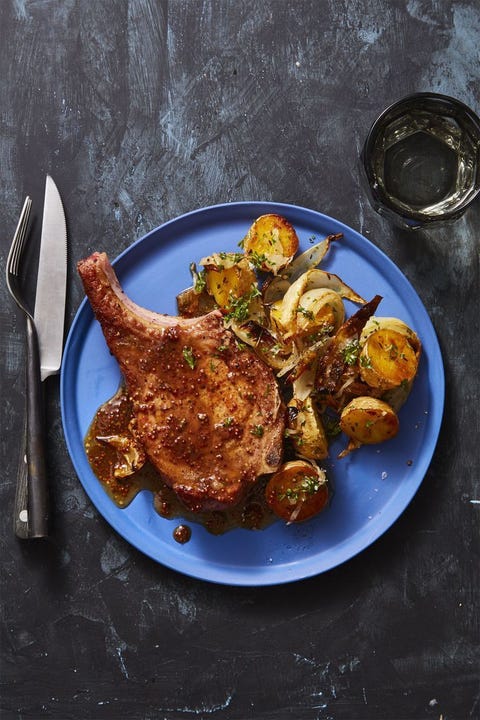 Crispy Caprese Cakes
Use leftover risotto to make these fried cakes, a fun twist on a popular flavor combo, in a pinch.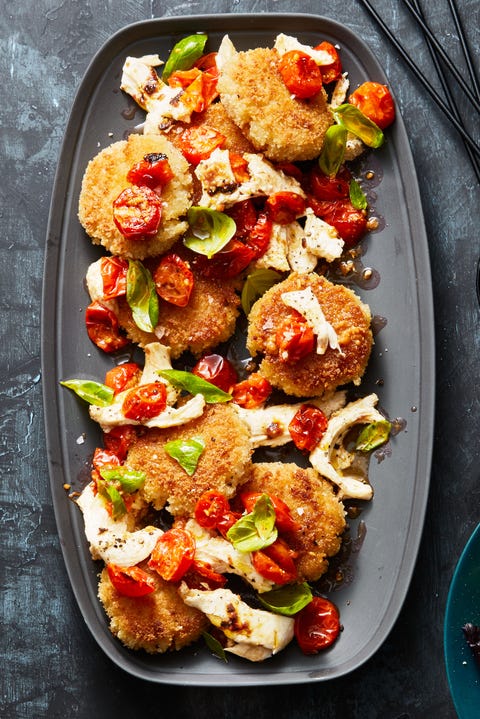 Mushroom Chicken Skillet With Herbed Cream Sauce
Add some flair to your weekly chicken dinner with the help of a creamy mushroom and herb sauce.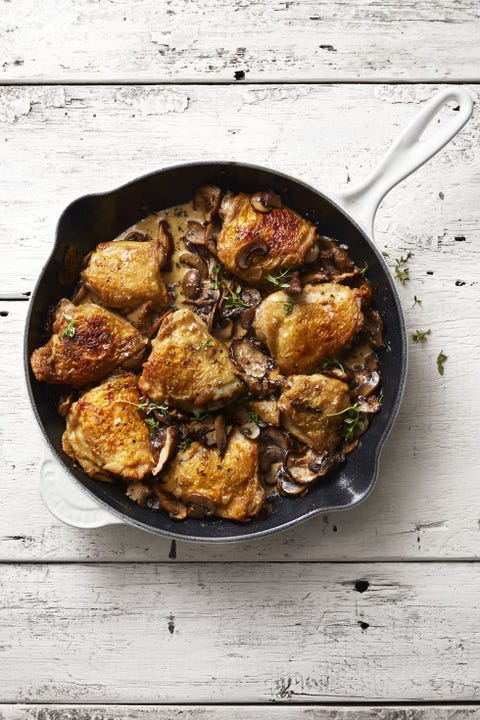 Fennel and Thyme Pork Roast With Root Vegetables
Pull out all the stops with this meat and veggies combo that comes together with the help of your trusty sheet pan.