Best Martin Luther King Jr. Day Recipes
Martin Luther King Jr. Day Recipes
When I think of the measure of a man like the Rev. Dr. Martin Luther King Jr.—a brilliant orator, a philosopher and teacher, a theologian, an activist and leader, a man of peace, a champion of equal rights and justice for all men and women—I also think of the place from whence he came. A descendant of slaves, a son of the South, a devoted Baptist, a child of god with a humble upbringing in a loving family and aspirations, this "recipe" created what Dr. King ultimately became and the destiny he would fulfill. I think of the way Dr. King would change the world and the conversation on race and who we are in America, which has never been more timely than today.
The excitement and brilliance of Dr. King's tastebuds happily resonated with a few of my heartfelt Southern food favorites and gave me insight into this extraordinary man of great humility and taste. Little known facts to some, but those of us who do know value the power of Southern delicacies as a key to the character of a man and his postured position.
As a chef, author and food activist, a host and storyteller and, like Dr. King, a child of the South, a product of the Baptist church, a descendant of slaves with an active imagination and a loving family, I am possessed with a driven passion to extol the virtue, majesty and innovation of the African American kitchen, full of traditions and love. In my research for this piece, I was beyond thrilled to learn of the many Southern food "likes" I share with Dr. King.
Martin, to his family and friends, Dr. King loved a few of the hallmark specialty recipes of the South with great reverence and grace. In no special order, he was known to enjoy as frequently as possible, a generous serving of fried chicken, stewed greens, sweet potatoes, and for dessert, a slice or two of pecan pie.
In my book Meals Music and Muses, I celebrate not only these dishes, but the freedom and all of the civil rights that Dr. King, with his tremendous sacrifices, made possible for me and all people of color in these United States. I am thankful for his guidance and strength, courage, determination and sacrifice.
We celebrate your birth and your life Dr. King. I am honored to acknowledge your legacy and to walk in your promise of a better world everyday. Now, can I get an amen?!
HONOR MARTIN LUTHER KING JR. DAY WITH THESE SOUTHERN RECIPES
Today is Martin Luther King Jr. Day and what better way to honor an American hero than with food? Dr. King was from the South and his favorite foods prove he was a true southern comfort food lover. According to historical accounts, King's favorite food was pecan pie. He also enjoyed other southern staples like fried chicken, sweet potatoes, and collard greens.
To showcase a true memorial to a great American thought leader and revolutionary, incorporate some southern flare into your cooking today with these Martin Luther King Jr. inspired recipes.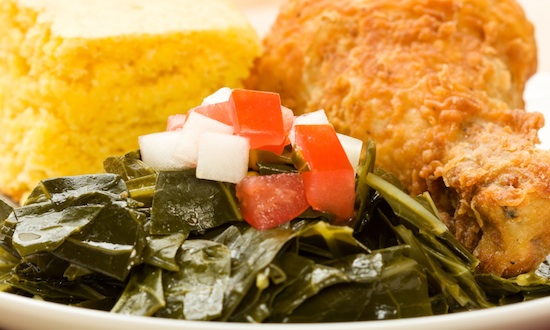 Pecan Pie
There is no better place to find a fantastic Pecan Pie recipe, aside from your southern grandma's recipe box, than Southern Living Magazine. The magazine has the top 14 southern-approved pecan pie recipes all in one place. My favorite is the Mom's Pecan Pie recipe. As the name suggests, this is the pie that will taste just like what your mom or grandma used to make. If you have never made a pecan pie before this recipe is a great starting place. It utilizes pre-made pie crust and just the essentials.
Fried Chicken
There is barely anything more southern than fried chicken. When it comes to fried chicken there is no one I trust more than the ultimate food centered Southern Belle herself, Paula Deen. Paula's fried chicken recipe is prepared in traditional southern fashion utilizing the perfect House Seasoning recipe. The seasoning on your fried chicken will make or break the entire meal. Paula's house seasoning is some of the best out there and her recipe is simple.
Candied Sweet Potatoes
Candied sweet potatoes are a favorite of the south and can be found gracing the tables for holidays and special occasions. The following recipe is super easy and (most importantly) tasty.
Ingredients:
6 large sweet potatoes
1/2 cup butter
2 cups white granulated sugar
1 teaspoon ground cinnamon
1 teaspoon ground nutmeg
1 tablespoon vanilla extract
Pinch of salt
Directions:
Peel the potatoes and slice.
Melt your butter in a skillet and add in the slices of sweet potato.
Meanwhile mix your dry ingredients together (salt, nutmeg, cinnamon, sugar).
Cover the sweet potatoes with the sugar mixture and stir together in the skillet.
Turn your heat down to low and let simmer for approximately an hour. You will know when the potatoes are near finished because the sauce will turn dark and will start to thicken and candy.
Once the potatoes are candied, stir in the vanilla and serve.
Collard Greens
Collard Greens are easy to cook and taste fantastic slightly wilted and served with vinegar. However, if you are in the mood to try a fancier version of collard greens, I suggest Martha Stewart's Collard Greens with Bacon recipe.
Martin Luther King Jr. Day is a time to reflect and honor the words of a spectacular revolutionary and also the perfect time to pay homage to some of his favorite things with some southern inspired recipes.