Best Martin Luther King Jr. Day Facts
Martin Luther King Jr. Day Facts
Dr. Martin Luther King, Jr. was a Baptist minister who became a civil rights leader, promoting nonviolent activities to achieve equal rights for African Americans. His legacy relates to his ability to motivate local and federal government lawmakers to end racial discrimination and to create economic justice for poor Americans in all aspects of their lives including housing, employment and education. Discover several important facts about Martin Luther King, Jr.
Born in Georgia
Martin Luther King, Jr. was born on January 15, 1929, in Atlanta, Georgia, to Michael Luther King, Sr. and Alberta King. Martin's given name, at birth, was Michael, like his father's. His father changed both of their given names to Martin after a visit to Germany in honor of the Protestant leader, Martin Luther.
Became a Pastor at 19
King's father and grandfather were ministers, all pastoring at Ebenezer Baptist Church in Atlanta. Young Martin followed in his family's footsteps and chose the ministry as his vocation. He became an ordained Baptist reverend when he was 19 years old. He served with his father as co-pastor at Ebenezer prior to continuing his education.
Graduated from Morehouse College
Martin Luther King, Jr. attended public schools in Atlanta, earning advanced placement to Morehouse College when he was only 15. His father and grandfather had also attended Morehouse College. He earned a B.A. degree in Sociology from Morehouse College in 1948.
Earned Two Graduate Degrees
In 1951, Martin Luther King earned a Bachelor of Divinity degree from Crozer Theological Seminary in Chester, Pennsylvania. He then moved on to Boston University to study for his doctorate. He garnered a Doctorate of Philosophy in Systematic Theology from Boston University in 1955.
Married Coretta Scott King
While attending Boston University, he met Coretta Scott, a singer and civil rights activist, who was a student at the New England Conservatory of Music in Boston. They were married on June 18, 1953, at her parents' home in Heiberger, Alabama.
Relocated to Montgomery, Alabama
In 1954, Martin Luther King accepted the call to pastor the Dexter Avenue Baptist Church in his new bride's home state of Alabama. The church was located in the city of Montgomery, a highly-segregated city where almost half the citizens were African American. He became very involved in the community as a civil rights activist, including serving on the executive committee of the National Association for the Advancement of Colored Persons (NAACP).
Founded Montgomery Improvement Associaton
In 1955, King founded the Montgomery Improvement Association (MIA) in conjunction with other executive members and officers of the NAACP's Montgomery chapter. The MIA, a group of local Black ministers and community leaders which was formed to improve race relations in Montgomery.
Lead the Montgomery Bus Boycott
In 1955, as President of the MIA, King led the nonviolent Montgomery Bus Boycott, which ultimately led to the desegregation of city buses. The bus boycott resulted from the Rosa Parks bus incident. Rosa, the secretary of the local chapter of the NAACP, famously refused to give up her seat to a white woman. King's involvement in the 381-day boycott led the Supreme Court of the United States to rule that bus segregation was unconstitutional.
Became a Father of Four
Coretta Scott King gave birth to Yolanda Denise King on November 17, 1955. The first of four children, Yolanda was joined by her brother Martin Luther King III on October 23, 1957. They were both born in Montgomery; the two younger children were born in Atlanta. Dexter Scott King joined the family on January 30, 1961, followed by Bernice Albertine King on March 28, 1963.
Helped Establish and Led SCLC
In 1957, Martin Luther King, Jr. worked with Ralph Abernathy and many other civil rights leaders, activists and pastors to found the Southern Christian Leadership Conference (SCLC) in Atlanta. This organization was formed to battle segregation and achieve civil rights of African Americans across the United States using civil disobedience such as sit-ins and demonstrations. King was elected president of the SCLC.
Moved Back to Atlanta
In 1960, King left his pastoral position in Alabama to returned to his hometown of Atlanta. While continuing to serve as co-paster of Ebenezer Baptist Church, he began a full-time pursuit of civil rights through nonviolent means, such as sit-ins and marches. The goals of the civil rights movement focused on abolishing racial discrimination in many areas including public transportation, employment, voting, and education.
Birmingham Protest and Arrest
In April of 1963, King organized and participated in non-violent protests in Birmingham seeking to end desegregation in Alabama's largest city. This protest garnered brutal police responses with dogs and high-pressure water hoses that were widely covered on national network news. Television cameras showed King and other peaceful marchers being attacked by police dogs and fire hoses, then being arrested. King refused bail, then wrote his Letter from a Birmingham Jail.
Organized March on Washington for Jobs and Freedom
King worked with other civil rights leaders to organize the March on Washington for Jobs and Freedom, which took place on August 28, 1963. The purpose of the march was to protest racial discrimination in employment and racial separatism in schools, while also demanding fair wages for all workers. The march was the largest gathering in Washington, DC's history. It was at this march that King delivered his famous I Have a Dream speech at the Lincon Memorial.
Role in Selma Marches for Voting Rights
In the spring of 1965, King helped to organize the Selma to Montgomery marches for voting rights. During the March 7 event, King and many other nonviolent marchers were brutalized by law enforcement officers on the Edmund Pettus Bridge in Selma, Alabama. Many protestors were seriously injured during the March; one person was killed by members of the Ku Klux Klan (KKK). Dozens of others, including King, were arrested. The day came to be known as Bloody Sunday. A few days later, on March 21, protestors gathered once again and were able to complete their multi-day trek to the state capitol in Montgomery.
Provided Extensive Civil Rights Leadership
King was very active as a civil rights leader from his 1955 arrival in Montgomery until his untimely death in 1968. His strong belief in non-violent protest helped set the tone of the civil rights movement. Examples of the many actions King was involved with include:
Student Nonviolent Coordinating Committee in Greensboro, North Carolina, who were holding sit-ins at lunch counters across the south
Freedom Riders, who traveled in pairs on interstate buses to test a new Federal law against segregated bus stations
Congress of Racial Equality, which had chapters throughout the U.S. concentrating on challenging racial segregation
Walk to Freedom, a 250,000 participant walk demanding jobs and civil rights
Poor People's Campaign, an effort to help all people living in poor economic conditions
Multiple civil rights demonstrations
Effected Legislative Change
The civil rights movement, largely due to the leadership of Martin Luther King, Jr., led to significant legislative change in the United States. Nonviolent actions and civil disobedience caused many highly-publicized crisis situations where the government was forced to take a stand or to take action with legislation. Boycotts, sit-ins, protests, and marches were eventually effective, and significant legislation was passed against racial discrimination. Notable legislation during this time included:
Civil Rights Act of 1964 – banned discrimination in employment and public accommodations based on race, color, religion, or national origin
Voting Rights Act of 1965 – restored and protected the right to vote
Immigration and Nationality Services Act of 1965 – allows immigration from groups other than those from the traditional European countries
Fair Housing Act of 1968 – banned housing discrimination for sales or rentals
Widely Recognized for Civil Rights Accomplishments
Martin Luther King received over fifty honorary college degrees as well as several prestigious awards during or because of the thirteen years that he was active in the civil rights movement. Examples include:
Time magazine's "Man of the Year" in 1963 to commemorate his position as the spokesperson of the civil rights movement
American Liberties Medallion in 1965 from the American Jewish Committee for the advancement of human liberty
Nobel Peace Prize in 1964 for successfully using non-violent actions to fight racial equality
Presidential Medal of Freedom, the highest award granted to citizens by the President of the United States, from Jimmy Carter in 1977 (awarded posthumously)
Congressional Gold Medal, the highest award granted by an act of U.S. Congress, in 2004 (awarded posthumously)
Published Several Books
Throughout his life, Martin Luther King, Jr. was an author. He wrote many books and articles about his beliefs and experiences in the civil rights movement while fighting for African Americans. King's writings include:
The Autobiography of Martin Luther King Jr.
Strength to Love
Why We Can't Wait
The Measure of a Man
The Trumpet of Conscience
Where Do We Go from Here: Chaos or Community
Memphis Sanitation Workers' Strike
In early 1968 King became involved in a growing civil rights demonstration in Memphis, Tennessee. On February 12, 1968, 1,300 Black sanitation workers in Memphis began protesting their terrible working conditions, discrimination, and low pay. The American Federation of State, County, and Municipal Employees (AFSCME) and the workers demanded union recognition, higher wages and an end to discrimination. King went to Memphis three times to support the sanitation workers. The strike lasted 64 days, ending on April 12, 1968. King was assassinated in Memphis on April 3, the day after his last speech in support of the striking workers.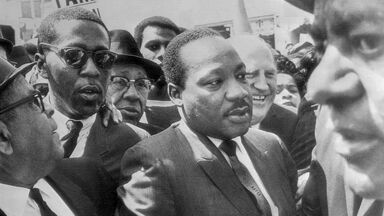 Assassination in Memphis
King was in Memphis, Tennessee on April 4, 1968, staying at the Lorraine Motel in room 306. In the evening, King was standing on the balcony, when he was struck by a bullet. King was rushed to the Saint Joseph Hospital. Although doctors attempted to save his life, he was pronounced dead shortly after his arrival. Martin Luther King was only 39 years old at the time of his death. The motel where he was shot is now the site of the National Civil Rights Museum.
A Life of Impact
The Reverend Dr. Martin Luther King, Jr. lived a life of impact. The Martin Luther King, Jr. facts shared here reflect only a few of his notable accomplishments. His life is a testament to the fact that one person can change the world. Even though he has been gone since 1968, he continues to inspire leaders in the continued struggle for equality. A memorial to Martin Luther King, Jr. Memorial stands in the southwest portion of the National Mall in Washington D.C. Explore the Martin Luther King, Jr. timeline for more perspective on the life of this great man. Continue learning about great Black leaders by exploring Kamala Harris' historic path to becoming the first female and Black vice president of the U.S.