Best Martin Luther King Jr. Day Activities
Martin Luther King Jr. Day Activities
Martin Luther King Jr. is a man to remember and teach on Martin Luther King day. Here are 27 ideas and activities I hope you find helpful in teaching diversity and Martin Luther King Jr. facts.
The third Monday in January is a great day to use one of these writing activities, worksheets, or project ideas.
1. Crayon Box That Talked – Review diversity, why each child is special and deserving based on using the affiliate read aloud book, "The Crayon Box That Talked."
2. Diversity With Play-dough – Hiding color in the middle of playdough balls is a great visual to demonstrate diversity and that people are people.
3. Fair or Unfair – An equality sorting activity for students to decide whether statements are just or unjust for up through fifth grade.
4. Sneetches Video – A classic way to start discussion about diversity with primary students and to make deeper level connections with upper elementary students.
5. The Same On The Inside – Egg Experiment – Similar to the playdough experiment above this activity helps young students visualize and understand diversity and value.
I Have A Dream Speech Printables
6. Whats Your Dream – Have students break down what their dreams are for the family, themselves and the world.
7. Snowflake Dream – Use patterning or art to have students featured their goals and dreams on a snowflake template with super easy strips of paper.
8. Dreams Class Book – With 2 templates, create a class book with everyone's hopes and dreams.
MLK Quotes and Poem
9. What Are You Doing For Others – This printable quote is from Matrin Luther King Jr. and reminds us to ask ourselves what we are doing for others.
10. Poetry Journal – Here's a poem and a craft template to add to a poetry journal that sums up who MLK Jr. was.
11. Whole World in His Dream – To the tune of a familiar song, this easy to sing tune is great for kindergarten.
Character Traits Printables
12. Who Is MLK – This set of 5 printable pages covers a class book, a word web and a MLK writing paper for first grade.
13. Martin Luther King Jr Was – A graphic organizer that is perfect for writing about who he was.
Martin Luther King Day Writing Activities
14. Martin Luther King Day Word Work – Students will love figuring out the mystery word phrase in this word work activity for third grade.
15. Hooray, Hooray It's MLK Day – Here is a set of 3 templates to write or answer questions about Dr. King.
16. Martin Luther King Quotes – This packet of worksheets includes a crossword puzzle, word search, word scramble and Martin Luther King quotes.
17. Martins Dream Workpage – If you read the book Martin's Dream by Amy June Bates, then this fill in the blank work page is a good follow up.
Compare And Contrast
18. Martin Luther King Venn Diagram – Bring in more social studies by using a then and now venn diagram comparison chart.
Martin Luther King Jr Units
19. Thank You Dr. King – This 30 page mini-unit uses apples to help discuss diversity, character traits and more.
20. Dr. King Mini Unit – This 12 page mini-unit has writing pages and a MLK Jr. fact fill in for kindergarten and first grade.
Facts and Research
21. The Life of Martin Luther King – Here's how to teach research using MLK information from webquests to create timelines.
22. Martin Luther King Facts – With a one page summary of Dr. King's life, students can write 5 facts that they learned.
23. The King and His Dream – A way to explore and connect to this video with preschoolers.
MLK Jr. Inspired Crafts
24. Peace Flower – Make a flower out of a handprint using various shades of skin tone paper.
25. How Would You Change the World – This gorgeous end product project is a sincere way for kids to use art and a simple sentence to write about how they want to impact the world.
26. Martin Luther King Mobile (no longer avilable) – Create a mobile with your class' dreams all written on a printable circle template.
27. Fingerprint Dove Tutorial – Create a class art piece with lots of colors to symbolize how it takes all of us to make things peaceful.
Martin Luther King Jr. Activities
1. Read and share books that showcase King's beliefs
Martin Luther King Jr.'s message wasn't exclusively about race. He also spoke about gender stereotypes, poverty, and privilege. Read books about black Americans  who were trailblazers. Read more books about the many ways social justice can be sought.
2. Host a Mix It Up at Lunch Day
Teaching Tolerance has a great program called Mix It Up at Lunch Day that helps kids step out of their comfort zone and interact with people who are different from them.
3. Take a virtual museum visit to Memphis
The Lorraine Motel, in Memphis, Tennessee, where Martin Luther King Jr. was assassinated, is now the National Civil Rights Museum. Students who don't live nearby can take a virtual tour of the space. The Smithsonian site also features King-related items that students can view online.
4. Learn about pacifism and the philosophy of nonviolent resistance
Along with Ghandi, King is one of the world's most notable pacifists. Nonviolent resistance was at the core of King's civil rights efforts, for which he was awarded the Nobel Peace Prize in 1964. King's six principles of nonviolence and six principles for nonviolent direct action are a great way to introduce students to the concept.
Have students read King's "Letter from Birmingham Jail" and talk about the pros and cons of nonviolent resistance. Or as a class identify several current injustices or issues and discuss ways that nonviolent strategy might address them.
Younger students might work together to identify words associated with nonviolence and then select several words to design their own peace jigsaw puzzle.
5. Let Martin's great words inspire art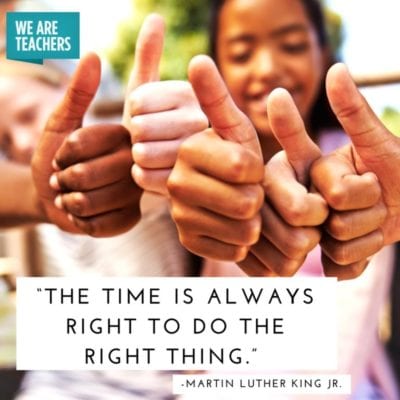 King was a very compelling and persuasive speaker. And many of his words remain inspiring and relevant today. Choose several of King's quotes to share with your class. Have students create art—a picture, a comic strip, etc.—inspired by a King quote of their choosing. As students work, play one of King's speeches. After students have finished, ask them to identify the quote they chose and explain how their art reflects it. You might also read books about black artists .
6. Show students how to take on what matters to them and make a difference
Did you know that Bayard Rustin, an activist, was a significant figure in organizing the March on Washington, where King delivered his famous "I Have a Dream" speech? Or that Georgia Gilmore, a cook and midwife, secretly sold dinners to help pay for the Montgomery Bus Boycott? That's right. Those and other civil rights efforts required a lot of people to be successful. As a class, help students grasp the importance of working together by choosing a classroom goal to accomplish and identifying ways everyone can work together to accomplish it.
7. Volunteer together
King once said, "Everybody can be great because everybody can serve." And the Martin Luther King Jr. holiday has become an official day of service. Identify a simple but effective way your class can serve your school or local community, such as cleaning up a park or helping the custodian tidy up the school or visiting a local senior citizen home. If you can, make it an event that happens more than once a school year. There are so many different volunteering ideas to help make that happen.
8. Decorate your room with quotes and inspiration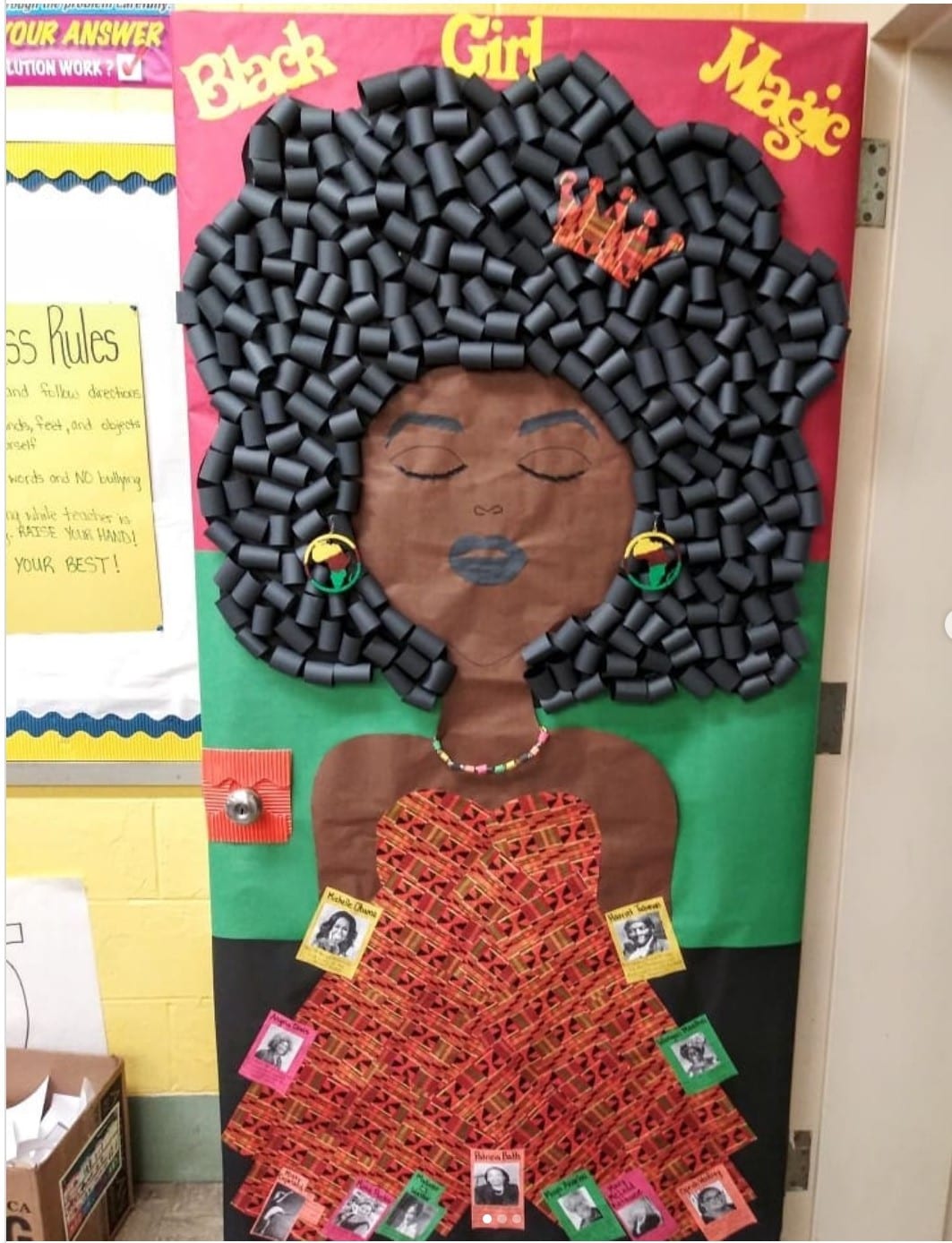 Not only do these impressively decorated doors aim to celebrate inspirational black heroes who have made history, but they also empower students and kick-start a dialogue.
"It is so much more than decor. This door has already sparked so many conversations with students I've never met or talked to before," said high school teacher, Mrs. Lewis. Check out some of the other inspiring ways teachers have decorated their classroom doors for Black History Month.
9. Start the deep dive into understanding social justice
If you want to guide your students through conversations about inclusion, diversity, and equity, it's important to both teach the history and build upon the work of the countless people who contributed to social justice movements throughout the years. Here are 21 Free Resources for Teaching Social Justice in the Classroom.