Best Happy Valentines Day Crafts
Happy Valentines Day Crafts
The best gifts are the ones that come from the heart, and there's no better day to show some heart than on Valentine's Day. Just so you know, Valentine's Day crafts aren't just for kids (though, of course, there are plenty of great V-Day crafts for little ones), and as well as serving as perfect Valentine's Day decor, homemade crafts make thoughtful gifts for your loved ones, too. Whether you choose to keep them in your own house or give them away as Valentine's Day gifts from the heart, these easy Valentine's Day crafts for adults are guaranteed to make someone smile.
In addition to a heartfelt message inside a DIY Valentine's Day card, these easy-to-make crafts are one of the best ways to show you care on February 14. Try putting together a heart-shaped "rose wreath" to welcome all of your wintertime guests with flair and flourish, or craft a Valentine's Day mason jar for holding anything from beauty supplies to cutlery. Alternatively, make a few temporary (but reusable!) party supplies, like a stunning pink Valentine's Day wreath or a pair of bark-inspired Valentine's candle holders. No matter your crafting skill level, there's a DIY Valentine's Day craft for everyone, and you're sure to have a good time reliving those messier, more hands-on Valentine's Day celebrations of your childhood. Here are the best DIY Valentine's Day gifts you can make this year.
DIY Ring Plate
Ideal for holding rings or other jewelry, this DIY ring plate in simply fashioned from oven-baked clay and will remind that special someone how you feel about them every time they use it.
To make: Shape modeling clay in a shallow heart-shaped plate. Add a decorative edge and etch a saying in the bottom of the plate with a skewer or sculpting tool. Bake as directed.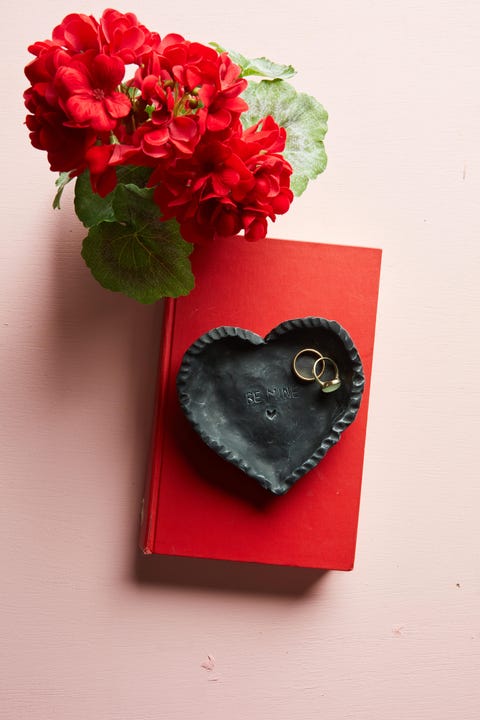 Handled Glass Mug Decorated with a Dot Heart
The sweet tea drinker in your life will be reminded of your love for them every time they use this DIY Valentine's mug.
To make: Use paint pens to draw dots into the shape of a heart on the outside of a glass mug. Allow to dry completely.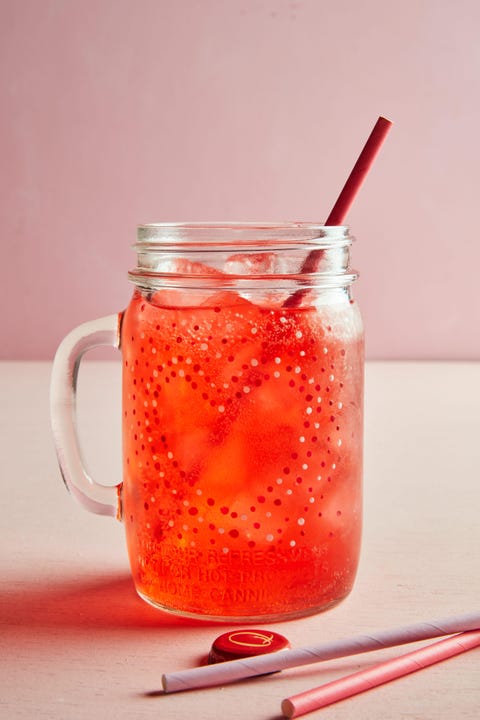 Heart-shaped Cookie Cutter Wind Chimes
Transform humble cookie cutters into cheery wind chimes that are ideal for hanging above a bed or on the front porch.

To make: Fashion a 10- to 12-inch length of wire into a heart shape; wrap with red twine, set aside. Make a clay heart with oven-baked modeling clay; punch a hole in the top for hanging and write a phrase (if desired) before baking, and set aside. Punch holes in the crook and point of 3 large, 3 medium, and 3 small heart-shaped cookie cutters. Cut three lengths of twine. Working with one length at a time, thread a large, medium, and small cookie cutter onto twine, knotting above and below each cutter so that it stays in place. Repeat with remaining twine and cookie cutters. Wrap twine lengths (being sure the hearts are facing the correct direction) around wire heart; gather twine lengths at the top and tie in a knot for hanging. Knot twine lengths at the bottom and trim. Thread a short length of twine through the ceramic heart and tie to knot at the bottom of the wine chime, and hang.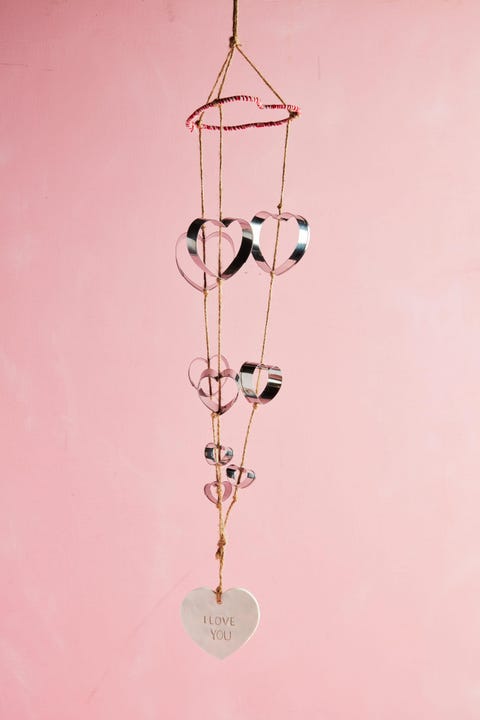 Painted Mason Jar Lantern
Give the gift of light and love with this simply decorated glass jar.
To make: Paint stripes on the inside of a mason or other glass jar with acrylic paint. Once dry, place a battery-operated tea light in the jar. Screw on lid and embellish with a piece of colorful twine or ribbon.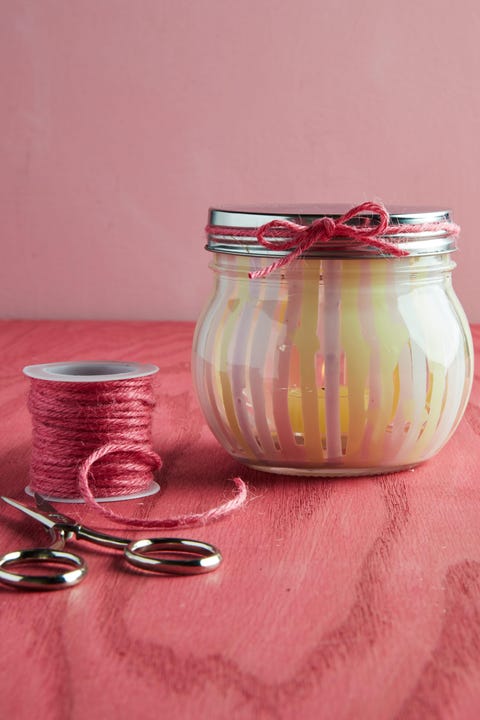 Custom Printed Market Tote
Make sure your loved one is the belle of the farmer's market by crafting her a custom market tote replete with iron-on imagery and a ribbon embellishment.

To make: On your computer, design imagery including punny sayings, if desired (ours says "I love you from my head tomatoes"). Print on iron-on transfer paper. Cut out around imagery and iron on a canvas tote bag. Attach a length of ribbon to the top of the bag with Stitch Witchery.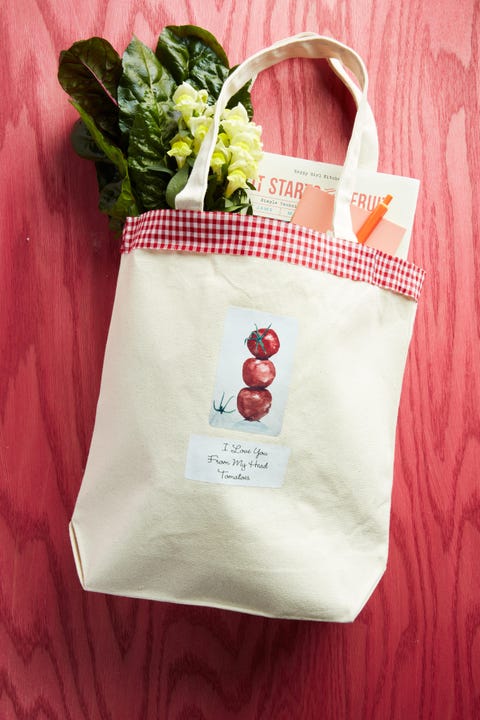 Decorated Valentine's Candy Jar
Transform a plain mason jar into a spectacular candy jar that is guaranteed to spark joy.
To make: Write loving words and draw decorations on a mason jar with acrylic markers. To make the collar: cut a long, 1-inch-wide strip of seasonally appropriate fabric. Using a needle and thread, sew a long, loose running stitch along one edge of the fabric, leaving lengths of thread at either end. Pull thread and fabric to create a ruffle. Use extra thread to tie the ruffle around the top of the jar.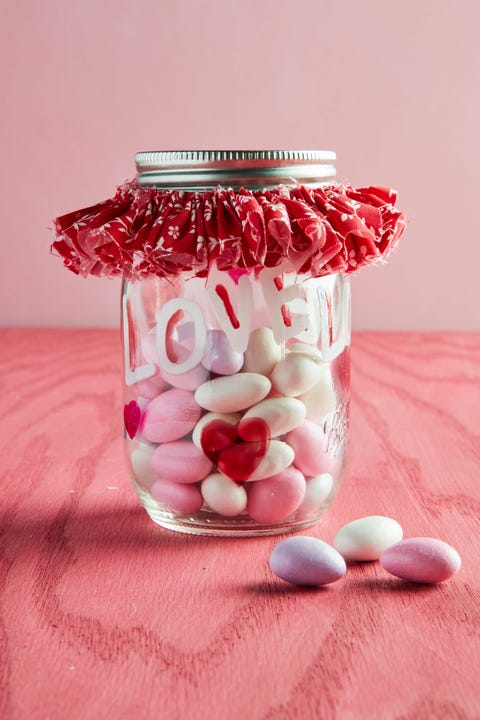 Love Message Iron-on Dishtowels
Beautiful and utilitarian, these custom dishtowels will bring love and joy to the most used room in the house: the kitchen.
To make: On your computer, design imagery including photographs, if desired. Print on iron-on transfer paper. Cut out around imagery and iron on cotton dishtowels per manufacturer's directions.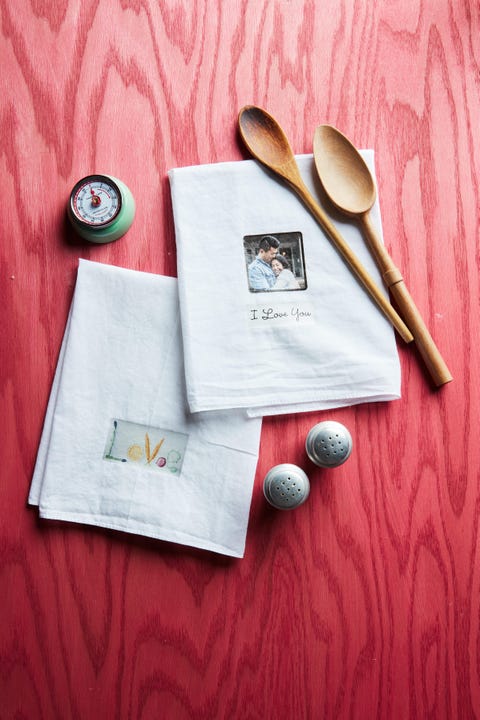 Valentine's Day Suede Earrings
These handmade earrings will look seriously festive hanging from your sweetheart's earlobes (and you can even make a pair for yourself!).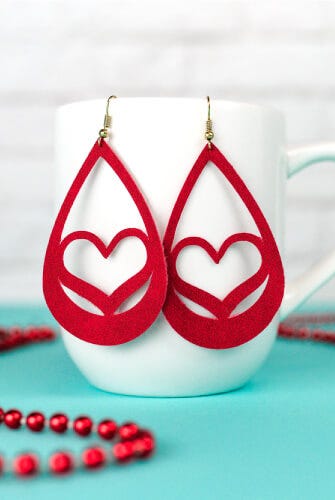 Rustic Love Barnwood Sign
The best thing about this upcycled wooden sign is that you can keep it on display all year round.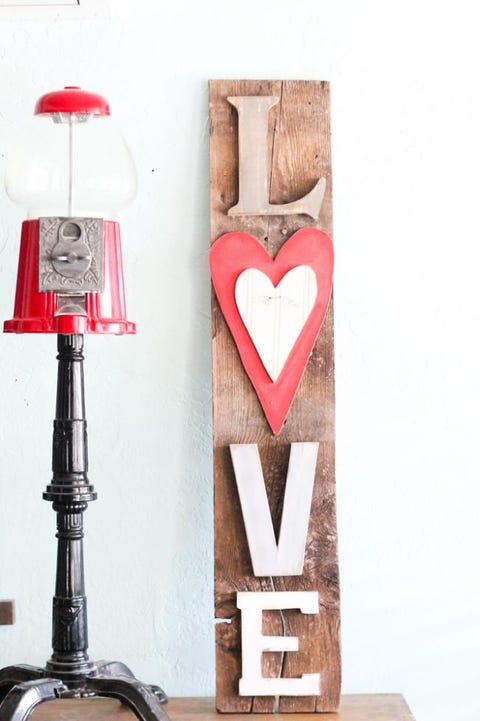 Scrap Ribbon Heart Tote Bag
No sewing is required to make this adorable (and amazingly easy!) decorated canvas tote bag.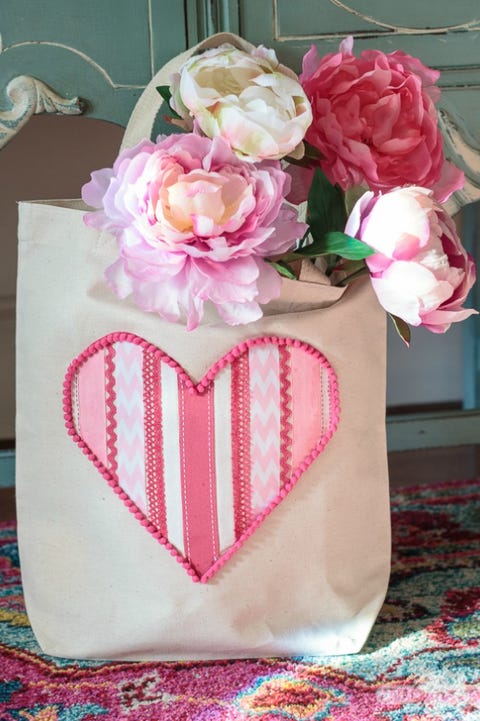 DIY Lavender Lip Balm
This adorable DIY lip balm will ensure that both you and your Valentine have perfectly kissable lips on February 14.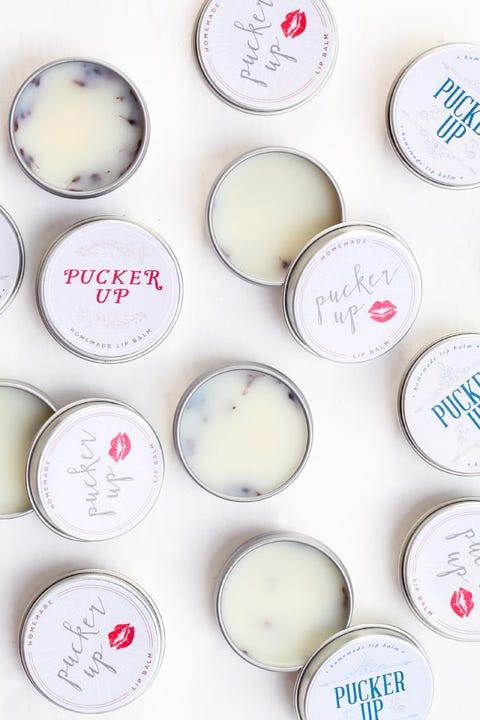 Sweetheart Candies Valentines Flower
What could be sweeter than a little flower pot decorated with conversation heart candies?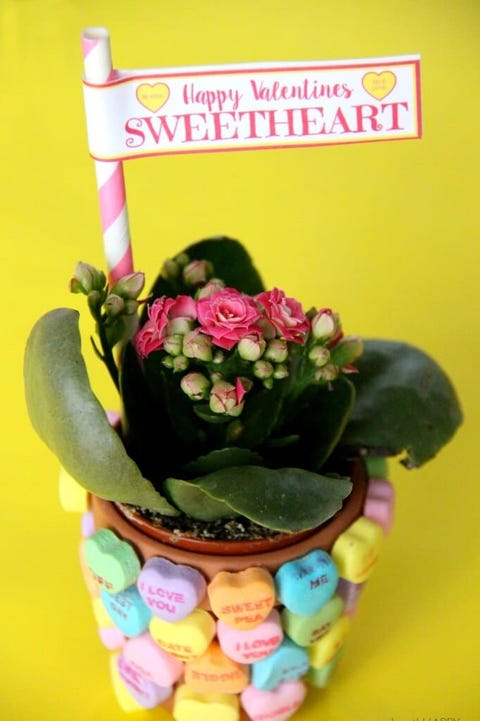 Birdhouse Valentine Box
If you've got a Cricut Maker handy, then you can easily put together this pretty pink-and-red Valentine's Day birdhouse for someone special.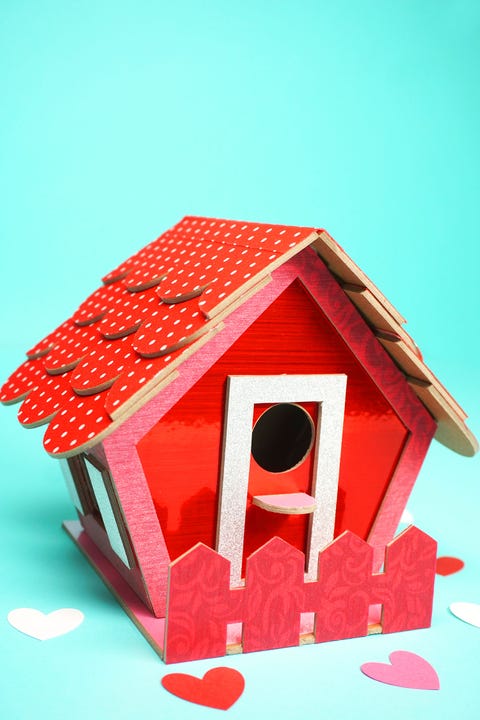 Valentine's Day Box
Likewise, a Cricut Maker can help you put together this mini Valentine's Day mailbox in a snap.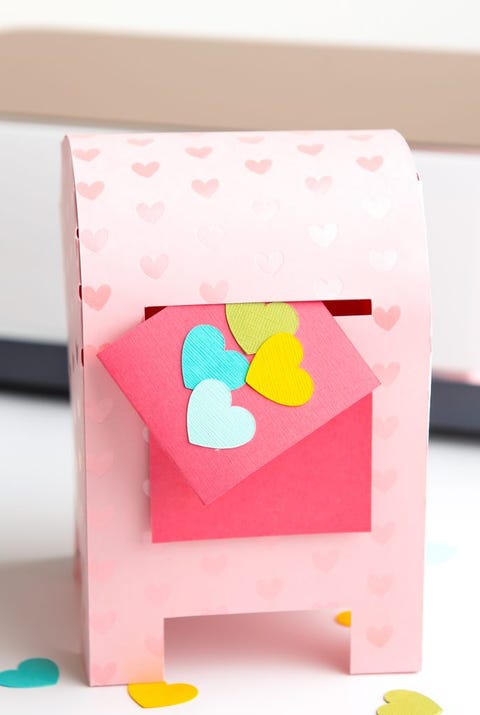 Valentine's Day Terrarium
Use pink-and-gold sand and pretty pink air plants to create this easy (and totally unique!) craft.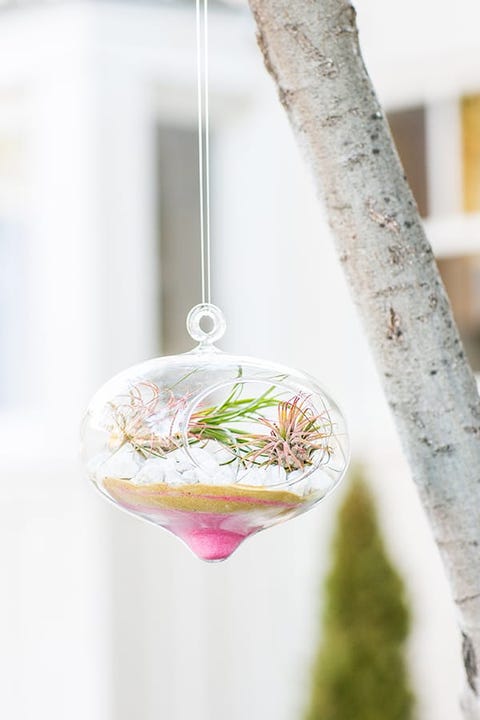 Conversation Heart Painted Rocks
A great craft for both kids and adults, these clever painted rocks serve as the perfect paperweight for your Valentine.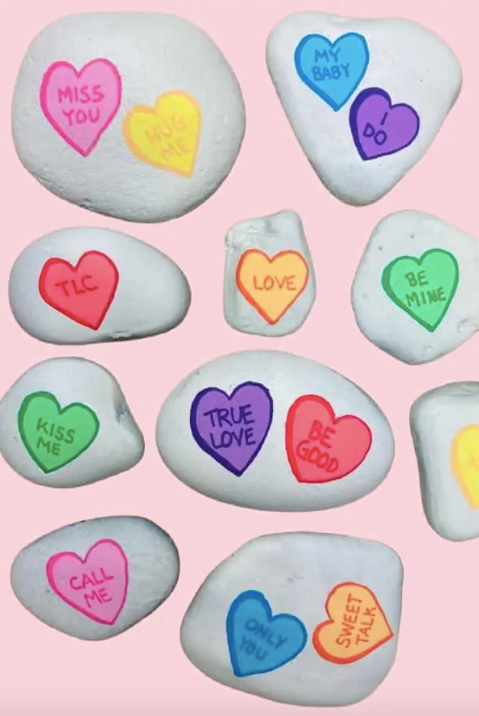 DIY Valentine's Day Embroidery Wine Bags
The only thing that could make this embroidered wine bag better is a bottle of wine to accompany it.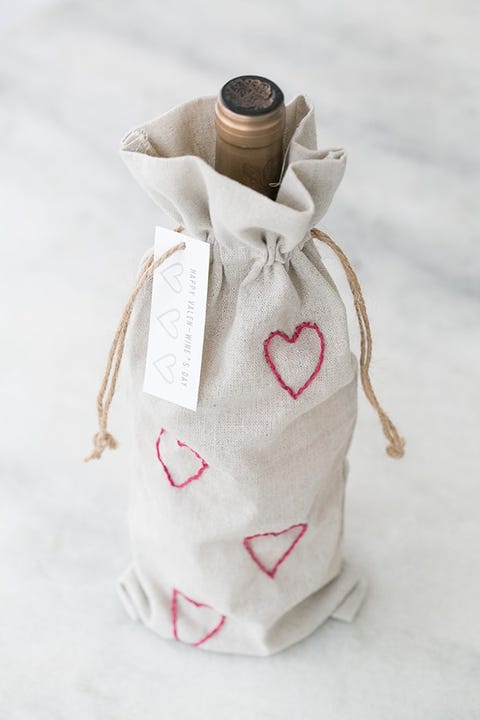 Fabric Wrapped Valentine Wreath
For a gift that sends a message, put together this easy wrapped Valentine's Day wreath.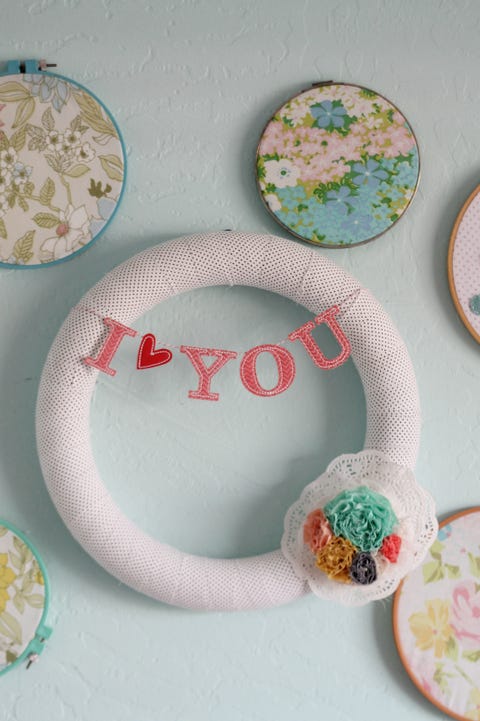 Farmhouse Heart-Shaped Coasters
These easy farmhouse-style coasters are inexpensive and oh-so-easy to make as a Valentine's Day gift.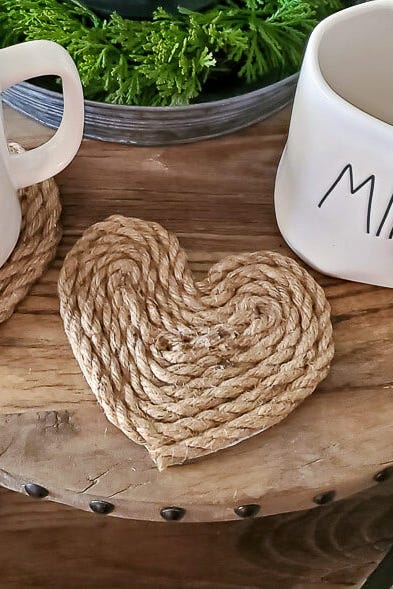 Valentine Candy Heart Centerpieces
These centerpieces will add a cute touch to any table or display (and they smell just like cotton candy!).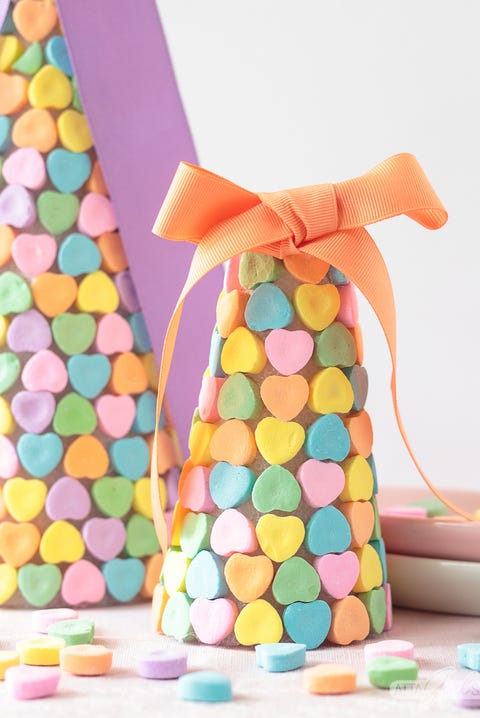 EOS Love Bug Valentine
If you're looking for a non-candy Valentine craft, then this adorable EOS lip balm love bug is calling your name.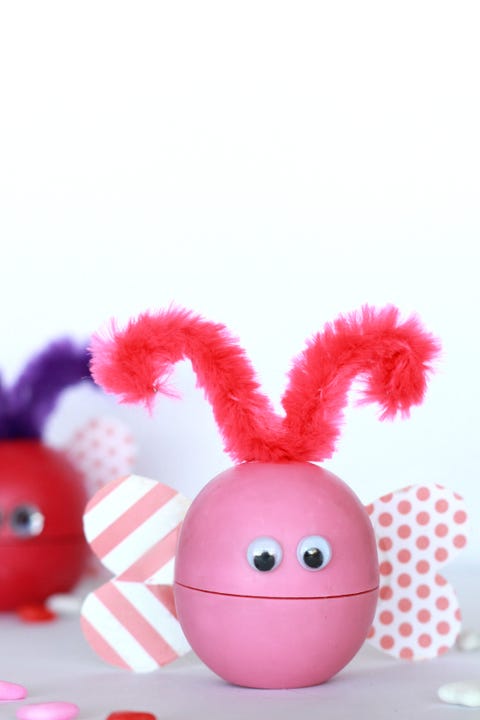 Painted Valentine's Day Vase
This simple DIY vase will look even prettier when you give it to your sweetheart with a dozen red roses inside.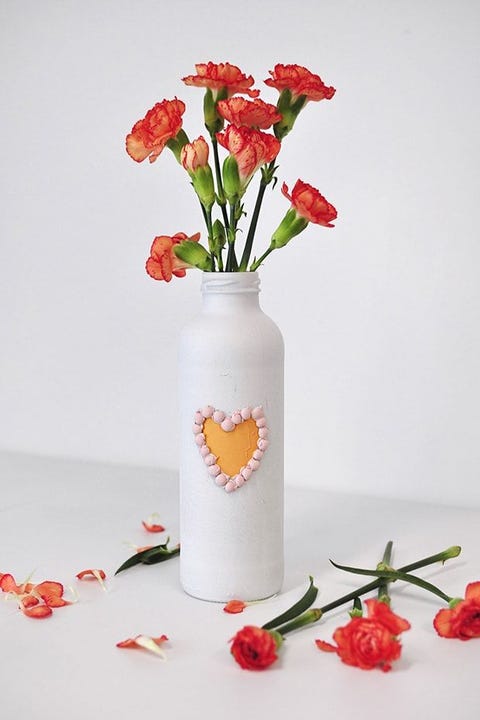 Heart Paper Flowers
Real flowers wilt all too easily, but these pretty paper flowers will last forever.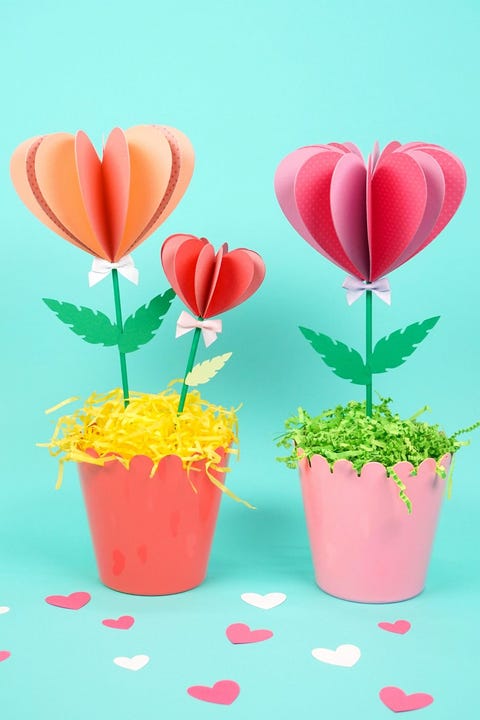 Easy DIY Valentine's XO Pillow
This no-sew XO pillow only requires some felt, fabric glue, and a few minutes to make.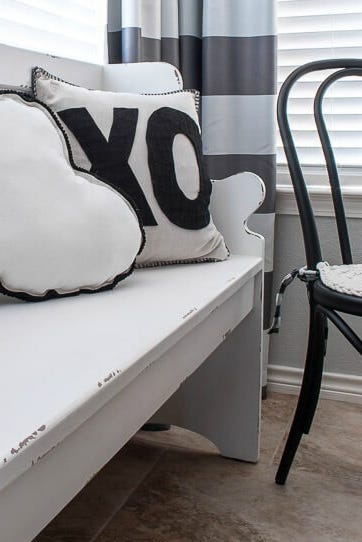 Valentine's Day Cookie Dish
Use fine tipped Sharpie and your oven to make this gorgeous heart cookie dish.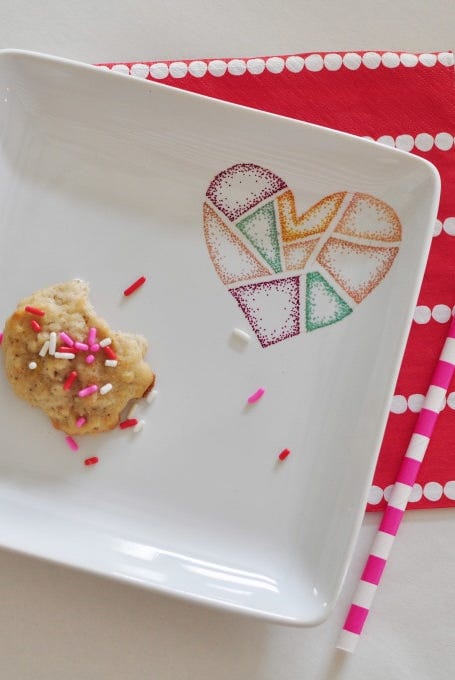 Valentine's Day Love Hoop Art
This decorated embroidery hoop will look oh-so-adorable sitting on your mantel.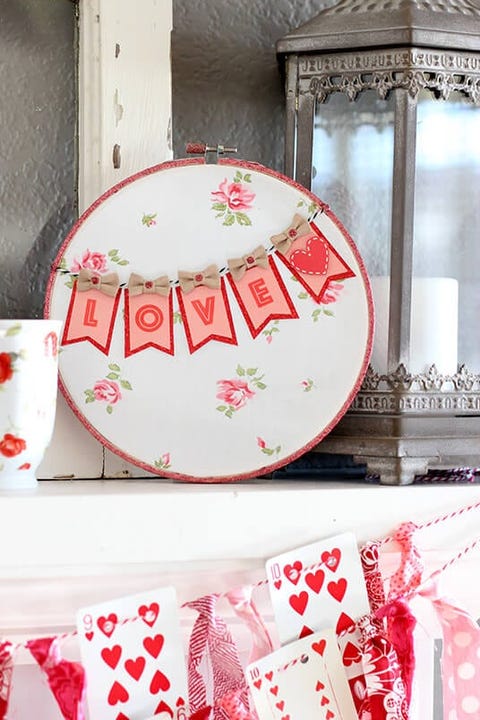 Vintage Inspired Paper Heart Garland
Made using vintage-inspired fabrics, this cut-out paper heart garland is the picture of sophistication.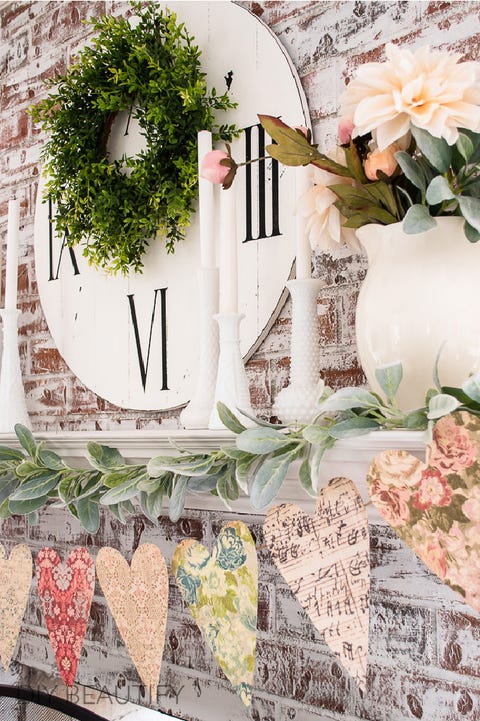 Dollar Tree Love Shack
Turn a cute little wood-frame house into an adorable Valentine's Day gift with some craft paper and a few other supplies.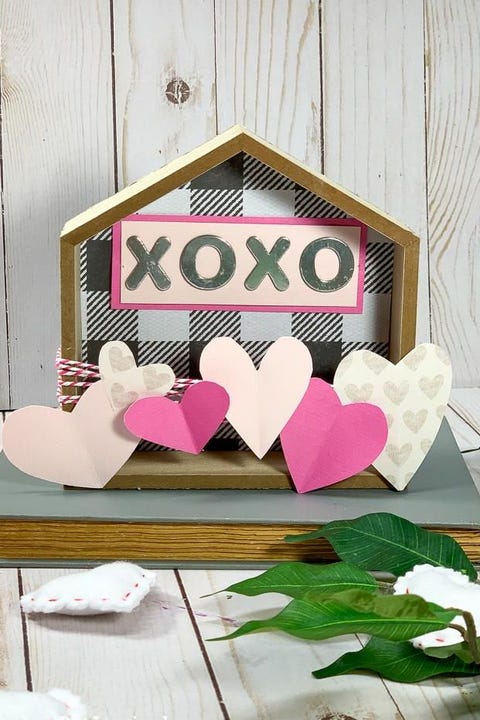 Valentine's Day Wall Art
You can put this clever craft to use all year round by swapping out the pink and hearts with other holiday decorations or photos.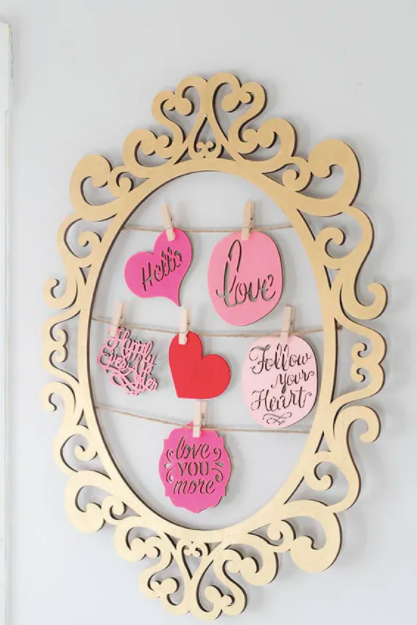 Valentine's Day Succulents
These punny little succulent are so easy to care for (and even easier to make).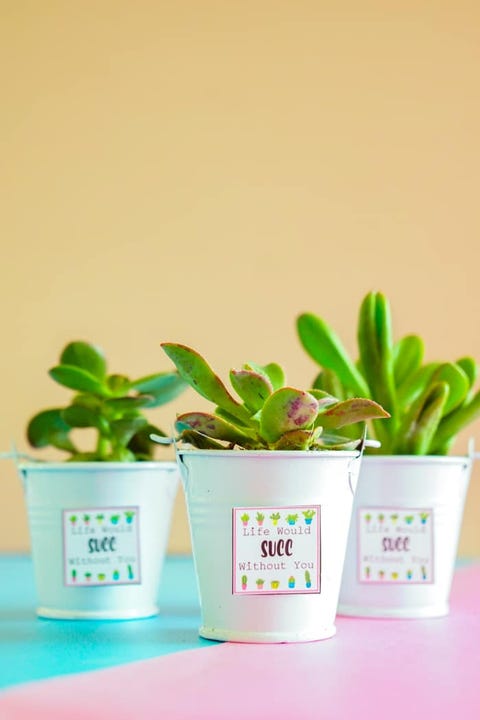 Vintage Papier-Mâché Heart Boxes
Make a few of these vintage-inspired boxes to fill with treats for your favorite Valentines.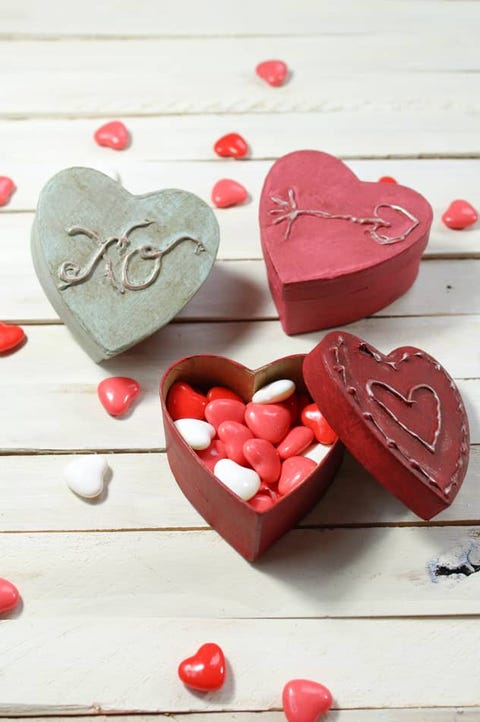 DIY Valentine Pom Pom Tray
This heart-shaped pom pom tray is ideal for holding candy or serving Valentine's Day drinks.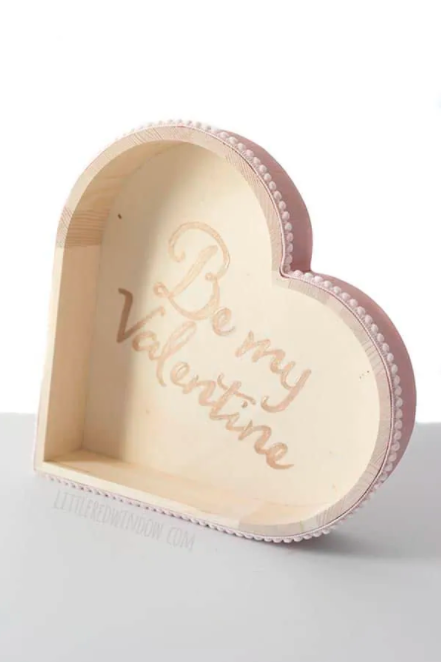 'You Mean the World to Me' Globe
We love that this craft is both punny and beautiful. Place it on your partner's nightstand for a welcome surprise on the morning of Valentine's Day!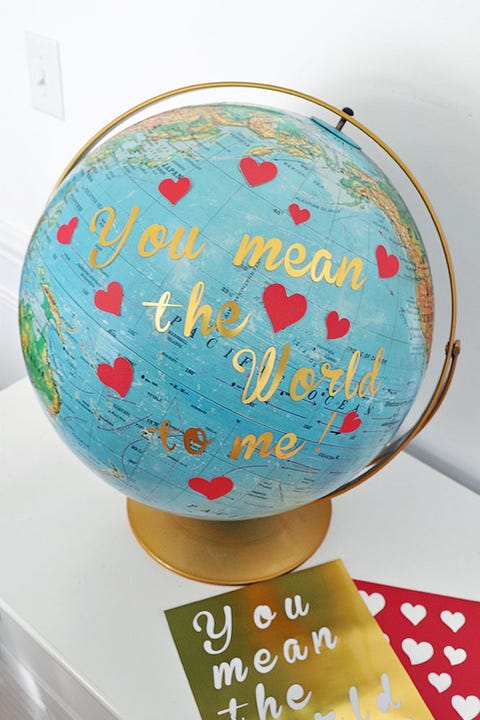 DIY Branch Heart Wall Art
Texture and color combine forces in this striking DIY. It's the ultimate statement piece for any home.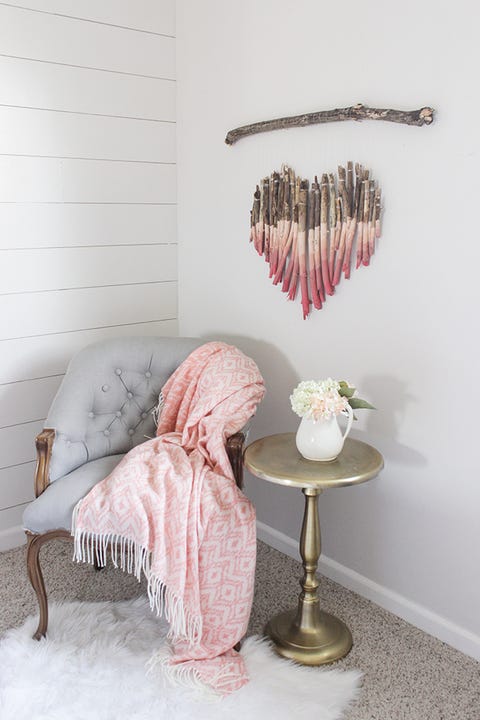 Heart Table Runner
There's something ultra-creative about this heart-shaped runner. It'll look perfect on your Galentine's Day table or set the scene at a child's Valentine's Day party.