Best Happy Valentines Day Centerpieces
Happy Valentines Day Centerpieces
Even if you're not a mushy type, it's hard not to fall in love with Valentine's Day. It's the perfect time to tell everyone you love just how much they mean to you with sweet DIY Valentine's Day cards and—if you're really in the festive spirit—fill your home with Valentine's Day decorations fit for the season. Whether you're in the market for romantic bedroom ideas or cute, simple Valentine's Day crafts for kids, you've come to the right place. We've rounded up our all-time favorite easy projects for Valentine's Day, and we can practically guarantee there's at least one idea on our list you'll be excited to start working on.
How can we be so sure that these are the best DIY Valentine's Day decorations around, you ask? Well, for starters, they're just plain adorable, that's how! But the best thing about them (and the reason why we know you'll love having them in your home) is that you can easily extend their lifespan well beyond Valentine's Day. From Valentine's Day wreaths, to cookie cutter wind chimes, to hand-formed ring bowls, these gorgeous Valentine's Day crafts make perfect decor (and double as fabulous DIY Valentine's Day gifts as well!). Here are the best pieces of Valentine's Day decor to make for your home that'll have you feeling oh-so-full of love.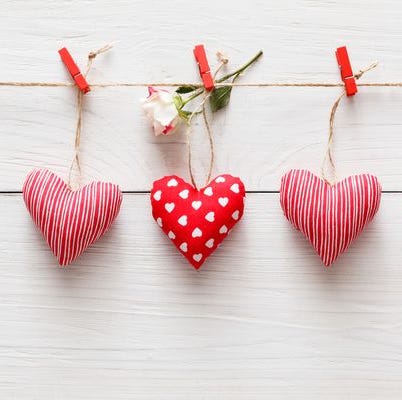 Heart-Shaped Rag Wreath
Wrap strips of soft flannel around a heart-shaped foam wreath form to create a soft statement piece that says "I love you!"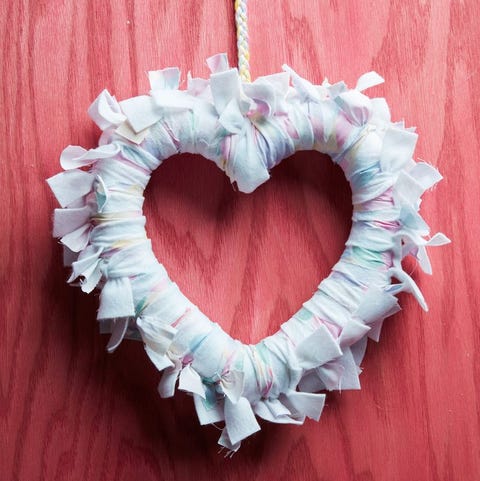 DIY Ring Plate
Ideal for holding rings or other jewelry, this DIY ring plate in simply fashioned from oven-baked clay and will remind that special someone how you feel about them every time they use it.
To make: Shape modeling clay in a shallow heart-shaped plate. Add a decorative edge and etch a saying in the bottom of the plate with a skewer or sculpting tool. Bake as directed.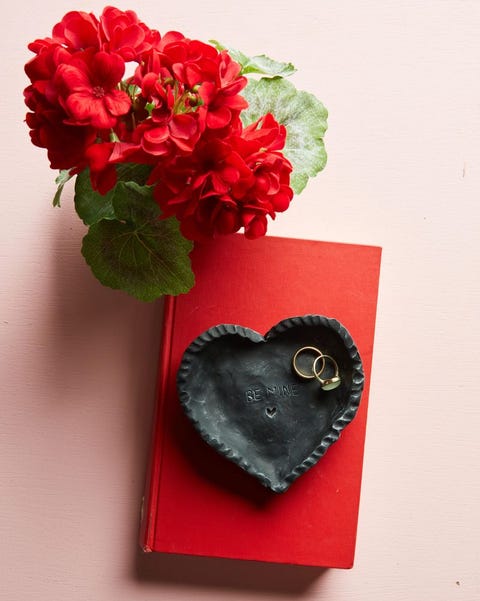 Love Message Iron-on Dishtowels
Beautiful and utilitarian, these custom dishtowels will bring love and joy to the most used room in the house—the kitchen.
To make: On your computer, design imagery including photographs, if desired. Print on iron-on transfer paper. Cut out around imagery and iron on cotton dishtowels per manufacturer's directions.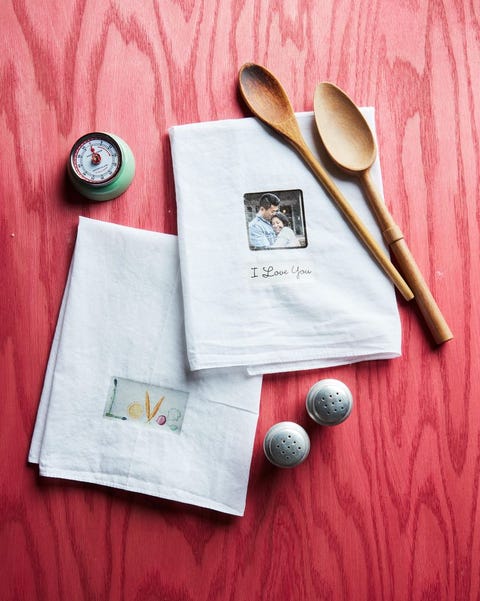 Gingham Wrapped Heart Shaped Wreath
Hang this cheerful gingham-wrapped wreath on the front door or over a headboard.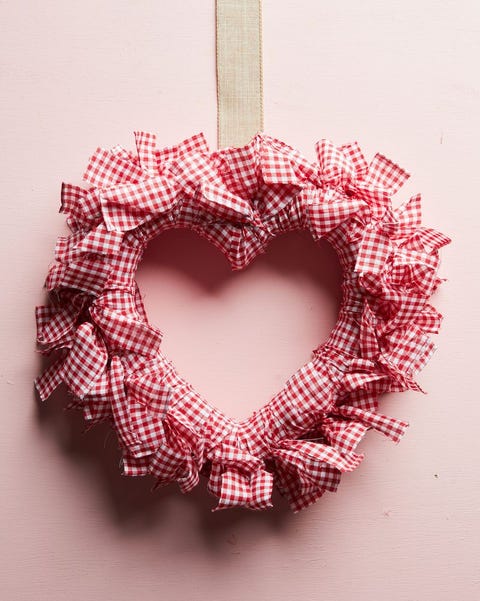 Heart-Shaped Cookie Cutter Wind Chimes
Transform humble cookie cutters into cheery wind chimes that are ideal for hanging above a bed or on the front porch.
To make: Fashion a 10- to 12-inch length of wire into a heart shape; wrap with red twine, set aside. Make a clay heart with oven-baked modeling clay; punch a hole in the top for hanging and write a phrase (if desired) before baking, and set aside. Punch holes in the crook and point of 3 large, 3 medium, and 3 small heart-shaped cookie cutters. Cut three lengths of twine. Working with one length at a time, thread a large, medium, and small cookie cutter onto twine, knotting above and below each cutter so that it stays in place. Repeat with remaining twine and cookie cutters. Wrap twine lengths (making sure the hearts are facing the correct direction) around wire heart; gather twine lengths at the top and tie in a knot for hanging. Knot twine lengths at the bottom and trim. Thread a short length of twine through the ceramic heart and tie to knot at the bottom of the wine chime, and hang.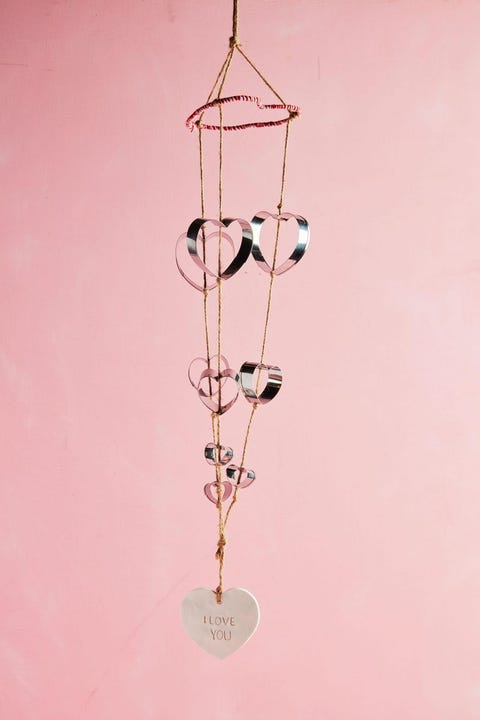 Painted Mason Jar Lantern
Give the gift of light and love with this simply decorated glass jar.
To make: Paint stripes on the inside of a mason or other glass jar with acrylic paint. Once dry, place a battery-operated tea light in the jar. Screw on lid and embellish with a piece of colorful twine or ribbon.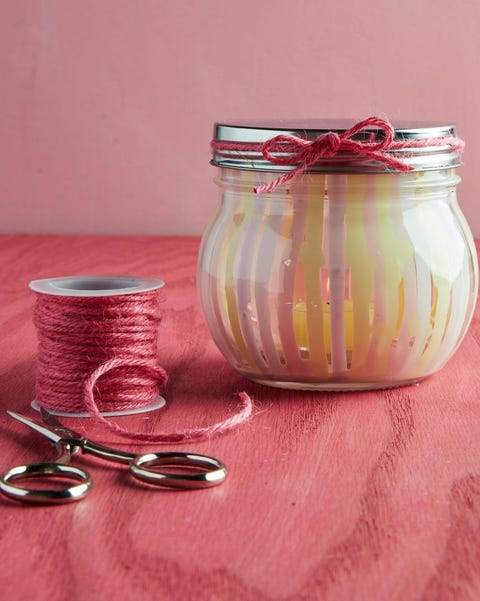 Conversation Heart Wreath
With the help of a glue gun, you can transform a bag of conversation heart candies into a super sweet door hanger.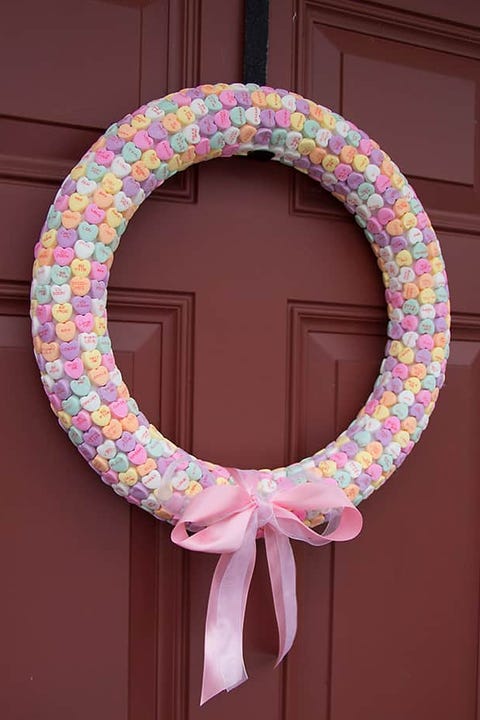 Valentine's Day Chalkboard
This heart-shaped chalkboard won't just look adorable hanging from your wall — it's also a great way to leave love notes for your family members.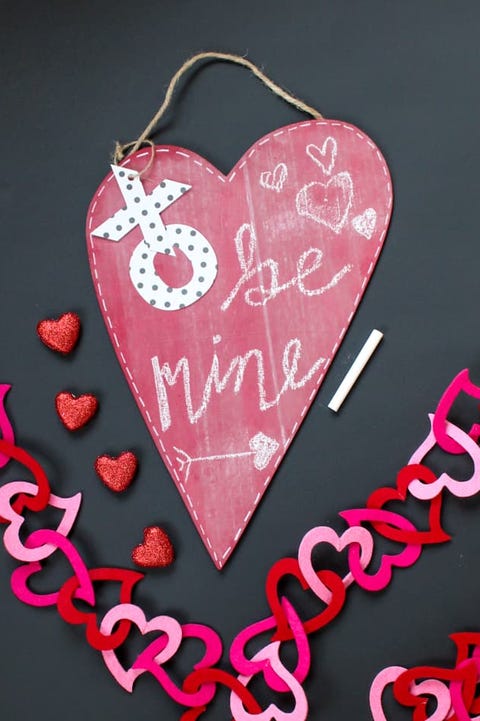 Painted Valentine's Day Vase
This simple DIY vase will look even prettier once you add a dozen red roses on Valentine's Day.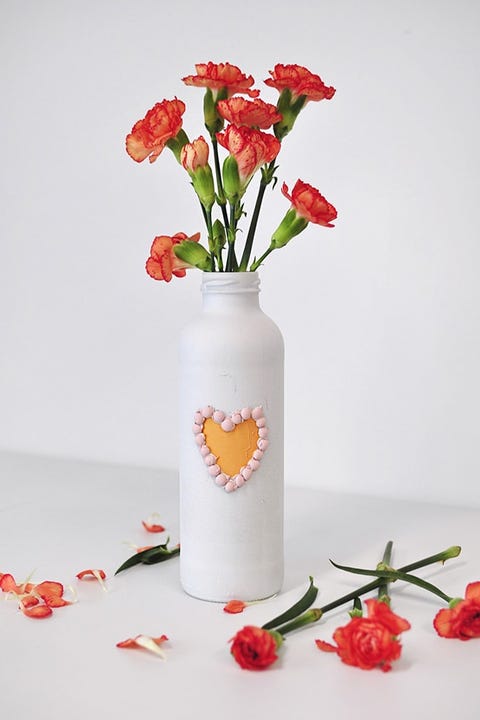 Cross Stitch Heart on Cane Webbing
Give a piece of vintage rattan cane webbing a Valentine's Day makeover with some spray paint and chunky yarn.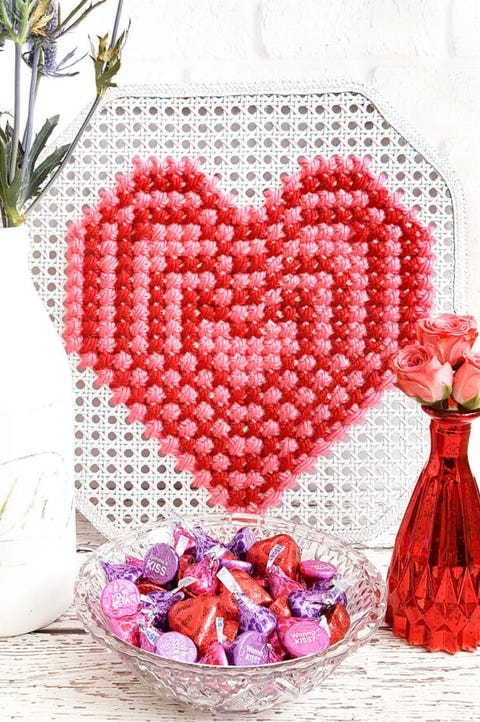 XO Valentine Door Decor
Subtle and sophisticated, this XO faux floral wall hanging can be kept up all the way through the spring.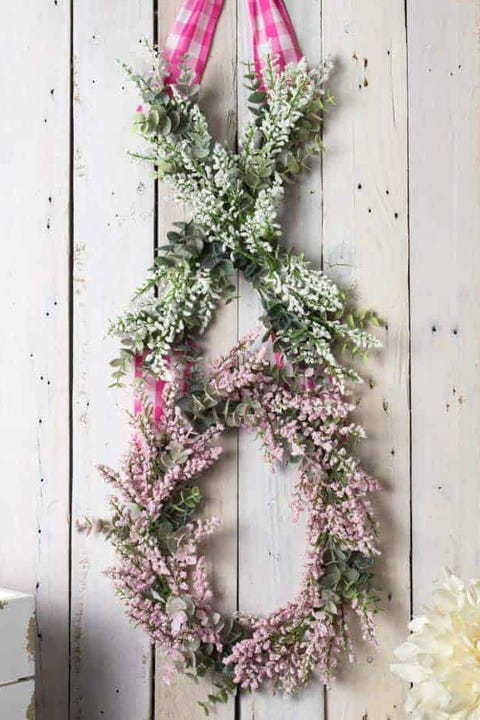 Valentine's Day Kiss Treat Box
The only thing better than a Valentine's Day kiss? An adorably-decorated box full of kisses.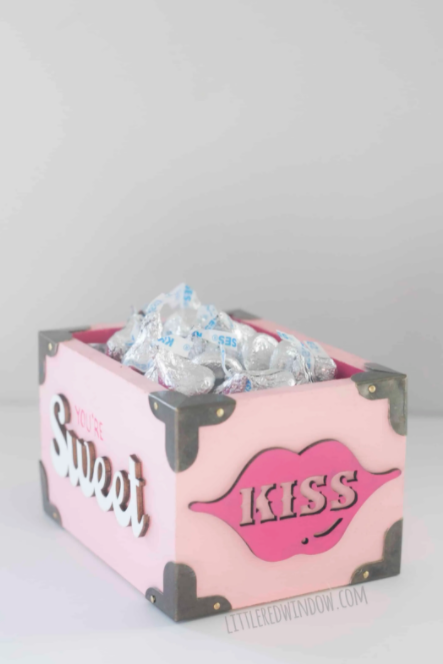 Embroidery Hoop Valentine's Day Heart Decor
If red and pink aren't your thing, then this easy craft will let you celebrate the day with a subtle touch.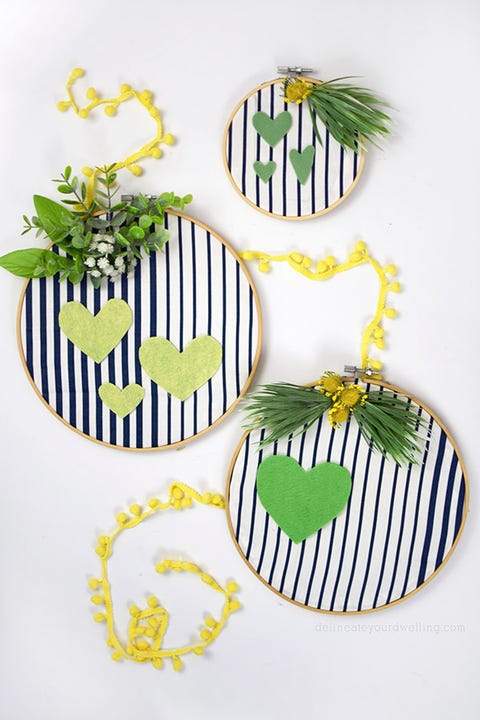 Dollar Tree Love Shack
Turn a cute little wood-frame house into a perfect piece of Valentine's Day shelf decor with some craft paper and a few other supplies.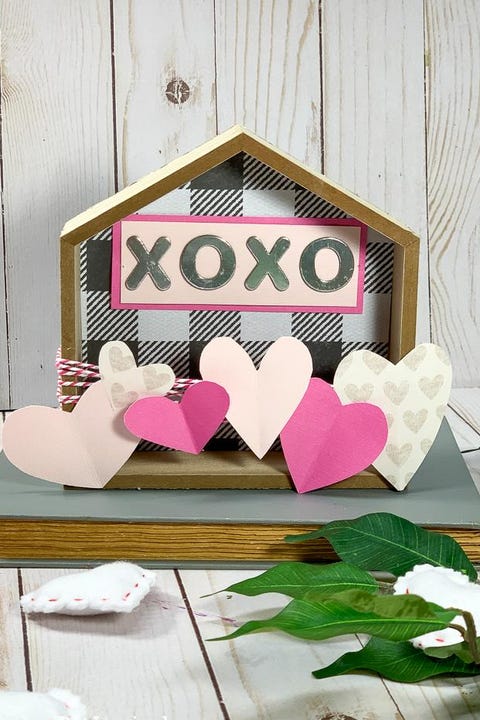 Valentine's Day Wall Art
The best part of this unique wall decor: You can reuse it all year round by swapping out the pink and hearts with other holiday decorations or photos.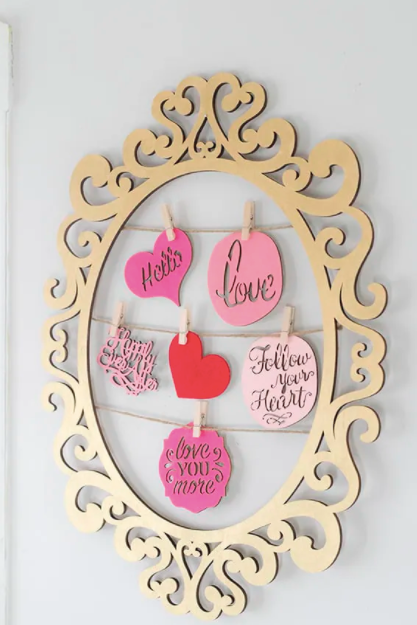 Valentine's Candy Box Wreath
Transforming a heart-shaped chocolate box into a wreath is a craft that only takes five minutes (and it means you can eat a whole box of chocolates beforehand, too!).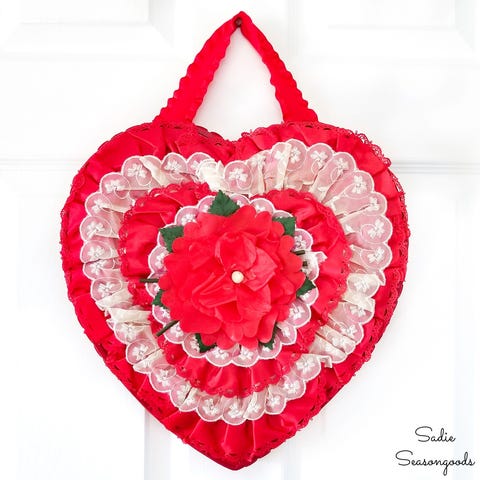 DIY Kiss Balloons
Got lipstick? Then you've got nearly all the supplies you need to create this fun Valentine's Day decoration, which will be a huge hit with all your guests.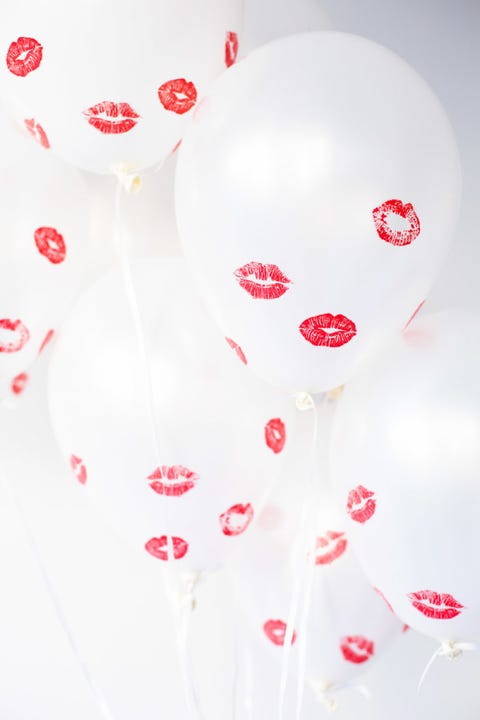 DIY Valentine's Day Globe
A pun and a cute decoration idea? We're sold.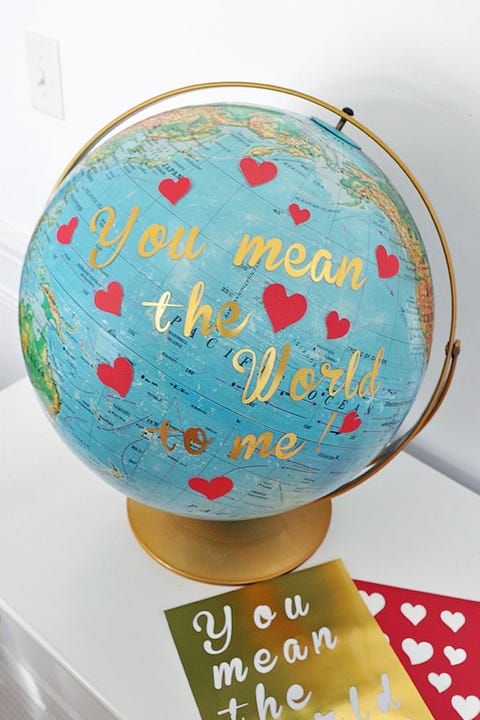 Candy Heart Garland
We love that this garland takes cues from those classic conversation heart candies. Bonus points if you include a few inside jokes of your own in the messages!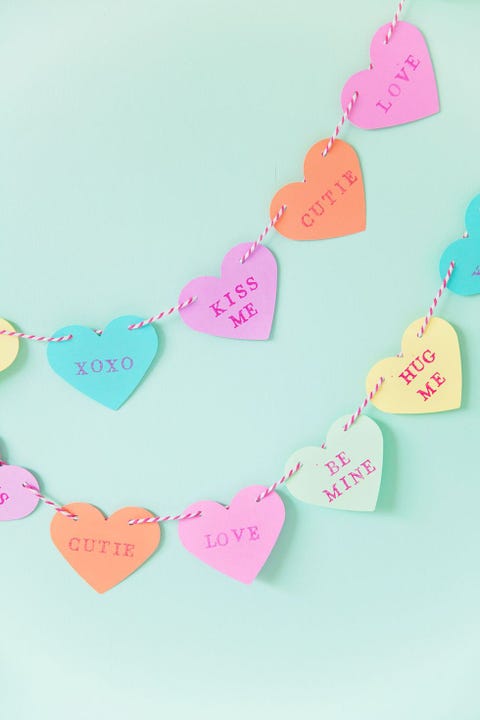 Conversation Heart Balloons
Okay, this is officially our new favorite Valentine's Day craft! Plus, it couldn't be easier—or more fun—to throw together.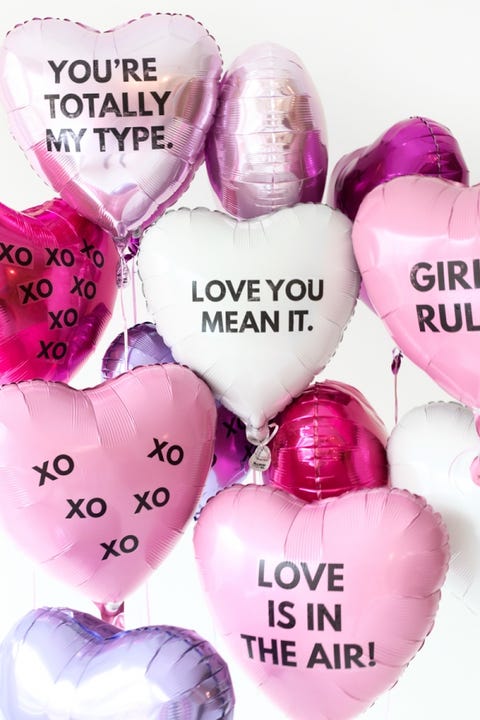 DIY Heart Garland
Make this garland, and you'll be halfway to a more Valentine-ified house! It's way easier than it looks.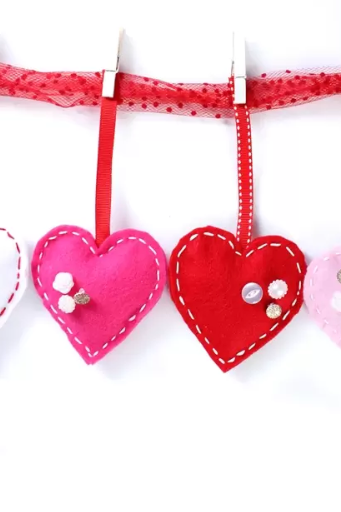 Thumbprint Mason Jars
Here's a cute idea: Have your partner lend their thumbprint to half of each of the painted hearts on this Mason jar!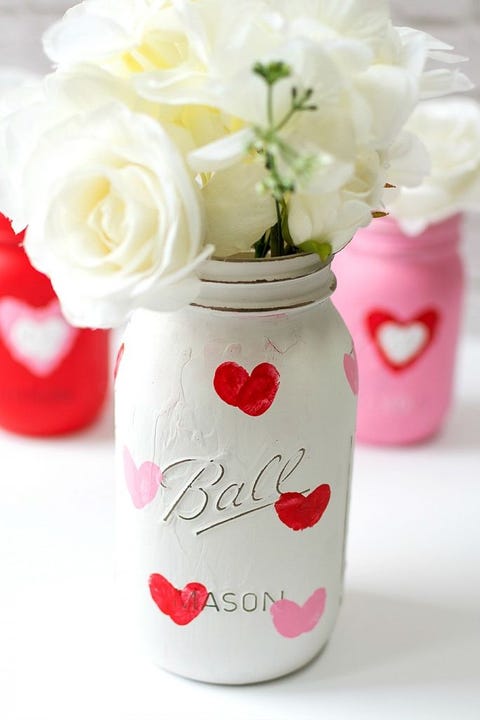 Heart Doily Balloon Tails
These doilies are an easy way to spiff up heart balloons this year.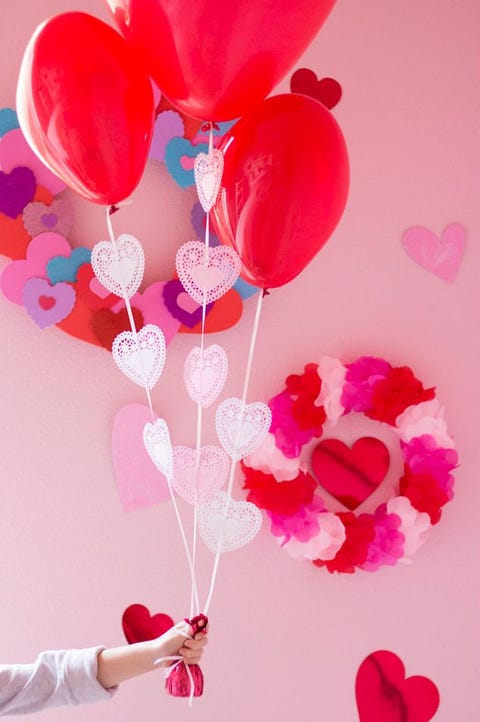 DIY Succulent Valentines
You don't have to give away these succulent Valentines—though it's certainly an option! They'll look pretty sitting together on a windowsill in your own home.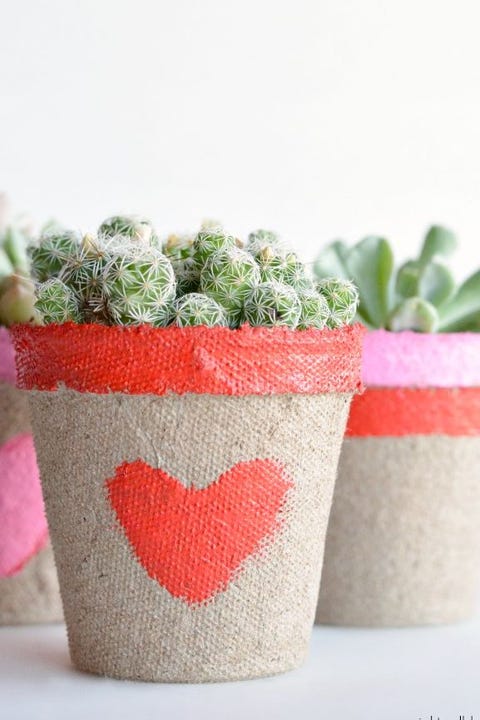 DIY Conversation Heart Tassel Charms
When it comes to romance, it's all about the first impression! Give your guests something to talk about as soon as they walk in the door with this sweet craft.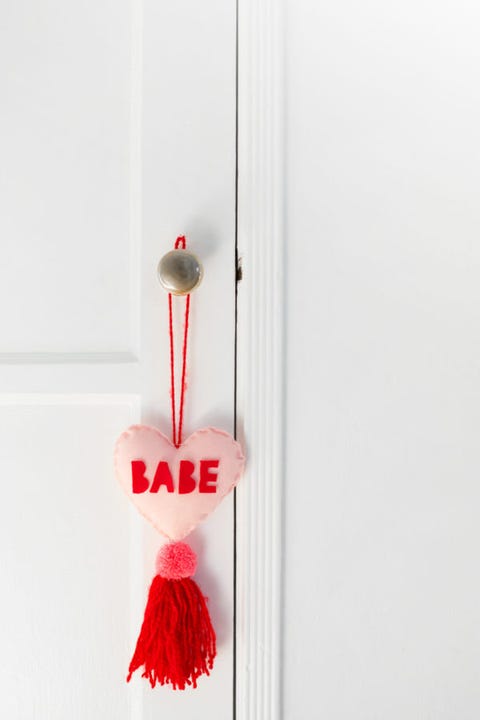 Wooden Kiss Valentine Decor
This blogger transformed old, chipped siding into rustic Valentine's Day decor fit for a farmhouse.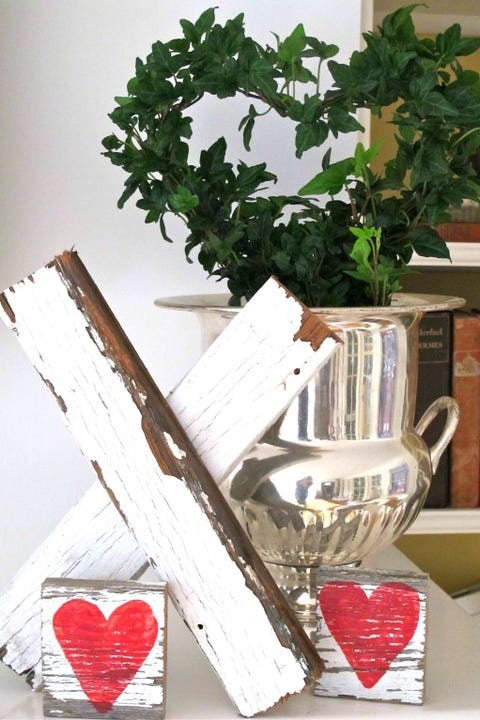 Love Letter Artwork
Turn a treasured love letter into a work of art that you can display year-round—but especially on Valentine's Day. An arrow that nods to Cupid is just a plus.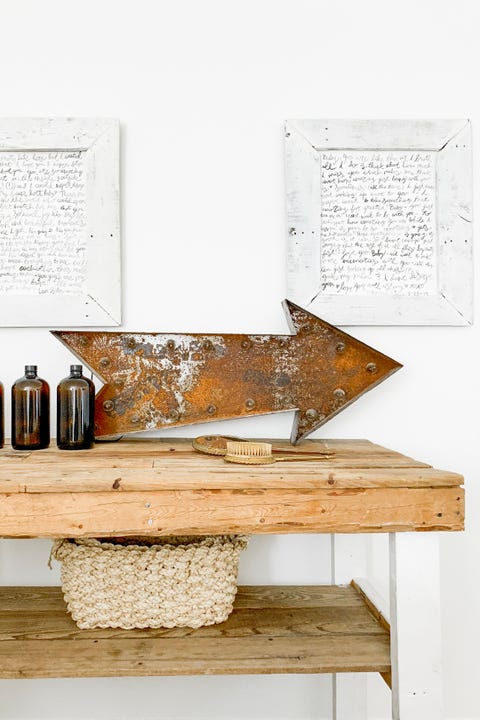 Valentine's Day Mantel Decor
A framed heart made of shiplap and vases of faux flowers serve as the focal point for this beautiful Valentine's Day mantel display.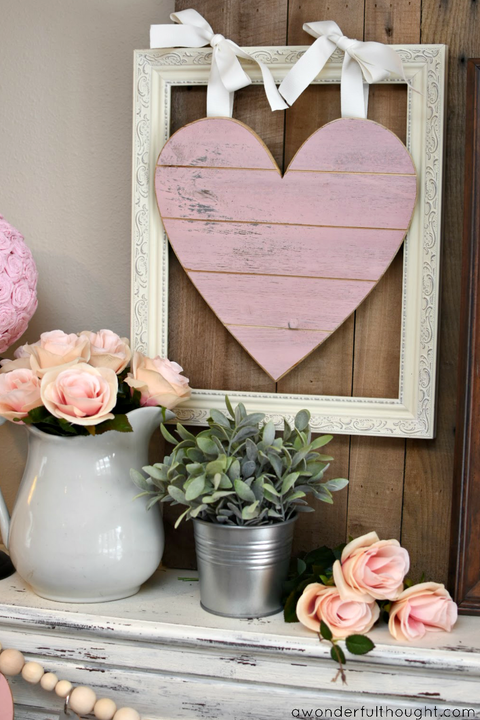 DIY Wire Heart Picks for Plants
Calling all #PlantLadies! Add a lovely touch to your Valentine's Day table decorations with heart-shaped plant picks.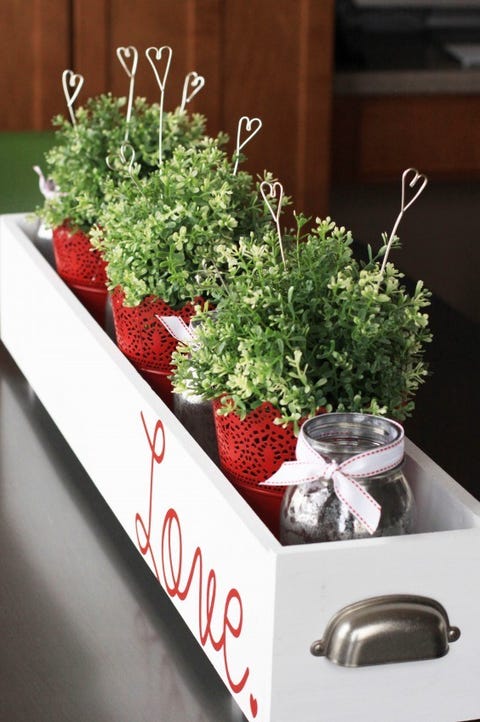 Yours and Mine Pillows
For a romantic touch in the bedroom, paint pillows with "Yours" and "Mine" designations.