Best Happy Valentines Day Candy
Happy Valentines Day Candy
Chalky conversation hearts? Too much drama. The same stuff you get on Halloween? Mix it up! There are better options when it comes to candy this Valentine's Day. Of course, you can stick to the classics (if you're into that kind of thing) but isn't the hallmark of any good relationship novelty and variety? Pair these with some flowers or a specially planned date night, and you'll be earning brownie points that will hopefully last you until next year…or at least until the next holiday. Plus, if you have a couple platonic relationships you want to show some love to this season, candy is the most enjoyable and no-brainer option for that sort of gift giving. Keep it simple!
This is the REALLY good stuff that can be found at most grocery stores or can be ordered online. It's never too early to tell people you love them, and if your love language is sweets (or gift giving!), this is the way to go.
Want more Valentine's Day inspiration? Try these Valentine's Day brunch ideas or check out these Valentine's Day gifts for her. We've got all your needs covered!
1
M&M's Valentine's Day White Cheesecake Flavor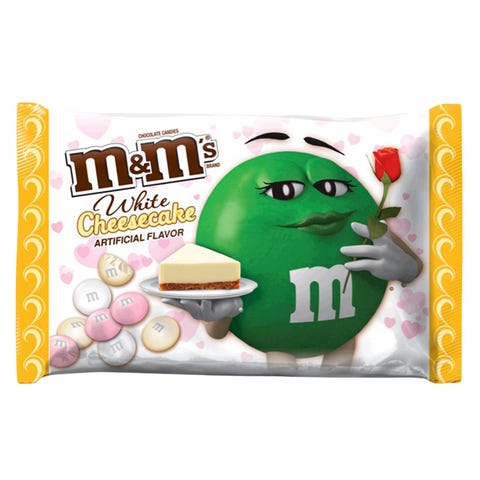 Cheesecake-flavored M&M's are back again this year for Valentine's Day, so here's hoping their seasonal success makes these a year-round offering soon. Fingers crossed!
2
Andes Mint to Be Together Candy Box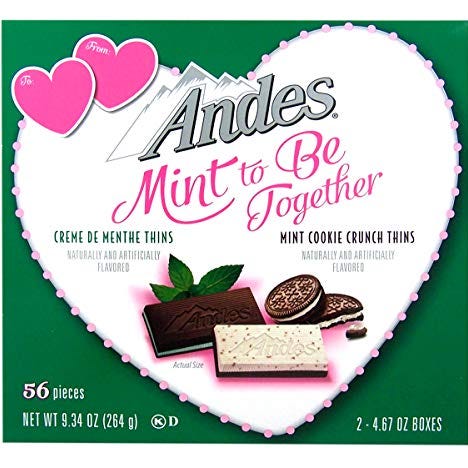 The only thing better than the perfect Valentine's candy is an added holiday pun, so we are living for this Andes "Mint to Be Together" mint chocolate box. The box comes with 56 pieces so it'll last you awhile, plus it comes with a mix of the classic creme de menthe thins AND the mint cookie crunch thins.
3
Oreo Cookie Dunking Set in Heart Box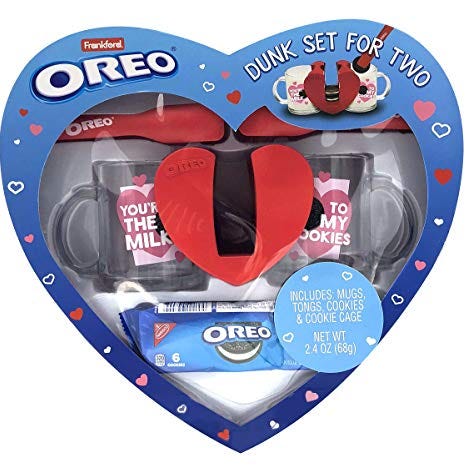 Heart-shaped boxes of candy may be popular around Valentine's Day but nothing beats this festive box of Oreos.
4
Kellogg's Rice Krispies Treats Shape-A-Heart Kit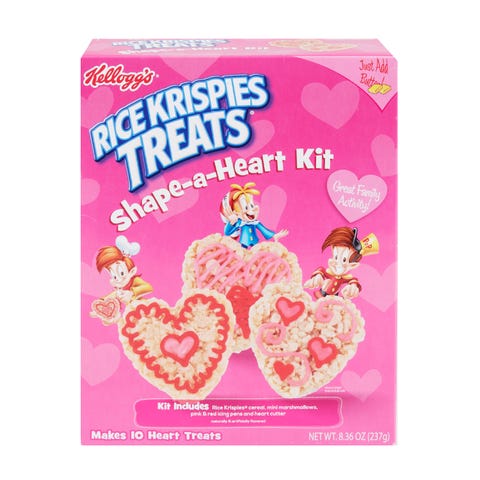 These Valentine's Rice Krispies Treats require a little bit of work, which is the fun of it! The kit comes with a cutter to make the Rice Krispies Treats heart-shaped and frosting to decorate them in any way you please.
5
Sour Patch Kids Valentine's Message Hearts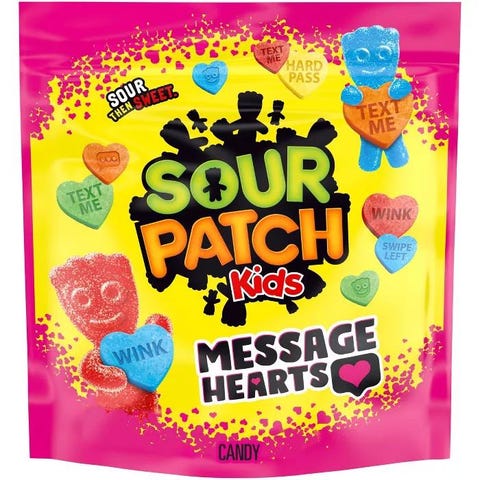 Candy hearts with a sour twist.
6
Hostess Valentine Ding Dongs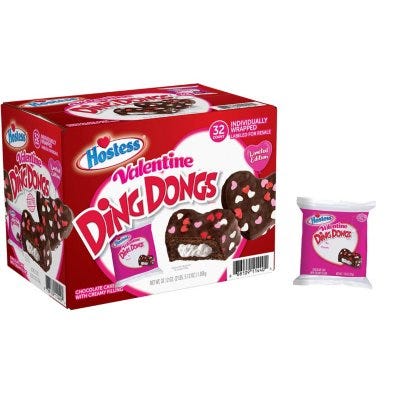 Hostess always comes through with seasonal versions of their best-selling Twinkies, Donettes, CupCakes, and Ding Dongs and the Valentine's Day editions look just as good as they sound. The Ding Dongs are the same cream-filled chocolate cakes you know and love topped with heart-shaped sprinkes.
7
Swedish Fish Hearts Candy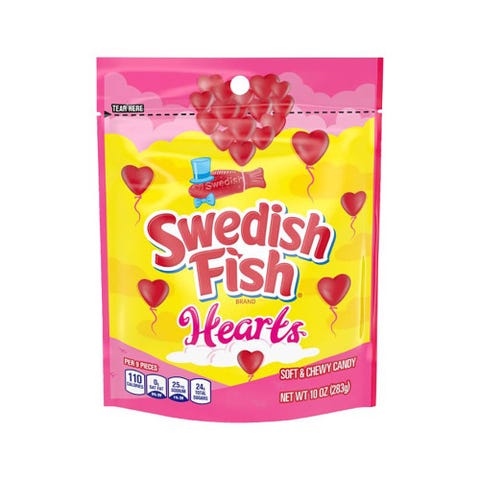 Don't have a date this Valentine's Day? Swedish Fish are here to remind you that there are plenty of fish in the sea—just not in this holiday bag. The classic candies get swapped out for little chewy hearts.
8
Personalizable M&M'S Heart Shaped Candy Box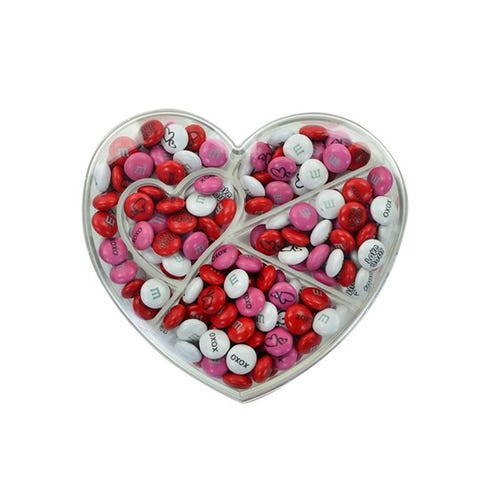 Customize your M&M's for a personal touch.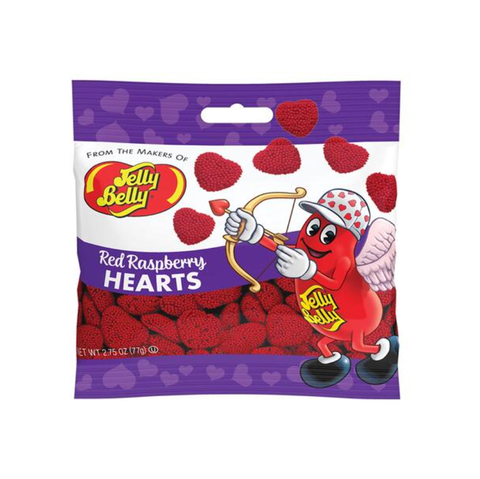 The only fruit you should be eating on V-Day—besides chocolate-covered strawberries.
10
Hershey's Valentine's Day Lava Cake Kisses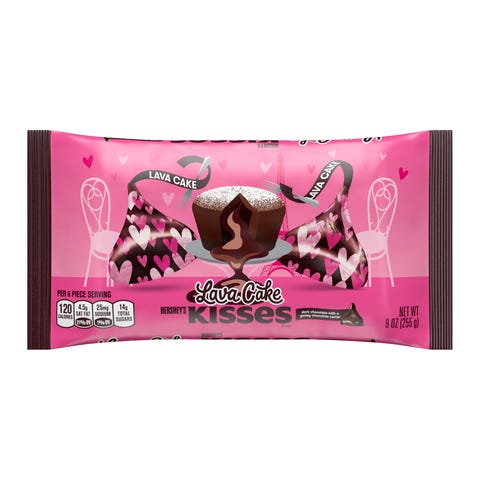 Hershey's describes these treats as "the perfect indulgent treat for your partner, best friend, and even yourself! Featuring a smooth melted cocoa center surrounded by a decadent dark chocolate plume, each bite tastes like this season's most popular dessert," you know, kind of like an actual lava cake. The bag itself straight-up just calls the Kisses "dark chocolate with a gooey chocolate center."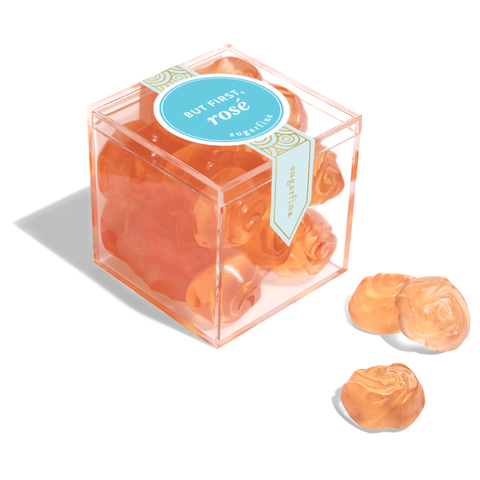 When these rosé gummies first hit the market, they sold out almost immediately and led to an insane waiting list. Luckily, Sugarfina now has the stock under control, selling sweet, rosé roses in addition to wine-flavored gummy bears—way better than a bouquet, in our opinion.
12
Hershey's Milk Chocolate Conversation Kisses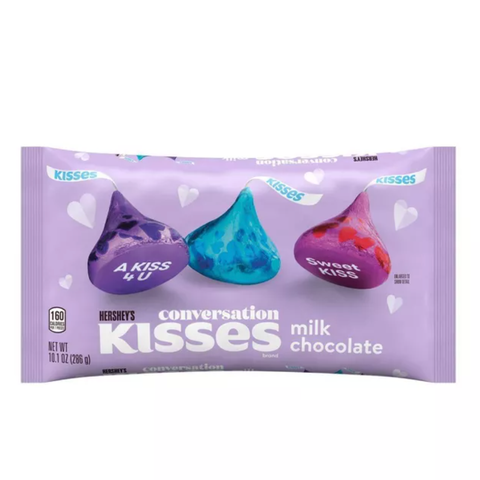 Hershey's goes head-to-head against conversation hearts with Conversation Kisses. They're the milk chocolate Kisses you've always known, just packaged differently: On the bottom of each one is a love note, like "XOXO" or "Gimme a KISS."
13
Nestle SweeTarts Hearts Bag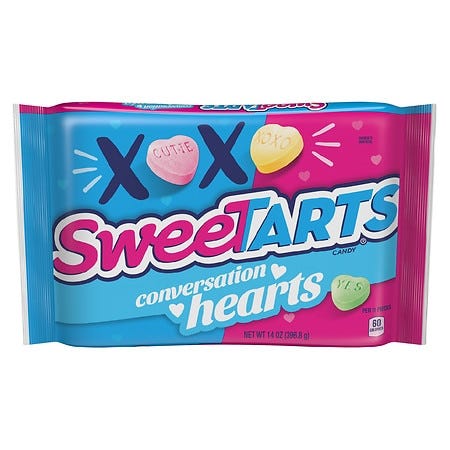 If Valentine's Day makes you feel like Adam Sandler singing "Love Stinks" in The Wedding Singer, you need these SweeTarts. The heart-shaped gummies look sweet but are totally sour.
14
Starburst FaveREDs Fruit Chews Candy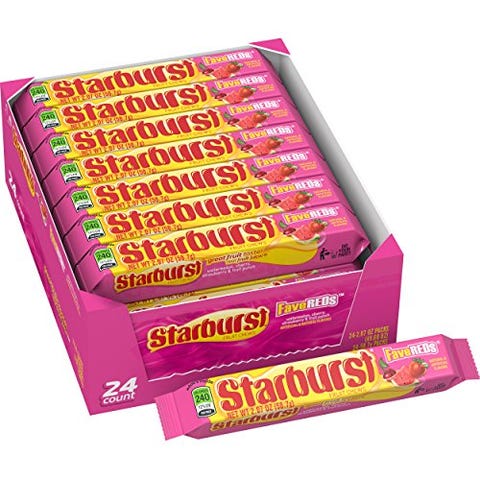 True love is giving up your pink and red Starbursts for another. Thankfully, those are the only flavors in this box.
15
Valentine's Sour Punch Hearts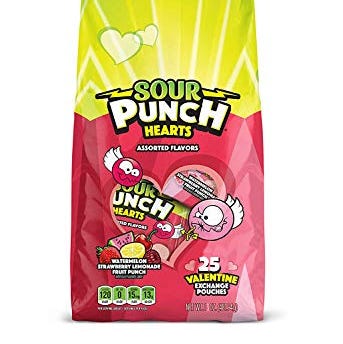 Sour Punch Straws are my go-to gas station snack, and this version makes them festive.
16
Red Double Heart Shaped Strawberry Lollipops
Nostalgic for Valentine's cards from elementary school? Look no further.
17
Madelaine Chocolate One Dozen Red Sweetheart Roses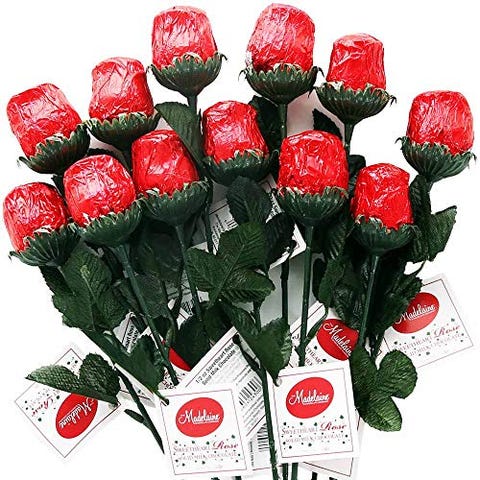 Madelaine Chocolate Company
Who doesn't want a dozen roses this February?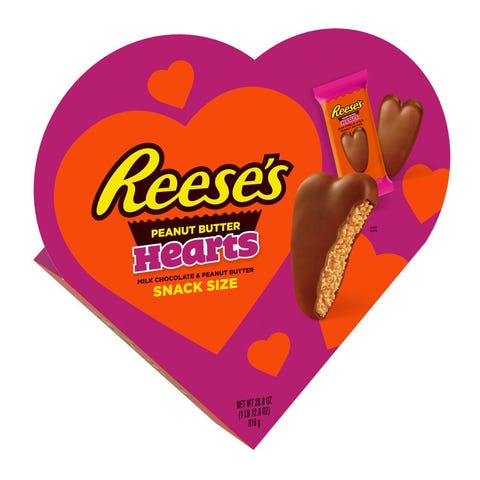 Always a classic.
19
Ghirardelli Strawberry Bark Chocolate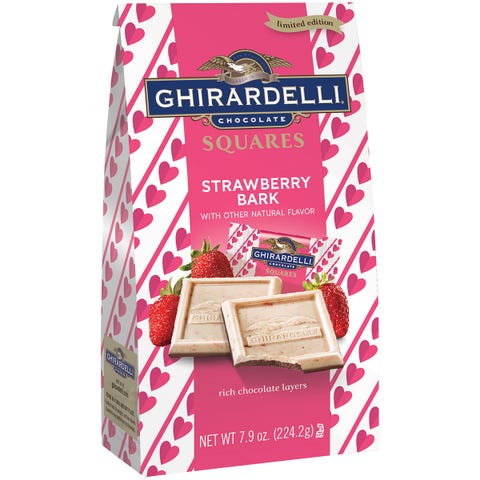 Stray from the norm and try something other than milk chocolate this season.
20
Pink Strawberry Ring Pops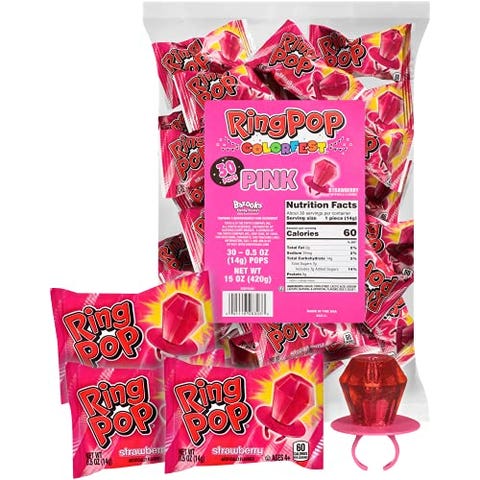 This on V-Day has a nice ring to it…
21
Valentine Mini Tootsie Pops with Card Stands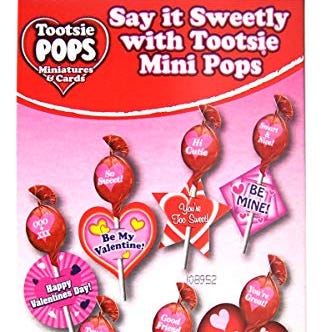 Leave a sweet message and a sweet treat.
22
Nerds Valentine's Day Ropes Candy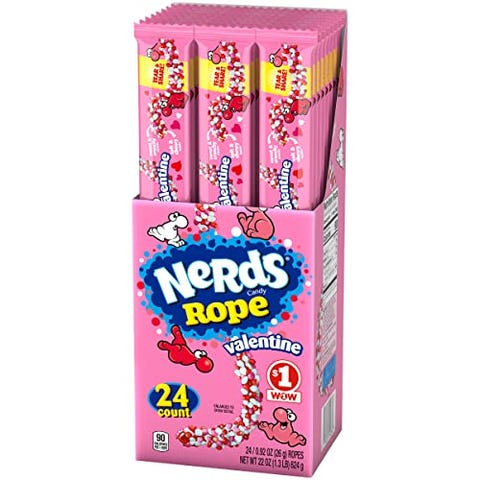 23
SpongeBob SquarePants Heart-Shaped Krabby Patties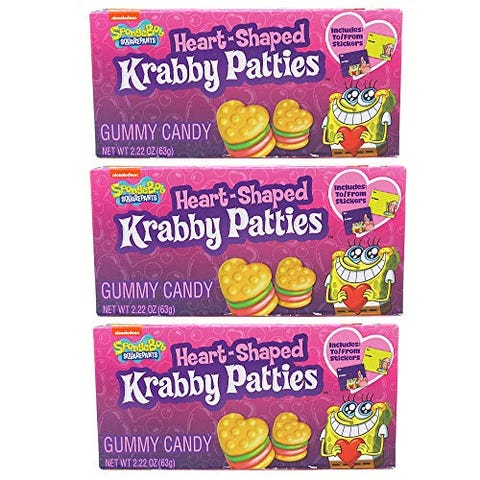 F is for friends who celebrate Valentine's together.
24
PEZ Candy Valentine Hearts Twin Pack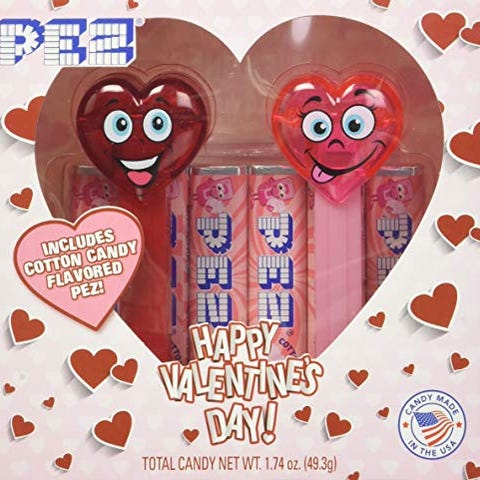 One for you, one for you
25
Haribo Valentine's Day Goldbears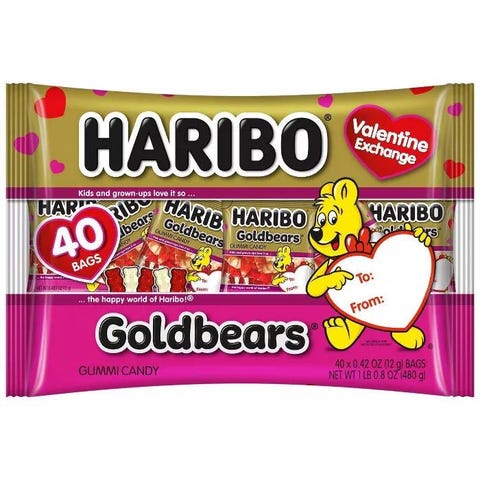 The "to" and "from" spot makes this the easiest gift.
26
L.O.L. Surprise! Valentine's Day Disco Ball Tumbler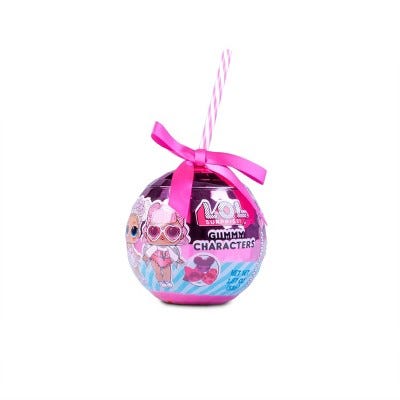 TikTok users get the hype.
27
Valentine's Juicy Drop Gummy Heart Box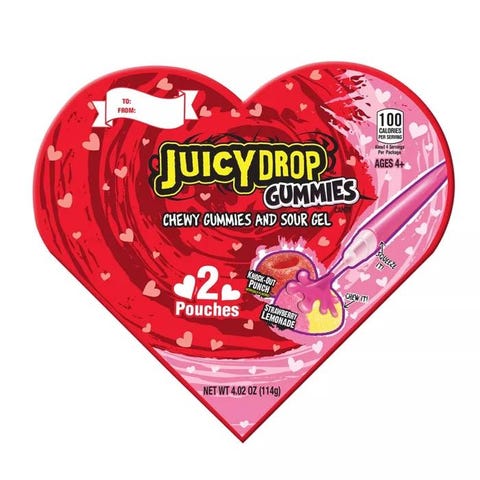 Chewy gummies and sour gel that packs a punch.
28
Main Squeeze Plush with Gummy Candy Hearts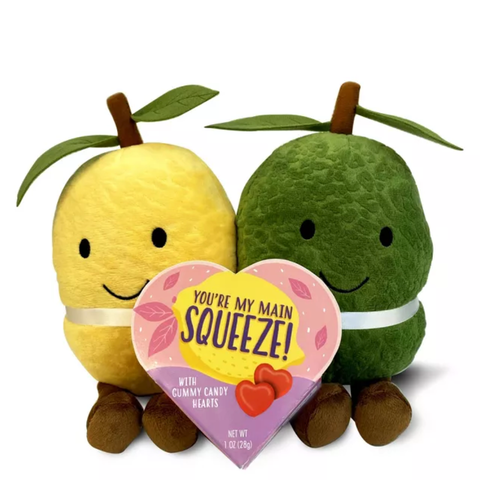 A pun and some candy for good measure.
29
Marvel Universe Valentine's Gummy Rings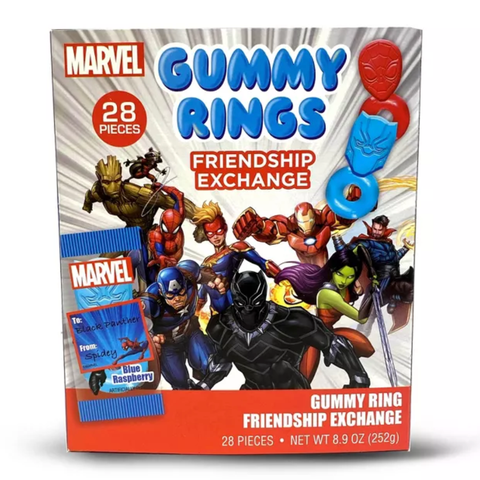 For the hero (or Marvel superfan) you love.
30
Kit Kat Raspberry Crème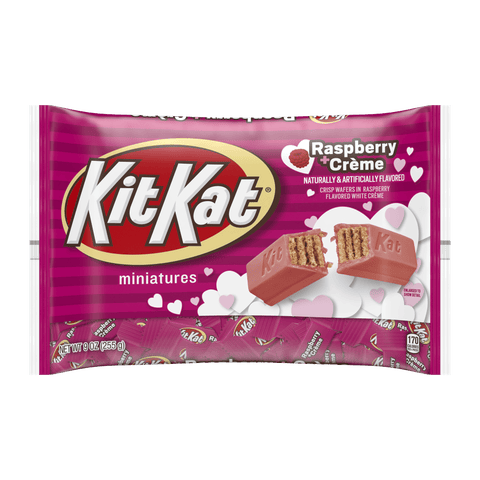 Arguably one of the best seasonal iterations of the Kit Kat
31
Ferrero Rocher Fine Hazelnut Milk Chocolate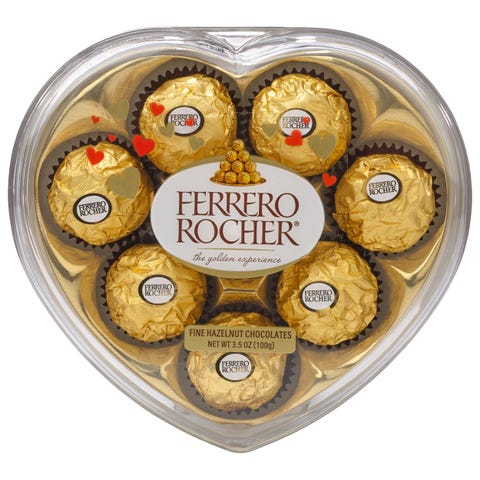 If you can't get real gold this V-Day, gold foil should do.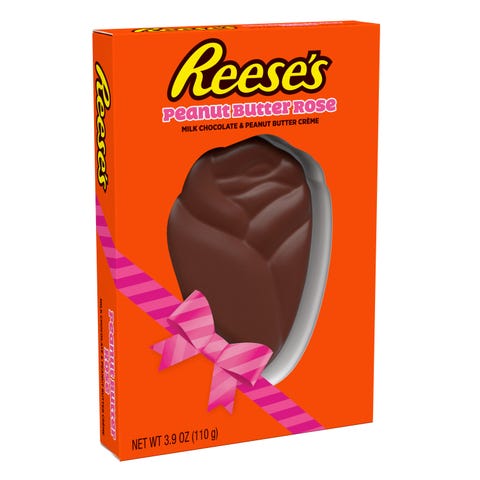 Pair with a real rose and you're good to go.
33
Lindt Mini Pralines Gift Box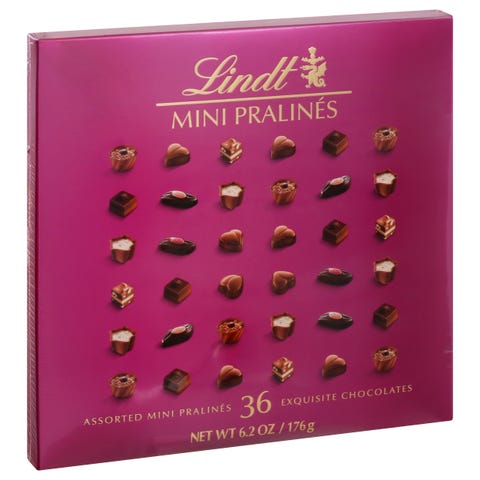 Mini bites so you can eat even more without being full.
34
Crunch Mini Milk Chocolate Candy Bars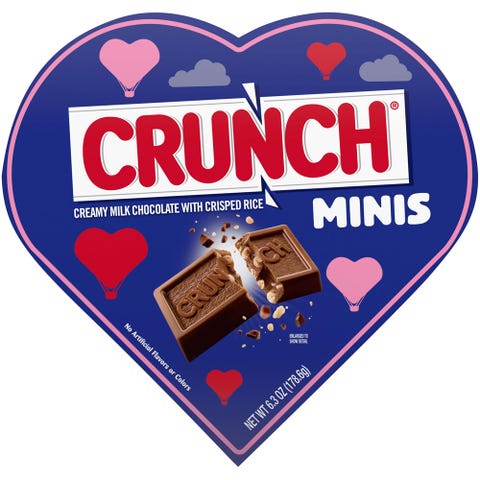 Mini Crunches in your popcorn while binge-watching movies…yes please.
35
Peanuts Assorted Milk and Dark Chocolate Sampler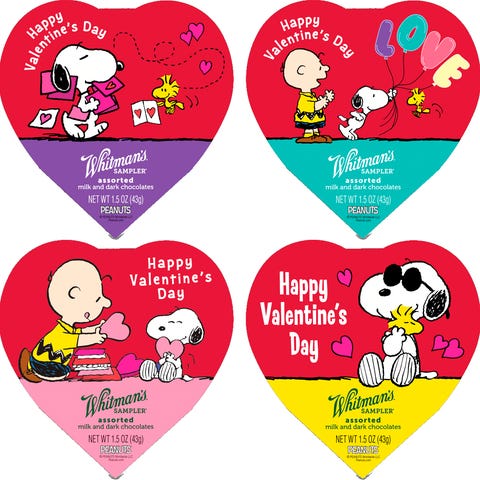 The sweetest characters out there.
36
Russell Stover Champagne & Strawberries Marshmallow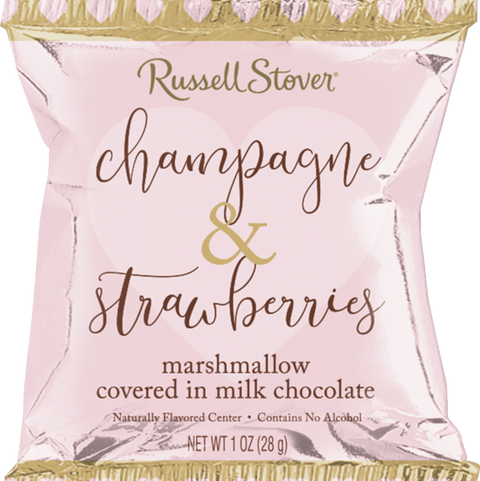 A candy inspired by your go-to Valentine's Day dessert.