Happy Valentines Day Brazil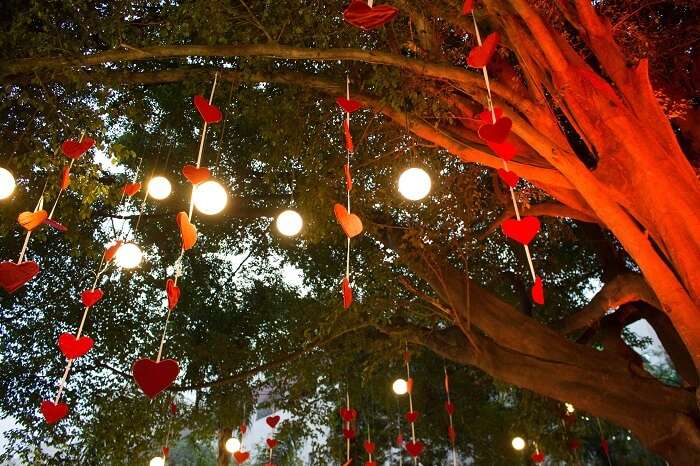 A land of rainforests, white sandy beaches, tropical islands and red-rock canyons, Brazil is the largest country in South America. It is the only Portuguese-speaking country in the whole of Latin America. Passion is their middle name and they are not afraid to show it. And while there is a mention of passion, interestingly, Valentine's Day in Brazil is celebrated on June 12th unlike the rest of the world. They call it Dia dos Namorados, which translates to the day of the enamored.
10 Things To Do On Valentine's Day In Brazil 2022
For a happy Valentine's Day in Brazil, here are 10 romantic activities one can do with their beloved and make it a memorable day. From the famous places and thrilling activities to shopping and bars, Brazil has go it all. Take a look!
Christ The Redeemer Statue: Redeem Yourself
Iguazu Falls: Witness The Magic
Samba Dancing: Watch The Jolly Dance
Rio Carnival: A Vibrant Sight
Copacabana Beach: A Beach Escapade
Historical Walk: Explore The History
Snorkelling In Bonito: Thrill Yourself
Hang Gliding Over Rio: Adventure Awaits
Bar Hopping: Drinks And Dance
Retail Therapy: Shop Till You Drop
1. Christ The Redeemer Statue: Redeem Yourself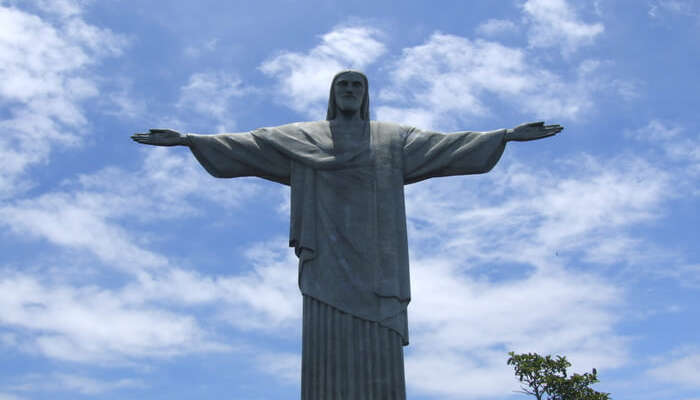 Image Source
This Art-Deco style statue of the Christ is one of the seven wonders of the world and a great way to start a romantic holiday! Ride up to the Corcovado Mountain to visit the statue at 700 meters in a cog train. The statue is 130 ft tall and provides a stunning panoramic view of the city of Rio De Janeiro, Copacabana beach and Guanabara Bay. It is a religious symbol and icon of Rio and Brazil. The cog train climbs up the Corcovado mountain from the Tijuca National Park. The train frequents every half an hour and gives a marvelous view of the National Park, Sugarloaf Mountain and Guanabara Bay.
Location: Cosme Velho station.
Duration of the journey: 20 minutes
Timings: 8:00 to 19:00
Entry fee: INR 1500 round trip including the statue.
2. Iguazu Falls: Witness The Magic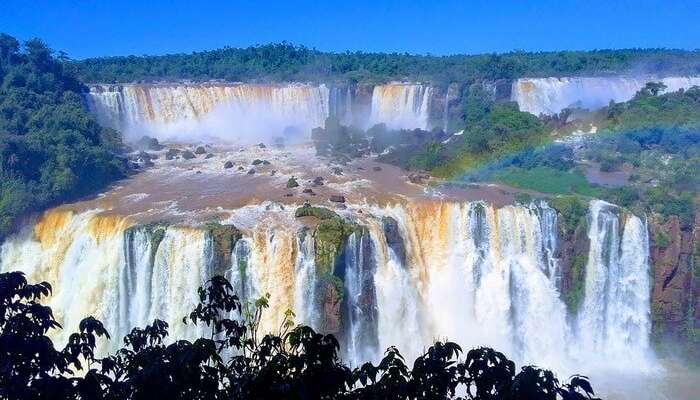 Image Source
Iguazu Falls marks the border between Brazil and Argentina and it is a collection of 275 falls spanning across 3 kms and most of it lying on Argentina's side. It forms a horseshoe pattern and considered one of the largest waterfalls in the world and is a must visit for nature lovers. It is a UNESCO World Natural Heritage Site. There are bus services from Foz de Iguacu Airport running every 20 mins. One can follow the trail to the falls from the park or couples might consider a helicopter ride over the Iguazu National Park. Apart from this, there is a zoo called Parque Das Aves next to the National park that houses fascinating birds like flamingos, macaws, hummingbirds and toucans and a Dam.
Location: Foz de Iguaçu
Timings: 9:00 to 17:00
Entry fee: INR 1200 per person
3. Samba Dancing: Watch The Jolly Dance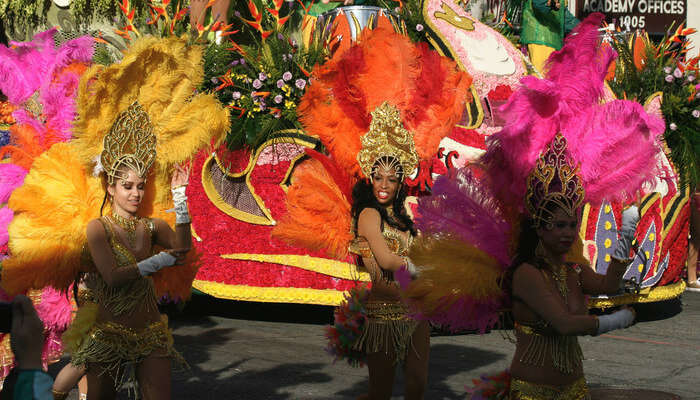 Image Source
Rio De Janeiro is the Mecca for samba dance. The dance form is proof of how passionate latinos are. Nothing is more romantic than grooving to the tunes with your partner like there is no tomorrow. Carioca De Gema is one of the first samba dance clubs in Rio. It has a very warm and intimate feel to it. The dance floor is huge and provides a relaxed feeling to the newbies. There is always a live band playing while the waiters walk around with trays of drinks.
Location: Avenida, Mem de sá,79,Lapa,Rio.
Cost for two: INR 1200/-
Ratings: 4.5/5
4. Rio Carnival: A Vibrant Sight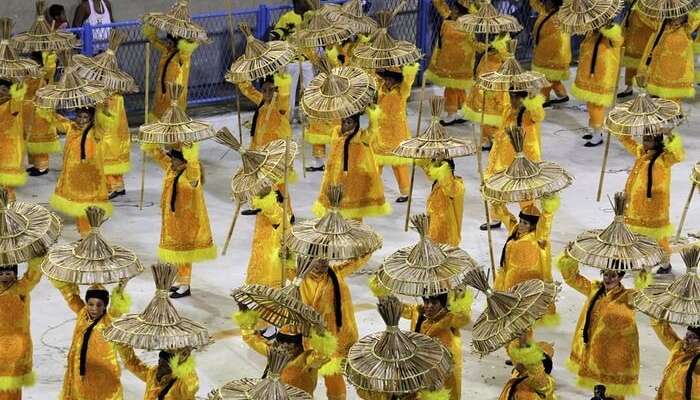 Image Source
The reason why Valentine's Day date in Brazil falls on June 12th is that in Brazil, February holds a carnival week every year and the Valentine's Day is observed a day prior to the Saint Anthony's Day. With hundreds of street parties, balls and samba parades, Rio carnival is the place to be in during February. It is a week long celebration with thousands of people flocking the streets in colourful costumes and lively music, it is an experience of a lifetime.
Location: Sambadrome
Cost: INR 5500 per person
Must Read: 10 Indian Restaurants In Brazil For Relishing Scrumptious Indian Cuisines!
5. Copacabana Beach: A Beach Escapade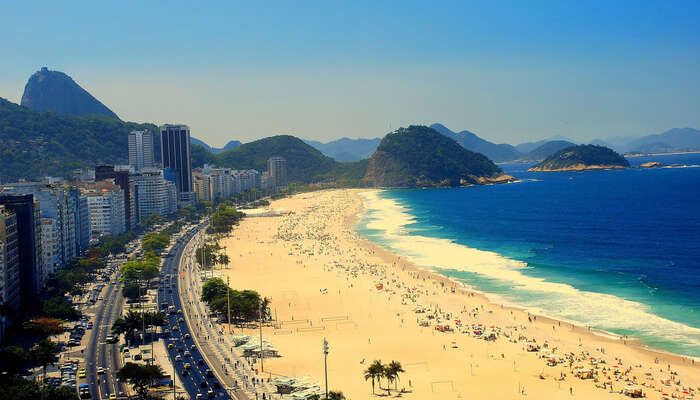 Image Source
It is a 4 km long beach that is flanked by the Sugar-loaf Mountain on one side and the old Copacabana Fort on the other. It has a number of bars and restaurants around and the nightlife in spectacular. It is the most happening beach in Rio where one can choose to relax in the sun or go have a dip in the water or just people watch. The beach gets lit up in the night and people usually flock over to have a drink and enjoy the rest of the night. One can usually see people playing soccer – a popular sport in Rio, all along the beach.
How to reach: a few minutes walk from Cantagalo station
Entry fee: No entry fee
Suggested Read: 8 Best Homestays In Brazil That Are All About Terrific Location, Comfort, And Hospitality
6. Historical Walk: Explore The History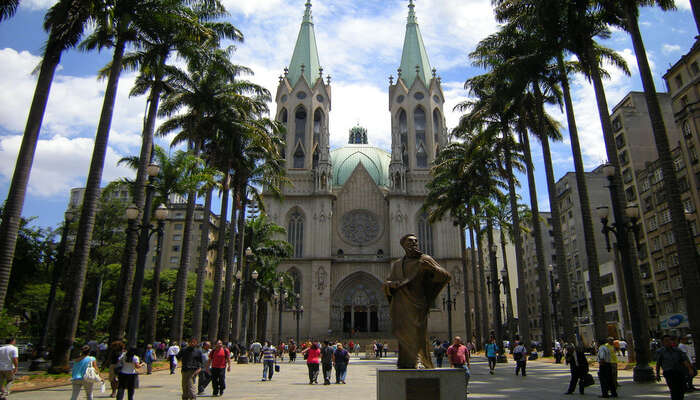 Image Source
Olinda is very picturesque and artsy and is perfect for a day trip. It is a UNESCO World Heritage Site that hosts a number of historical sites and cultural attractions. It is situated in Pernambuco State of Brazil and is just 10 kms away from its capital-Recife. It has a lot of art galleries, churches, museums and some local artisans' workshops. The winding narrow streets with colorful houses leaves the visitors in awe. This colonial town also has some good restaurants and bars in its kitty.
How to get there: Buses or uber from Recife. It is just a 30 mins journey.
Timings: 8:00 to 17:00
---
Planning your holiday but confused about where to go? These travel stories help you find your best trip ever!
---
7. Snorkelling In Bonito: Thrill Yourself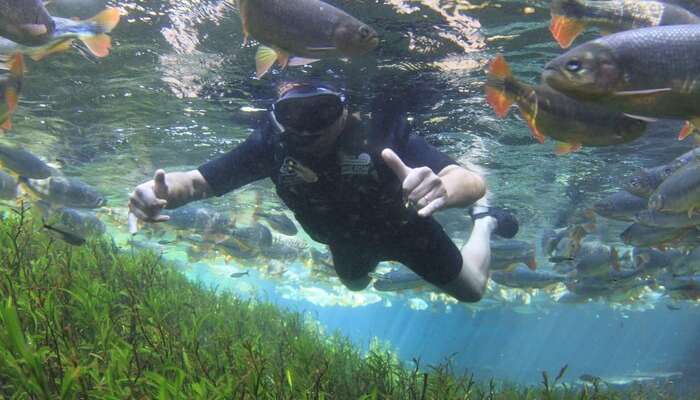 Image Source
Bonito is one of Brazil's best ecotourism destinations which provides a lot of opportunities to go trekking, hiking, snorkelling, horseback riding, rafting, bird watching and scuba diving in its limestone caves. The turquoise waters and natural springs are a refreshing change and among this, the most famous site is the Blue Lake Cave that emits serene blue color waters when the sunlight dips into the cracks of the cave.
Location: Mato Grosso du Sol
Timings: 08:30 to 18:00
Cost: INR 1000
Suggested Read: Add These Diverse Landscapes To Your List Of Top Places To Visit In Brazil
8. Hang Gliding Over Rio: Adventure Awaits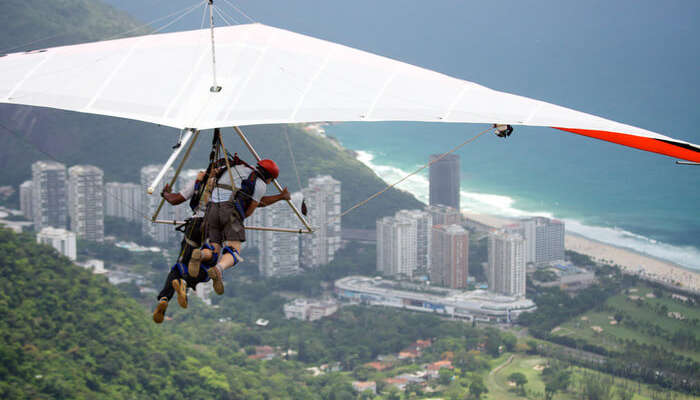 Image Source
One can fly over Rio De Janeiro aboard hang-gliders to take in the breathtaking views of the Sugarloaf Mountains, Christ the Redeemer and the Copacabana beach. For an adventurous couple, this is a perfect opportunity to mark their romance in the air. Experienced pilots fly along with the customers and is pretty safe.
Location: Sao Conrado
Duration: 2 hours
Timings: 08:00 to 14:00
Cost: INR 11000 per person
9. Bar Hopping: Drinks And Dance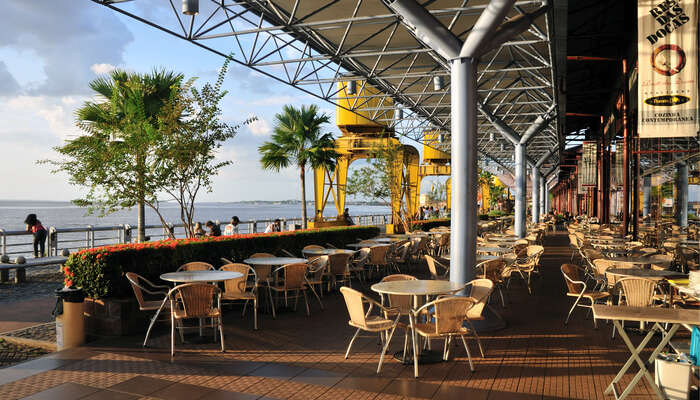 Image Source
São Paulo, Salvador, and Rio De Janeiro have thousands of bars across their cities and the nightlife there is lively and loud. For one of the greatest party circuit experience, one should go bar hopping. Most of the bars have decent pricings and are vegetarian friendly. They all provide a chilled-out atmosphere and the music is quite diverse.
Cost for two: INR 5000
Suggested Read: Brazil Wildlife: A Mini Guide To Explore The Enchanting Carnival Land Of South America!
10. Retail Therapy: Shop Till You Drop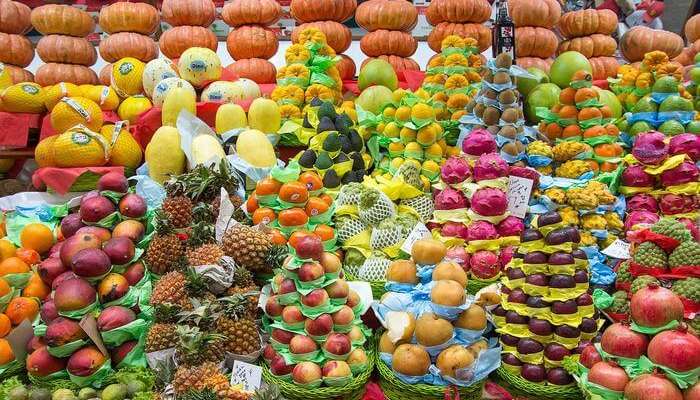 Image Source
For all the shopaholics, Rio De Janeiro is truly a paradise. From cute boutiques to high end fashion to local markets, shopping in Rio is quite pocket-friendly. The Hippy market in Ipanema sells handicrafts and other artifacts every Sunday. Rua Lavradio market in Lapa and Fiera do Rigo Antigo are very popular for antiques and offer live music and food on weekends. Barra da Tijuca is an Americanised mall that sells high street fashion.
Timings: 9:00 to 18:00