Best Happy Valentines Day Box Ideas
Happy Valentines Day Box Ideas
There's nothing quite like the joy of being a kid on Valentine's Day. Sure, the adults get the bouquets of flowers and romantic dinners, but children have the fun of going around the classroom placing cards, gifts, and Valentine's Day treats in everyone's homemade Valentine's Day boxes, and then discovering what treats they received. To insure your kids have a great day, and a Valentine's Day box that truly shines, we've put together a gallery of some of the best box ideas out there. The best part is that these Valentine's Day crafts for kids are incredibly simple to make, and many tutorials come with free printables—so you'll have plenty of time to bake up some Valentine's Day desserts to send in for the class party (or, let's me honest, munch on yourself).
These creations can take the form of an animal, such as a sweet panda bear, googly-eyed bumble bee, fierce alligator or snow-white cat. Prefer something other than a furry friend try making a yellow submarine, basket ball, or a silly-faced robot. The possibilities are endless with these super-creative ideas that are sure to delight the entire class. And if there's simply no time to get out the glue gun and markers, there are plenty to buy that are just as amazing and have a homemade look!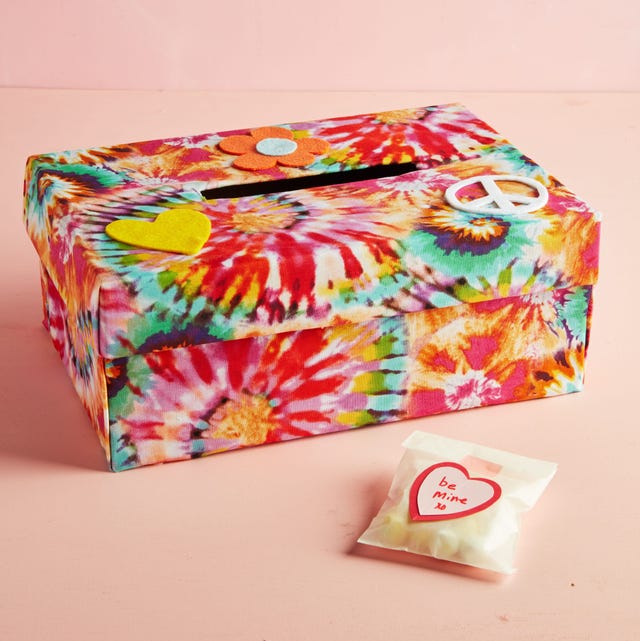 Carnivorous Plant Valentine's Box
It's teeth may look scary but it's really just a sweet plant that's ready for gobble up loads of valentine's cards and treats.
To make: Wrap a tall round, two-part cardboard box with green felt, adhering it with spray adhesive. Poke a small hole in the center of the lid. Cut two identical pieces, for the flower stem, from green craft paper. Cut four leaves from the same paper. Sandwich a length of wire, with a two-inch length sticking out of the bottom, and leaves between to the pieces of stem paper; glue together with glue stick. Cut flower head from red paper. Decorate with white paper details and yellow teeth; Adhere to the top of the stem. Feed the extra length of wire at the bottom of the stem through the hole in the lid; bend the wire to hold it in place and secure with a piece of duct tape.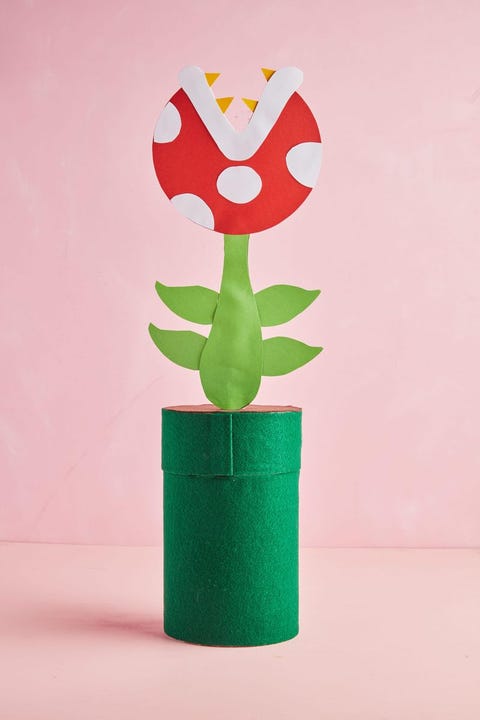 Llama Valentine's Box
A wink and a smile welcome candy and cards to this sweet llama Valentine's box.
To make: Wrap a papier-mâché box in white craft paper. Cut a slit in the top of the box. Add a saddle made from white office paper on either side of the slit. Decorate around the slit and along the bottom of the saddle with mini pom-poms, adhering them with hot glue. To create the face, cut two strips off opposite sides of a white paper plate. Color the center of the strips with a pink marker; adhere to the back of the plate to create the ears. Decorate the face with paper hearts. Draw on eyes, a heart-shaped nose, and mouth with black marker, and add yarn and mini pom-poms to create a "collar"; adhere to the front of the box. Cut out a tail from white craft foam and attach to the back of the box with hot glue.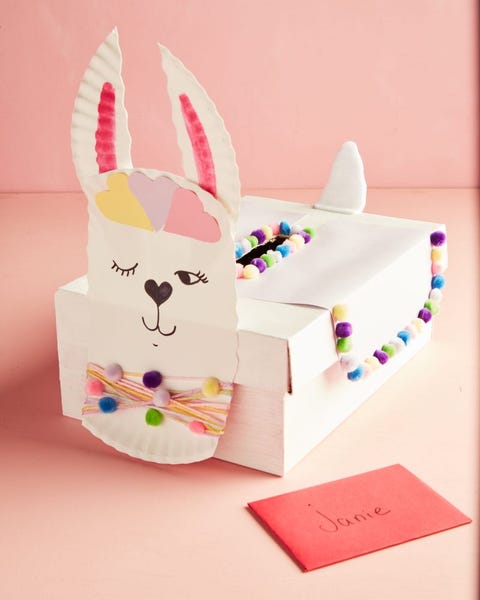 Basketball Valentine's Box
Perfect for hanging off the back of a school chair this basketball "box" is a real slam dunk!
To make: Papier-mâché orange tissue paper to a 12-inch round paper lantern. Use black pipe cleaners to create segments, adhering with hot gun. Use a black marker to write words. Wrap twine around wire on the top of the lantern for hanging.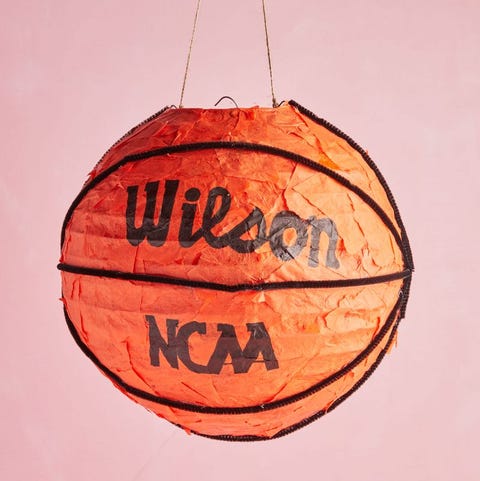 DIY Horse Valentine's Box
The ideal project for the horse loving kiddo in your house. Neigh!
To make: Wrap a rectangular papier-mâché box in white craft paper. Cut a slit in the top. Cut one end a shoe box at an angle to create the neck; wrap in white craft paper. Cut a second shoe box to create the horse's muzzle; wrap in white craft paper. Attach parts together with hot glue. Cut spots, ears, saddle, and decorative details from dark brown and light brown felt. Cut hearts from red felt. Attach to the horse with a glue stick. Attach a thin strip of felt to the bottom of the saddle. Make two small loops from black pipe cleaners and attach to the bottom of the strip to create stirrups. Wrap red gingham ribbon around the nose and neck to create the reins and noseband; attach with glue stick. Glue googly eyes to the face. Cut short lengths of brown yarn and attach between the ears to create the mane.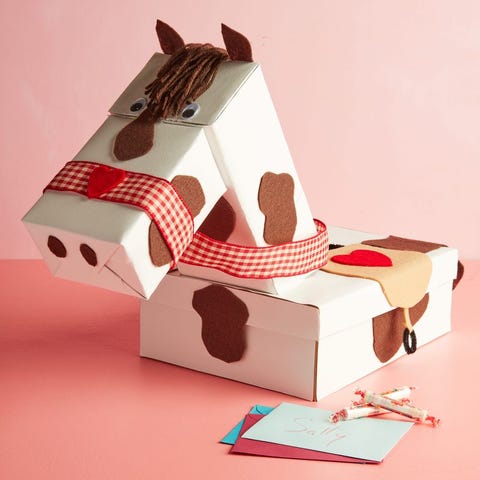 Tie-Dye Valentine's Box
Spread peace and love with this tie-dye fabric-wrapped box.
To make: Cut a slit in the top of a box (you can use a two part box or a folding lid box). Wrap box with tie dye fabric; adhering it with double sided tape or spray adhesive. Cut out decals from felt and glue to the top of the box.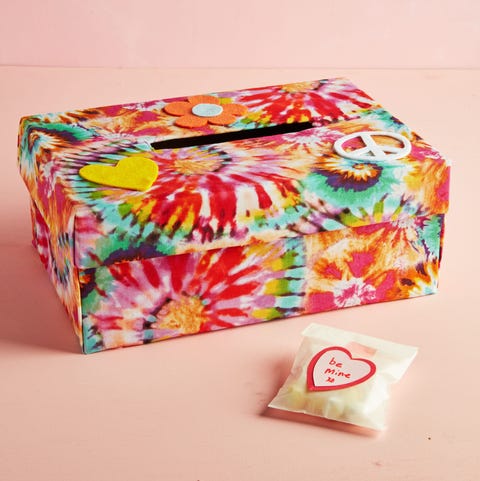 Sticker Valentine's Box
Kids will love going crazy with stickers for this simple yet super fun idea.
To make: Cut a slit in the top of a shoebox, then cover the top and bottom of the box with pink paper. Then cover it with heart-shaped stickers.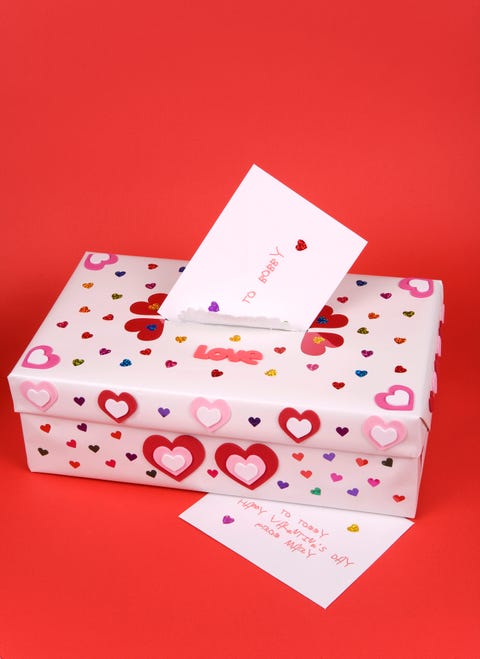 Pom-Pom Heart Valentine's Day Box
It doesn't get more cheery than this pom-pom-loaded box that will get your child in the Valentine's Day spirit immediately.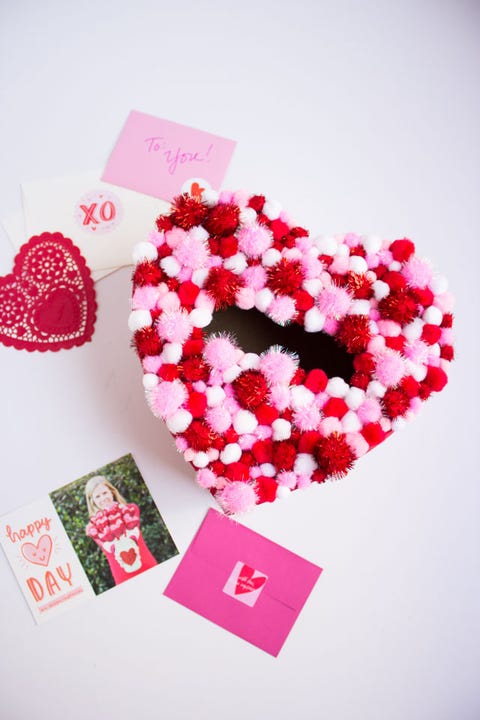 Rocket Ship Valentine's Day Box
Any space-obsessed child will be obsessed with this colorful rocket ship that's ready to blast off to the moon.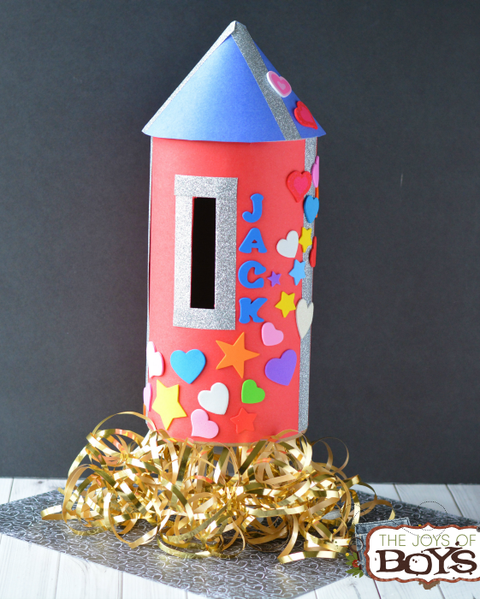 Butterfly Valentine's Day Box
Create this sweet butterfly with items you have around your home. Don't forget the adorable heart antennae!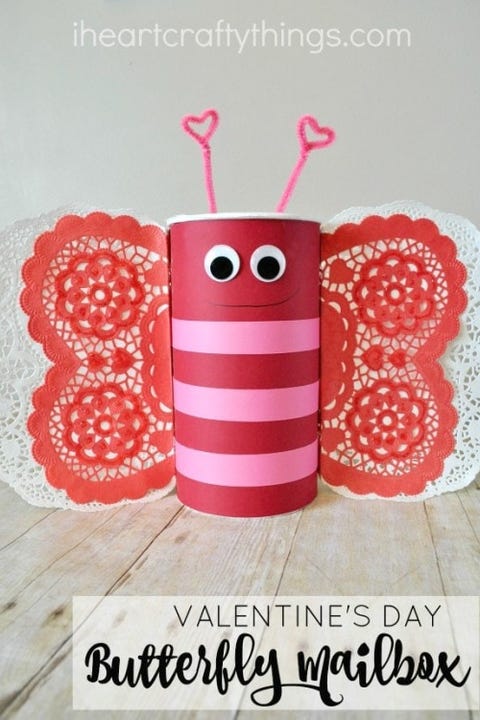 Floral Valentine's Day Box
What better place is there for Valentine's Day cards than a pink and red mailbox? Buy the mailbox already made, so all you need to do is decorate.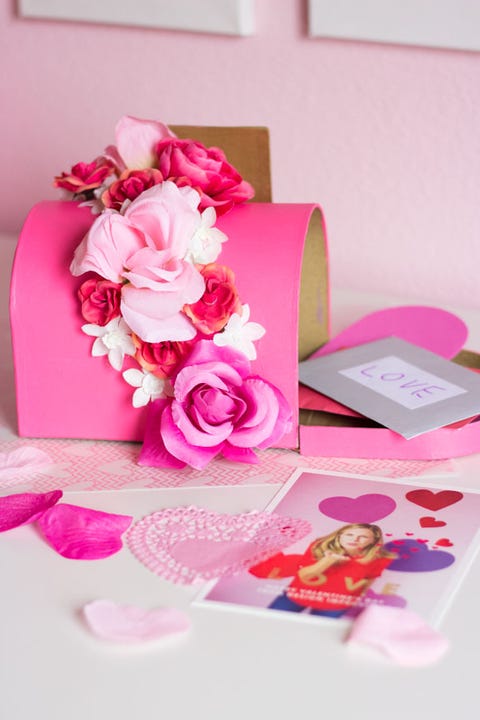 Mailbox Valentine's Day Box
It doesn't get much more literal than this mailbox! All you really need are cardboard boxes and blue paint to create this exact replica.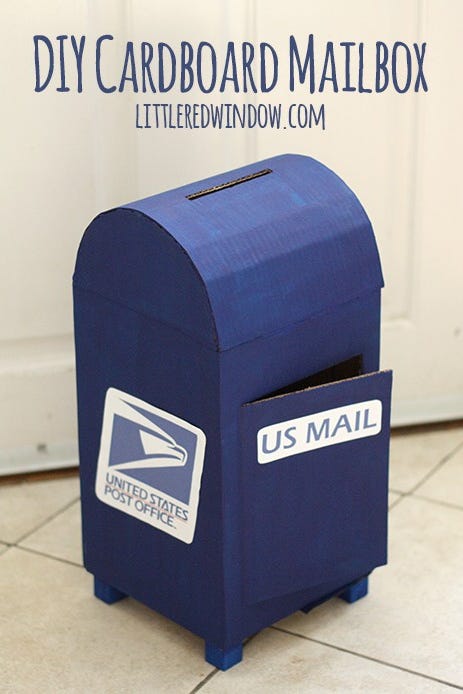 Unicorn Valentine's Day Box
This unicorn makes for a truly magical box to keep all your kid's special Valentines inside.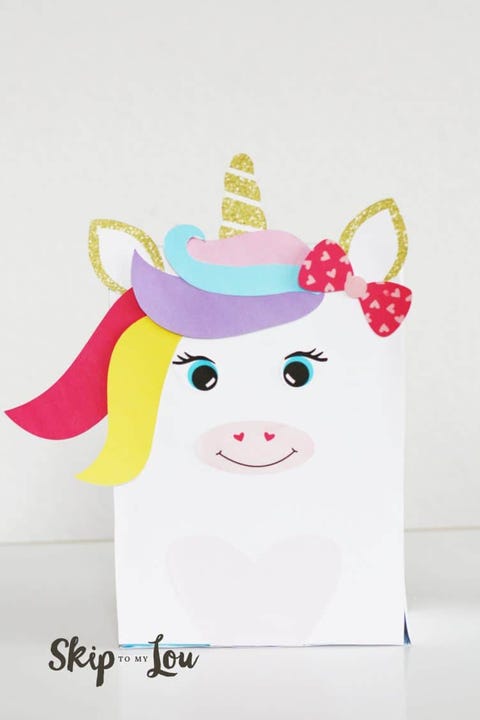 Panda Valentine's Day Box
Create the sweetest box with this panda that's super easy to make, thanks to the free printables provided.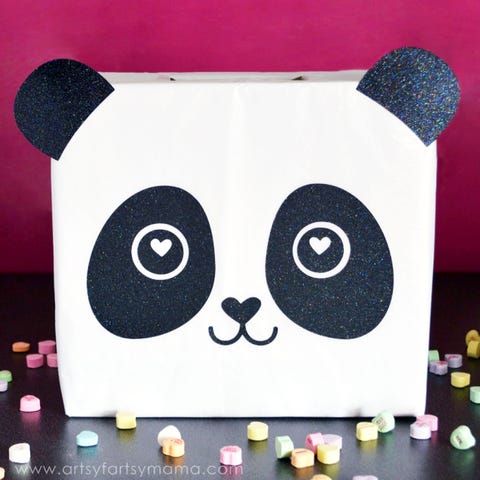 Alligator Valentine's Day Box
Sharp teeth, a long scaly tail, and a big red tongue make this alligator box one of a kind. It can easily be a Valentine box or an affirmation box, as the instructions detail.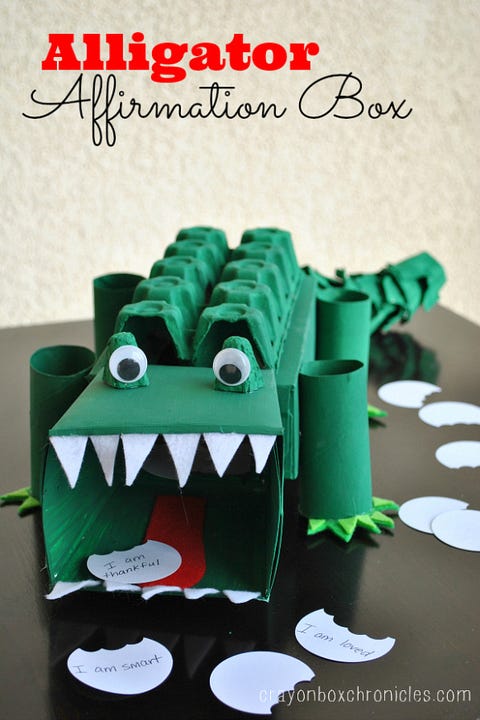 Red Fox Valentine's Day Box
It doesn't get much cuter than this sly looking fox, complete with a bushy tail and heart-shaped nose.