Best Happy Valentines Day Advertising Ideas
Happy Valentines Day Advertising Ideas
Your eyes are not deceiving you; even though you are probably still busy wrapping up your Christmas marketing post-mortem, you should already be finalising and implementing your Valentine's Day marketing. And while there is seldom a shortage of naysayers complaining as we approach Valentine's Day, the event is still valuable to businesses of all sizes.
Even though a January 2017 poll of more than 2,000 adults in the UK found that 52% of respondents didn't plan to buy a gift for their loved one, Valentine's Day is still worth more than £450 million in the UK, and $15 billion in the US. But in order for your business to benefit from this, it needs to position itself as a destination for Valentine's Day gifts and celebrations.
Join me as I take you through 19 great marketing ideas for your small business this Valentine's Day.
1. Charm Your Audience in Your Email Marketing
The benefits of email marketing are well-documented – both on our site, and elsewhere on the internet. And for those of you who have already converted to using email marketing, Valentine's Day is a wonderful opportunity to captivate your customers with a themed email marketing campaign.
Start with an irresistible subject line that:
either plays on the theme of love and romance, or explicitly mentions Valentine's Day. Think "We're in ❤️ with these hot February fares", or "Valentine's Day treats for you and yours".
hints at the actual contents of the email, but be clear about any special offers.
includes emojis where appropriate. Emoji have been shown to positively increase open rates, as long as you don't use too many at a time.
Next, make sure the content of the email is appealing enough to drive customers to your website, and conversion. Uber's 2017 campaign focused on encouraging customers to take at least one trip for a chance to win great prizes.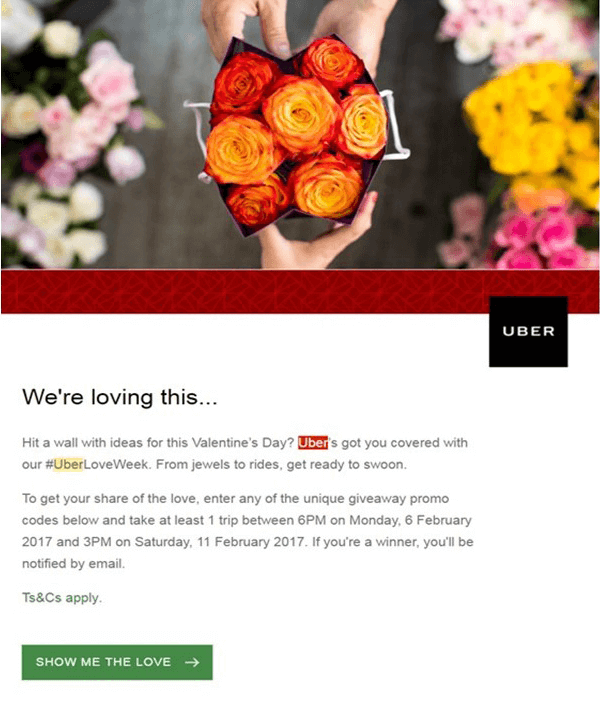 But the email was also designed around a Valentine's theme, from the header graphic, through to the wording of the copy, and even a slight modification of the CTA.
2. Run a Campaign of Love Themed Polls on Social Media
Twitter, Snapchat, Facebook, and Instagram all support polls, and these are a fun way to drive engagement with your audience. Aside from Twitter, they can be visual, and your audience doesn't need to do much aside from select one of two options. Instead of simply running a single poll, consider having a new poll each day leading up to Valentine's Day – either from the beginning of February, or only from the 7th onwards.
Make it more relevant to your business by including some of your products in the polls: a bar could ask whether their audience is more likely to drink a cocktail or a beer on Valentine's Day, while a clothing retailer could show two outfits, and again ask their audience which they would most likely wear on a date. Keep the tone fun and thematic, and take full advantage of the visual aspect of polls.
3. Use Appropriate Hashtags in Your Social Media Posts
Hashtag campaigns are a great way to drive engagement and brand awareness, with the best campaigns resulting in a huge amount of user-generated content. Although hashtag campaigns don't always include the brand, it is important that it becomes associated with a brand, meaning you need to find a way for your brand to "own" the hashtag.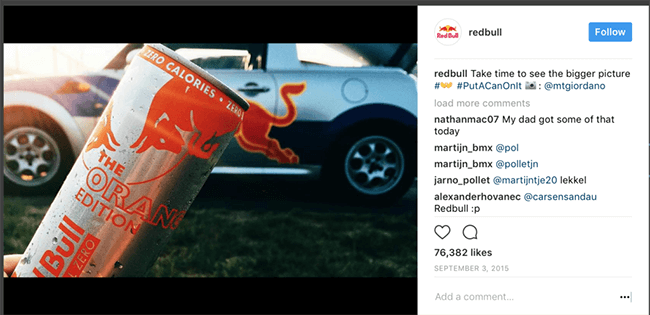 Red Bull's 2015 #PutACanOnIt campaign encouraged users to submit creative photos that included the iconic Red Bull can.
The campaign ended up attracting more than 10,000 pieces of user-generated content, won awards, and even sparked a bit of friendly banter between Red Bull, Pepsi, and Perrier.
Be sure to choose a unique and memorable hashtag for your campaign, and create enough of your own content to post in the beginning to spark interest, and generate awareness. Offering a prize for the best piece of user-generated content will also help generate interest and encourage user participation.
Check out '45 Best Hashtag Tools For Research, Tracking, Marketing And Events' from Socialert!
4. Run a Valentine's Day Themed Campaign of "Two for one Deals"
Valentine's Day is – quite obviously – all about couples, making it the perfect event to pair with "two for one" deals. Most businesses are able to offer some form of "buy one, get one free" deals, and that is all that a "two for one" deal essentially is, rephrased to make it more appropriate to Valentine's Day. And it isn't limited only to physical products.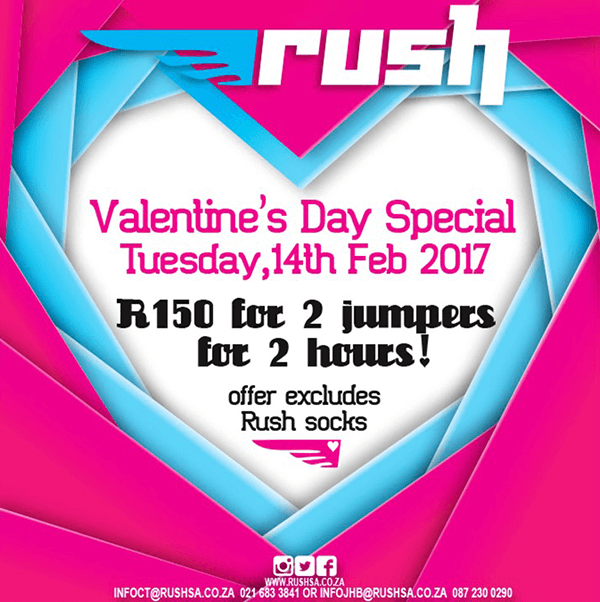 Rush, a trampoline park, ran their own "two for one" Valentine's offer in 2017, with a great price, and clever visuals.
Put some effort into selecting your deal(s) so that they are appealing to your core demographic, and relevant to Valentine's Day and couples. It should not feel like a generic "buy one, get one free" offer, and you should also drive it with appropriate marketing both in-store (for physical locations), and online.
[optin-monster-shortcode id="okxtsqlm4avo9gusjqc3″]
5. Add Romantic Flair to Your Social Media Covers and Profile Images
Help your online audience get into the spirit of Valentine's Day by updating your social media covers and profile images with a bit of romantic flair. Ideally the flair should still be visible when your profile image is resized, but it should also not obscure your original branding too much – you still want your audience to be able to recognise it. And now that Facebook have opened the Camera Effects Platform to everyone, you can things a step further by offering your audience unique masks, animations, and profile frames.
blob:https://www.facebook.com/87106d4c-96ad-4568-b567-dec741bea112
While these do take more effort for you to create (hire a professional if you're not the creative type), your audience will love them. And when you audience uses them on their own photos and videos, you benefit from additional exposure.
6. Create a Special Valentine's Day Gift Guide
Not all event day's warrant a dedicated gift guide, but Valentine's Day definitely does. Depending on the type of products you sell, you can either arrange gift ideas:
traditionally – gifts for her, him, couples, and teenagers,
thematically – gifts for art lovers, gifts for hobbyists, etc., or
by price point – gifts under £100, gifts under £50, etc.
this doesn't only make it easier for your audience to browse through, but also – especially when arranged thematically – gives you an opportunity to highlight unusual gift ideas your audience might not have thought of. Don't be afraid to be bold with some of your gift guide categories; "This is what he/she wants" is confident, without being arrogant.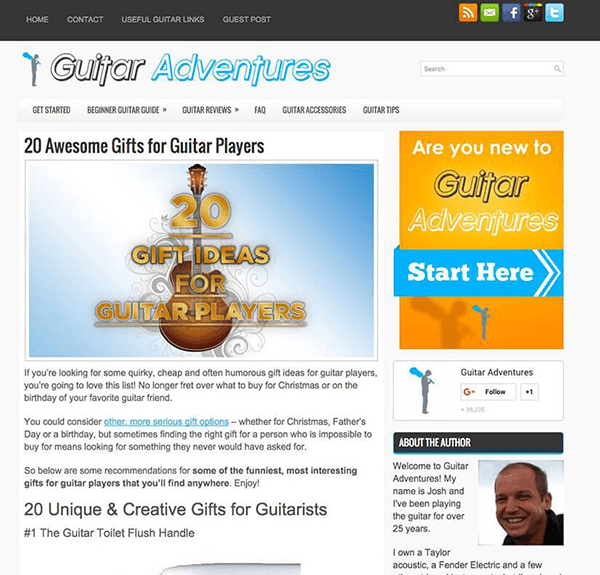 Publish your gift guide on your website, either as a dedicated set of pages, or as a blog post, and if you have an online store, each idea should link directly to the product in your online store, making it super easy for your audience to add it to their basket.
Once your gift guide is live, start marketing it via your homepage (not forgetting to update your navigation throughout the site to also include a link to the guide). Additional marketing should happen in the form of social media posts, email marketing, and even AdWords campaigns. Don't expect your audience to just stumble across your gift guide. You can also promote your mobile app by making the gift guide exclusively accessible via your mobile app for a limited time, before it is available on your website.
7. Send Your Customers a Valentine's Day Card
The most traditional aspect of Valentine's Day is sending a card to the object of your affection. Keep this tradition going by sending Valentine's Day cards to customers in your email marketing list. After all, they are the object of your affection: you love them for choosing your business, for supporting your business.
However, don't be tempted into using this as an opportunity to market overtly. Keep it informal, with a simple message, like "Customers like you are the HEART of our business! ". What you can do to encourage them to continue supporting your business, is include a special offer with the card. This could be a voucher they show when next shopping in your physical store, or a unique promo code to apply at checkout when shopping online. Don't be too restrictive with the terms and conditions of the offer, but definitely set it as only being valid up until 14 February. And the cards should be sent out at least 1-2 weeks ahead of Valentine's Day, because nobody wants to be rushed to make use of any special offer.
If your business has its own mobile app, add the Valentine's Day card – and offer – to the app, and get users to open it by sending them a special push notification.
8. Host a Galentine's Day Event on 13 February
Galentine's Day is a fictional holiday celebrated in the sitcom, Parks and Recreation. Leslie Knope, Amy Poehler's character in the sitcom, describes it as:
Many businesses have started celebrating Galentine's Day by offering special packages or events exclusively for women. And as demonstrated by Wild Heaven Craft Beers in 2022, your primary audience doesn't even need to be women for this to work. What is important, is that what you offer for Galentine's Day be tailored towards women celebrating their friendship with other women.
9. Ask Your Audience to Share Love Stories
Thankfully, not everyone lives their life with Miss Havisham as a role model, so asking your audience to share their own love stories on your social media accounts should be a great way to invite engagement. And if they feel their own love story isn't that inspirational, they could always share the story of how their parents or grandparents met, and fell in love.
Give them an incentive to share by offering a prize (or prizes) for their stories, but remember to give some forethought to how you will go about selecting the winner. Posts like this don't only encourage engagement, they are also more likely to be shared, promoting brand awareness.
Just remember that Facebook is clamping down on engagement baiting, so refrain from explicitly asking for likes and shares.
10. Ask Your Audience to Share Terrible Date Stories
Threads about terrible dates pop up frequently on Reddit, and they always attract a flood of comments. Even if you're now married to the only person you ever dated, chances are you still have a story about a date that went bad, either because of something you said or did, or because of events completely outside of your control. And sometimes, like u/littlerunnerboy, you may only be a 3rd-party witness to someone's embarrassing date:
Went on a double date. I was with my girlfriend at the time, she brought a friend, Sarah, and I brought my friend Darren. Sarah was super into Darren. Darren was super not into Sarah. At the end of the date we were all saying goodnight and Sarah kept throwing hints she wanted to go with Darren. Darren looked at her, patted her on the head, and said "Okay goodnight."

While the anonymous nature of Reddit makes sharing stories like this easier, you could, like the previous point, encourage your audience to share their story by offering a prize. Just remember that a contest like this may require more diligent moderation on your part, to ensure that no R-rated stories are shared, and that personally identifiable information is included in any stories.
11. Create a "Hall of Shame" of Terrible Valentine's Day Gifts
Still in the vein of good intentions gone bad, terrible gifts aren't the exclusive reserve of birthdays, anniversaries, or Christmas. But instead of asking your social media audience to write about any questionable Valentine's Day gifts they may have received in the past, ask them to share photographs. A campaign like this can be run across Facebook, Twitter, and Instagram, but remember to create a relevant hashtag that participants need to include in their own submissions. Create a "Hall of Shame" page on your website or mobile app to showcase all the submissions, and offer a prize to the submission that attracts the most votes.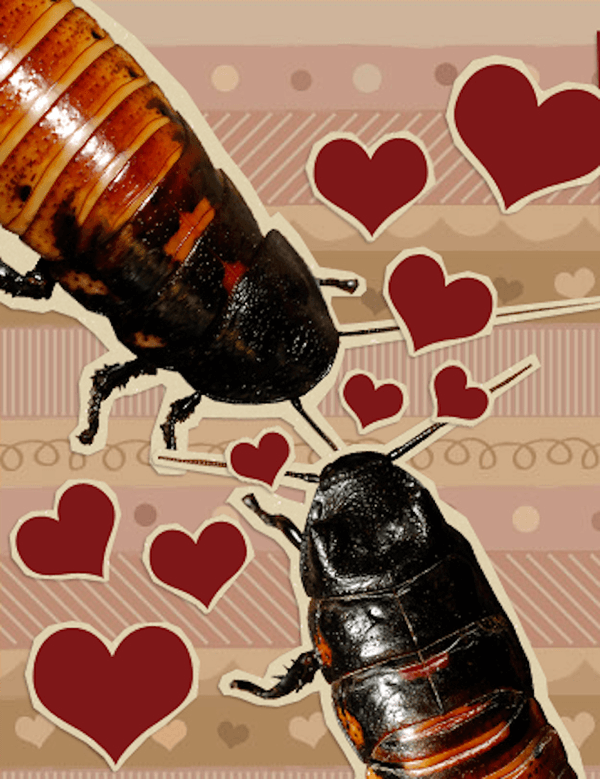 Just remember that what you find questionable, or in poor taste, may, in fact, be considered the perfect gift by somebody else. How else does one explain the Bronx Zoo's "Name a Roach" campaign that returns every Valentine's Day, this year with the unforgettable tagline of "Remember, Nothing Says Endless Love Like A Cockroach". Be still my beating heart!
12. Adapt Your Mobile Push Notifications for Valentine's Day
Does your business have a mobile app?
Do you regularly send out push notifications to users of the app?
If you answered yes to both of these questions, then you should already have started thinking about how you can adapt your push notifications in the first two weeks of February. Admittedly, push notifications can be annoying at times, but if you've already found the perfect strategy where your notifications aren't annoying, and users actually open them, and convert, you can probably find a way to carry this through to Valentine's Day marketing.
Avoid suddenly sending out more push notifications than you usually do, but instead look at how you can adapt the wording of your regular push notifications (and special offers) to be more romantic, and thematic. Restaurants could remind users to make a Valentine's Day reservation, florists could announce cut-off dates and times for Valentine's Day deliveries, and ecommerce stores could link directly to their Valentine's Day gift guide.
13. Pin Your Heart to a Local Charity
A bit of social responsibility is a good fit for any business, and Valentine's Day is a good time to show that you care. There are a number of ways your business can demonstrate social responsibility:
Restaurants can sponsor and host a Valentine's Lunch for a local retirement home. Alternatively, why not donate a percentage of each table bill in February to a local charity?
Online retailers can ask customers to add a small cash donation for a deserving cause to their invoice before checkout. Make sure your business matches each donation, otherwise it looks like you're using your customers to take care of your social responsibility.
Some non-profit organisations raise funds by making and selling a variety of small products. Source products from them that would appeal to your audience, and market and sell them as part of your Valentine's Day catalogue of products. Ensure that 100% of the proceeds from selling these items goes back to the non-profit organisation.
Provide a local school with arts and crafts supplies, and ask them to make Valentine's Day cards to send to service personnel in the army or local hospitals.
Any acts of social responsibility should be altruistic, but it is worth remembering that they are also great for generating a bit of brand awareness. Especially if the local press decides to cover your charitable behaviour.
14. Partner With Another Small Business
There's no denying that Valentine's Day is good for business, with it contributing more than $15 billion to the economy in the US alone. But that means you are fighting against other businesses for a limited number of customers and their wallets. And many of these businesses aren't even direct competitors to you. Pairing up with another small business in your town can mean you don't only get to double your reach, but you both benefit from a share of Valentine's Day offers.
Nail salons can pair with hair salons, florists with local bakers or sweet shops; think complementary, but not direct competition. You can either promote each others products, offer gift packages that combine products from each business, or even put together a combined gift guide. What works best will depend on both your business, and the business you partner with, and though the idea might seem a little strange, it can work wonderfully in smaller locations.
15. Showcase Products That Work Well Together
When shopping online, most retailers will now show you a range of items that are frequently bought together, or work well with the item you have already selected. Physical stores can mimic this idea by highlighting great 'pairs' in each department. Think bracelets that work well with certain necklaces, purses with shoes, dark chocolates with specific wines, etc. You might be tempted to only highlight red, pink, and white merchandise leading up to Valentine's Day, but there are so many other options available to you. And when you think outside the box, as it were, you manage to avoid tired clichés that most customers have become immune to, such as an overabundance of heart-shaped products.
16. Reposition Impulse Buys and Last-Minute Gifts
Leading on from the last point, your pay points should also have a range of impulse buys placed strategically close to them. These are usually small items with lower price points, and a limited number of options. They are designed to catch the eye of your customers, who can grab one or more of them, without humming and hawing. Over Christmas you might even refer to them as stocking stuffers. They aren't exactly good enough to be a gift on their own, but together with something else, they can make an okay gift great.
During the first two weeks of February, all your impulse buys should be chosen to work well with Valentine's Day. In other words, dump the regular chocolate bars, and replace them with fancier slabs of chocolate, and small boxes of chocolates, gift wrap, and Valentine's Day cards and trinkets. And on 13 February, replace them once again with last-minute gift ideas. It is inevitable that more than a handful of your customers will put off buying a Valentine's Day gift until the last minute, so moving them right to the pay points will make it easier for them to find something when almost everything is sold out.
17. Highlight Date Night Products
Greengrocers might seem like an unlikely business to use Valentine's Day to boost sales, but they – along with regular grocers – can easily promote their products to couples keen to avoid a restaurant. Promote the idea of a more intimate date night by highlighting appropriate produce, meat, wine, candles, and other ingredients. Use your social media presence to share recipes suitable for a romantic dinner, making sure you stock all the listed ingredients.
Offer to make up picnic hampers for two; even if the weather is not suitable for a traditional picnic, nothing stops couples from being able to enjoy an indoor picnic, in the privacy of their own living room.
18. Include a Free Treat for Dinner Couples
Restaurants are especially busy on Valentine's Day, and they shouldn't miss the opportunity to thank couples for choosing them. Offer all couples dining with you on this night a free treat, in the form of:
A pair of roses for each couple. Partner with a local florist to source the flowers for the night.
A free dessert, or cocktail. Make it even more special by creating a special dessert or cocktail exclusively for Valentine's Day.
Avoid treats like a discount voucher to use on their next meal: the idea is to reward customers for choosing your restaurant on Valentine's Day, not to incentivise them to support you again. If you do a good enough job, your customers won't need an incentive to continue supporting you.
And if your restaurant is close to a university, you can reward student couples by offering them a special student menu on the night. Many students can't afford to treat themselves to a dinner in a restaurant, let alone a dinner for two, so offering a limited range of more affordable dishes will make you more attractive on campus leading up to Valentine's Day.
19. Don't Forget the Forever Singles
Of course, not all of your customers are part of a couple, with some being single by choice, and others by chance. And the darker side of Valentine's Day would be how your single customers are, inadvertently, made to feel less important. You can prevent this by offering pampering packages for singles (in day spas and salons), or even hosting a singles mixup on the 13th or 15th. And restaurants could promote a singles table for Valentine's Day, making a group table available exclusively for single diners. Be cautious of using hashtags like #singlesawarenessday and #antivalentinesday unless your marketing, and your offer, are a little tongue-in-cheek, and don't reinforce any stigma.