Domestic Violence Quotes
Domestic violence can be one of the most difficult types of situations to talk about and to escape from.
And, sadly, it can happen to anyone – women, men, children, between spouses and even friends. No one is immune to domestic violence.
If you or someone you know is in a situation that's unsafe, these domestic violence quotes can hopefully encourage you or them to seek the necessary support and resources to get yourself or the person you know out.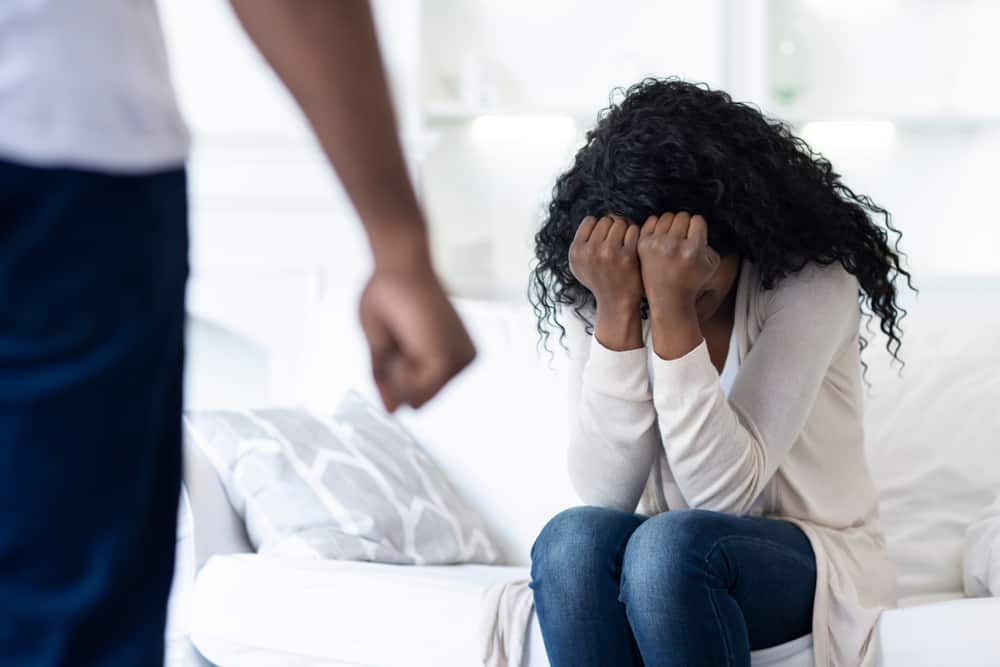 And, if you are a survivor of domestic violence, then these quotes can help remind you of your strength.
Domestic Violence Quotes on Courage
1. "At any given moment you have the power to say this is not how the story is going to end." ― Christine Mason Miller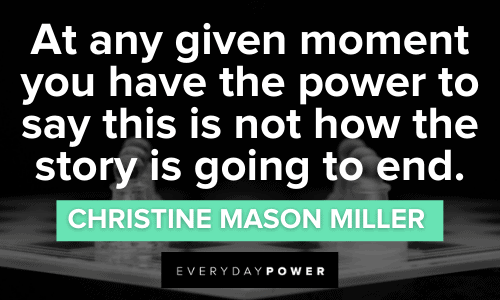 2. "And here you are living despite it all." — Rupi Kaur​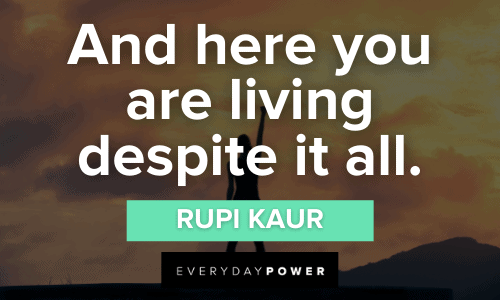 3. "Grief does not demand pity; It requests acknowledgment." ― Jude Gibbs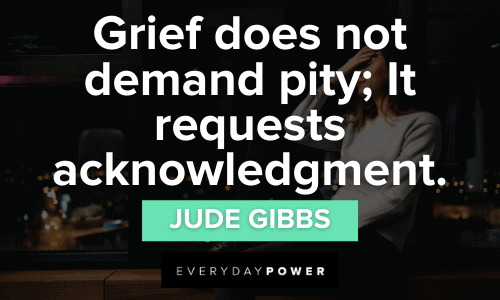 4. "Trauma may happen to you, but it can never define you." ― Melinda Longtin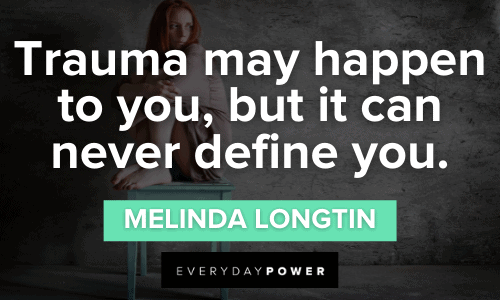 5. "Don't judge yourself by what others did to you." — Cody Kennedy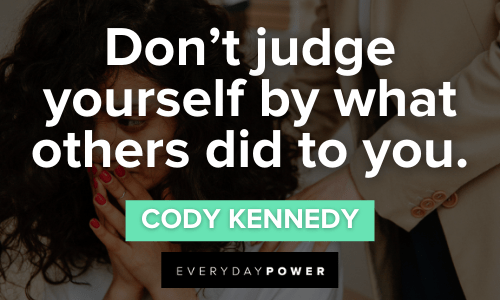 6. "Never forget that walking away from something unhealthy is brave even if you stumble a little on your way out the door." ― Unknown
7. "Sometimes the shame is not the beatings, not the rape. The shaming is in being asked to stand judgment." ― Meena Kandasamy
8. "When it comes to abuse, you believe there's no way out. There is always help. There is always a way out." ― Rev. Donna Mulvey
9. "The enemy doesn't stand a chance when the victim decides to survive." — Rae Smith
10. "Never let someone who contributes so little to a relationship control so much of it." ― Unknown
11. "The more that we choose not to talk about domestic violence, the more we shy away from the issue, the more we lose." ― Russell Wilson
12. "I now see how owning our story and loving ourselves through that process is the bravest thing that we will ever do." — Brené Brown
13. "Each time a woman stands up for herself without knowing it possibly, without claiming it, she stands up for all women." — Maya Angelou
Domestic Violence Quotes on Surviving
14. "I was heartbroken, scared, I had a lot of anxiety, I was worried, I felt weak, and I had no idea how I was ever going to come up with the strength. But I just closed my eyes and took a blind leap. I knew I had to get out of there." ― Bob Casey Jr
Related
50 Timothy Leary Quotes That Will Leave You Tripping
15. "You can recognize survivors of abuse by their courage. When silence is so very inviting, they step forward and share their truth so others know they aren't alone." ― Jeanne McElvaney
16. "It doesn't matter how rich or poor a person is, what gender or social class, or how much fame or education she possesses. Verbal, mental, and physical abuse can happen to anyone. It doesn't matter what a woman's ethnicity is because the only distinguishing color of abuse is black-and-blue." ― La Toya Jackson
17. "Abusers – they'll manipulate and they'll lie to you. And when you no longer give them that power, they'll try to manipulate your family or the people close to you instead. Abusers want everyone to hate you just as much as they do. It's sick. Their lack of morals and integrity is sick. The amount of hate they harbor in their hearts is sick, as are their psychopathic or sociopathic traits."― LaTasha "Tacha B." Braxton
18. "From every wound there is a scar, and every scar tells a story. A story that says, -I survived." ― Fr. Craig Scott
19. "I realize now I am a survivor. I am a stronger woman for opening my eyes and stepping away from someone who didn't respect themselves and would never respect me." ―  Lori
20. "The boys had always been her reason to stay, but now for the first time they were her reason to leave. She'd allowed violence to become a normal part of their life." ― Liane Moriarty
21. "Survivor Psalm: I have been victimized. I was in a fight that was not a fair fight. I did not ask for the fight. I lost. There is no shame in losing such fights. I have reached the stage of survivor and am no longer a slave of victim status. I look back with sadness rather than hate. I look forward with hope rather than despair. I may never forget, but I need not constantly remember. I was a victim. I am a survivor." — Unknown
22.
"After a while I looked in the mirror and realized…wow, after all those hurts, scars, and bruises, after all of those trials, I really made it through. I did it. I survived that which was supposed to kill me. So I straightened my crown…and walked away like a boss."— 
Unknown
23. "Leaving an abusive partner is a very difficult thing to do. It frequently feels like you are failing, or destroying your family, or not trying to work things out, or not giving your partner a second chance." ― Blaine Nelson
24. "Someone once asked me how I hold my head up so high after all I have been through. I said it's because no matter what, I am a survivor, not a victim." — Patricia Buckley
Related
Darth Vader Quotes From the Star Wars Villain
25. "Please know that you can get out and it will not always be an easy road, and it will be lonely at times. But it only gets better, life is too beautiful to live it trapped and abused and hiding under the shame of it all." — Overcoming the Stigma of Intimate Partner Abuse
Domestic Violence Quotes on Recovering
26. "It is not the bruises on the body that hurt. It is the wounds of the heart and the scars on the mind." — Aisha Mirza
27. "One day, I plan to love so loudly, my body abandons every demon harvesting me." — Arati Warrier
28. "Today I wore a pair of faded old jeans and a plain grey baggy shirt. I hadn't even taken a shower, and I did not put on an ounce of makeup. I grabbed a worn out black oversized jacket to cover myself with even though it is warm outside. I have made conscious decisions lately to look like less of what I felt a male would want to see. I want to disappear." ― Sierra D. Waters
29. "Use the darkness of your past to propel you to a brighter future." ― Donata Joseph
30. "Why didn't I report it? Because when you are sexually assaulted by a relative, it's terribly complicated. Initially, I felt shocked, numb, and powerless. Keep in mind, sexual assault is an act of violence; not sex. In addition, sexual assault is about power. It's common for victims to feel helpless." ― Dana Arcuri
31. "You survived the abuse, you're going to survive the recovery." — Mariska Hargitay
32. "Overcoming abuse doesn't just happen, It takes positive steps everyday. Let today be the day you start to move forward." ― Assunta Harris
33. "In addition to reaching out for help, you will also need to reach within yourself. Your biggest ally will be your emotions. Through them, you will learn more about what really happened to you, how the abuse affected you, and what you need to do in order to heal. Your emotions will enable you to reclaim the self you long ago hid away." ― Beverly Engel
34. "Your growth comes not as you work harder to get something you don't have, but as you live in the reality of what you have already been given." — Nancy Guthrie
35. "Trauma creates change you don't choose. Healing is about creating change you do choose." — Michelle Rosenthall​
36. "If you want to know where to find your contribution to the world, look at your wounds. When you learn how to heal them, teach others." — Emily Maroutian
37. "Our wounds are our sources of growth."— Rachel Naomi Remen​
Related
Devil Quotes to Help You Triumph Against Evil
38. "You survived the abuse. You're gonna survive the recovery." — Olivia Benson
39. "Don't light yourself on fire trying to brighten someone else's existence." — Unknown
Domestic Violence Quotes on Strength
40. "If we are to fight discrimination and injustice against women we must start from the home for if a woman cannot be safe in her own house then she cannot be expected to feel safe anywhere." ― Aysha Taryam
41. "Survivors of abuse show us the strength of their personal spirit every time they smile." ― Jeanne McElvaney
42. "Abuse is the weakest expression of strength. It is weakness to destroy what you ought to protect, build and make better." ― Kingsley Opuwari Manuel
43. "The best revenge is creating your own happiness despite a person's wish to take you down." ― Melinda Longtin
44. "You are not the darkness you endured. You are the light that refused to surrender." ― John Mark Green
45. "Don't let someone who doesn't know your value tell you how much you're worth." ― Unknown
46. "I have the power to change my physical and emotional experience." ― Patricia Dsouza
47. "Survivors of abuse show us the strength of their personal spirit every time they smile." ― Jeanne McElvaney
48. "Strength doesn't come from what you can do. It comes from overcoming the things you once thought you couldn't." —​Rikki Rogers
49. "To be rendered powerless doesn't destroy your humanity. Your resilience is your humanity. The only people who lose their humanity are those who believe they have the right to render another human being powerless. They are the weak. To yield and not break, that is incredible strength." — ​Hannah Gadsby
50. "I am not what happened to me, I am what I choose to become." — Carl Jung