Former professional football player turned sports analyst, Anthony "Booger" McFarland has said a few… interesting lines during his career. We hope you enjoy these Booger McFarland quotes.
Starting his career as a defensive tackle for the NFL, McFarland played with both the Tampa Bay Buccaneers and Indianapolis Colts. He has won two Super Bowls, one with each team.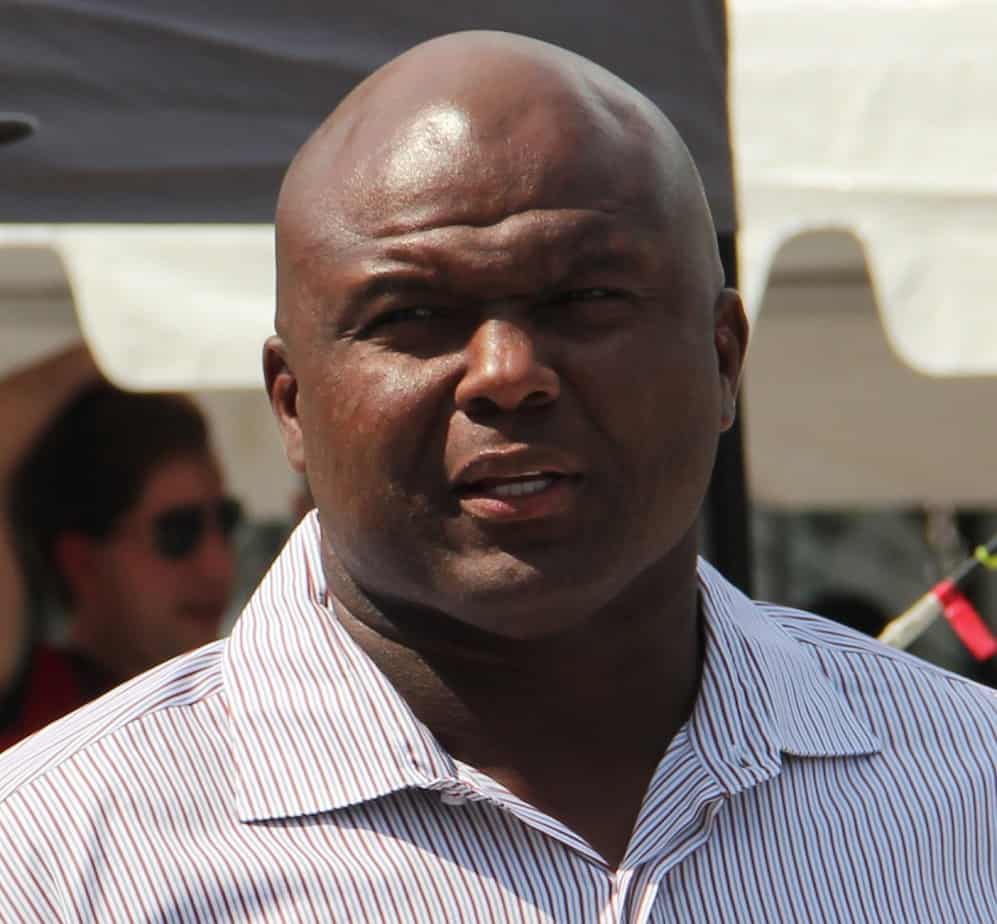 In 2018, he became an analyst on ESPN's Monday Night Football and joined the Monday Night Countdown in 2020.
During his time on both shows, viewers were never shy with their criticism. McFarland had a knack for stating the obvious and making controversial calls while commentating on a game. He so frequently said such wild lines on air that he has become an internet meme in the online sports world.
Here is our list of nutty Booger McFarland quotes.
Don't forget to also check out the Drew Brees quotes about New Orleans and football.
Booger McFarland quotes and comments where he states the obvious
1. "You see Joe when January 1st comes, you start the year all over again." — Booger McFarland
2. "The Cleveland Browns have fired Freddie Kitchens. So, this means the Browns now have a coaching vacancy and are looking for a new head coach." – Booger McFarland
3. "What he's saying is since the Saints did not sign AB, Antonio Brown is not a Saints receiver." — Booger McFarland
4. "Because the LSU Tigers are playing the Clemson Tigers, the Tigers will absolutely win the National Championship." – Booger McFarland
5. "If Seattle would have won, San Francisco would have lost." — Booger McFarland
6. "If on 4th down, the quarterback doesn't complete his pass, they will turn over the ball." — Booger McFarland
7. "I know you never want to get penalties. I understand that. You never want to get them." — Booger McFarland
8. "The Rams, you know, have yellow uniforms." — Booger McFarland
9. "Every team has its weakness, and every team has its strength." — Booger McFarland
Nutty commentary Booger McFarland quotes
10. "These are the type of plays that historically have gone against the Vikings — the Minneapolis Miracle — plays that are fluke plays that went against this team. I'm sure Vikings fans are saying it's about time we get one of these plays to go our way." — Booger McFarland
11. "If I'm the Rams, I'm gonna force Lamar (Jackson) to have the football. All you've got to do is tackle him." — Booger McFarland
12. "Tess, in order for Lamar Jackson to win MVP, he will have to convince people he is more valuable than Patrick Mahomes." — Booger McFarland
13. "I understand Pat Mahomes is off to a good start. I'm not ready to crown him four games into his career, but he's definitely playing well." — Booger McFarland
14. "Games in this league are lost more than they're won" — Booger McFarland
15. "These diva wide receivers want to go to the bathroom. As a defensive lineman, we didn't go to the bathroom."― Booger McFarland
16. "If you want to go to a school with lower requirements, it doesn't diminish the education."― Booger McFarland
17. "Quarterbacks will make plays; they always do. But I think the team that runs the ball the best will win." ― Booger McFarland
Booger McFarland quotes that were controversial football takes
18. "No disrespect to Gronk — Travis Kelce is the best tight end in football." — Booger McFarland
19. "[Travis Kelce] is the best tight end in football. He's the reason why we saw (Broncos cornerback) Chris Harris Jr. on him. You can't put a linebacker or a safety on him." — Booger McFarland
20. "I know you never want to get penalties. I understand that. You never want to get them. But this may actually help the Rams because it gives them more room. Because all the Ravens are going to do as you get down close to the 10-yard line, the field shrinks. If you can't run it in, it gets tough. So this may actually help the Rams as they try to pass this ball into the end zone." — Booger McFarland
21. "I do like what Zac Taylor is doing here In Cincinnati. I like what they're building. I like their energy that Zac Taylor has brought from the West Coast to the East Coast." — Booger McFarland
Booger McFarland quotes and one liners about football
22. "Playing defense, it was a tough job, but it was pretty simple: When the ball came off, get in the backfield and create havoc and find the ball carrier." ― Booger McFarland
23. "Like a good play-caller, a good TV guy, if you get going on a good conversation, you can ad-lib a little bit. You keep it going. Just like in a game, if you call a couple plays and they're working, you come back to them."― Booger McFarland
24. "Tennessee is a program that I thought had a lot of tradition. A program that I thought stood for something."― Booger McFarland
25. "I think the NFL needs a more stringent policy when it comes to domestic violence. Make the punishment work."― Booger McFarland
26. "There's nothing more comforting for a team than to know when you need someone to make a play, you have someone who is going to do it when it matters most."― Booger McFarland
27. "Offense is about rhythm and timing, and you're not going to always have that every game." ― Booger McFarland
28. "You can be a great defensive player, and if you don't put up splash statistics, then you're not going to get noticed." ― Booger McFarland
29. "I like a guy with a little edge. I mean, I played with Warren Sapp."― Booger McFarland
30. "People talk about players who should get more attention, but things like that have never bothered me. If I just play my game, walk out the back door without anybody seeing me, I'm fine with that."― Booger McFarland
Funny Booger McFarland quotes about himself
31. "I was a bad kid, getting into a lot of wild stuff." — Booger McFarland
32. "Our idea of fun wasn't going to Disney World. It was, you want to play basketball, go outside, and make a goal. You want to play baseball? Take the old broom, take the handle off, take a tennis ball that we found somewhere, and go play baseball. We were forced to create things." — Booger McFarland
33. "Momma told me, 'I'm going to town. Don't touch the trash in the backyard,' because we used to burn our trash. So I'm going to do mama a favor. I light the trash and go back inside to watch Ohio State and LSU play. And something said, 'You know what, at halftime, go check on it.' And fire is about 8 feet from the back door." — Booger McFarland
34. "I'm a small-town kid from Winnsboro, La., who grew up not really being comfortable talking to people."― Booger McFarland
35. "My family can tell you I'm not really a guy that likes roller coasters. I don't like going on Ferris wheels. I've got a six-feet rule; I like my feet no more than five, six feet from the ground at all times."― Booger McFarland
36. "I never said I want to be the football guy. But when that opportunity started to become real, I said, 'Okay, let's see where this goes."― Booger McFarland
37. "I've always been this way. What you see is what you get."― Booger McFarland
38. "Now if anyone calls me Anthony, I usually don't respond." ― Booger McFarland
39. "I do have a fear of heights." ― Booger McFarland
40. "I watch all sports in some shape or form. When you grow up in a small town, sports become a form of you." ― Booger McFarland
41. "People who know me, the guys who have been around me every day, this is the way I've been… I've never been a guy who just needed a lot of attention. Some people do." ― Booger McFarland
More Booger McFarland quotes and sayings
42. "What makes a three-man booth challenging is everybody's gotta give up a little something. Right? Because normally you'd have one guy being the analyst, and he's got the ability to go at his own pace and do everything and break down everything, but when you've got two people, somebody's gotta give up a little something."― Booger McFarland
43. "When I talk about football from a studio standpoint, I try to cut through the minutia and get to the point."― Booger McFarland
44. "The way I look at it is I try to take advantage of every opportunity I've got." ― Booger McFarland
45. "Nothing motivates an 18-year-old like being disrespected." ― Booger McFarland
46. "I've always lived by a quote, 'Your talent will make room for you.' Whatever it is in life. I don't care who you are. If you get an opportunity, your talent will make room for you." ― Booger McFarland
47. "When you criticize grown men, it's a lot easier. They make millions of dollars. They should be able to handle it, especially if you do it in a truthful manner… I'm sure it stings, but my whole objective is, to be honest."― Booger McFarland
48. "When you treat people the right way, it's amazing the avenues that open up for you." ― Booger McFarland
49. "Find somebody who has been successful, and learn how to do it. Find somebody who has been unsuccessful, and learn how not to do it. The clues are there. Find 'em." ― Booger McFarland
50. "You watch guys talk about football, and you think that maybe it's really easy, and it's really not. Yeah, we've got the expertise because we played, but how you put that into a 30-, 45-second take and educate and entertain someone that's watching?" ― Booger McFarland