What is it like to be a bitch?
Collins Dictionary says that a bitch is a "woman regarded as malicious, bad-tempered, or aggressive". Urban Dictionary defines the term as someone who is "inconsiderate and insensitive". Not nice, huh?
But I prefer Jo Freeman's version of being a bitch. In her The BITCH Manifesto, a bitch is someone that is domineering, strong-minded and takes sh*t from no one.
For me, bitches are those who prioritize themselves. From mundane to life-changing decisions, they care about themselves before anyone else. Bad bitches don't seek approval and affirmation from others. They only focus on themselves. I don't know about you, but it sounds like a good life to me.
If sometimes people call you a bitch or you regard yourself as an unapologetic badass, there's nothing to be ashamed of. Own it, embrace it.
So here is a list of bad bitch quotes. They may be hilarious, savage and a little bit too much. But they do tell the truth of how to live a care-free life. Time to shake it off, right?
Whoever is trying to bring you down is already below you.
– Unknown
She's not being a bitch.
She's just less likely to put up with your shit.
– r.h.Sin
I won't be remembered as a woman who keeps her mouth shut. I'm okay with that.
Being a bad bitch sometimes means speaking your mind even if people won't like it. Being honest to yourself is so much more important than being liked.
Not your average person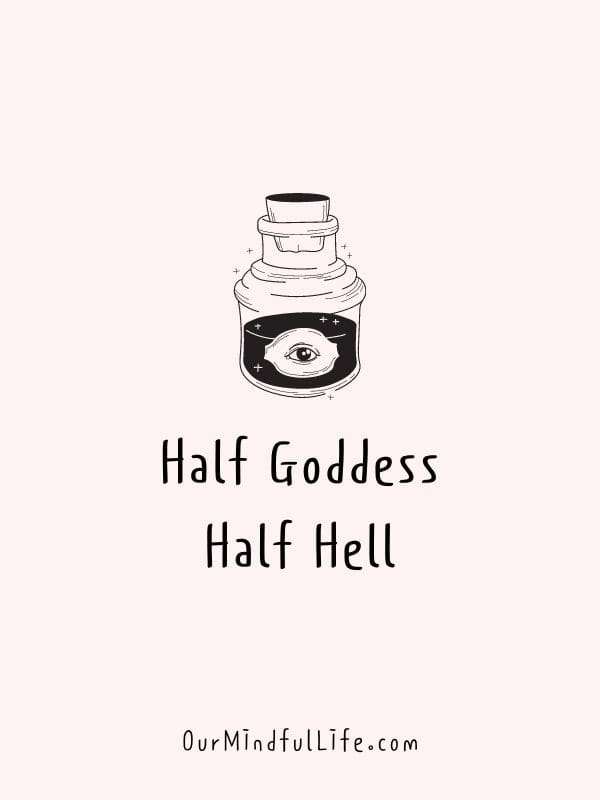 Half Goddess. Half Hell.
I am done explaining myself. My stuff is too crazy for basic people.
A sassy quote for haters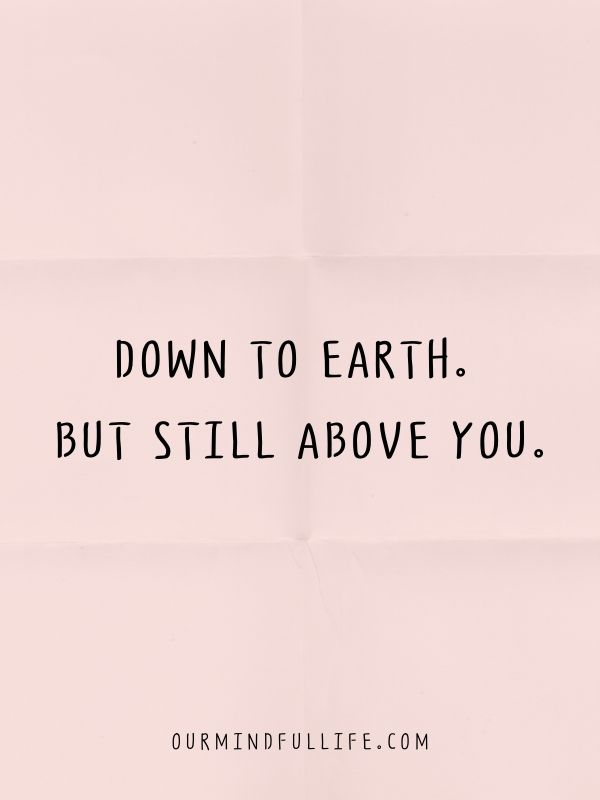 Down to earth. But still above you.
My online dating profile: Crazy and loveable. Damaged but fixable.
Do no harm. Take no shit.
Don't study me. You won't graduate.
Bad bitches don't f*ck with small minds.
People don't just come in my life and stay. They need to earn their spot.
Don't be afraid to cancel people from your life. Your time is too precious for half-ass people.
A funny quote with a sassy attitude
I am not auguring. I'm actively explaining why I am right.
Go find someone else to feed your ego. I'm busy.
A sassy quote for those who talk too much (behind your back)
Some people are like clouds. When they disappear, it's a brighter day.
– Unknown
A motto to live by
May God have mercy on my enemies, cause I won't.
I prefer disaster to nothingness.
– Coco Chanel
Because mediocrity is not ok.
Bad reputation is some kind of reputation
Forget safety. Live where you fear to Iive. Destroy your reputation. Be notorious.
– Rumi
We are the granddaughters of the witches they couldn't burn.
Read also: 65 Stunning witchy tattoos to summon your inner magic
Because you are so much more than a number on the scale
I love my curves, my tattoos, my imperfections and my jiggling thighs. No one said you had to.
– Unknown
A savage quote to Nah yourself from caring about them
Queens don't compete with hoes.
– Unknown
A quote that'll make you fall in love with being a bitch
When a man gives his opinion, he's a man. When a woman gives her opinion, she's a bitch.
– Bette Davis
A man does what he can; a woman does what a man cannot.
– Isabel Allende, Inés of My Soul
A savage and motivational quote to throw your tears behind
You're allowed 5 emotional minutes in the day, then you gotta be a gangsta.
– Unknown
People think that all the doors are opened in front of me, but it was me who pushed them open.
– Coco Chanel
Real badass never waits. They create their own ways.
I survived because the fire inside me burned brighter than the fire around me.
– Joshua Graham
No room for discussion here
It's ok to disagree with me. I can't force you to be right.
– Unknown
I'm tough, I'm ambitious, and I know exactly what I want. If that makes me a bitch, okay.
– Madonna
It's not my responsibility to be beautiful. I'm not alive for that purpose.
– Warsan Shire
How to deal with haters like a badass
If you low-key don't like me, then I highly don't care.
Hate me but you are still watching? Bitch you are a fan.
Stay classy, sassy, and a bit bad assy.
Never mess with a bad bitch with a strong determination
You are either on my side, by my side, or in my f*cking way. Choose wisely.
– Unknown
image source
The best Bitch definition we need to listen to
Bitch (noun)

A woman who won't bang her head against the wall obsessing over someone else's opinion.
– Sherry Argov
An empowering bitch quote
I stopped waiting for the light at the end of the tunnel. I lit that bitch up myself.
– Unknown
If being self-dependent means I'm a bitch, I'm totally fine with that.
Being both soft and strong is a combination very few have mastered.
– Unknown
I don't look back unless there is a good view.
A bad bitch quote that inspires independent thoughts and life
If I was meant to be controlled, I would have come with a remote.
– Unknown
Because dreams are for the weak
I don't have dreams, I have goals.
– Harvey Specter, "Suits"
Bitches get stuff done.
– Tina Fey
Be the one who just go for it
Make more moves and less announcements.
Time to turn your back and leave
We all know someone who speaks fluent shit.
Zero-tolerance of bullsh*t
I don't put up with being messed around, and I don't suffer fools gladly.
The short version of that is that I'm a bitch.
– Robin McKinley
Time to erase toxic people from your life
I ain't got time to bleed.
– Blain, "Predator"
Read also: 38 Fake friends quotes that keep you away from false friendship
You should see me in a crown.
– Billie Eilish
A bad bitch quote for all the single ladies out there
Queen without a king? That's more badass historically.
Sweet as sugar. Cold as ice. Hurt me once, I'll break you twice.
If you touch me, I'll provide you with the opportunity to see if you can heal yourself.
– Richelle Mead
Throw me to the wolves and I'll come back leading the pack.
– Unknown
They always find a way not just to get things done, but to take themselves to magnificent.
When Billie said so, we have to listen
I've always done whatever I want and always been exactly who I am.
– Billie Eilish
Real girl isn't perfect and perfect girl isn't real.
– Harry Styles
And it's better to be imperfect and real than to be a fake saint.
No matter how much I lower my standards, some people always find a way to go even lower.
Be savage, not average.
Life is short. Make every hair flip count.
– Em.x
Make your choices wisely and daringly
I am learning to love the sound of my feet walking away from things not meant for me.
– AG
Read also: 29 Inspiring Quotes to Help You Leave A Toxic Relationship
That's basically what bitches do
Just killin' it as always.
– Unknown
A bitch quote to stop caring what others say
People have a lot to say about lives they've never lived.
– Unknown
A body-positive quote to fight insecurity
If someone tells you you're not beautiful, turn around and walk away so they can have a great view of your fabulous ass.
– Unknown
Inhale courage, exhale fear.
– Unknown
Be the bitch who makes history
Well-behaved women seldom make history.
– Laurel Thatcher Ulrich
No time for drama or rumor
Rumors are carried by haters, spread by fools and accepted by idiots.
– Unknown
Sometimes you have to let problems solve themselves
When people tell me "you are gonna regret that in the morning", I sleep in until noon because I'm a problem solver.
– Unknown
Embrace your full potential
Underestimate me. That'll be fun.
– Unknown
A quote about beauty and self-love
I think beautiful is like you taking care of yourself.

Cardi B
Who's your favorite bad bitch? 
The word "bitch" comes with an endless amount of negative connotations. Merriam-Webster defines "bitch" as "something that is extremely difficult, objectionable, or unpleasant."
But, as the phrase "bad bitch" rises in popularity, the definition of "bitch" has been revamped. Today, I believe a "bitch" is a positive, goal-oriented person that isn't swayed by the negativity of others.
Below I have compiled quotes from some of my favorite bad bitches throughout history, including Eleanor Roosevelt, Tina Fey, and Cardi B.
Also check out these Joan of Arc quotes about leadership, faith, and strong women.
Bad bitch quotes about self-confidence
1. "I think us bad bitches is a gift from God." – Cardi B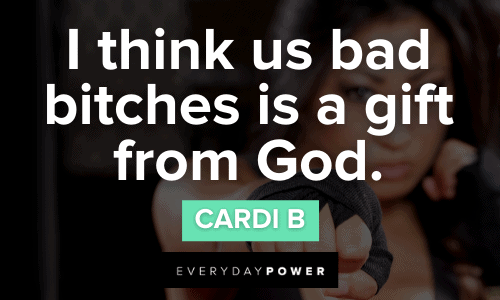 2. "The most beautiful thing you can wear is confidence." – Blake Lively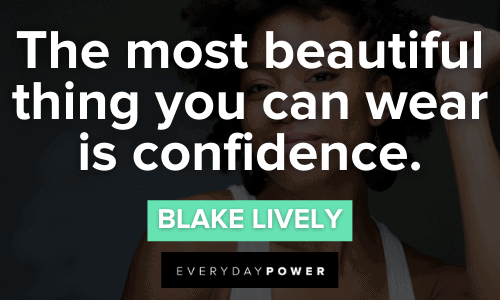 3. "No one can make you feel inferior without your consent." – Eleanor Roosevelt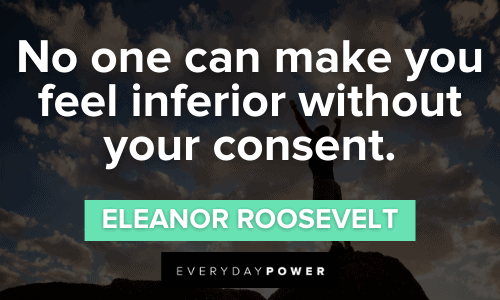 4. "Talk to yourself like you would to someone you love." – Brene Brown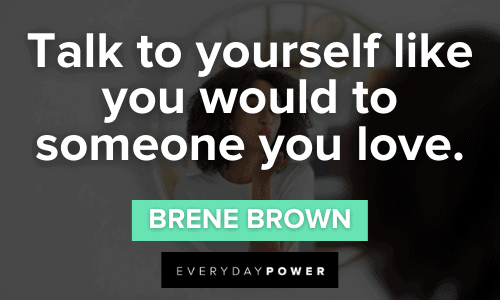 5. "Believing in yourself and having confidence gives you outer strength." – Nikki Bella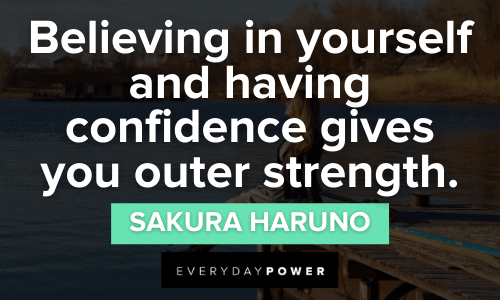 6. "It is best to act with confidence, no matter how little right you have to it." – Lillian Hellman
7. "I think the best way to have confidence is not to allow everyone else's insecurities to be your own." – Jessie J
If you're enjoying these quotes, you'll love our collection of insecurity quotes to help you gain confidence.
8. "I'm my own competition; I'm competing with myself." – Cardi B
9. "Bitches get stuff done." – Tina Fey
10. "Life's too short to bullshit." – Naomi Campbell
11. "Our deepest fear is not that we are inadequate. Our deepest fear is that we are powerful beyond measure. It is our light, not our darkness, that most frightens us. We ask ourselves, 'Who am I to be brilliant, gorgeous, talented, fabulous?' Actually, who are you not to be?" – Marianne Williamson
12. "Love who you are, embrace who you are. Love yourself. When you love yourself, people can kind of pick up on that: they can see confidence, they can see self-esteem, and naturally, people gravitate towards you." – Lilly Singh
13. "You wouldn't worry so much about what others think of you if you realized how seldom they do." – Eleanor Roosevelt
14. "Confidence is 10 percent hard work and 90 percent delusion, just thinking foolishly that you will be able to do what you want to do." – Tina Fey
15. "Walking with your chest out and head held high says you have earned the right to stomp and pummel this particular piece of real estate." – RuPaul
If you're enjoying these quotes, make sure to check out our collection of RuPaul quotes from the world's favorite drag queen.
16. "I will speak and share and f*ck and love and I will never apologize to the frightened millions who resent that they never had it in them to do it. I stand here and I am amazing, for you. Not because of you. I am not who I sleep with. I am not my weight. I am not my mother. I am myself. And I am all of you, and I thank you." – Amy Schumer
17. "There's power in looking silly and not caring that you do." – Amy Poehler
Bad bitch quotes about being a savage
18. "Didn't they tell you that I was a savage? Fuck your white horse and a carriage." – Rihanna
19. "I taught myself confidence. When I'd walk into a room and feel scared to death, I'd tell myself, 'I'm not afraid of anybody.' And people believed me. You've got to teach yourself to take over the world." – Priyanka Chopra
20. "I use the negativity to fuel the transformation into a better me." — Beyoncé
21. "You're not gonna tell me who I am. I'm gonna tell you who I am." – Nicki Minaj
22. "I don't care about anyone not liking me, you bitches barely like yourselves." – Cardi B
23. "I've learned that you shouldn't go through life with a catcher's mitt on both hands; you need to be able to throw something back." – Maya Angelou
24. "If you obey all the rules, you miss all the fun." – Katharine Hepburn
25. "Stop wearing your wishbone where your backbone ought to be." – Elizabeth Gilbert
26. "Yeah, I'm in my bag, but I'm in his too, And that's why every time you see me, I got some new shoes." – Megan Thee Stallion
Bad bitch quotes about reaching goals
27. "Confidence literally starts from yourself. You have to go look in the mirror at yourself. If you don't like what you see, you're going to give off that energy." – Megan Thee Stallion
28. "A lot of people are afraid to say what they want. That's why they don't get what they want." – Madonna
29. "You have to have confidence in your ability, and then be tough enough to follow through." – Rosalynn Carter
30. "In achieving your goals, you may run into roadblocks. Don't let that stop you, go around, over, or under. If you are committed to your goal, you will find a way." – Catherine Pulsifer
31. "The future belongs to those who believe in the beauty of their dreams." – Eleanor Roosevelt 
32. "I do not know the word 'quit.' Either I never did, or I have abolished it." – Susan Butcher
33. "Success breeds confidence." – Beryl Markham
34. "You can't move mountains by whispering at them." – Pink
35. "It's easy to kill an idea with a no, but the smartest people in the room learn how to say yes and make it work." – Lisa Gersh
36. "Failing is a crucial part of success. Every time you fail and get back up, you practice perseverance, which is the key to life. Your strength comes in your ability to recover." – Michelle Obama
37. "I am lucky that whatever fear I have inside me, my desire to win is always stronger." – Serena Williams
38. "I learned to push the envelope when it comes to asking questions or making requests. And if you hear 'that's not possible,' then to ask 'what is possible,' instead of just saying thank you and leaving." – Emily Weiss
39. "I learned to always take on things I'd never done before. Growth and comfort do not coexist." – Ginni Rometty
Inspirational bad bitch quotes
40. "Knock me down nine times but I get up ten" —  Cardi B
41. "The most courageous act is still to think for yourself. Aloud." – Coco Chanel
42. "Find out who you are and be that person. That's what your soul was put on this Earth to be. Find that truth, live that truth and everything else will come." – Ellen DeGeneres
43. "Don't complain about what you don't have. Use what you've got. To be less than your best is a sin." – Oprah Winfrey
44. "Normal is nothing more than a cycle on a washing machine." – Whoopi Goldberg
45. "To me, there is no greater act of courage than being the one who kisses first." – Janeane Garofalo
46. "The thing women have yet to learn is nobody gives you power. You just take it." – Rosanne Barr
47. "Take chances, make mistakes. That's how you grow. Pain nourishes your courage. You have to fail in order to practice being brave." – Mary Tyler Moore
48. "Now that I've matured, I've realized that – at the end of the day – what's really important is the work, not what people think of me." – Jane Lynch
49. "Love yourself first and everything else falls into line. You really have to love yourself to get anything done in this world." – Lucille Ball
50. "Never limit yourself because of others' limited imagination; never limit others because of your own limited imagination." – Mae Jemison
Powerful bad bitch quotes
51. "I am not a bad girl. I am a storm with skin." —Unknown
If you're enjoying these quotes, make sure to read our collection of quotes for girls for young women of all ages.
52. "I am not a difficult woman at all. I am simply a strong woman and know my worth." – Angelina Jolie
53. "I am who I am. Your approval is not needed." —Unknown
54. "Be a first-rate version of yourself, not a second-rate version of someone else." – Judy Garland
55. "You can't play Games with a girl who made the rules." —Unknown
56. "Once you figure out what respect tastes like, it tastes better than attention." – Pink
57. "There are no good girls gone wrong – just bad girls found out." —Mae West
58. "A woman is the full circle. Within her is the power to create, nurture and transform." – Diane Mariechild
59. "I don't have an attitude problem. You have a problem with my attitude, and that's not my problem." – Unknown
60. "Sometimes I wake up and think I look horrible. And sometimes I see a strong woman." – Irina Shayk
More bad bitch quotes
61. "Sometimes being a bitch is all a woman's got to hold on to." – Stephen King
62. "Sometimes you have to be a bitch to get things done." – Madonna
63. "She may be a bitch, but she's a genuine bitch with a heart." – Emily Henry
64. "Life is a bitch; you get used though, or you kill yourself. Either way, you're winning." – Ahmed Mostafa
65. "I got all negative tags from that place where in the end I became unwanted." – Sonal Takalkar