Everyone knows moms have at least one true love — and it isn't the person they married. (Sorry, dads.) If it's your first Valentine's Day with kids, make sure they wear your heart on their sleeves with these adorably festive outfits.
3-Piece Valentine's Day Outfit
This preppy ensemble — which comes with a bodysuit and bowtie, a button-down bodysuit, and pants with hearts on the knees — looks like a little suit and cardigan. You can layer all three together, or separate the tops into two V-Day outfits.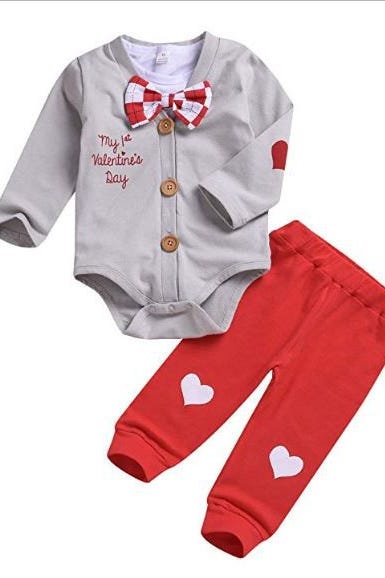 Cat & Jack™ Conversation Hearts Tutu Romper
Now she can definitely wear her heart on her sleeve. This romper, inspired by one of Valentine's Day's best treats, is really a one-piece, so you don't have to worry about the skirt falling off.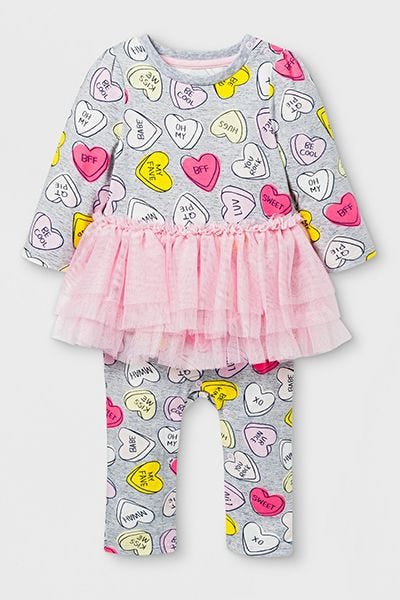 Cat & Jack™ 4-Piece Valentine Set
Your man will look like a little gentleman in this four-piece outfit, which comes with a heart-print bodysuit, pants, suspenders, and bow tie. You're never too young for suspenders — this one starts with in newborn sizes.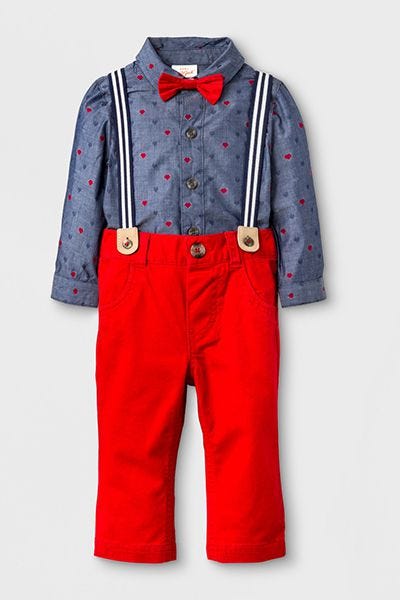 Customized My First Valentine's Day Outift
If you want to add a personal touch, you can add your baby's name to this festive, four-piece outfit, which comes with a bodysuit, leg warmers, a headband, and a tulle skirt.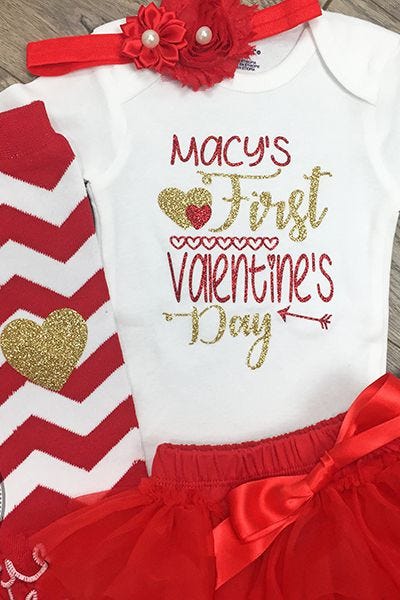 MidBestThreads Heart Overalls
For a baby — or big kid, since this is available in sizes up to 5t — who is tough but sweet, these overalls look skater from the front, but have the heart where it counts.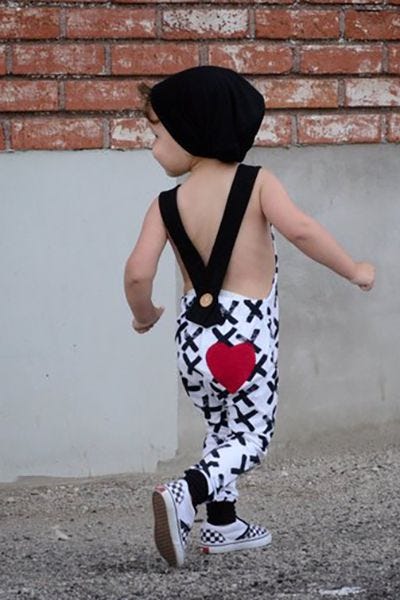 Hanna Andersson Be Loved Tights
A  pair of colorful heart tights can turn any dress into a Valentine's Day outfit.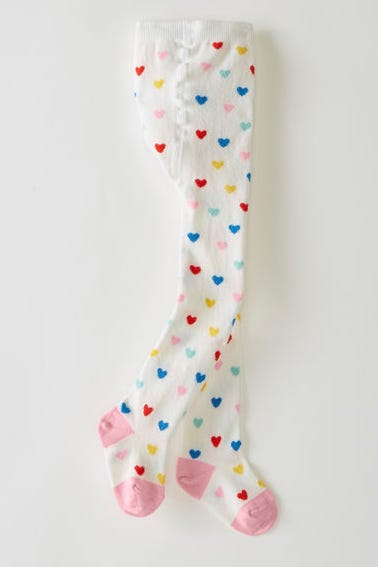 Carter's Heart Set
If you're looking for a more casual look, Carter's ditches all the tulle and fluff for a three piece outfit with a bodysuit, a warm hoodie, and leggings.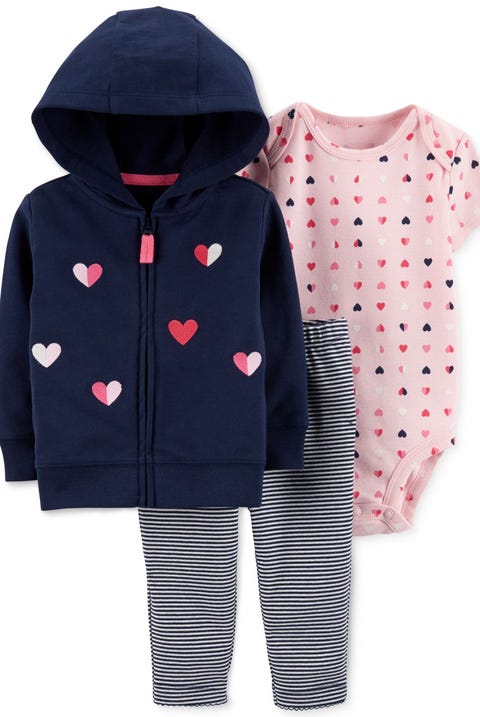 Carter's Little Guy Outfit
We should always celebrate the big hearts of little people, whether it's Valentine's Day or not. The pants are included in the set, and your baby can wear them all winter.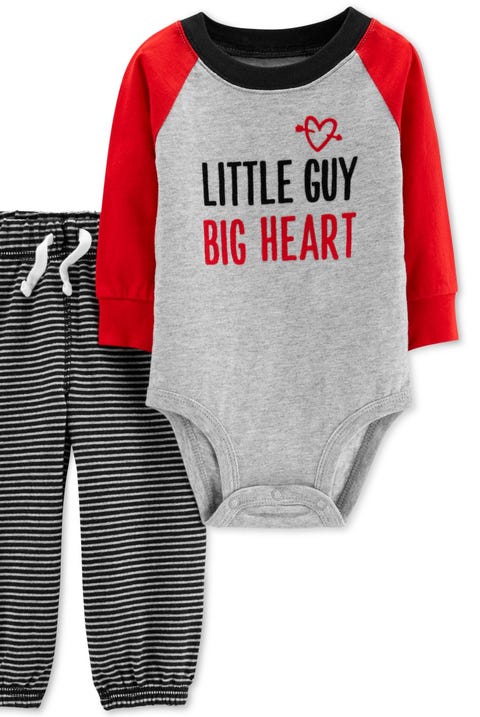 BabySquishyCheeks Rhyming Dress
This glittery poem lists everything you could want from a first Valentine's Day — hugs, kisses, what else could you ask for? The dress alone costs $26, but for $32 you can get it with a matching heart-shaped headband.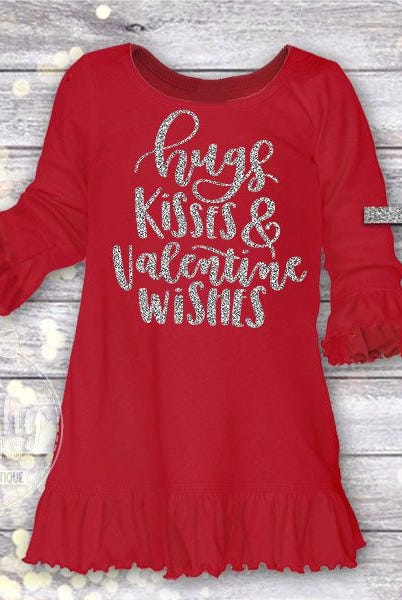 Mini Boden Heart Pocket Overalls
If you want to be very, very subtle about your heart motif, Mini Boden has a floral romper with heart-shaped pockets you can't see until you get up close. It's like a little V-Day surprise.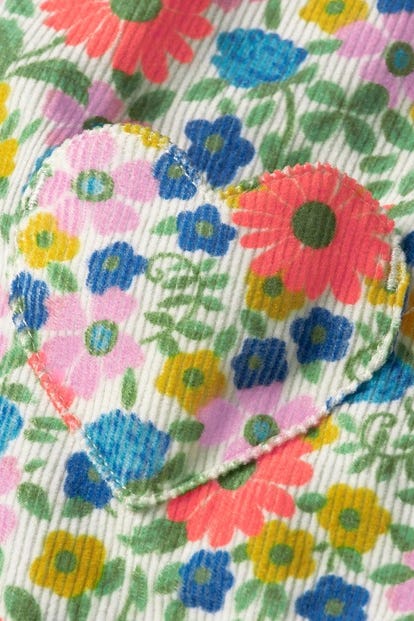 Just One You Bodysuit
This is another low-key heart motif, paired with something that little guys love — trucks! We dig it, too.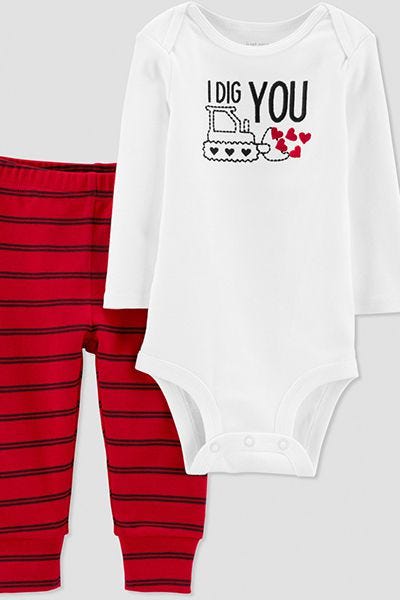 Hanna Andersson Be Loved Sweatshirt
Or ditch the hearts altogether for this rainbow "LOVED" sweatshirt, which comes in sizes as small as 3m.