Appetizers to Kick off In New Year's Eve
The year is coming to a close, which means that it's time to break out your champagne glasses and fancy dinner plates to celebrate! Even though health experts recommend staying safe on December 31 by not throwing a blowout New Year's Eve party, getting through such a crazy year is still worth celebrating — even if it's just over Zoom or a tiny celebration with those you live with. And even a small New Year's Eve party in quarantine needs delicious food!
Before serving up the main course for your last dinner of 2020, whip up a few of these irresistible hors d'oeuvres that are super easy to make. From ooey-gooey cheese dip to mouthwatering flatbreads, these simple bites and spreads will kick off your NYE celebration on a yummy note — and they'll pair perfectly with a champagne cocktail. Whatever you decide to serve to start 2021 on the right foot, one thing's for sure: These memorable New Year's appetizers will keep you full and satisfied well past midnight.
Spaghetti and Meatball Nests
A classic Italian pasta dish can become the cutest bite-size appetizer at your New Year's soirée, all with the help of a mini muffin pan (and heaps of shredded mozzarella, of course).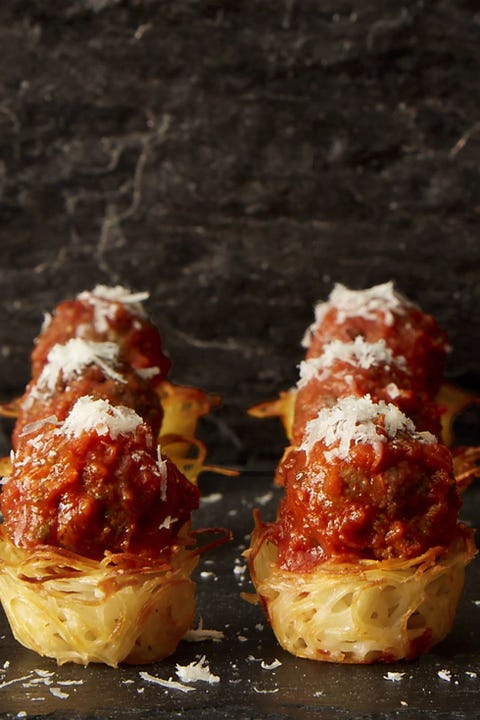 Roasted Artichokes With Caesar Dip
Delectable meets healthy with these artichokes roasted until golden brown and tender, served with a mouthwatering cheesy mustard sauce that packs just the right amount of flavor.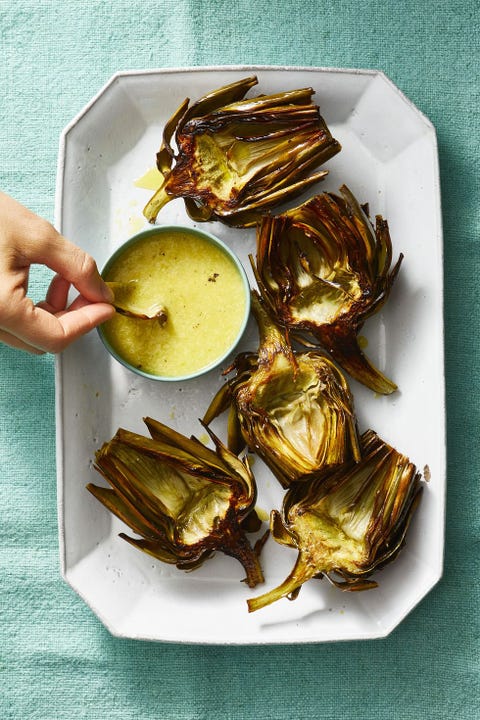 Cherry Tomato Confit
If you're partial to crostini and bruschetta, this cherry tomato confit recipe is a truly delightful app made with fragrant tomatoes, garlic, and thyme.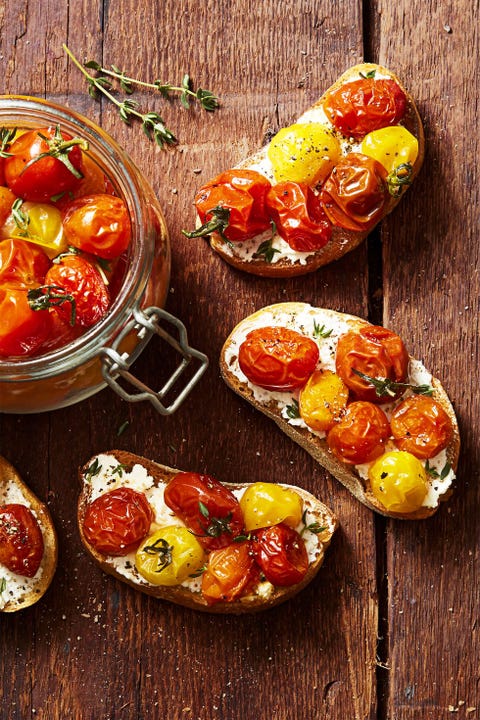 Stuffed Mushrooms
You really can't go wrong with this classy app at New Year's Eve — they're delicious baby mushrooms stuffed with all the goodness of Parm, cream cheese, thyme, and parsley.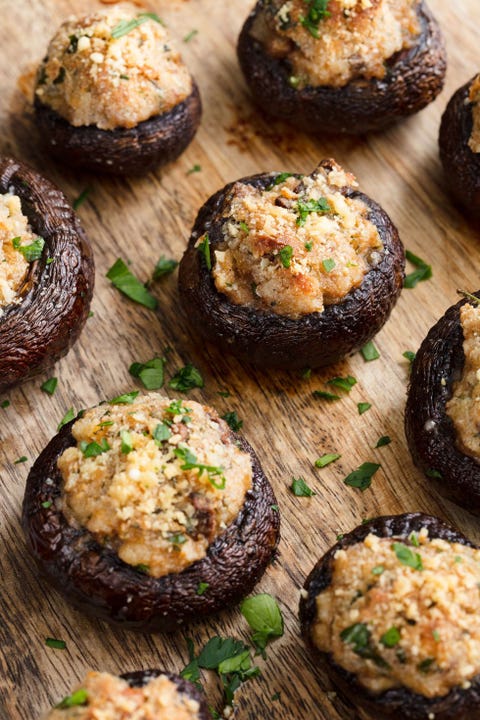 Cranberry Brie Bites
You can used canned cranberries for this recipe, but if you have leftover homemade cranberry sauce from Christmas, go ahead and use it.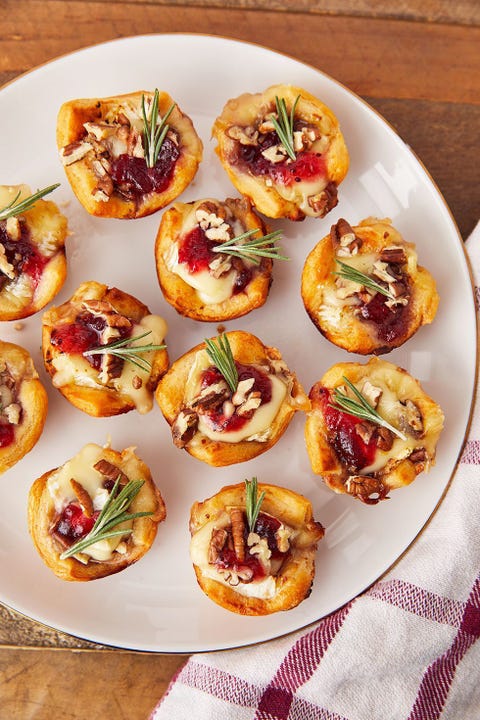 Sweet-and-Salty Feta Cubes
These feta cubes are a perfectly sweet-and-salty cheesy snack, deliciously topped with honey drizzle and coated with chopped pistachios.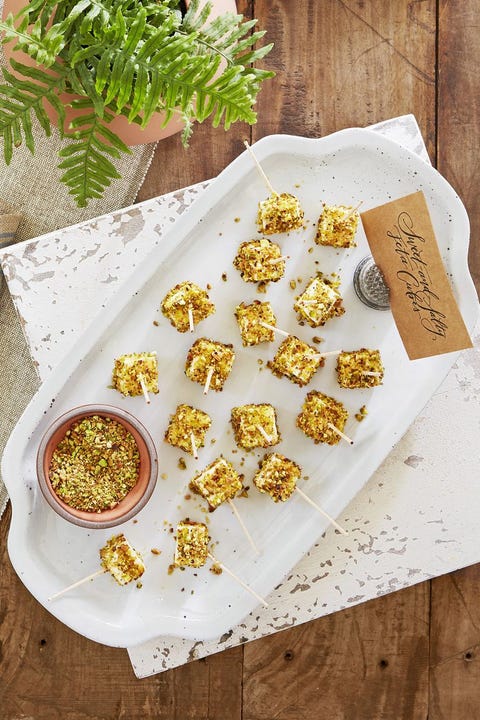 Three-Cheese Fondue
Because is there anything better than melted cheese for a NYE party? This fondue recipe uses three cheeses to make a truly mouthwatering dip, best served with breadsticks, fruit, and veggies.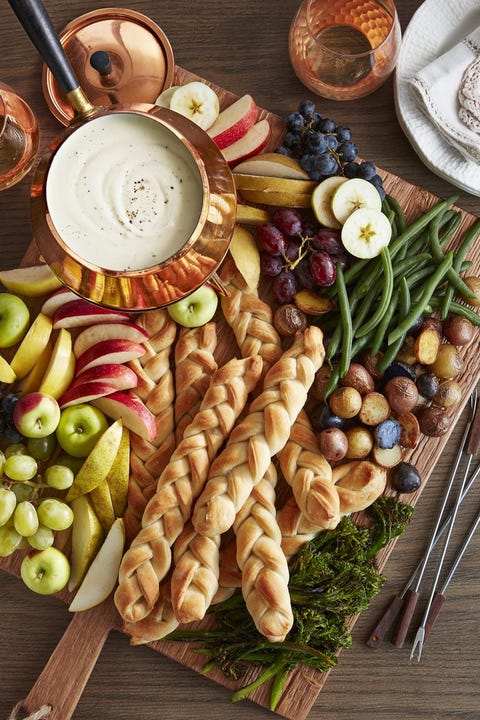 Chorizo-and-Manchego Crostini
Apricot jam offers a touch of sweetness to this easy savory app.