90 SHORT FAMILY QUOTES TO CHERISH YOUR BOND
Looking for short quotes about family? We have rounded up the best collection of short family quotes, sayings, captions, messages, proverbs, (with images and pictures) which reflect on the importance of our family in our lives.
Family plays the most important roles in our lives. Great writers have great insights into the importance of family bond.
Famous words from elebrated thinkers like Mother Teresa, Walt Disney, Winston Churchill, and George Bernard Shaw, among others, and see what they've had to say about family love.
SHORT FAMILY QUOTES & SAYINGS
"Together, we make a family."


---

"Family is family." – Linda Linney


---

"Home is where the story begins."


---

"Family is a gift that lasts forever."


---

"Family: where life begins and love never ends."


---

"A happy family is but an earlier heaven." – George Bernard Shaw


---

"Life is beautiful. It's about giving. It's about family." – Walt Disney


---

"Family is not an important thing. It's everything." – Michael J. Fox


---

"Sticking with your family is what makes it a family." – Mitch Albom


---

"There is no such thing as fun for the whole family.¨ — Jerry Seinfeld


---

"I have learned that to be with those I like is enough."― Walt Whitman


---

"Rejoice with your family in the beautiful land of life." – Albert Einstein


---

"Family is not defined by our genes, it is built and maintained through love."


---

"Family means nobody gets left behind or forgotten." — David Ogden Stiers


---

"I think togetherness is an important ingredient of family life." — Barbara Bush


---

"Ohana means family and family means nobody gets left behind or forgotten." – Stitch


---

"Other things may change us, but we start and end with the family." ― Anthony Brandt


---

"Family and friendships are two of the greatest facilitators of happiness." – John C. Maxwell


---

"What can you do to promote world peace? Go home and love your family." — Mother Teresa


---

"To us, family means putting your arms around each other and being there." — Barbara Bush


---

"Nothing is better than going home to family and eating good food and relaxing." – Irina Shayk


---

"You don't choose your family. They are God's gift to you, as you are to them." — Desmond Tutu


---

"If you cannot get rid of the family skeleton, you may as well make it dance." ― George Bernard Shaw


---

"Everyone needs a house to live in, but a supportive family is what builds a home." – Anthony Liccione


---

"Show me a family of readers, and I will show you the people who move the world."― Napoleon Bonaparte


---

"One day you will do things for me that you hate. That is what it means to be family."― Jonathan Safran Foer


---

"It is the smile of a child, the love of a mother, the joy of a father, the togetherness of a family." — Menacheim Begin


---

"When everything goes to hell, the people who stand by you without flinching–they are your family." – Jim Butcher


---

"My family is my life, and everything else comes second as far as what's important to me." – Michael Imperioli


---

"Blended families: woven together by choice, strengthened together by love, tested by everything, and each uniquely ours."


---

"If the family were a boat, it would be a canoe that makes no progress unless everyone paddles." – Letty Cottin Pogrebin


---

"Family faces are magic mirrors. Looking at people who belong to us, we see the past, present, and future." – Gail Lumet Buckley


---

"There's nothing that makes you more insane than family. Or more happy, or more exasperated, or more secure." – Jim Butcher


---

"The greatest thing in family life is to take a hint when a hint is intended-and not to take a hint when a hint isn't intended." — Robert Frost


---

"Families are the compass that guides us. They are the inspiration to reach great heights, and our comfort when we occasionally falter." – Brad Henry


---

"There is no doubt that it is around the family and the home that all the greatest virtues… are created, strengthened and maintained." – Winston Churchill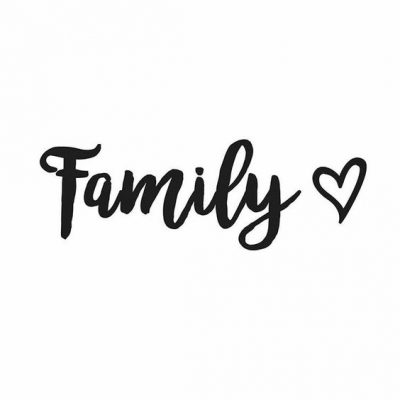 SHORT FAMILY LOVE QUOTES
"Some people are worth melting for." – Olaf


---

"Friends are the family you choose."― Jess C. Scott


---

"Being part of a family means smiling for photos." – Harry Morgan


---

"Family is the most important thing in the world." — Princess Diana


---

"Families are like fudge–mostly sweet, with a few nuts." — Les Dawson


---

"Our most basic instinct is not for survival but for family." — Paul Pearsall


---

"The family is the first essential cell of human society." – Pope John XXIII


---

"The most important thing in the world is family and love." – John Wooden


---

"Let love be genuine. Abhor what is evil; hold fast to what is good." – Romans 12:9


---

"A dysfunctional family is any family with more than one person in it." — Mary Karr


---

"The world, we'd discovered, doesn't love you like your family loves you." — Louis Zamperini


---

"It didn't matter how big our house was; it mattered that there was love in it." — Peter Buffett


---

"Home isn't where you're from, it's where you find light when all grows dark."― Pierce Brown


---

"Happiness is having a large, loving, caring, close-knit family in another city." ― George Burns


---

"Family and friends are hidden treasures, seek them and enjoy their riches." – Wanda Hope Carter


---

"The strength of a family, like the strength of an army, lies in its loyalty to each other." – Mario Puzo


---

"Stick to the basics, hold on to your family and friends – they will never go out of fashion." – Niki Taylor


---

"You need a rock-solid foundation of friends and family to keep you where you need to be." — Lilly Singh


---

"A family is a bunch of people who keep confusing you with someone you were as a kid." – Robert Brault


---

"Having a place to go is a home. Having someone to love is a family. Having both is a blessing." – Donna Hedges


---

"Parents were the only ones obligated to love you; from the rest of the world you had to earn it."― Ann Brashares


---

"The love of family and the admiration of friends are much more important than wealth and privilege." — Charles Kuralt


---

"Nothing purchased can come close to the renewed sense of gratitude for having family and friends." – Courtland Milloy


---

"A family is a risky venture, because the greater the love, the greater the loss… That's the trade-off. But I'll take it all." — Brad Pitt


---

"That's what people do who love you. They put their arms around you and love you when you're not so lovable."― Deb Caletti


---

"The family–that dear octopus from whose tentacles we never quite escape, nor, in our inmost hearts, ever quite wish to." – Dodie Smith


---

"Being a family means you are a part of something very wonderful. It means you will love and be loved for the rest of your life." – Lisa Weed


---

"In family life, love is the oil that eases friction, the cement that binds closer together, and the music that brings harmony." – Friedrich Nietzsche


---

"So much of what is best in us is bound up in our love of family, that it remains the measure of our stability because it measures our sense of loyalty." — Haniel Long
MEANINGFUL SHORT FAMILY QUOTES
"A man should never neglect his family for business." — Walt Disney


---

"When trouble comes, it's your family that supports you." – Guy Lafleur


---

"My greatest pleasure is spending time with my family." — Siri Hustvedt


---

"We may have our differences, but nothing's more important than family." – Coco


---

"The memories we make with our family is everything." – Candace Cameron Bure


---

"Having a family is like having a bowling alley installed in your brain." — Martin Mull


---

"Home is where you are loved the most and act the worst." ― Marjorie Pay Hinckley


---

"Our family is a circle of strength of love with every birth and every union the circle grows."


---

"The capacity for friendship is God's way of apologizing for our families." ― Jay McInerney


---

"I don't think quantity time is as special as quality time with your family." — Reba McEntire


---

"You are the bows from which your children as living arrows are sent forth." — Khalil Gibran


---

"All happy families are alike; each unhappy family is unhappy in its own way." — Leo Tolstoy


---

"In every conceivable manner, the family is a link to our past, bridge to our future."— Alex Haley


---

"A man travels the world over in search of what he needs, and returns home to find it." — George A. Moore


---

"The only rock I know that stays steady, the only institution I know that works, is the family." – Lee Iacocca


---

"The other night I ate at a real nice family restaurant. Every table had an argument going." — George Carlin


---

"You are born into your family and your family is born into you. No returns. No exchanges." — Elizabeth Berg


---

"The bond that links your true family is not one of blood, but of respect and joy in each other's life." – Richard Bach


---

"Call it a clan, call it a network, call it a tribe, call it a family: Whatever you call it, whoever you are, you need one." — Jane Howard


---

"Home is people. Not a place. If you go back there after the people are gone, then all you can see is what is not there any more."― Robin Hobb


---

"The homemaker has the ultimate career. All other careers exist for one purpose only – and that is to support the ultimate career." ― C.S. Lewis


---

"The family is the test of freedom; because the family is the only thing that the free man makes for himself and by himself." – Gilbert K. Chesterton


---

"Family: A social unit where the father is concerned with parking space, the children with outer space, and the mother with closet space." – Evan Esar


---

"Sister is probably the most competitive relationship within the family, but once the sisters are grown, it becomes the strongest relationship." — Margaret Mead


---

"The greatest gift of family life is to be intimately acquainted with people you might never even introduce yourself to, had life not done it for you." — Kendall Hailey


---

"My mother used to tell me that when push comes to shove, you always know who to turn to. That being a family isn't a social construct but an instinct." — Jodi Picoult


---

"Family isn't something that's supposed to be static, or set. People marry in, divorce out. They're born, they die. It's always evolving, turning into something else." ― Sarah Dessen


---

"Parents are like God because you wanna know they're out there, and you want them to think well of you, but you really only call when you need something."― Chuck Palahniuk


---

"Families are messy. Immortal families are eternally messy. Sometimes the best we can do is to remind each other that we're related for better or for worse…and try to keep the maiming and killing to a minimum." ― Rick Riordan