WELCOME BACK QUOTES: Are you excited for the arrival of a long distance separated family member, friend or a co-worker? Then its time to welcome your brother, sister, friends with some beautiful welcome back quotes and messages. We have compiled some of the best welcome back quotes, sayings, messages, wishes (with images and pictures) for you.
You can use these warm welcome back quotes, one-liners for your status message, cards, and greetings to wish your friends, family, colleagues, and freshers.
BEST WELCOME BACK QUOTES & SAYINGS
Glad you're back.


---

Let today be the start of something new.


---

It's ok. You just forgot who you are. Welcome back.


---

Welcome back! This place hasn't been the same without you.


---

Sunshine is a welcome thing. It brings a lot of brightness. – Jimmie Davis


---

Small cheer and great welcome makes a merry feast. – William Shakespeare


---

The poor dog, in life the firmest friend, The first to welcome, foremost to defend. – Lord Byron


---

Dear, you are the person who brings happiness to this home and because of you, I feel special welcome back dear.


---

Life makes me feel lots of things and without you, I feel lonely and I really want you back here dear. Welcome back dear


---

O bluebird, welcome back again, Thy azure coat and ruddy vest, Are hues that April loveth best. – John Burroughs


---

Wao I just heard the news of your come back and I am really happy that those beautiful days will be back. Welcome back, dear.


---

No matter how far we may wander from the Lord's perfect will for our lives, we are always welcome back. – Charles Stanley


---

That rich guy you've been seeing, must have put you down. Welcome back baby, to the poor side of town. – Johnny Ramistella


---

All of our staff is happy that you are back we really miss you when you were gone and we are happy that you are going to join again. Welcome back dear!


---

Whoe'er has traveled life's dull round, Where'er his stages may have been, May sigh to think he still has found The warmest welcome, at an inn. – William Shenstone


---

I don't know if you remember me, but I used to work here in the factory." Were you one of those despicable spies who every day tried to steal my life's work and sell it to those paraseeded cop cat, candy making cads?" No sir!" Then wonderful, welcome back! – Johnny Depp


---

As a youngster I used to try to pick up any bits of wisdom about the guitar I could. It's not like now where you have books and books about every aspect of anything. Any little pearl of wisdom was welcome back then. – Johnny Marr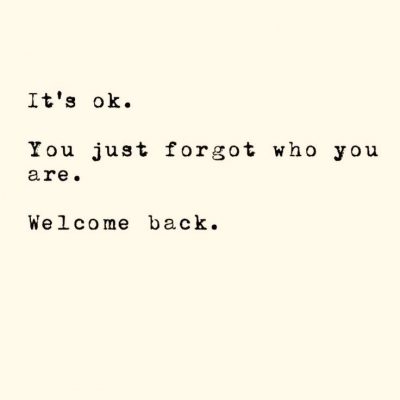 FAMOUS WELCOME BACK TO SCHOOL QUOTES FOR STUDENTS
Keep Calm and Welcome back to school.


---

"This is a new year. A new beginning. And things will change." – Taylor Swift


---

"Education is the key to unlocking the world, a passport to freedom." – Oprah Winfrey


---

"Intelligence plus character—that is the true goal of education." – Martin Luther King


---

"You're off to great place, today is your day, your mountain is waiting, so get on your way!" – Dr.Seuss


---

"The philosophy of the school room in one generation will be the philosophy of government in the next." – Abraham Lincoln


---

"I'm not going to school just for the academics. I wanted to share ideas, to be around people who are passionate about learning." – Emma Watson


---

"I've always loved the first day of school better than the last day of school. Firsts are best because they are beginnings." – Jenny Han


---

"You have to stay in school. You have to. You have to go to college. You have to get your degree. Because that's the one thing people can't take away from you is your education. And it is worth the investment." – Michelle Obama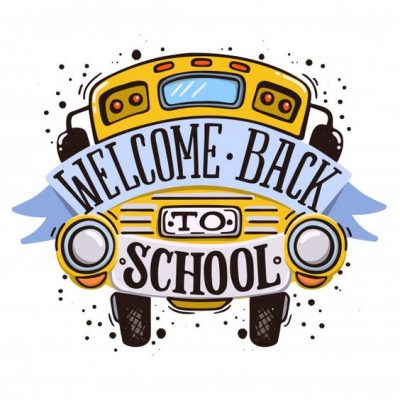 WELCOME BACK QUOTES FOR TEACHERS
"Let us remember: One book, one pen, one child, and one teacher can change the world." – Malala Yousafza
WELCOME BACK QUOTES AND MESSAGES FOR FRIENDS
Coming back of a true companion makes your day. Even distance was unable to weaken our bond.Welcome back!
Life moves on but memories don't I missed you a lot. Welcome, Dear!


---

Friendship is life's biggest addiction. I missed you a lot. Welcome dear friend!


---

Your presence makes me feel better and I am happy that I will fell these moments again. Welcome back dear.


---

If you live to be 100, I hope I live to be 100 minus 1 day, so I never have to live without you now. Welcome back, my friend.


---

I missed your sweet grin and your glow. I cherish you so much and my expectations are you never go again. Welcome back my adoration!


---

Your role in my life was so central. So much so, that your absence has left me dysfunctional. I really missed you a lot. Welcome back, my dear.


---

You are our old companion and we are happy that you are back and wish you best of luck and we are happy for you to Welcome back dear.


---

Whether it was Monday, Wednesday or Sunday, every moment was boring and gloomy when my friend was away. I missed you. Welcome back, my friend.


---

Welcome back my friends to the show that never ends. We're so glad you could attend, come inside, come inside. – Ralph Waldo Emerson


---

I missed your pretty face and the shining eyes. Welcome back my dear! I am exceptionally cheerful to have you here! Cherish you and just you!


---

To my flawless Facebook companion, through these messages, I invite you to the interpersonal interaction goliath Facebook and anticipate a wonderful kinship with you.


---

I am happy to the point that my dear has returned from a business trip. Expectation was an effective one. Welcome back my dear. I adore you and extremely missed you each minute.


---

I am informing to welcome you back my dearest sweetheart. You were profoundly missed this while. From your eyes to your pretty face and your beguiling grin. If it's not too much trouble never go anyplace again; I never need to welcome you back again. I adore you.
          Also See: Missing You Quotes and Sayings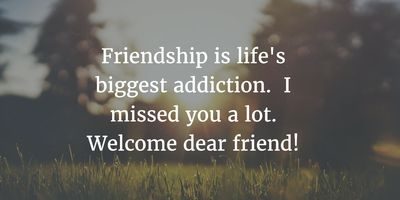 QUOTES ABOUT WELCOME BACK HOME FROM VACATIONS
When a closed person like your husband, wife, mother, son, daughter or father was away for a long trip, and they have come back after a long vacation, then these welcome wishes, messages, and status will make them feel special and give them the message that they were missed.
The children missed their dad who put them to rest each night. I missed my better half who never let me rest during the evening. I adore you, invite back.


---

Welcome home to my trooper spouse who took a chance with his life to serve the nation. Presently you will be served, spoiled, and spoilt by your family. We Missed You horribly.


---

Your children sat tight for your paternal touch. Your canine sat tight for your amicable touch. Be that as it may, I, your better half sat tight for your sentimental touch. Welcome home to the spouse who has a supernatural touch.


---

Your nonattendance was horrendous, baffling, irritating and tortuously desolate. The main answer for this is to take your significant other when you travel abroad next time. I have gathered my packs as of now. Welcome back home my dear.


---

Your home was fragmented without the man who fabricated it and Your better half was fragmented without the man who cherishes her. Your kids were fragmented without the man who raised them. Welcome back home dear, now we are generally entire.
FUNNY WELCOME BACK QUOTES
These funny and hilarious welcome sayings will surely make the situation light and your friends will be laughing when they come back from the break, vacation, illness.
Welcome back, my cheeky wee monkeys. – Craig Ferguson


---

It's funny, people say 'Welcome back' when I haven't gone anywhere. – Ricky Williams


---

We're so excited to see you. We don't know whether to pee on the floor or tear up the couch.


---

Everywhere I go, I hear 'Welcome back.' But everywhere I have been, I have always been with myself. I'm with myself now more than ever. It's funny people say 'Welcome back' when I haven't gone anywhere. – Ricky Williams
FUNNY WELCOME BACK IMAGES, DP'S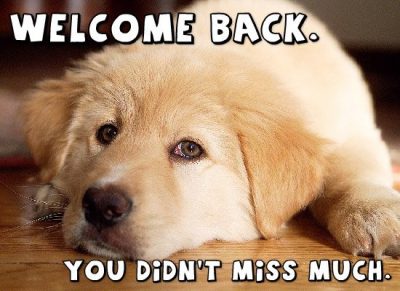 WELCOME BACK TO WORK QUOTES 
Send these special welcome quotes to your boss or a colleague at work,  who is back afger a sick leave, maternity leave, vacation holiday, or illness. These inspirational greetings and catchy welcome back phrases, are a great way to infuse fresh energy to workers and friends in the office and motivate them to resume work.
Hooray, welcome back to work! All you have to do today is survive. No long meetings, strategizing or anything — just survive. Cheers!


---

You probably must feel like a dog chasing its own tail, but hang in there! The routine will become part and parcel of you in just a few weeks. Welcome back, folks.


---

Let's hope and pray that the work here will be worth leaving your chocolate chip cookies and vanilla fudges for. Be positive. I missed you, and welcome back!


---

Welcome back! Perhaps today is the day to neutralize lethargy, fatigue, lack of focus and all the other vacation-induced, unproductive stuff before they do you. Let's get to work!


---

Do not let the trappings of a long, relaxing holiday cause you to veer off the path to changing lives with your amazing work. Welcome back, and I look forward to working with you.


---

By showing up to work after holidays, you've demonstrated your noble character and hardworking spirit! We will attain greater heights if you continue like this. Welcome back, colleague.


---

Returning to work with great energy might seem to many a minor feat, but it's a clear indication of a professional who's hungry for success. I welcome you back, and wish you all the best.


---

As you resume your good work, do remember that luck has a fascinating way of finding those who work hard even when it's unpopular and unattractive to do so. Welcome back to work, team!


---

It's necessary in life to be able to do difficult stuff because most good things don't come easy. I commend your difficult work of coming to the office today, and wish you all the best. Welcome back!


---

Today is that day when the saying "there's a first time for everything" makes a good excuse, but it won't so much if you make the company lose huge sums. Welcome back, folks, and let's stay focused.
WELCOME BACK TO WORK IMAGES AND PICTURES