2021 Waitangi Day Commemorations
Okains Bay Maori & Colonial Museum, 1146 Okains Bay Rd, Okains Bay, Banks Peninsula, Christchurch District
Saturday 6 February 2021 9:30am – 5:00pm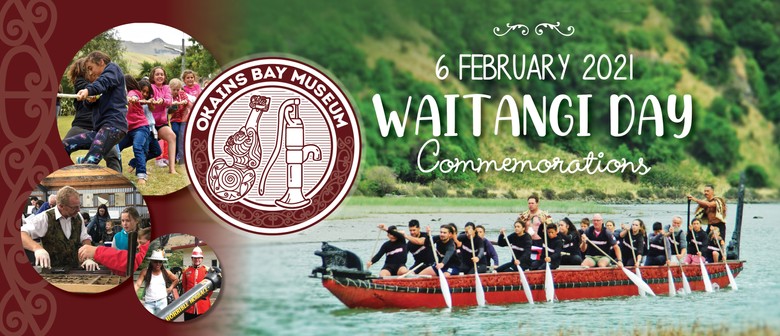 The Okains Bay Museum Waitangi Day Commemorations has been a signature event on the New Zealand calendar since the Museum first opened in 1977.
It's a fun day full of family activities, demonstrations, workshops and exhibits set amongst the extensive museum grounds in the beachside village of Okains Bay, just 90 minutes from Christchurch or 20 minutes from Akaroa. The event is attended by local and national dignitaries including the Governor General's Representative. A highlight of the day is the paddling of the magnificent Ngāi Tahu waka, Kōtukumairangi on the Ōpara River.
Entry fee $10 per person, cash only. Children under 13 free when accompanied by an adult.
Waitangi Day is the day that Te Tiriti o Waitangi was signed between Māori rangatira (chiefs) and the British Crown. Waitangi Day was first commemorated at the museum in 1976 and the commemorations are the longest-running in Te Waipounamu/South Island. The museum grounds, the Ngāi Tahu reserve opposite the museum, and the entire Okains Bay heritage precinct is given over to the commemorations which typically attract several thousand visitors.