Halloween Alcoholic Punch : You've assembled a deliciously spooky dessert, decorated every inch of your house in scary-chic, and put together the perfect costume, so don't waste your hard-won Halloween party behind the bar mixing cocktails. Instead opt for a seasonal punch that's light on bartending and heavy on flavor.
Flaming Skull Scorpion Bowl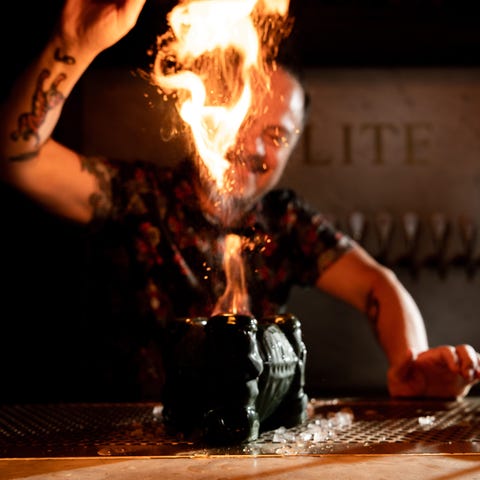 Ingredients
2 oz Jamaican rum
2 oz white rum
1 oz black strap rum
1 oz Averno Amaro
5 oz lime
1.5 oz orange
1.5 oz orgeat
1 oz passion fruit syrup (one part passion fruit puree to one part simple syrup)
Instructions
Add all ingredients to vessel with crushed ice. Garnish with grated nutmeg, orchid, and citrus wheels.
By Erick Castro of Polite Provisions in San Diego
Wicked Black Forest Punch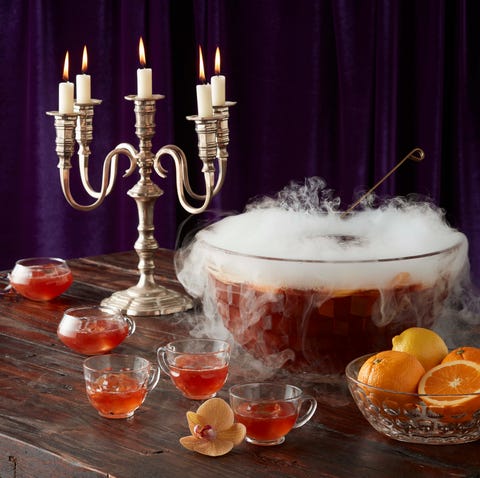 Ingredients
15 oz Jägermeister
5 oz Kirschwasser
2.5 oz velvet falernum
5 oz agave syrup
5 oz lemon juice
2.5 oz passionfruit juice
2.5 oz orange juice
7.5 oz pineapple juice
10 oz water
10 dash Angostura bitters
20 oz ginger beer
Instructions
Combine all ingredients except ginger beer in a gallon container and refrigerate. To serve, pour into a punch bowl with ice and garnish with orange and lemon wheels or hibiscus flowers. For fog effect, add a couple of chips of food grade dry ice.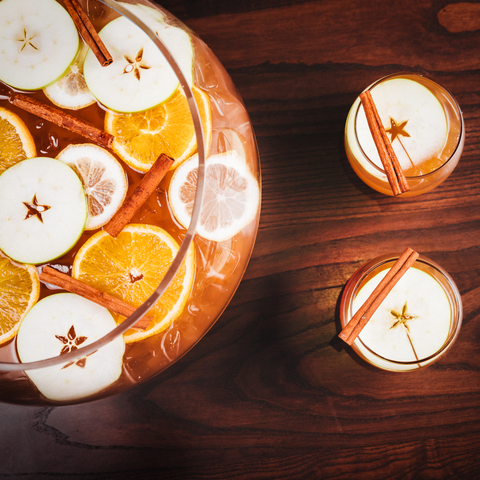 Ingredients
750 ml Nolet's Silver Dry Gin
2.25 L apple cider
2 whole lemons, juiced
Lemon wheels
Green apple wheels
Instructions
Add all ingredients to a punch bowl with a large ice block. Stir well to combine. Serve over ice in a rocks glass and garnish with a thin slice of green apple.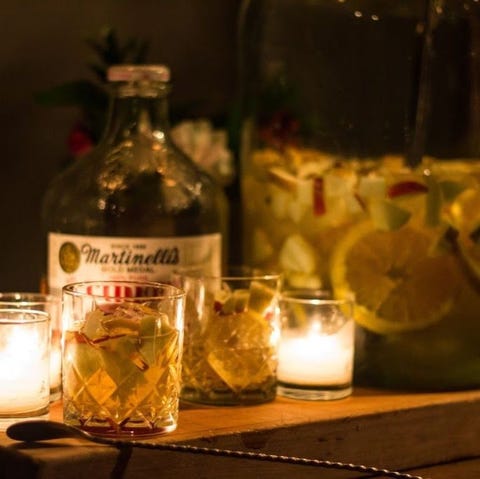 Ingredients
32 oz apple cider
12 oz spiced rum
4 oz Cream Capataz Andres Lustau Sherry
7 oz blood orange juice
4 oz lemon juice
1.5 oz Allspice Dram liqueur
4 cinnamon sticks
2 lemons cut into wheels
2 blood oranges cut into wheels
2 apples cut into small squares
Instructions
Mix all ingredients into a punch bowl, and stir with a ladle. Add ice to the top of the punch bowl, and serve.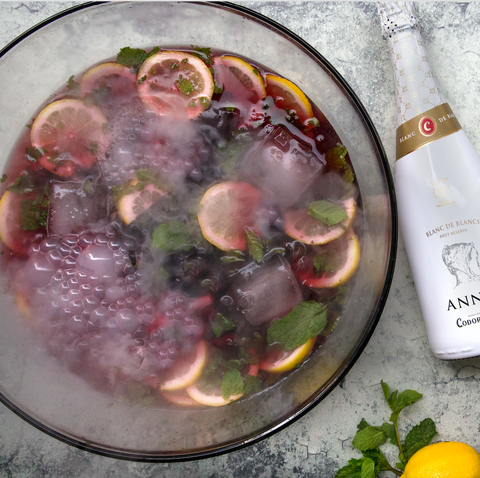 Ingredients
1.25 cups RÅVO vodka
.5 cup simple syrup
1 cup lemon juice
1 cup Anna de Codorniu Blanc de Blanc Cava
Blackberries
Mint
Instructions
In a punch bowl, combine blackberries, lemon juice, and simple syrup; lightly crush berries to release their juice. Add ice and vodka; top with cava. Stir to combine. Garnish with mint.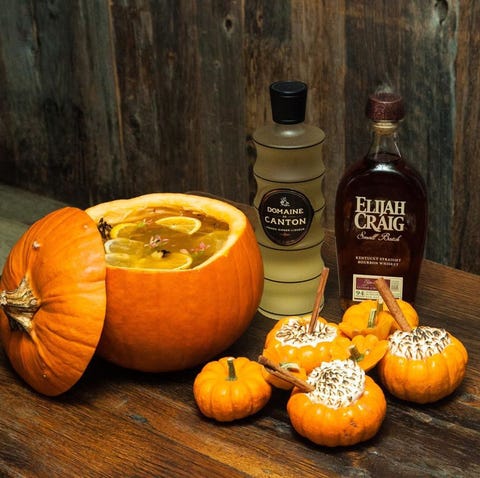 Ingredients
9 oz Elijah Craig Small Batch Bourbon
4 oz Domaine De Canton Ginger Liqueur
3 tbs pumpkin puree
2 oz fall spice syrup*
6 oz apple juice
6 oz pineapple juice
6 oz lemon juice
5 thin sliced lemon wheel
3 thin sliced pineapple wheel
*Fall Spice Syrup
5 pieces star anise
2 tsp cardamom
1 tsp nutmeg
5 chopped diced ginger
1 whole orange twist
3 cinnamon sticks
3 cloves
2 cups of water
2 cups of fine sugar
Instructions
To make syrup, use a small saucepan over medium heat and lightly toast cardamom seeds. Combine with star anise, nutmeg, diced ginger, cinnamon stick, cloves, orange, water and sugar. Stir until sugar has completely dissolved. Let it cool for 30 minutes, and strain. Syrup can be stored in the refrigerator for up to 4 weeks.
Mix all cocktail ingredients together and add ice. Serve in mini harvest pumpkins or glass mugs and top with toasted meringue.
From Shawn Chen and Michael Hurson of Decoy in New York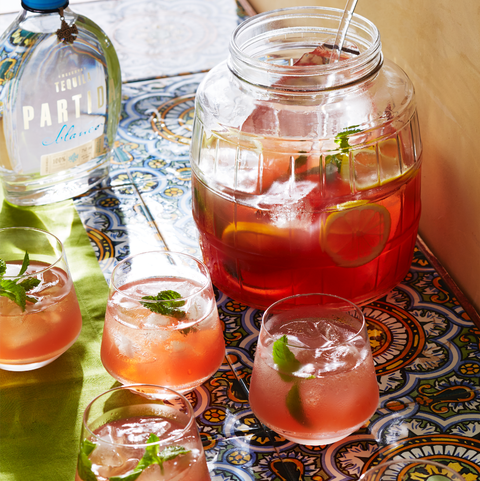 Ingredients
1 750 mL bottle Partida Blanco
4 cups chamomile tea
4 oz pomegranate juice
4 oz lemon juice
12 oz honey syrup or simple syrup
Instructions
Assemble all ingredients in a punch bowl. Garnish with lemon wheels and mint, add large ice cubes to dilute.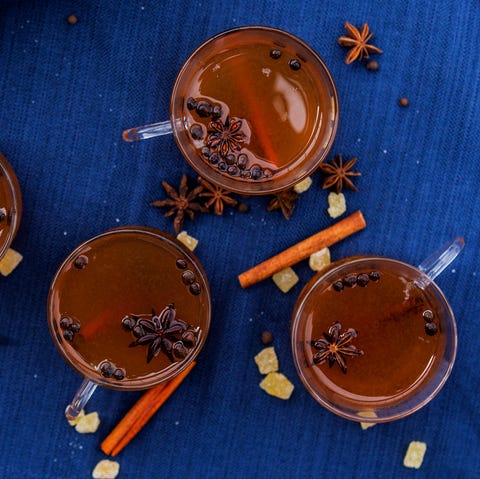 Ingredients
1.5 parts Basil Hayden's Dark Rye
.75 parts honey simple syrup*
.25 parts lemon juice
7 parts hot water
Cinnamon stick
Star anise
3 allspice berries
Candied ginger
*Honey Simple Syrup:
Combine equal parts honey and equal parts water over heat until dissolved
Instructions
Heat 7 parts of water over stove in a pot. Once water is hot, add all remaining ingredients except for candied ginger into pot and stir into flavors are absorbed. Strain mixture into a glass mug and garnish with candied ginger.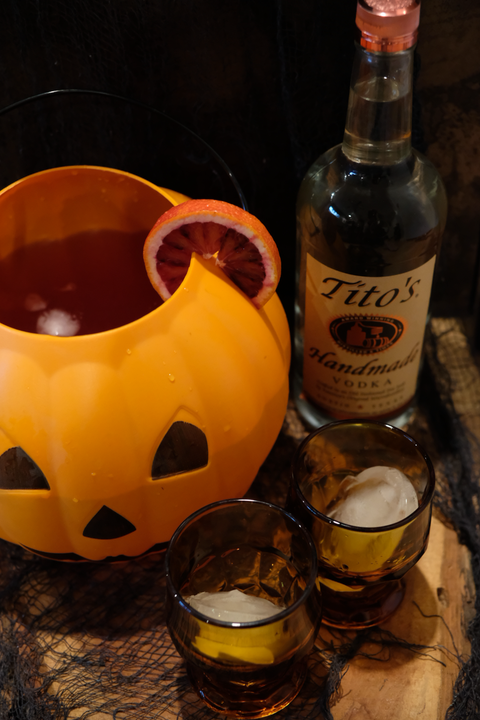 Ingredients
1 cup Tito's Handmade Vodka
1 cup pomegranate juice
.75 cup blood orange soda
.75 cup sparkling mineral water
.5 tablespoon simple syrup
Juice of 2 squeezed limes
Instructions
Combine all ingredients in a punch bowl. To avoid diluting the punch, offer ice on the side.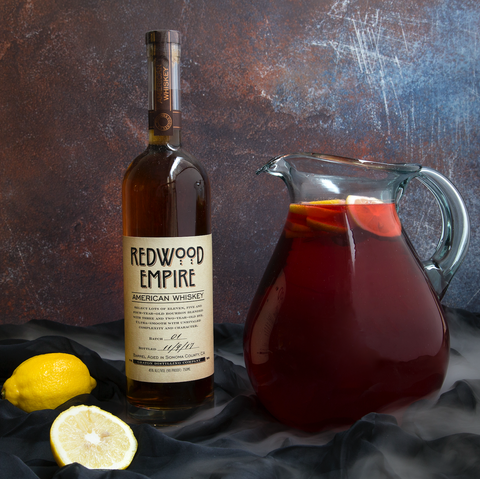 Ingredients
1.25 cups Redwood Empire American Whiskey
1 cup Campari
1 cup Cinzano sweet vermouth
Instructions
Mix all ingredients in a pitcher of punch bowl. Garnish with lemon and serve over ice.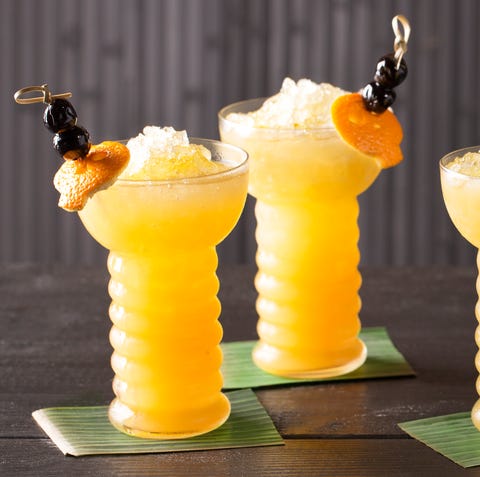 Ingredients
.75 cup Cruzan Aged Light Rum
.75 cup Cruzan Aged Dark Rum
.75 cup apricot liqueur
2.25 cups orange juice
6 dashes lime bitters
.75 cup Cruzan Black Strap Rum
Orange peel and cherries for garnish
Instructions
Combine light rum, dark rum, apricot liqueur, orange juice and lime bitters in an ice filled pitcher or punch bowl and mix well. Pour equal parts into six tall glasses filled with ice. Float one part black strap rum on top of each glass, then garnish with the orange peel and a cocktail pick of cherries.
For Skeleton Garnish: Peel orange rind and lay flat on surface. Take circle cookie cutter and cut circle space out of the peel. Use paring knife to cut mini circles for eyes, nose, and jaw of skeleton garnish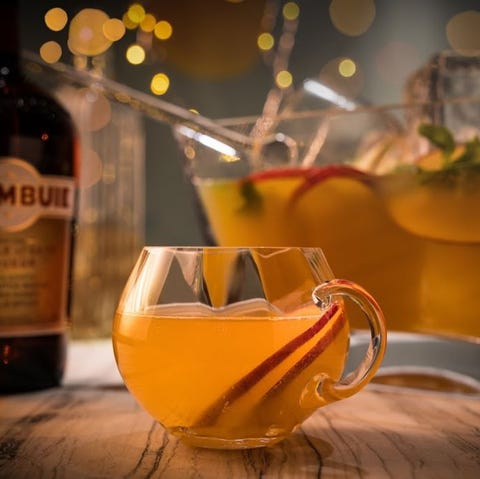 Ingredients
10 parts Drambuie
16 parts pressed apple cider
6 parts lime juice
.5 tbsp kosher salt
8 dashes Angostura Bitters
8 parts sparkling white wine (For a dryer cocktail, use 16 parts sparkling wine)
Thinly sliced apples and mint for garnish
Instructions
Combine ingredients except sparkling wine in a punch bowl. Stir until salt is dissolved. Store in refrigerator until ready to use. To serve, add a large ice block or large ice cubes and sparkling wine. Garnish with thin apple slices and mint.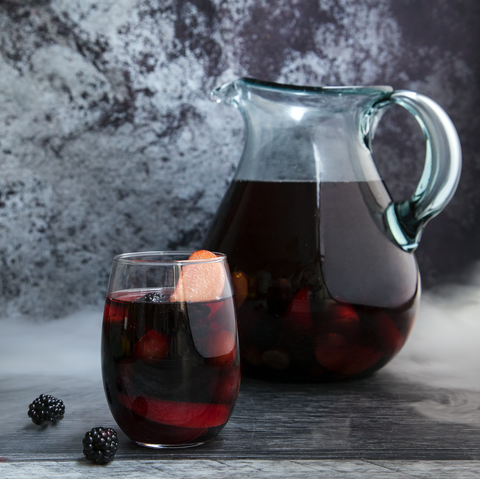 Ingredients
1 bottle of 9 Lives Cabernet Sauvignon or 9 Lives Malbec
.5 cup pomegranate, cherry, or blueberry juice
.25 cup The Famous Grouse Smoky Black
.25 cup pure maple syrup, to taste
1 cup blackberries
2 black plums, chopped into wedges
1 cup black grapes, halved
Instructions
Add all ingredients to a large pitcher and stir well. Allow sangria to sit at least 2 hours before serving over ice. Add some of the alcohol-soaked fruit to each glass. *Add dry ice for the extra Halloween effect.
More: Sangria Recipes for Every Season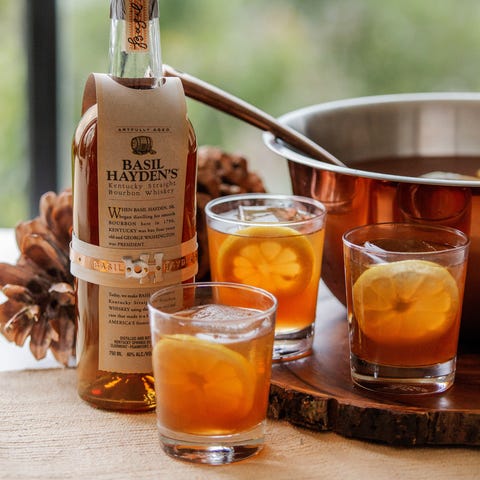 Ingredients
5 fresh lemons, peeled and juiced (approximately 1 cup)
2 fresh ruby red grapefruits, peeled and juiced (approximately 2 cups)
2 cups sugar
2 .5 cups water
1/3 cup Earl Grey tea
1.75 cups Basil Hayden's Bourbon
1 lemon (for garnish)
Instructions
Peel lemon and grapefruits and add peels into sugar; let sit for 2 hours. Bring water to boil in a sauce pot, remove from heat and add tea, steep for 3 minutes. Add sugar mixture to tea and stir until sugar melts. Let cool and remove peels. Juice lemons and grapefruits and combine with bourbon and the sugar-and-tea mixture. Cover and refrigerate until cold. Serve in a small punch bowl with large ice cubes. Garnish with lemon wheels.
From Charlie Schott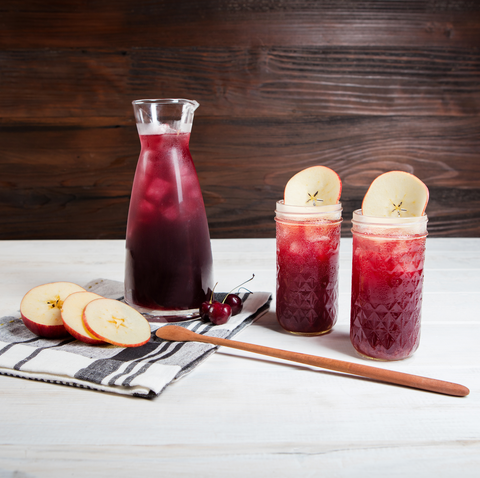 Ingredients
8 oz Patrón Reposado
1 bottle pinot noir
9 oz pear brandy
8 0z orange juice
2 oz ginger beer
Orange wheels
Pear slices
Apple slices
Seasonal fruit, as desired
Instructions
Add all ingredients into pitcher or carafe and mix to combine. (Can be made in advance and stored for up to a day.) Pour over ice, garnish and serve.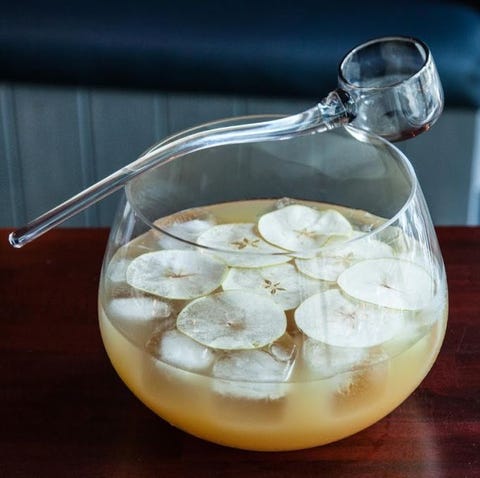 Ingredients
12 oz Black Bottle Scotch
6 oz Domaine de Canton Ginger Liqueur
6 oz lemongrass sweetener*
6 oz apple cider (something well made)
8 oz lime juice
Thinly sliced green apple for garnish
*Lemongrass Sweetener
3 lemongrass stalks
2 cups sugar
Instructions
Take the pieces of lemongrass and slap them against a counter to open up the aroma. Cut into one inch pieces and add to a pot with sugar and one qt. water. Bring to a low boil and let cool. Strain off the lemongrass and store in fridge to chill; sweetener can be stored for up to 4 weeks.
Mix all ingredients into a punch bowl, add ice 15 to 20 minutes before serving.