Halloween Zoo  Zoo rhymes with boo, which creates an invaluable link between Halloween and your local wildlife park. The two collide in countless cities and towns at zoos of all sizes for a monstrously fun experience.
Take your family's Halloween adventures a step further than the traditional trick-or-treat. Local zoos pull out all the stops with scavenger hunts through winding, glowing treat trails. Costume contests, live music and camp outs with the animals make Halloween at the zoo a must attend.
Here are our favorite zoo Halloween events: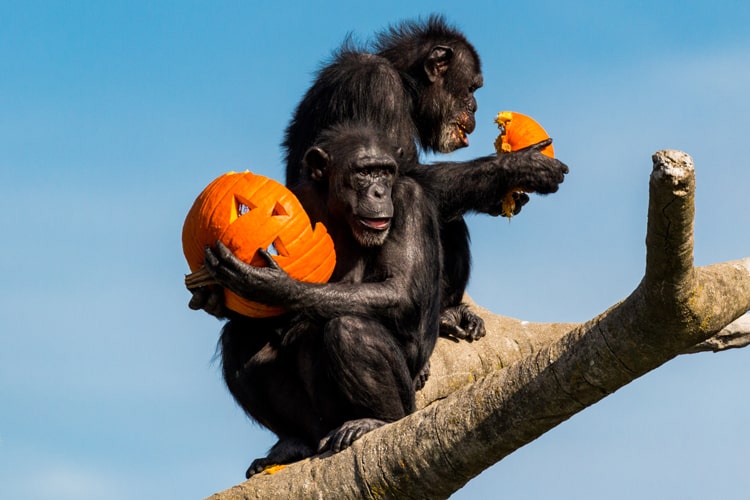 1. Wild Zoo Halloween – Fort Wayne, Indiana
Fort Wayne Children's zoo boasts of its ongoing October Halloween party Wild Zoo Halloween. Events vary daily and include live music, a pumpkin stomp and chomp, and free carousel rides.
2. Night Eyes – Des Moines, Iowa
What was that?!  Howls and growls and roars and cackles can be heard, but perhaps not seen at the Blank Park Zoo's Night Eyes. A spin on the carousel at night provides a merry, not scary experience for little monsters weighed down by bags full of candy.  An extra cauldron of treats awaits the costume contest winners.
3. Halgloween – San Diego, California
There are plenty of opportunities to say, "Wow!" at the San Diego Zoo's colorful and creepy Halgloween celebration. A 4D movie, bubble dance party, and cupcake walk is just the beginning of the magical mayhem. Musicians add a spooky organ music soundtrack to the day. Jugglers, contortionists, and acrobats add to the festive atmosphere.
4. Boo at the Zoo – Bronx, New York
Follow the trail of candy throughout the 265 acre Bronx Zoo during Boo at the Zoo. Pumpkin carving artists will put your triangle-eyed jack-o-lanterns to shame with their intricate pieces. From owls to magpies to ravens, a little bird says attendees are invited to mingle with the winged ones. Parents' efforts to make Halloween memorable are rewarded with a cold one. Moms and dads can relax after the corn maze and train ride with a Boo Brew at Bootoberfest.
5. Boo at the Zoo – Colorado Springs, Colorado
Keep the kids contained during their trick-or-treating stroll through the Cheyenne Mountain Zoo. With enough candy to feed an elephant, and acres of spooky, haunted fun, this Boo at the Zoo provides a safe environment for families to celebrate.
6. ZooBoo – Indianapolis, Indiana
With so much Halloween, ZooBoo doesn't limit guests to visiting on just one day, or even one weekend. Throughout October, the Indianapolis Zoo transforms into Pumpkin Town. Mayor Jack bestows fun all around. A maze of mirrors provides a truly thrilling stroll. Let's not forget there are still animals around every corner. Don't miss when zookeepers give the elephants a special pumpkin treat resulting in an elephant pumpkin smash for patrons.
7. Zoo Halloween Party – Louisville, Kentucky
is hosted by a community of volunteers in full-quality Star Wars costumes. With help from Kentucky's non profit Star Wars experience experts the Bluegrass Garrison, the Kentucky Zoo transforms into a delightful storybook for young jedis. Do or do not attend. There is no try.
8. ZooBooo!- Baltimore, Maryland
What? Another ZooBooo? Come on, it's totally different. It has an extra 'o' AND an exclamation point. Animal enrichment activities punctuate the Maryland Zoo's Halloween festivities. Don't miss the warthog if you know what's good for you. Forgot to dress up? Don't sweat it. A professional face painter can transform you into whichever creature you desire.
9. Zoo Boo – Alexandria, Louisiana
The magic of Zoo Boo starts even before you walk through the gates at the Alexandria Zoo. Un-dead music and inflatables greet little goblins at the scare free zone. Three nights of Halloween activities for the kids include photo ops, a spooktacular agility course, and sweets and treats along the trick-or-treat trail.
10. Zoo Boo – Royal Oak, Michigan
If you're in the Detroit area, be sure to check out Zoo Boo at the Detroit Zoo. The annual event is billed as "merry-not-scary" and is perfect for families looking to dress up, visit with the animal residents, and enjoy some special rides and attractions. There's a corn maze, pumpkin smasher, treat trail, aerial performers and more. General zoo admission is $10 per person, children under 2 are free. Parking is an additional $8.
11. Halloween at the Portland Zoo – Portland, Oregon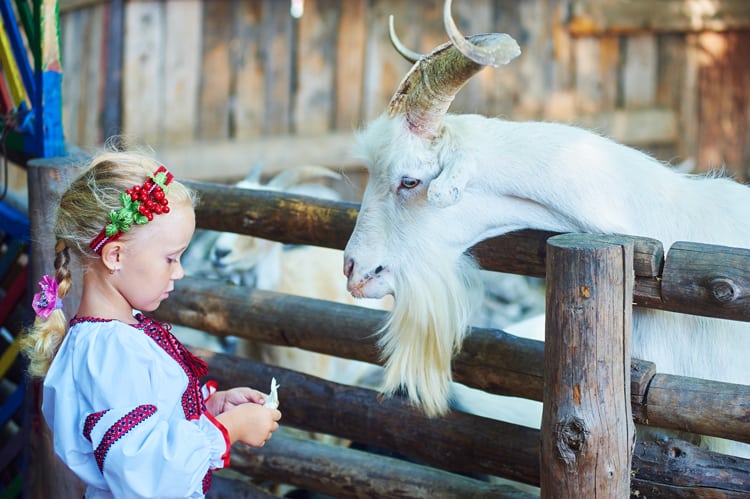 The animals are the ones treated during Halloween at the Portland Zoo, a vital part of the Halloween day action. Aiming for education and fun, Portland Zookeepers lead trick-or-treaters on themed scavenger hunts. Kids learn about habitats while collecting a haul of treats and prizes. Little ghosts, goblins and environmentalists will appreciate that only companies switching to deforestation free palm oil supply the treats.
12. Zoo Boo – Anchorage, Alaska
Alaskans capitalize on the fright fest that is Zoo Boo regardless of the cold. Bonfires and warm drinks keep little teeth from chattering. Decked out with Halloween spirit, photo ops are abundant and the treats, plentiful at the Alaska Zoo.
13. Boo at the Zoo – Wichita, Kansas
Trick-or-treating after dark is the way to go. The after-hours Boo at the Zoo event should be a pumpkin bucket list item for those young enough to still think candy for breakfast is a good idea. The animals call it a day early, but Halloween at the Sedgwick County Zoo launches when the sun goes down. With help from Dracula and fortune tellers, and a stroll down Jack-o-Lantern Lane you'll find some not so scary fun. I mean, Wichita! With that name, it should be the Halloween capital of the U.S.
14. Jack-O-Lantern Spectacular – Providence, Rhode Island
Over 5000 LED lit, carved pumpkins are on display during Jack-O-Lantern Spectacular at the Roger Williams Park Zoo. The popular otherworldly pumpkin trail displays feature wizard and fairy tale themed carvings as well as superheroes and historical figures. For extra fright, the Soaring Eagle Zip Ride is open during the Spectacular.