BLESSED QUOTES: Looking for blessing quotes to start your day positively? We have rounded up inspirational everyday blessed quotes, sayings, proverbs (with images and pictures) to fill you with joy, gratitude, and make you realize how beautiful life is.
If you look around life will amaze you with all the blessings all around you. It may be your wonderful family, your comfortable house, good work, great relations, and friends. Often we all get tied up in our daily hardships so much that we ignore how blessed we all our and forget to appreciate the good things and relations in life. But when you choose to embrace your blessings and be genuinely grateful about it, life will be beautiful and a lot easy to deal with.
These inspirational quotes about blessings in life will serve as a great reminder to help you go through your day with positive energy and a good approach even in the midst of the ups and downs of life.
Be sure to also check out these attitude of gratitude quotes that will inspire you to be grateful in life for everything God has blessed you with.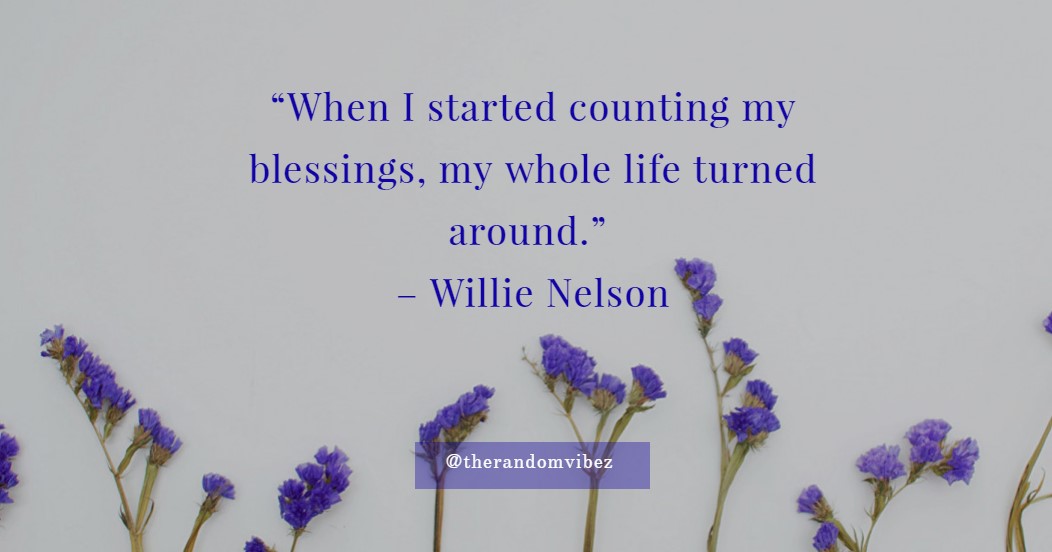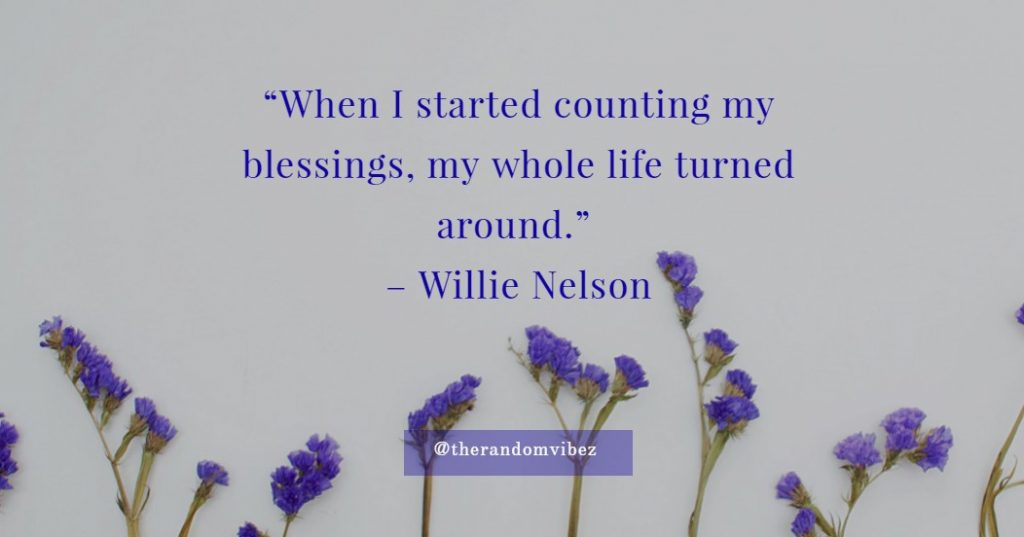 BLESSED QUOTES FOR EVERYDAY 
"You will be blessed the moment you realize you already are." – Bryant McGill


---

"Blessed are the hearts that can bend; they shall never be broken." – Albert Camus


---

"I'm blessed and I thank God for every day for everything that happens for me." – Lil Wayne


---

"A contented mind is the greatest blessing a man can enjoy in this world." – Joseph Addison


---

"When we lose one blessing, another is often most unexpectedly given in its place." – C.S. Lewis


---

"The person who can bring the spirit of laughter into a room is indeed blessed." – Bennett Cerf


---

"Those blessings are sweetest that are won with prayer and worn with thanks." – Thomas Goodwin


---

"I'm always happy for people when I see God blessing them the way he's blessed me." – Ruben Studdard


---

"When you focus on being a blessing, God makes sure that you are always blessed in abundance." – Joel Osteen


---

"Blessed are they who see beautiful things in humble places where other people see nothing." – Camille Pissarro


---

"I believe that God has blessed me in immeasurable ways so that I can, in return, bless and help others." – Karen Civil


---

"Learn to walk in the will of God we will learn to see the blessings God has given us and be more grateful." – Heather Bixler


---

"Blessing must arise from within your own mind. It is not something that comes from outside." – Dalai Lama


---

"I am blessed to have so many great things in my life – family, friends, and God. All will be in my thoughts daily." – Lil' Kim


---

"Timing has always been a key element in my life. I have been blessed to have been in the right place at the right time." – Buzz Aldrin


---

"The simplest way to Rejoice is to count your blessings and be grateful for them. You will automatically feel joy in your heart."


---

"Those who expect to reap the blessings of freedom, must, like men, undergo the fatigues of supporting it." – Thomas Paine


---

"When one is thankful for the blessings in their life, they are choosing to attract more positivity and abundance." – Michael Austin Jacobs


---

"The unthankful heart discovers no mercies; but the thankful heart will find, in every hour, some heavenly blessings." – Henry Ward Beecher


---

"Sometimes we must look outside our own backyards to realize how big the world is and how blessed we are." – Eugene Nathaniel Butler


---

"I have been very blessed in my life and rewarded with good friends and good health. I am grateful and happy to be able to share this." – Eric Idle


---

"It's never too late. Don't focus on what was taken away. Find something to replace it, and acknowledge the blessing you have." – Drew Barrymore


---

"Reflect upon your present blessings, of which every man has plenty; not on your past misfortunes, of which all men have some." – Charles Dickens


---

"Always remember to forget the troubles that passed away. But never forget to remember the blessings that come each day." – Irish


---

"God will always bless what you have done for His kingdom and what you have given for the things of the Lord and to help others" – Julia Audrina Carrington


---

To me, life is a gift, and it's a blessing to just be alive. And each person should learn what a gift it is to be alive no matter how tough things get." – Tony Bennett


---

"Blessed is he who has learned to admire but not envy, to follow but not imitate, to praise but not flatter, and to lead but not manipulate." – William Arthur Ward


---

"Sometimes we don't realize the blessings we have until we no longer have them. Appreciate all the blessings in your life, take none for granted." – Catherine Pulsifer


---

"I believe the ability to think is blessed. If you can think about a situation, you can deal with it. The big struggle is to keep your head clear enough to think." – Richard Pryor


---

"New day, new Blessing. Don't let yesterdays failures ruin the beauty of today, because each day has its own promise of love, joy, and forgiveness." – Onuh Justus Izuchukwu


---

"I do believe that God blessed me in life with a wonderful family, a successful career, and a loving marriage, and remain thankful for that blessing." – Bonnie Tyler


---

"Harness the power of today. Seize the blessings of today! Make something happen, enhance your life, make someone laugh, help a friend, love, love, love." – Steve Maraboli


---

"Luck has nothing to do with being blessed. Luck is a toss of the dice and a slight of the hand. Being blessed is from God and knowing that he is the reason your breathing." – Johnny Annie


---

"Live your truth. Express your love. Share your enthusiasm. Take action towards your dreams. Walk your talk. Dance and sing to your music. Embrace your blessings. Make today worth remembering." – Steve Maraboli, Unapologetically You


---

"God has blessed me with an amazing family, friends and work colleagues that have been my joy, my support, and my sanity. I don't know what I'd do without them." – Josie Loren


---

"Consider yourself greatly blessed with the opportunity to take care of the people who cared for you and reared you when you are yet a helpless little baby." – Kathy Bishopson


---

"First, feel blessed for all you have, such as your kids, a home, a good job, food, water and all the basic necessities that some people do not have, and struggle every day to put their hands on." – Francoise White


---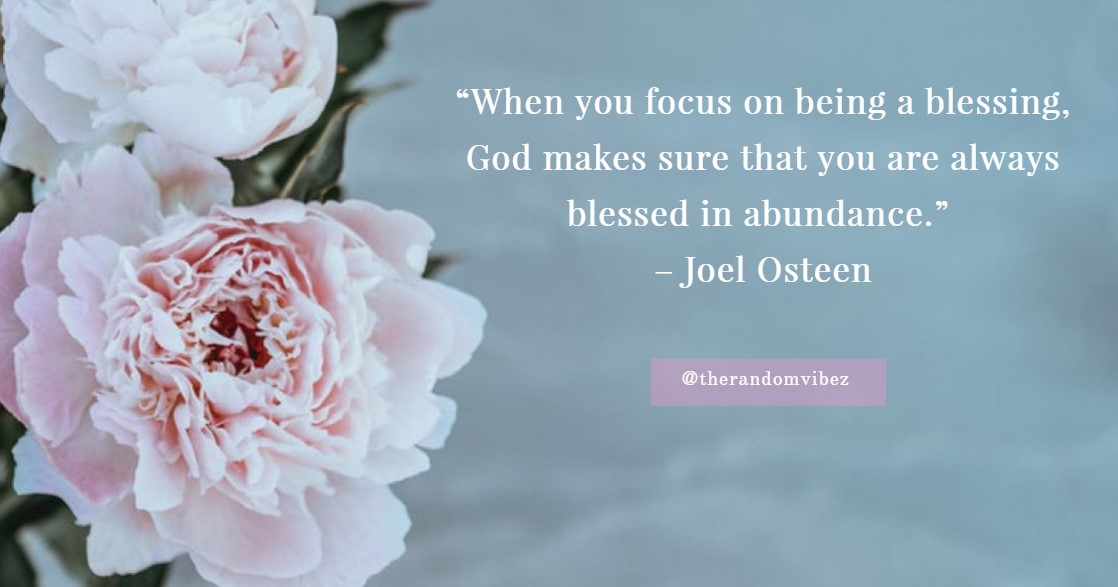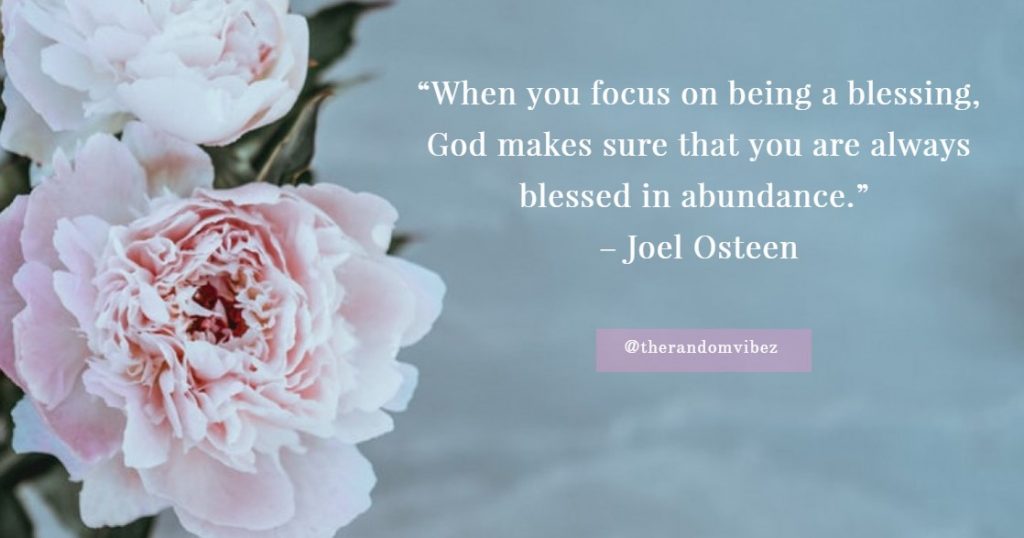 BIBLE VERSES ABOUT BEING BLESSED 
"It is more blessed to give than to receive."- Acts 20:35


---

"Blessed are the pure in heart, for they will see God."- Matthew 5:8 (NIV)


---

"Blessed are the meek, for they will inherit the earth."- Matthew 5:5 (NIV)


---

"Blessed are the merciful, for they will be shown mercy."- Matthew 5:7 (NIV)


---

"Blessed are those who mourn, for they will be comforted."- Matthew 5:4 (NIV)


---

"Blessed are the poor in spirit, for theirs is the kingdom of heaven."- Matthew 5:3 (NIV)


---

"Blessed are the peacemakers, for they will be called children of God."- Matthew 5:9 (NIV)


---

"Blessed is anyone who does not stumble on account of me."- Jesus, Matthew 11:6 (NIV)


---

"Blessed are those who hunger and thirst for righteousness, for they will be filled."-Matthew 5:6 (NIV)


---

"The LORD bless you and keep you; the LORD make his face shine on you and be gracious to you." – Numbers 6:24-25


---

"Blessed are those who are persecuted because of righteousness, for theirs is the kingdom of heaven."- Matthew 5:10 (NIV)


---

"Blessed is the man who walks not in the counsel of the wicked, nor stands in the way of sinners, nor sits in the seat of scoffers." – Psalm 1:1


---

"Blessed are you when people insult you, persecute you and falsely say all kinds of evil against you because of me."- Jesus, Matthew 5:11 (NIV)


---

"And God is able to bless you abundantly, so that in all things at all times, having all that you need, you will abound in every good work." – 2 Corinthians 9:8


---

"Every good and perfect gift is from above, coming down from the Father of the heavenly lights, who does not change like shifting shadows." – James 1:17


---

"All praise to God, the Father of our Lord Jesus Christ, who has blessed us with every spiritual blessing in the heavenly realms because we are united with Christ."- Ephesians 1:3 (NLT)


---

"But blessed is the one who trusts in the LORD, whose confidence is in him. They will be like a tree planted by the water that sends out its roots by the stream. It does not fear when heat comes; its leaves are always green. It has no worries in a year of drought and never fails to bear fruit." – Jeremiah 17:7-8


---
COUNT YOUR BLESSINGS QUOTES 
"The harvest of old age is the recollection and abundance of blessing previously secured." – Marcus Tullius Cicero


---

"An untrained mind is way less inclined to count your blessings than it is inclined to count your curses." ― Mokokoma Mokhonoana


---

"I think in every lesson there's a blessing, and there are so many blessings from all the lessons I've had to go through in life." – Alonzo Mourning


---

"It's never too late. Don't focus on what was taken away. Find something to replace it, and acknowledge the blessings you have." – Drew Barrymore


---

"When I started counting my blessings, my whole life turned around." – Willie Nelson


---

"There's a blessing in everything that happens to us." – Kamaru Usman


---

"We are all blessed, but the problem is that some of us count their blessings while others count their struggles, challenges, and obstacles." ― Edmond Mbiaka


---

"Count your blessings with gratitude no matter how small or big they are, and stop letting your lacks blindfold you from noticing how blessed that you are." ― Edmond Mbiaka


---

"Don't count your dollars to see how rich you are. Count your memories. Count your friends. Count the hugs you get every day. Count what really matters." ― Toni Sorenson


---

"I have found that, rather than dwelling on the negative, if we will take a step back and consider the blessings in our lives, including seemingly small, sometimes overlooked blessings, we can find greater happiness." – Thomas S. Morrison


---
SMALL BLESSINGS QUOTES
"God always gives us unexpected blessings."


---

"Humor is mankind's greatest blessing." – Mark Twain


---

"God bestows his blessings without discrimination." – F.F. Bruce


---

"You never know where a blessing can come from." – Teena Marie


---

"Humankind's greatest blessing is its Humanity."― Wald Wassermann


---

"Blessed are the merciful, for they will be shown mercy." – Jesus Christ


---

"Don't just count your blessings. Be the blessing other people count on."


---

"I'm too grateful to be hateful. I am too blessed to be stressed." – El DeBarge


---

"What seems to us bitter trials are often blessings in disguise."– Oscar Wilde


---

"You must pay the price if you wish to secure the blessing." – Andrew Jackson


---

"Until we meet again, may God bless you as he has blessed me." – Elvis Presley


---

"Blessed is the influence of one true, loving human soul on another."– George Eliot


---

"I'm very blessed, thankful, grateful for the opportunities I've had." – Christen Press


---

"I am absolutely blessed and I'm very grateful for where I am today." – Geri Halliwell


---

"We should always remember that God often blesses the available more than the able." – Daniel Brown


---

"I believe that whatever comes at a particular time is a blessing from God." – A. R. Rahman


---
BLESSING QUOTES AND SAYINGS
"Being blessed is a condition of the heart and a frame of mind." – Errin Rhorie


---

"When I look back on my life as a whole, it is impossible for me not to feel blessed." – George Best


---

"Find time to thank God for all the blessings you receive on a day to day basis." – Steven Johnson


---

"It helps as a reminder to be grateful for the gifts God has blessed me with." – Brandon Harrison


---

"Our love grows stronger with each passing day. I feel God has blessed us with great love and I am so thankful." – Kate Summers


---

"We are blessed to be a blessing and we are overcomers by the victorious words that we speak out of our mouths." – Deborah A. Toney


---

"When one is thankful for the blessings in their life, they are choosing to attract more positivity and abundance." – Michael Austin Jacobs


---

"If we should be blessed by some great reward, such as fame or fortune, it's the fruit of a seed planted by us in the past." – Bodhidharma


---

"Whenever I've been hired to do a job, I determine in my heart to do it with all of the ability that Christ has blessed me with."- Michael Yeager


---

"Nothing thrills me more than to be good at something. It's very rewarding, and I feel grateful and blessed, and I never take it for granted." – Jane Elliot


---

"God blessed me with great talent and good genetics. Plus, he blessed me with a good work ethic and a drive to want to be the best." – Benjamin Watson


---

"If God has blessed and supplied us with an abundance of things and we see someone in need and do not help, how can we say we love that person?" – John Buttrick


---

"I've never been someone that was sort of blessed with an innate talent of just being able to do things. I had to work at it and learn from mistakes." – Eddie Redmayne


---

"You're always in a blessed position if you have a great success story, especially to be in a position to be able to tell it so people can even understand." – Tionne Watkins


---

"It is our ability to put to use that He deposited in us that matters, we are all blessed with different abilities. There is something in all of us that is useful to humanity." – Jide Adeniba


---
INSPIRATIONAL BEING BLESSED SAYINGS
"God bestows his blessings without discrimination." – F.F. Bruce


---

"You never know where a blessing can come from." – Teena Marie


---

"I'm very blessed, thankful, grateful for the opportunities I've had." – Christen Press


---

"If we counted our blessings instead of our money, we would all be rich." – Linda Poindexter


---

"There is a blessing hidden in every trial in life, but you have to be willing to open your heart to see them."


---

"I am blessed to be surrounded by the people I love. I thank them for their patience and grace." – Matt Lauer


---

"Inspiration is some mysterious blessing which happens when the wheels are turning smoothly." – Quentin Blake


---

"Blessed are they who see beautiful things in humble places where other people see nothing." – Camille Pissarro


---

"Focus on you, your soul, spirit, blessing people with who you are, and following your heart's passions." – Ally Brooke


---

"Every day I feel is a blessing from God. And I consider it a new beginning. Yeah, everything is beautiful." – Prince


---

"It is not doing the thing we like to do, but liking the thing we have to do, that makes life blessed." – Johann Wolfgang von Goethe


---

"My life has been a blessing. I'm grateful for everything I do have and the places I'm going and the things I've seen." – Leah LaBelle


---

"I think in every lesson there's a blessing, and there are so many blessings from all the lessons I've had to go through in life." – Alonzo Mourning


---

"I wanted to say thanks… and share my gratitude for everything I've been blessed with. Family, friends, and continued support from everyone." – Travis Barker


---

"In gratitude for God's gift of life to us, we should share that gift with others. The art of giving encompasses many areas. It is an outgoing, overflowing way of life." – Wilferd A. Peterson


---
QUOTES ABOUT BLESSING IN LIFE WITH IMAGES