12 Best New Year's Eve Games to Celebrate 2021 in a Fun, Memorable Way
This year, you might not be planning to throw a New Year's Eve party in the same fashion as years past. But even if you're staying in for an at-home celebration to watch the New Year's Eve ball drop in Times Square from your sofa, you'll still need your favorite New Year's Eve appetizers and New Year's Eve drinks. After you've figured out the "eat" and "drink" festivities for the evening, don't forget to plan for a "be merry" activity.
To get you in the spirit, we've rounded up the most entertaining New Year's Eve games that will fill your evening with some real (forced) family fun. Pick one (or several!) to play on New Year's Eve with friends, whether it's in person or virtually. Liven things up with some friendly competition (is there such a thing?) with boys vs. girls or parents vs. kids. From a disco ball piñata that doubles as the ideal post-midnight snack, to word search games and even creative, seasonally appropriate Mad Libs and other Happy New Year-themed printables, there's something here for adults and kids and every personality to enjoy.
Check out our list of the very best New Year's Eve games to play to ring in 2021. After all, watching the ball drop only takes a minute!
1
New Year 2021 Bingo Game
This set comes with everything you need for up to 18 to play Happy 2021 Bingo. With funny boxes like "hand sanitizer" and "toilet paper," it's sure to bring lots of laughs!
2
New Year's Eve Poker Tournament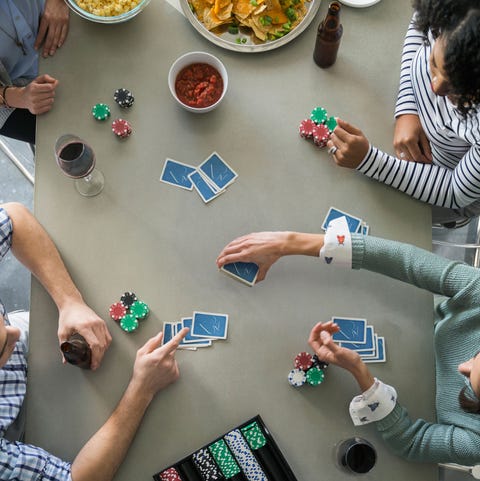 Host an old-fashioned poker tourney for a laid-back New Year's Eve get-together. We're betting 2021 will be better than the past year!
3
New Year's Eve JeoParody Downloadable Game
This New Year's Eve trivia game, set up like the popular television game show Jeopardy, includes categories like "Traditions," "January Celebrities," and "Resolutions," and even keeps score! You can customize your categories, questions, and answers to suit your crowd. Infamous "thinking music" is also included.
4
New Year's Eve White Elephant Game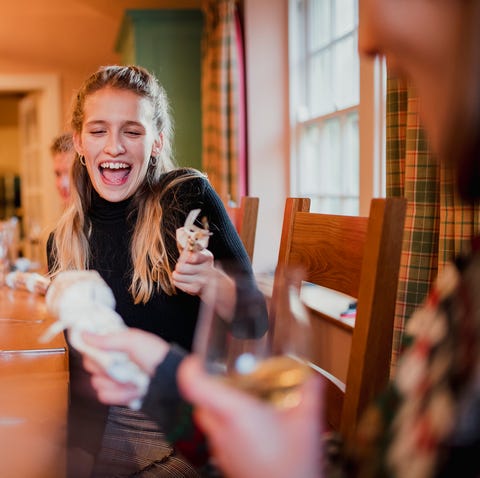 Take the classic White Elephant game and put a New Year's spin on it. Every gift should be aimed at a typical New Year's resolution, whether it's a spa gift card to practice more self-care or a vegetarian cookbook to eat less meat. The same rules of White Elephant apply!
5
Best of 2020 Printable New Year's Eve Game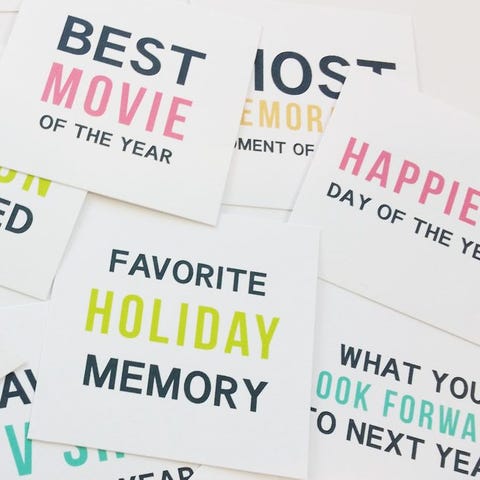 2020 has been quite a doozy, so this game could get interesting! Have your guests reflect on some favorite memories, vacations, movies, and more from the past year. Drop these prompt cards into a bowl and have each person take turns picking one out.
6
Kisses New Year's Eve Countdown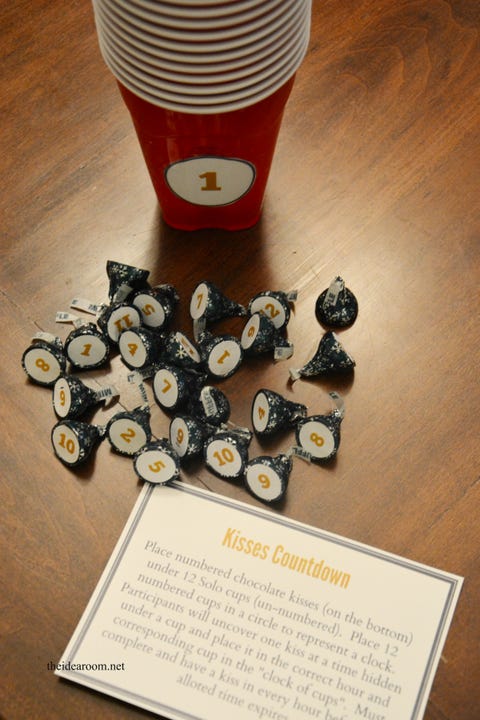 This easy, yet cute, game calls for speed in a race against the clock (think Minute To Win It style)! Get all your Hershey Kisses in the right cup before the countdown is over.
7
Instagram Memories New Year's Eve Game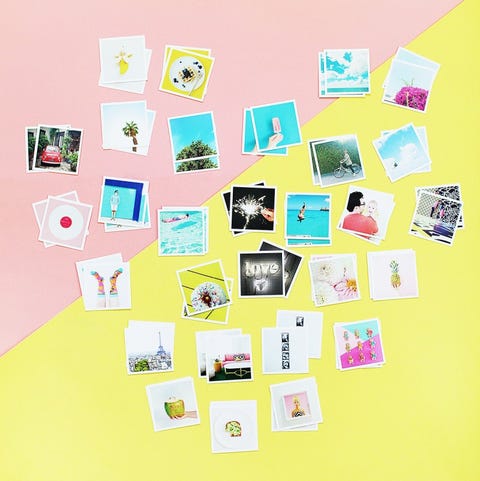 Use your own Instagram posts from the past year and your guests' Instagram posts to create the cards for this DIY memory matching game. This activity is a great way to share memories over the past year of you and your guests while adding a competitive twist! (And a photo of this game being played will warrant a great New Year's Instagram caption.)
8
Two Resolutions and a Lie New Year's Eve Game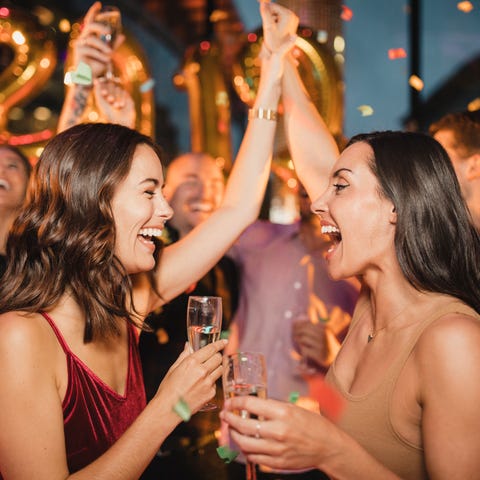 This is a great virtual game for those who want to celebrate together from different locations. Instead of playing the classic Two Truths and a Lie game, make it New Year's themed by swapping in resolutions. Have each guest share three resolutions, one of which is a lie. It's up to everyone else to figure out which resolution is the fib!
9
New Year's Eve Bingo Game
This more general New Year's Eve bingo game set can be used year after year.
10
New Year's Eve Champagne Relay Race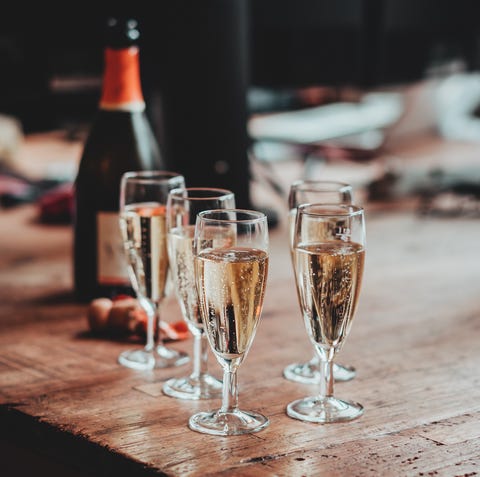 Be the first to fill up your Champagne flute from a big bowl of bubbly (or whatever else strikes your fancy) in this fun relay race. The catch? You can only use a teaspoon to transfer it into your glass.
11
Disco Ball Piñata New Year's Eve Game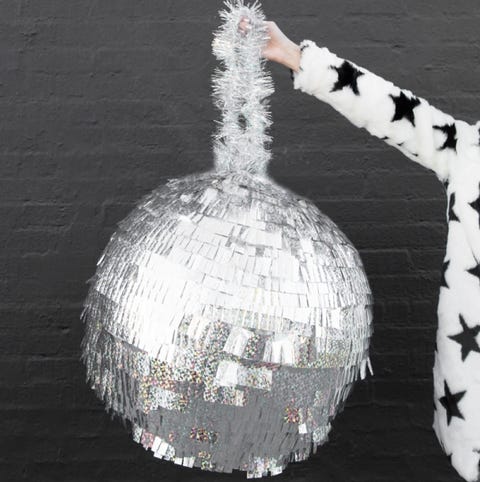 A disco ball piñata? We'd be first in line, especially this year! This sparkly, shimmery masterpiece is easier to craft than it looks, so you can even make it at the last minute.