This year, your New Year's Eve, like all of the 2020 holidays, will likely look different. You might be spending the evening watching New Year's movies or playing a New Year's game at home with your family rather than going out for a glitzy night on the town. It's been a hard year for all of us, so we get that you might be tempted to throw the baby out with the bathwater when it comes to New Year's Resolutions this year. But one way you can celebrate the passing of the dumpster fire that's been this last year and celebrate what's to come is to write out a few new goals for 2021. But we know you've see all those resolution lists before, the ones with all the complicated cleanses, intense workout plans, and sincere intentions to do your best and make new healthy habits. Those tend to make you feel overwhelmed, and by January 20th, you're ready to get back to the same old, same old. But change doesn't have to come all at once. Why not subscribe to the motto, "Progress, not perfection" this year and pursue a few goals in small steps. What follows is a list of resolutions that aren't rocket science, but can work within your busy lifestyle, create more freedom, stimulate creativity, and ultimately cultivate connection with those you love and the community around you.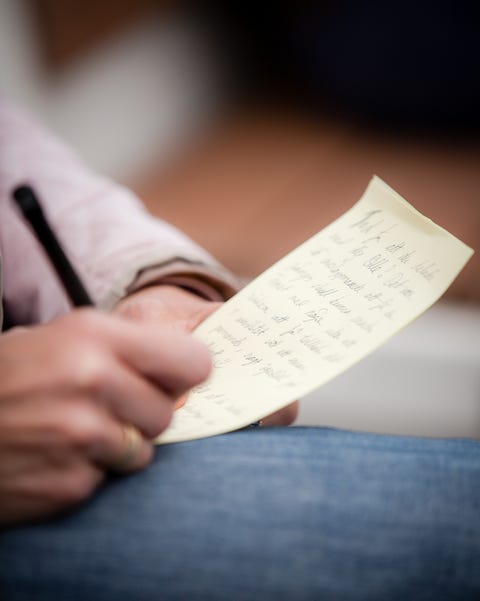 This year has shown us all that we want to stay in touch, and sure, you could send a text or an email, but why not step it up a notch and send something to brighten someone's mailbox! Think about the times you've received cards or letters in the past and how much it made your day. Start this goal simply by sending a few letters over a couple of months. Or find a pen pal. If you are enjoying sending letters and postcards to people, think beyond family and friends, and rather than compliment your favorite company, author, magazine, actor, or local hero for the work they are doing, write a quick note to share your appreciation. Bonus: You can even make it a fun craft time with your kids!
A lot of us don't drink the amount of water we need each day. And yet here we are, another year, and another year of wanting to drink more water, but not really knowing where to start. Start small by replacing 1-2 drinks a day with water. Maybe you replace your second cup of coffee with a glass or two of water. Next, rather than get an insanely large water bottle to hold all of your daily water (that feels overwhelming), buy something fun and exciting, that you are excited to drink from, like this water bottle from Ban.do. Keep the amount of water to a reasonable amount so that while you may have to fill it up a couple of times a day, you'll get a chance to kill two birds with one stone with an opportunity to stretch your legs as well as refresh your water bottle/cup. Level up your resolution by trying some healthy add-ins like fresh lemon or lime, fruit, or cucumber.
3
Try Something New Each Month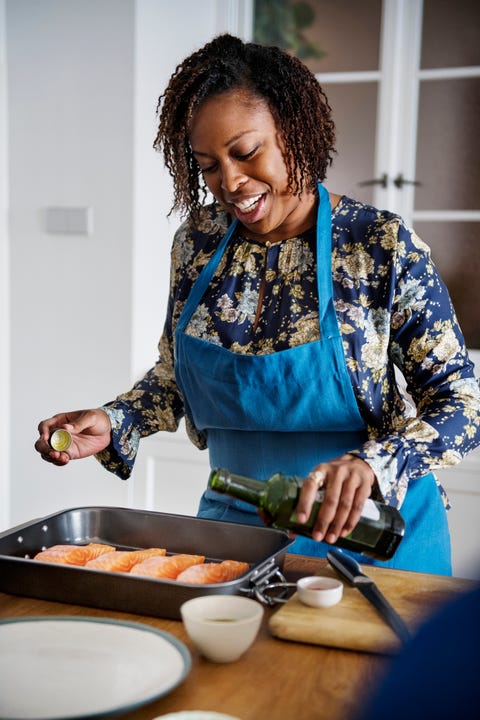 Who says your resolution has to be sticking to just one thing. As they say, "Variety is the spice of life." Well, spice up your new year by setting a goal to try something new each month. If you are a foodie, it could be a new restaurant, recipe, or ingredient. If you tend to get stuck in a rut, maybe changing up your route to work or changing up your hairstyle could be one of the new things you try. Again, start small, and work up to signing up for that pottery class or Barre class (unless that's what you've been hankering to try). Get creative and don't forget to get your friends and family involved.
If you're a person of faith and stuck on what to study, a great way to get in the word or work on your memorization is to find a theme or word to direct your focus for the year. Think of words like love, peace, and trust, or something specific to what you are curious about or dealing with and search out all the verses that contain that word. Words like peace have more than a hundred verses that could keep you busy for at least the first half of the year. Find yourself a good concordance and dictionary, as well as a good Bible commentary and dig into the verses you find.  You'll be amazed at the end of the year how much your faith has grown.
5
"Lazy Genius" Something in Your Life
In her popular podcast—and now book—The Lazy Genius Way, Kendra Adachi teaches us how to be a "genius about the things that matter, and lazy about the things that don't." That's something I think we can all get behind, right? From meal planning, what to wear, and organizing holiday traditions, her ten Lazy Genius ways will help you clarify what matters in your life, what needs a little hacking, and what you could care less about. This year, try lazy genious-ing one area of your life. One concept she talks a lot about is "Decide Once." And it really is that simple. Decide once what you and your family are going to eat on Wednesdays. Maybe it's pizza or Italian or something from the Instant Pot. Decide once that you are always going to wear black pants on Fridays. It's really up to you! Decide once and you won't have to worry about that thing anymore and you can now spend time on all the other things crowding your brain.
6
Support Local Restaurants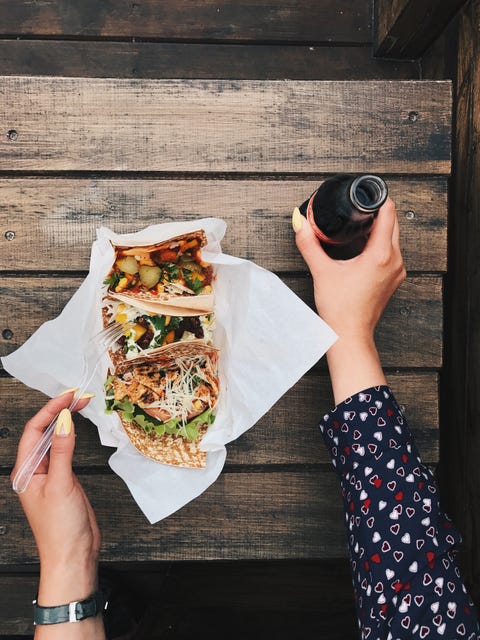 After an especially tough year for the restaurant industry, it's now more important than ever to support your favorite local spots. Unfortunately, many are having to close their doors after years in the business and communities are losing staples long loved. So consider it a community building resolution along with a goal that's easy to get behind. Try to purchase directly from the restaurant as much as possible, because a lot of second and third party delivery apps take a large cut of the profits that make a big dent for smaller family owned restaurants. Budget some extra money this year and make it a point of becoming a weekly or bi-weekly regular somewhere or pick a new spot each week to help your local restaurant community stay flourishing.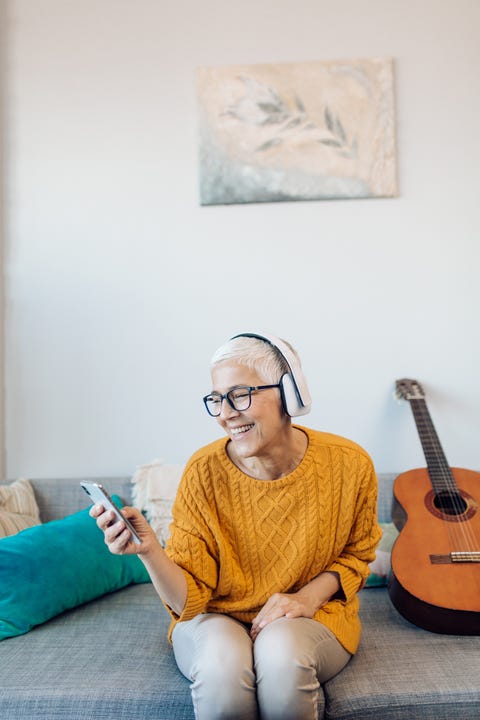 Want a soundtrack to your year? Document your favorite songs each month by saving them to a monthly playlist on Spotify. As you hear a song that impacts you or you find yourself listening to on repeat, add it to the playlist. The lists will be eclectic on their own, but by the end of the year, you will have an amazing collection of songs to pull from to create a yearly top songs playlist. You'll enjoy the memories of looking back to each playlist and hearing the mood of each month of the year and all the new artists you discovered.
8
Pay Off Some Debt With a Spending Fast
If you're looking to pay off some debt this year, consider checking out Anna Newell Jones's book The Spender's Guide to Debt Free Living. She explains that one of the things that helped her get out of debt was doing a spending fast for a year. While it may feel daunting to fast from all extra spending for a whole year, think about doing it for a shorter amount of time like one month or for a particular area of your budget. It could be fasting from your take-out for a month and only cooking at home. You'd probably be surprised at what you save. Or fast from expensive coffee drinks.  Look at your budget and see what non-essential area seems to eat up a big portion of your paycheck each month and get creative around what you might fast from. The key to the spending fast, however, is making sure to use the money you saved and aggressively pay down debt with it.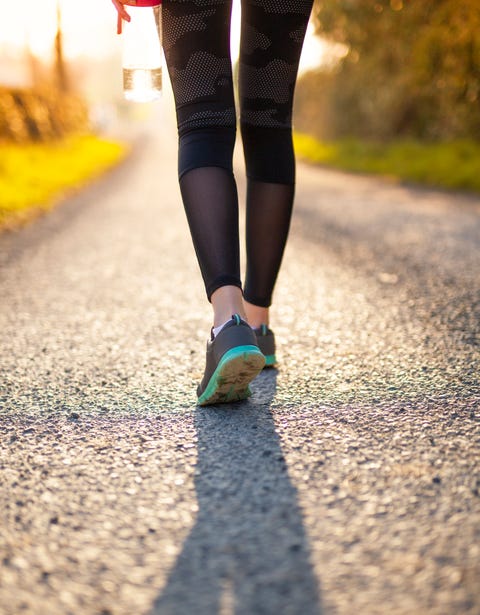 The thing about this New Year's resolution is that you might already be doing it. This doesn't mean go out for a specific walk or run for a mile or more each day, while that could be what you want to aim to work towards. But to start, find a good pedometer, or a pedometer app for your phone (if it doesn't already have one), and see if you can cumulatively walk a mile a day. For some of you, this is a breeze and you will need a little more of a challenge. Monitor your average mileage or steps over a week and make a challenge based off of the results. For the rest of you, getting movement into your daily routine might be a little more foreign. Getting closer to your mileage goal is all about getting creative about how to get your steps in. Try parking at the back of the parking lot at the grocery store, or taking the stairs instead of the elevator. Take the long way to the break room for your water or coffee break. And then there's always running in place. Remember it all adds up and in no time you'll be walking more than a mile a day.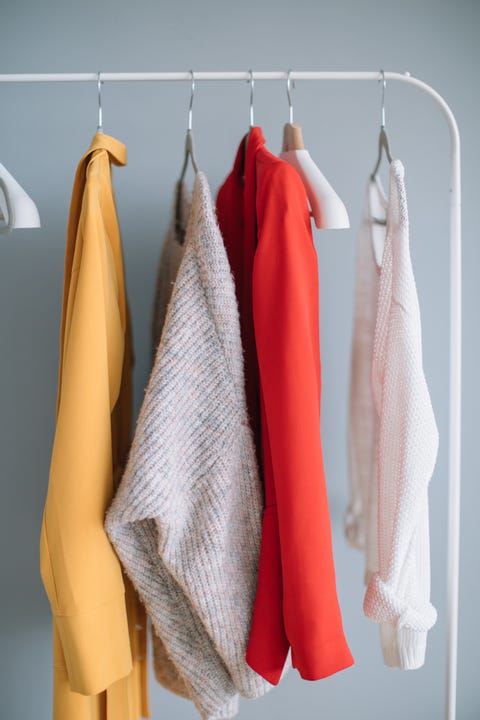 They say the farthest distance is from the laundry basket to your closet. Right? Or maybe that's just me. But seriously, if you similarly fall into the trap of folding laundry only to get it halfway to its home, then this year to change that. Start by forgetting your old laundry system. Kendra Adachi of The Lazy Genius Podcast recommends dividing your clothes before they get washed into piles of their final destination rather than their color. Once a destination is washed and dried, make it a point to fold or hang within an hour to avoid the dreaded wrinkles. Then it's a matter of not letting your clothes enter the Bermuda Triangle between being folded and put away. Aim for a goal of completing this a few laundry cycles in a row. And don't be shy about rewarding yourself if you meet your goal. Bonus! Laundry can be fun!